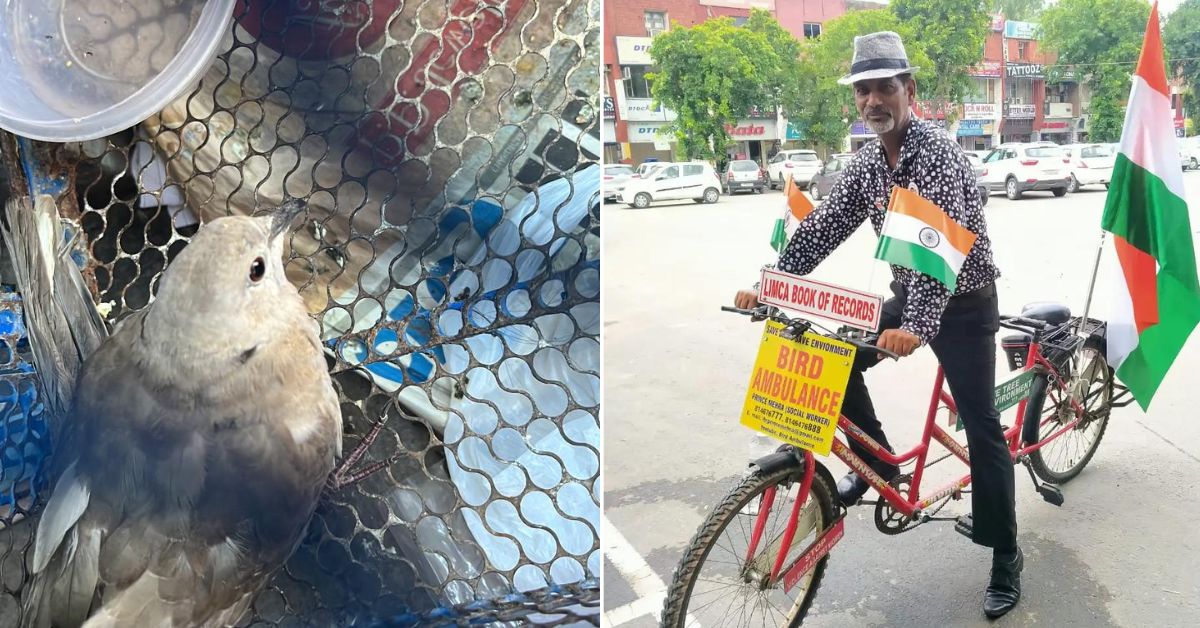 Every day, Chandigarh's Manjit Singh sets out on his bicycle turned 'Bird Ambulance' to treat injured and sick birds.
On one dark night in 2011, a sweeper was cleaning the streets near the army attachment camp in Punjab's Ferozepur city.
Manjit Singh, a former drawing teacher, had brought 50 children along with a non-profit organisation from Chandigarh to the camp to show them how the Indian Army functions. On stepping out for dinner, he noticed something strange among all the waste that the sweeper had collected. 
Going a little closer to the bin, he realised that it was a dead pigeon!
"I asked the sweeper why she was throwing the body in a dustbin. I even inquired how it died. She informed me that the bird got electrocuted. Similarly, another had died nearby too," he tells The Better India.
For the next four days at the camp, the 54-year-old could not forget the incident. He pondered on finding a solution that would be beneficial for both the birds, and humans.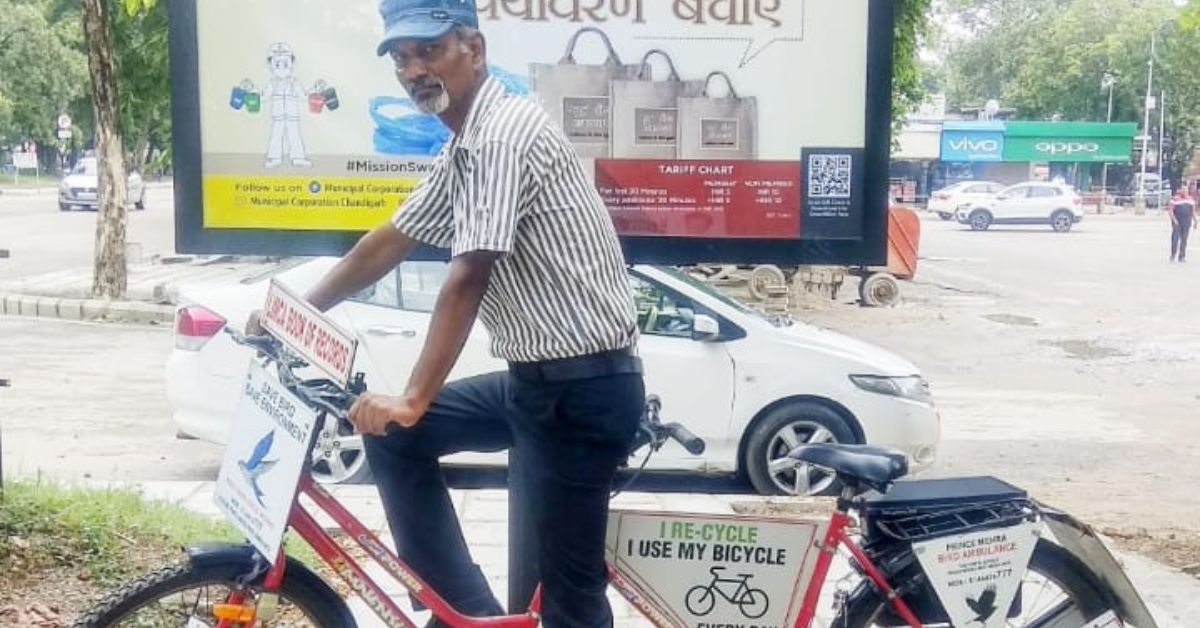 Coming back home to Chandigarh, the environmental activist set out on a mission to give a safe burial to dead birds and treat the injured. "Usually, these dead birds are transported to bigger dustbins in a miserable condition. Also, there are chances that their decaying bodies could spread diseases and threaten human and environmental health alike," he adds.
Moved deeply by this incident, Manjit converted his bicycle into a 'bird ambulance'. With this, he has treated 1,160 birds so far. He even ensures that birds who die are given a proper burial, totalling to 1,280 avians like pigeons, crows, parrots, and turtle doves in Chandigarh.
Refused Bank Job for Environment
A BA dropout, Manjit initially worked as a drawing teacher in a private school. Through the school, he came in contact with the same local NGO that motivated him to do social work. Then, to do his bit to reduce the rising air pollution, Manjit switched to riding a bicycle in 1990 at the age of 21.
In 1999, after his marriage, Manjit quit his job at the school to dedicate himself entirely to the environment. As a side hustle, he worked as a painter, but his in-laws were concerned. They, however, managed to get him a job offer as a bank clerk.
"The job offered me triple the income from what I was earning. But I had to refuse it. I did not want to get trapped in a regular job in a corporate world where I would have to compromise on my mission," he says.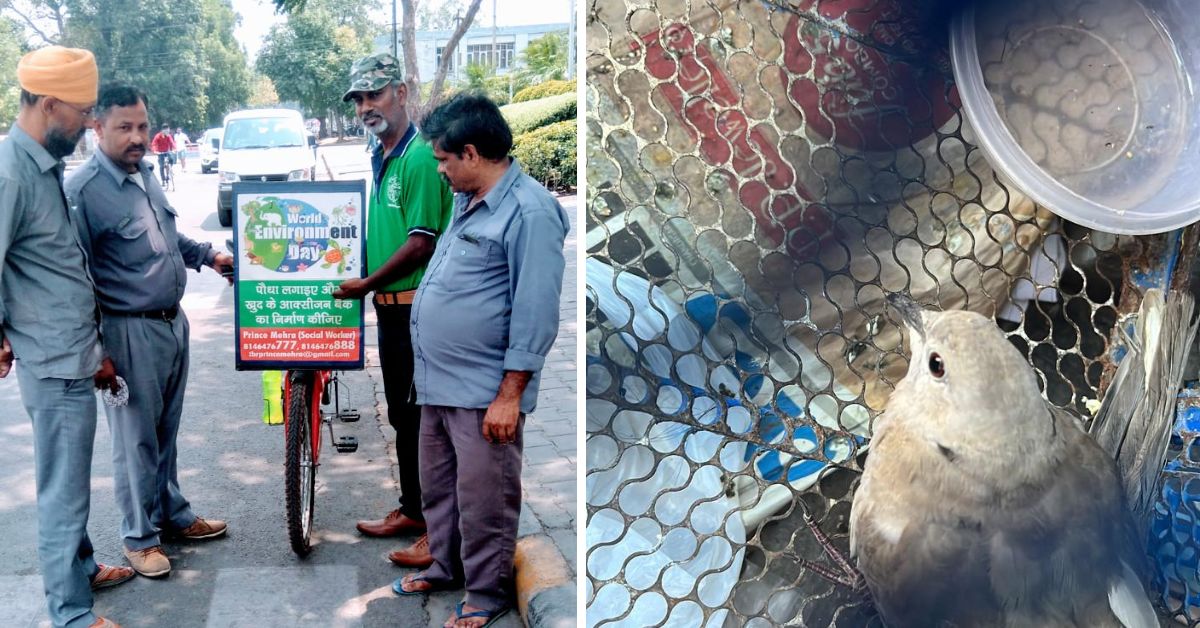 He recounts how his decision would often lead to arguments between him and his wife as she also worried about his health due to constant exposure to probable avian diseases. "But when she saw how truly dedicated I was to my cause and how much social acceptance I received with it, she eventually came on board," says Manjit.
Manjit, who is also known as Prince Mehra, continued to spread awareness about air pollution till 2011 before his visit to the Ferozepur army camp.
After coming back to Chandigarh, he printed out some pamphlets requesting citizens of Chandigarh to contact him if they spot an injured or dead bird.
By then, he had transformed his bicycle into a bird ambulance. "Soon after, people started contacting me and reporting the dead or injured birds in their localities. I was so happy to see people approaching me. And when I was able to free an injured pigeon and treat it for the first time, I was so satisfied," he says.
Along with a sense of contentment, Manjit started getting recognition for his work. In 2015, his name was also listed in the Limca Book of Records for saving thousands of birds in Chandigarh. The same year, he was also awarded by the Chandigarh government on the occasion of Republic Day.
What's more, even the locals started referring to him as the 'bird man'!
"In this work, I get job satisfaction as well as recognition. I am truly very content with it. My children take pride in my work when their schools invite me as a chief guest, and when their peers appreciate my work circulated in the media," he adds.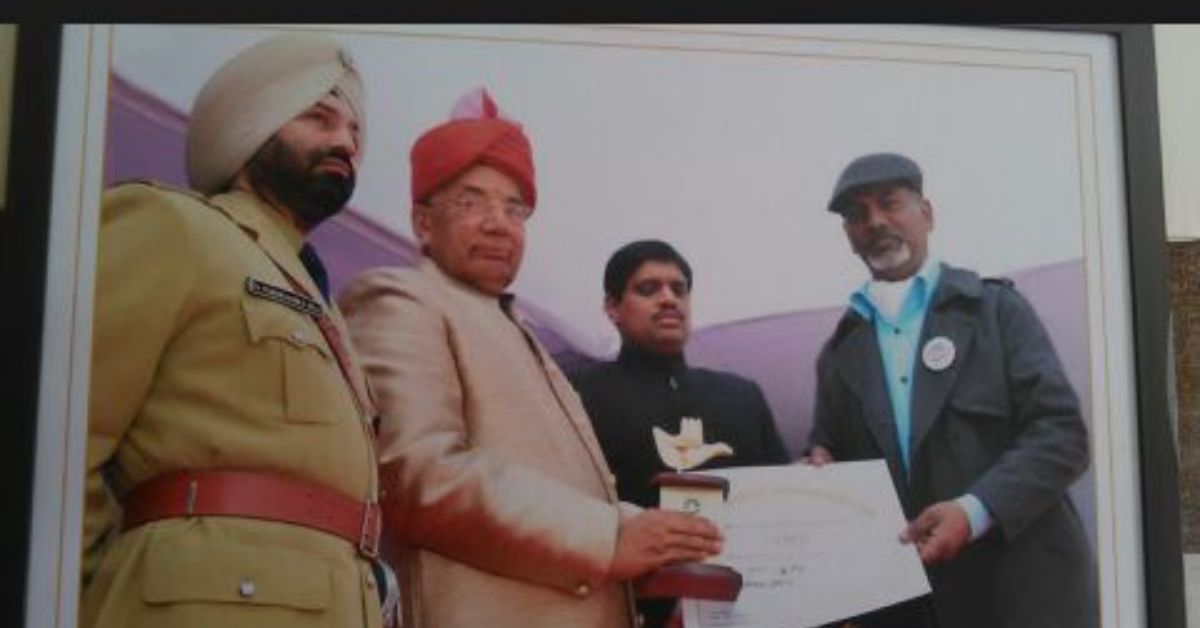 'Seva over business'
In 2016, Manjit was offered a job as an animal attendant by the animal husbandry department of Chandigarh. "I found this job very useful as I was able to serve my cause and also earn some income," he says.
As part of his daily schedule, irrespective of office hours, he sets out on a rescue mission between 3-11 pm.
"Local people call to inform me about injured or dead birds. Usually, these innocent birds get wounded by sharp kite strings or from fans in shops. In summer, exhausted birds fall from the sky or collide with high-tension wires," he informs.
Within 15-30 minutes, depending on the distance he can cover on his bicycle, Manjit rescues these birds. He carries all the necessary equipment and medicines along with him. This includes a small spade, Negasunt powder (an antibacterial used for dressing wounds), Bird Plus syrup, and a pair of scissors to free birds from tangled wires.
"If the bird is dead, I dig a 1.5 ft hole and bury it in an open ground in the city. If the bird requires stitches or is critical, I take it to the hospital for treatment. If there is a minor injury, I take them to my house where I feed them and after they get well, I set them free in 2-5 days," he adds.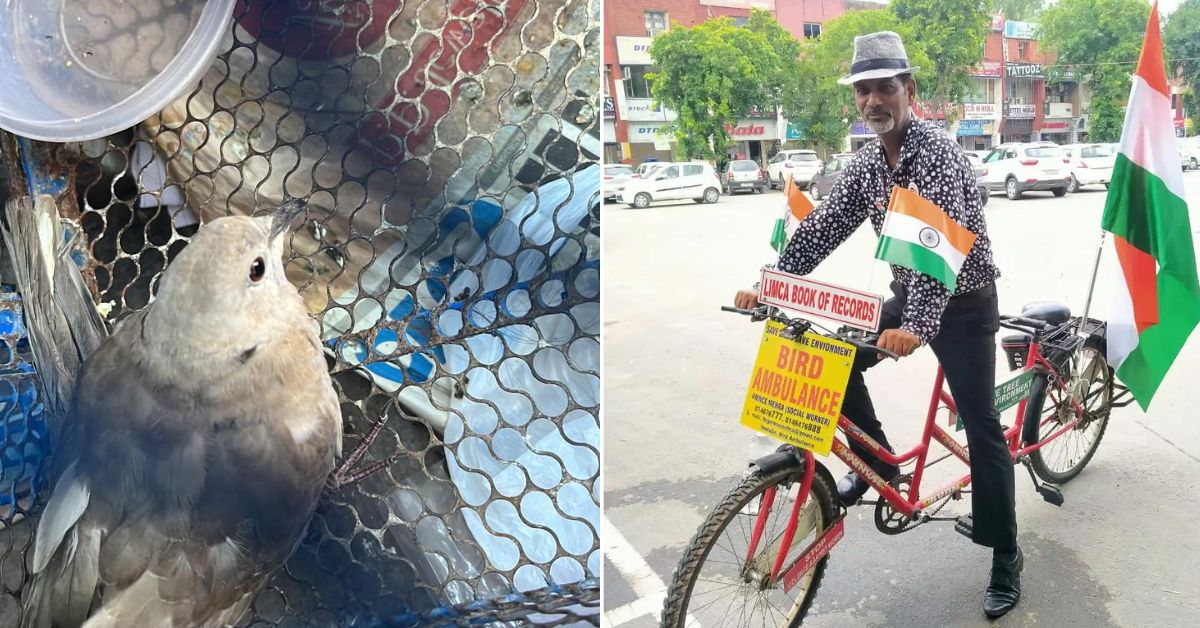 To aid his work, a bank donated a battery-operated bike to Manjit in 2012. "They were giving me a scooter as I travel throughout the day. But I refused it because I did not want to weaken my mission to reduce air pollution just because I was getting a free scooter," he says.
"The battery-powered bike helps me reach the injured birds fast. If the bird is already dead, I then use my usual bicycle to reach the place and bury it," he adds.
Recalling a busy day, Manjit says, "Last year, a storm hit the city and several trees fell in the night. These trees were home to numerous parrots. I received a call at 6am to collect 250 dead parrots and 80 pigeons. All in one day. The two baskets attached to my bicycle were full," he recalls.
"Recently, I rescued five parrots whose feet were damaged. I kept them on treatment in my house for two months before they got better and could fly off. Currently, I have two pigeons and one ghuggi (turtle dove) at my home," he adds.
For this work, Manjit keeps aside 20 percent of his salary. "Many people have offered a fee for this work, I request them to instead pay me in kind and provide bird feed like bajra (pearl millet) for the injured birds. If I start asking money for it, it won't be sewa (service), it will become a business," he says.
"Sometimes dead birds are stuck to the road, and people cover their noses with a cloth, but I have to pick them so that they are buried safely. Initially, my family opposed my decision due to this very reason," he explains.
"Par woh jeena kya jeena jo apne liye jiyein (There's no point in life if it is not dedicated to service for others). I consider these birds like my children. Their lives are equally important as anyone else's. Their lives can be saved with just small efforts," he adds, before cycling away to save another innocent life.
Edited by Padmashree Pande. All images: Manjit Singh.
We bring stories straight from the heart of India, to inspire millions and create a wave of impact. Our positive movement is growing bigger everyday, and we would love for you to join it.
Please contribute whatever you can, every little penny helps our team in bringing you more stories that support dreams and spread hope.