Centre for Public Policy Research (CPPR) is a Kochi-based think tank which undertakes economic, social and political research. Their main areas of focus are Governance, Education, Health, Law, Livelihood, and
Centre for Public Policy Research (CPPR) is a Kochi-based think tank which undertakes economic, social and political research. Their main areas of focus are Governance, Education, Health, Law, Livelihood, and Urban Reforms.
CPPR has carried out research projects and published policy papers for government bodies, private institutions, and academic institutions. Their work has had a profound impact at the governance level. CPPR aims to contribute towards an equitable, socially just and environmentally sound society enriched by the principles of democracy and secularism.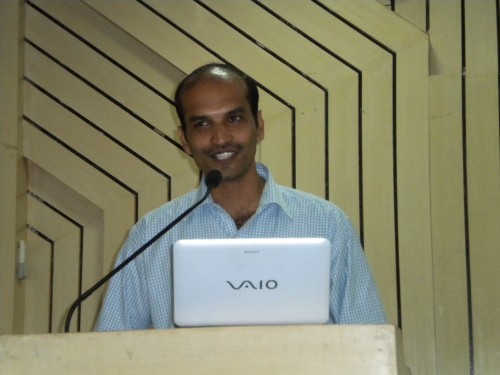 Here is an interview with Mr. D. Dhanuraj, Chairman of the board of CPPR:
What attracted you to policy research? What motivated you to set-up the Centre for Public Policy Research (CPPR)?
Policies influence the destiny of mankind. From my childhood days I was curious to understand how the government takes decisions and who the stakeholders are. Given the existing democracy process, I often wonder what role the public plays in decision making when the elected representatives fail to meet people's demands. Coming from a science background, I have always been interested in conducting inter disciplinary research to understand the relationship between governance and philosophy. During school I was fascinated by the fact that certain lessons in History and Geography were given more importance over others, though there was little opportunity to understand even the ones which were covered. All these different thought processes led to the establishment of Centre for Public Policy Research (CPPR).
A large country like India requires more policy debates and think tanks to understand and promote the interests of the general public. We need thousands of policy research organisations and I believe that CPPR belongs to the post liberalisation period genre.
What type of research work do you undertake? How do you choose your projects?
We undertake research work related to governance, with a focus on the development of projects that have a large impact on the public. Our research focuses on improvements in the governance structure that benefits the general public. CPPR believes in innovation and ideation, maximising the entrepreneurial spirit and is totally against crony capitalism. In all our projects we promote – the rule of law, decentralisation, community ownership of natural resources, etc. We believe that the government should be a facilitator rather than a provider and the policies and processes should aim to deliver and prevent leakages. We are approached by various stakeholders for most of our projects but CPPR also runs a few initiatives on its own.
What would you say has been your most successful project till date?
The most successful project has been the Mobility Hub for Cochin (Kochi). If the hub operations are implemented as suggested, the project has the potential to solve the city's mobility problems. The government has accepted the report (available on the CPPR website) and the project is under execution.
How can you encourage participation of citizens, particularly the youth of the country, to become more aware and actively involved in issues of governance?
CPPR is a research based organisation. In the last five years, more than 50 interns have gone through CPPR's intense research training program. This has helped them to understand the nuances of the governance system in our country.
Our internship program attracts youth from within as well as outside India, to work with CPPR on live projects. Debates and dialogues are the key features of this program and most interns get a first hand experience of the systems and processes by working on live projects.
Most of our interns have opted for public policy as a career and become the change agents in their subsequent careers.
What is the level of impact that policy research can have? How can you ensure that research does not remain in the form of reports but influences formulation of policies?
We have two types of research processes in CPPR – one fits into the working paper category and the other one is more project oriented, as per the client's requirements. But in both the cases CPPR ensures that it comes up with innovative recommendations and there is a sellable proposition included in the reports prepared. Most of the client given work is based on existing demands in the public sphere, so we can expect a natural evolution of the report submitted. With regard to working papers, CPPR aims to come up with various approaches and share it within the public domain. As a consequence, this sharing has led to several new projects in turn. We focus more on real time projects which have a policy angle and influence.
Do you agree with the view that 'the game of politics' overshadows issues of governance? How much does policy suffer due to the interference of unscrupulous politicians?
No. I don't agree with this view. The problem lies with the governance structure that enables politicians to push policies to the back burner. Reform at the administrative level is the need of the hour. Licensing and permits should be abolished and entrepreneurs should be given equality and social justice, so that they are able to exploit new opportunities easily. If politicians are unscrupulous systems and processes should be changed. These systematic changes need to be implemented before we proceed to call politicians corrupt. At least in India politicians are accountable to us once in five years. This is much more preferable than monolithic bureaucracy, which is largely pervasive.
What can India do to ensure transparent, speedy and effective formulation as well as implementation of policies?
Effective decentralisation can change public discourse. Cities as well as states should be given more power. Direct election to the mayoral post is another change that can help.
In the rural areas, effective and empowered gram sabhas can help. RTI offers a check against corruption and if it still persists, it is because of the obsolete acts and rules in existence. As I said earlier, the government should act as a facilitator for the effective implementation of policies, rather than framing policies at the grassroots level. Focus should be on decentralising vital sectors such as agriculture, education, health and infrastructure. Moreover, the need for effective change in the Indian Civil Service has become a clarion call.
What are your future plans for CPPR? Where do you see CPPR after ten years?
Centre for Public Policy Research is deemed to play an important role in policy making and articulation and is poised to become a leading think tank in another five years. We are also planning to set up an academic institute which will offer various training programs and exposure to the world of policy making. We are trying to pool the best brains in the field and become a one-stop arrangement for policy dialogue in India.
In another ten years, we would have produced thousands of graduates who are going to influence the policy making in this country.
Check out their website to know more about the various initiatives at CPPR.
Malvika Saraogi is a graduate of the London School of Economics and lives in Chennai. She is an avid reader of business magazines and likes to write in her spare time.
We bring stories straight from the heart of India, to inspire millions and create a wave of impact. Our positive movement is growing bigger everyday, and we would love for you to join it.
Please contribute whatever you can, every little penny helps our team in bringing you more stories that support dreams and spread hope.