Rekha Kalindi, an 11 year old girl, raised her voice against forced marriage. She was tortured and even starved by her mother but she didn't give up. Here's an excerpt from the book, The Strength to Say No: One Girl's Fight against Forced Marriage, that chronicles her brave actions and how she fought against everyone to continue her studies.
I hid away on the terrace as the sun went down. I wondered how long I would have to reject the marriage offers that were pouring in. I went to sleep, but my uncle woke me up to suggest coming to the room downstairs. For fear that I would fall over the side he helped me get down the stairs without a guardrail.
The next day I went straight to school without going to our house. It was out of the question to meet my mother, who I imagined must be furious with me. When I got home after school a boy accompanied by his parents was in the house. My mother introduced them to me. I understood what was being plotted and when they asked me what I thought of the young man I didn't answer.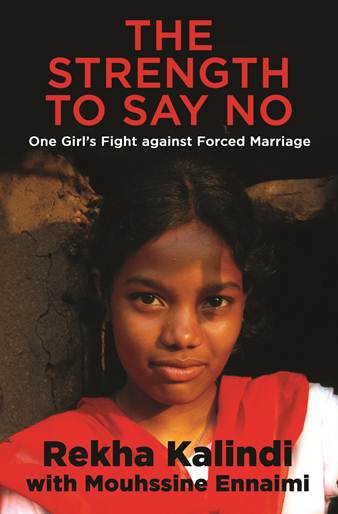 'Are you sure she agrees?' asked the boy's mother.
'Yes, yes!' replied my mother. 'She is shy and reserved, but we spoke to her yesterday. She knows what she ought to do . . .'
I hid out in a corner of the yard, my legs doubled up against my stomach.
'And how old is she?' the mother asked.
'She's coming up for ten. She is very gifted, you know. We've sent her to school so that she will be educated, and she's top of the class. Her teachers are very proud of her. They say that she is much more intelligent than the other pupils.'
'Ah! Very good! Nowadays children should go to school. It's very useful . . .'
I wonder how this woman can know what is said or done in a school – especially as I suspect that her son has never set foot in one.
'I don't know how to cook, and I don't like children,' I say in a cold and determined tone.
'Oh yes?' replies the mother sharply. 'But you are going to learn, I'm sure of it . . .'
'I don't think so. I eat very little, and neither my older sister nor my mother has taught me.'
'She exaggerates. She lacks confidence in herself,' my mother says, trying to reassure the other woman. 'She has taken care of her brothers and sisters since she was quite small . . . I know
what she's worth. She's very gifted.'
'Yes, she seems gifted, but my problem is that she's too dark . . . You see? Compared with my son, who is lighter . . . How much is the dowry? I mean, bearing in mind this difference in
skin colour?'
I continued to listen to this discussion – or, rather, negotiation, I should say – that was all about me. I felt that Ma wanted a firm commitment on their part.
That's enough. I couldn't bear this masquerade any longer. I got up and headed for the young man, who must have been be five or six years older than I.
'You know the story of Kishalaya?'
'No. What is it?'
'He's a brahmin who frees a tiger from its cage and makes it promise not to eat him in exchange for its freedom. It's a traditional tale of Bengal, but never mind. You know how to sing Baul?'
'No.'
'I am always chosen to perform the Indian national anthem and the traditional songs of Bengal. Do you know that most children's diseases are spread by mosquito bites?'
'No, I didn't know that.'
'I learned all that at school, just as I learned the importance of hygiene, reading and mathematics, and I can't see myself abandoning all that to marry you!'
With that I turned on my heel and went back into the room where the parents were still arguing about the wedding and the dowry.
'Your son is an idiot! I won't marry him whatever my parents say!'
I knew that my parents were going to be embarrassed and get a bad reputation, but I couldn't see any other way to get me out of this trap. The family went away. My mother gave me a furious look, and my father took the villagers back home, all the time offering profuse apologies.
As soon as I enter the gate of the school I feel a sense of liberation. I know that here I am protected by my teachers. They are the ones who taught us that in spite of our ages we can refuse
to go along with our parents' plans. I feel like asking for advice from Atul, the teacher, but I decide against it, thinking that my parents have understood the lesson and that it's not worth
embarrassing them any more by letting the incident reach the ears of the teachers.
***
I understood that my parents had the firm intention of getting me married, most likely before the next winter. Ma is too busy nursing my brother Tapan to work in the rice paddies any more. Baba no longer manages to earn enough money. The price of food is going up, and we have to drink the water that rice was boiled in. It is becoming more and more difficult to go on like this. Are my parents right? Must I ease out of the family environment and leave room for my younger brothers and sisters? I feel guilty that I was ever born.
***
What happens next? Does Rekha manage to make her parents understand or gives up due to the pressure? Read the story of Rekha Kalindi, an 11 year old girl from a remote village in Bengal who had seen the troubles faced by her friends due to forced marriages. She decided not to follow the same path and said "NO" when her parents wanted her to get married. She was tortured and even starved. But she didn't give up. 
You can buy the book, The Strength to Say No: One Girl's Fight against Forced Marriage here and be inspired by the extra ordinary story of this young girl who is also called India's Malala.
Featured image: gogirlglobal.com
Like this story? Or have something to share? Write to us: contact@thebetterindia.com, or connect with us on Facebook and Twitter (@thebetterindia).
We at The Better India want to showcase everything that is working in this country. By using the power of constructive journalism, we want to change India – one story at a time. If you read us, like us and want this positive movement to grow, then do consider supporting us via the following buttons.
Please read these FAQs before contributing.