This is a chronicle of my recent visit to the historic Warangal (ancient Orugallu). The Orugallu Fort and Veyyi Stambhala Gudi (Thousand Pillar Temple) have history, architecture and sculpture and
This is a chronicle of my recent visit to the historic Warangal (ancient Orugallu). The Orugallu Fort and Veyyi Stambhala Gudi (Thousand Pillar Temple) have history, architecture and sculpture and are probably among the best of Indian temples. The Kakatiya dynasty, which ruled Andhra region from 750 AD – 1325 AD – for 575 years, still lives in the ruins of the fort and the almost intact temple.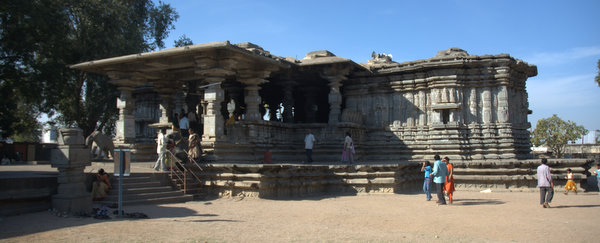 You can get a first hand of the dynasty's taste for sculpture in Veyyi Stambhala Gudi or 1000 Pillar Temple. It has a catchy and apt name. Are there thousand pillars? Yes there are – of many varieties and sizes; some of them are even part of others! The pillars that support the central 'Natya Mandapam' (dance floor) are large and made of multiple blocks of stone.
The other catch is psychological. When you hear "Veyyi Stambalu" (thousand pillars) you imagine a farm of pillars. For my expectation, the temple was much smaller. More so because a mandapam (see left of the picture below), that contributes 400 of 1000 pillars, was dismantled by the Archeological Survey of India for reconstruction. Unlike pillars in other temples of India, pillars of the main temple, are tightly knit and form its walls and so don't seem like there are 600 of them.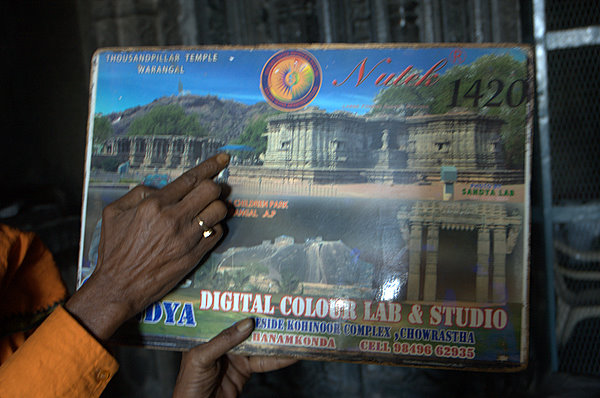 The temple is star shaped with three shrines devoted to Rudradeva (Shiva), Vishnu, and Surya (Sun). Interestingly, the third deity is not Brahma who is part of the Trinity of God [as in the Trinity (which consists of Brahma, Vishnu, and Shiva) in Suchindrum] because the Kakatiyas worshipped Lord Shiva and Lord Surya and not so much Brahma. On the fourth side is Shiva's vehicle, Nandi or Bull.
Unlike most temples in India that face east, 1000 pillar temple faces south. Because, the Kakatiyas, worshipers of Lord Shiva, wanted early morning sun rays to fall directly on Shiva Lingam. So, of the three shrines, Shiva's shrine faces east and other shrines face south and west. On the fourth side is Nandi. Adding to the uniqueness, the Nandi in 1000 pillar temple looks east, unlike most Nandis in Indian temples that look west.
Between these four is the Natya Mandapam (dance floor) where dancers performed.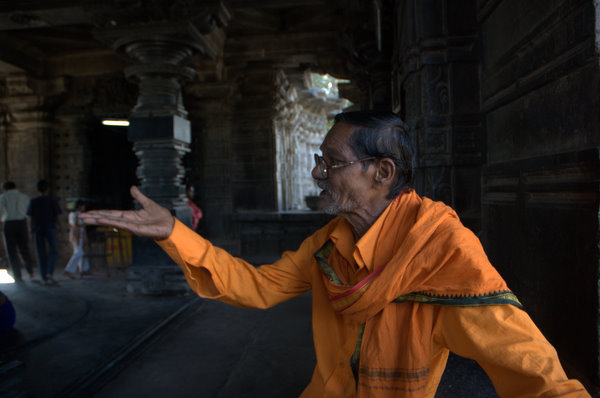 More interesting is the architectural prowess of the Kakatiyas. Hearsay is that ASI, when it dismantled the Mandapam for reconstruction, found about 30 feet of sand and three wells below it! Unbelievable. This temple was built in 1163 AD and took 72 years to construct!
In addition to architecture, I loved the rich carvings and sculpture. You have to see it to believe it. The Nandi had on its back, a chain made of bells which seemed real. And the bull was life like.
Impressive Bull was a beginning. The 1000 pillar temple takes it to a whole new level. Enter the temple, you will see four magnificent pillars supporting the Natya Mandapam (dance floor). Each richly carved with exquisite designs. A pillar has multiple designs, 2 centimeters to about 30 centimeters, on the perimeter of circular pillar. They used designs of jewelry of the age. Chains, bangles, rings, crowns and the Kakatiya Dynasty's symbol, Kalisam, can be seen one after another on each pillar. The design also had flowers finely carved. So fine, the sculptures carved gap between petals. A guide showed us such gaps by inserting a tiny stick into those holes. "This is how fine Kakatiya's sculptures were."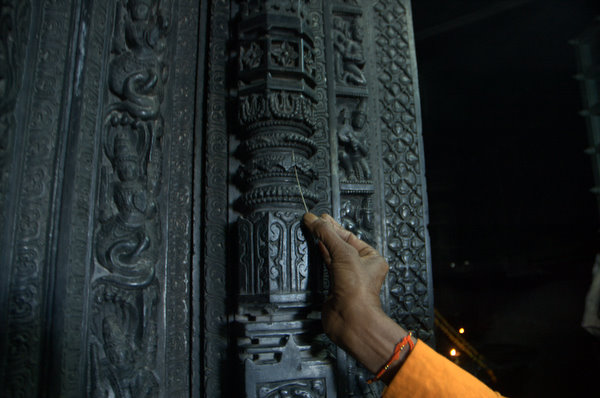 The roof of the Natya Mandiram in 1000 pillar temple is a master piece in itself. It has Gayatri, the goddess of learning, and Chaturmukam (four faces) that guards against ill. In fact, the roof has 3 Chatur mukhas or 12 such faces in all.
Seeing this architectural marvel is an experience in itself. It taught me more about myself, from where I am and the about the legacy of my ancestors. Thanks so much for building such structures which could withstand the test of time and be there to show us who you were!
A parting thought: I discovered a great video on Kakatiyas called Mana Kakatiyulu (Our Kakatiyas) made by Dr. Ambati Srinivas Raju. A well researched documentary with video footage of all the temples and Sila Sasanas (stone inscriptions) detailing the history of Kakatiya Dynasty. If you are someone from Andhra or anyone from India, you will enjoy this video. Thankfully, they published their numbers if you want to contact them. +919849333795 or +91 9949568285. Get drenched in history!
About the author:
 Chaitanya Sagar is an entrepreneur and blogger based in Hyderabad. He is passionate about India and Indian culture. He loves to read articles written by the freedom movement era leaders. He has a Chartered Accountancy degree and a management degree from the Indian School of Business. He runs 
Perceptive Analytics
, a data analytics company and blogs at 
ChaitanyaSagar.com
Subscribe: Get positive news directly in your inbox by clicking here.
We bring stories straight from the heart of India, to inspire millions and create a wave of impact. Our positive movement is growing bigger everyday, and we would love for you to join it.
Please contribute whatever you can, every little penny helps our team in bringing you more stories that support dreams and spread hope.