Kolkata (Women's Feature Service) The road roller operator working on repairing a damaged part of the road inside the Jyoti Nagar slum on the outskirts of Kolkata decides to take
Kolkata (Women's Feature Service)
The road roller operator working on repairing a damaged part of the road inside the Jyoti Nagar slum on the outskirts of Kolkata decides to take an unofficial tea break. A frail woman standing nearby steps up to the man and ensures that he gets him to work promptly. The woman is a member of the local Community Development Society (CDS), which monitors all the development work in the locality with a hawk's eye.
"It's a successful way to ensure that the beneficiaries living in the area themselves participate in ensuring proper implementation of the various slum improvement projects," says Seema Basak, 36, Town Project Officer, Rajarhat-Gopalpur Municipality (urban local body), under which the Jyoti Nagar slum falls.
Forty municipalities outside the Kolkata Metropolitan area are involved in the CDS project under which women living below the poverty line (BPL) in the slums are motivated to join the Society, get trained and work for social development.
A group of 4,000 families gets one CDS, and members are elected from the Slum Neighbourhood Committees formed at the local level. They work in close association with the municipal officials. The CDS members are elected on area (ward) wise representation. The Rajarhat-Gopalpur Municipality, with 35 wards for a population of 12,500, has 60 slums with four CDSs.
"The success of this venture is obvious from intense community participation, especially from local women. They have scripted the success stories in Jyoti Nagar and other shanty towns. Every development work, including setting up of stand post water taps, constructing a pump house, repairing drains and paving roads, undertaken in our slum is monitored by our CDS," says Promila Haldar, 62, CDS President.
Jyoti Nagar resident, Jharna Haldar, 45, who queues up to wash clothes at the stand post (community) water tap near her home in Jyoti Nagar from 6 am every day, says she is confident that water will be available at the tap for an hour three times a day – at 6.30 am, 11.30 am and 5 pm.
"Earlier, it was a struggle to get water. Water for drinking or for household use was a scarcity for the 650 families residing here. We thank the women of our locality who worked hard to get this water project implemented," says Champa Rango, 43, standing behind Jharna in the queue to fill her bucket.
The CDS in Jyoti Nagar realised from experience and after feedback from families living in the slum that water-logging took on disastrous proportions in this low-lying slum with its mud roads. Things got particularly bad during the rainy season from June to November.
Recalls Namita Baidya, 52, CDS Secretary, "Our mobility was drastically curtailed. Women waded through knee-deep dirty water, and men could not go to work. The children missed school while many – especially the children – fell victim to water-borne diseases like diarrhoea. We realised that proper drains and roads were needed to solve this recurring problem. Our CDS worked in tandem with the urban local body officials towards this end."
A deep tube well, a pump house and about 27 stand post taps were set up in the Jyoti Nagar slum between 2007-09 by Kolkata Urban Services for the Poor (KUSP), with funding from the UK Department for International Development (DFID). More often than not, such projects fall behind during their implementation stage. But in Jyoti Nagar this did not happen because the CDS women not only monitored the project but continue to effectively maintain the infrastructure.
And they are well up to this task, considering the rigorous training they have received from the urban local body (Rajarhat-Gopalpur Municipality) engineer – on area measurements for road work, maintenance, cleanliness and repair needs. They have also learnt how to supervise ongoing development work.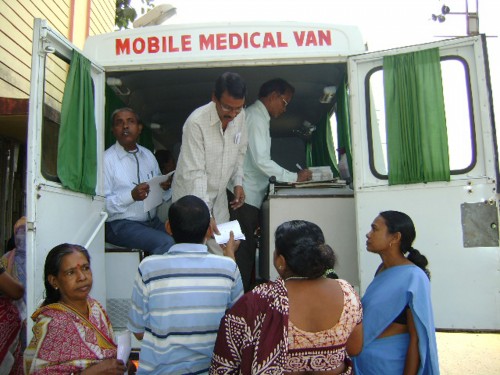 Baidya gives a lowdown on the training. "We were trained to identify the machines needed for road construction. We learnt to understand measurements. We are underprivileged and unskilled but the CDS training gave us confidence. We can communicate now. We are proud that our monitoring and supervision have made us part of social development. Now we too are significant contributors to society," she says proudly.
Adds Alok Chakraborty, Assistant Engineer with the municipality, "They understood that if the implementation is done properly under their supervision it would benefit their families, neighbourhood and locality." And this approach has certainly given the desired results. "The water-logging has vanished. The CDS women ensure that the sweepers keep the drains from clogging and liaise with municipality officials for road repairs and maintenance work on a regular basis. The CDS has counselled us to realise that we as a community are required to keep the drains and roads in good condition through constant supervision," says Anjali Biswas, 32, a resident of Jyoti Nagar.
"We also teach residents about the use of sanitation facilities and to adhere to proper hygiene norms," says Putul Mondal, a CDS member.
Today, Jyoti Nagar has complete sanitation cover thanks to the efforts of the CDS, adds Biswas. Health is also a top priority here. "Various national health programmes like pulse polio, malaria intervention, HIV-AIDS intervention and tuberculosis DOTS are carried out with support from the CDS. They convince families to receive family planning advice, continue the pre-natal and post-natal healthcare, ensure the necessary vaccinations as well as use the services of the mobile medical van for pathological tests," reveals Dr Sobha Gupta, Health Officer, Health Administrative Unit (HAU), set up by KUSP and the Municipality jointly.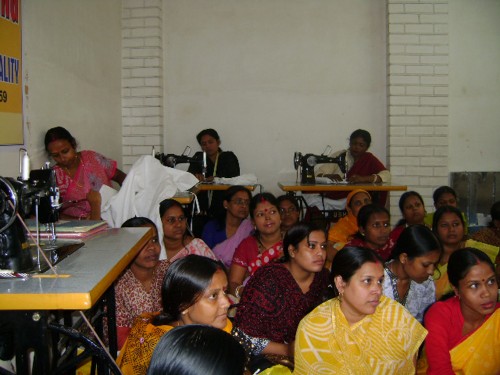 The CDS also participates in the economic uplift of the slums by coordinating various free training programmes with the municipality officials. From sewing, tailoring, embroidery and food processing to data entry, call centre training and training as beauticians, the CDS mobilises BPL women to learn and work. It also assists Self Help Groups to achieve sustainable operations.
In Jyoti Nagar, the CDS has initiated a cycle rickshaw project. It has bought 160 rickshaws for Rs 1.5 million (US$1=Rs 45.5), funded by the municipality. The CDS will rent these to unemployed youth and the money will be used to give loans to needy women.
While community participation in development is the best way to ensure sustainable improvement and progress, the CDS have simultaneously provided extremely poor women with confidence, a sense of self worth, as well as a stake in social development. Real empowerment, you could say.
This article has been written by Ajitha Menon for
Women's Feature Service
(WFS) and has been published here based on an arrangement with WFS.
Ajitha Menon is a senior journalist from Kolkata focussing on development issues.
Article and images copyright: Women's Feature Service.
We bring stories straight from the heart of India, to inspire millions and create a wave of impact. Our positive movement is growing bigger everyday, and we would love for you to join it.
Please contribute whatever you can, every little penny helps our team in bringing you more stories that support dreams and spread hope.