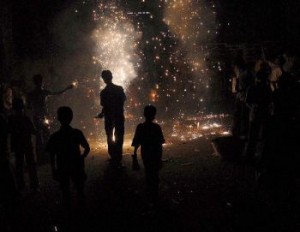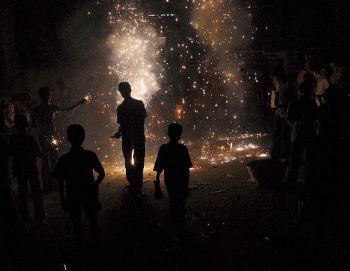 At the outset, a very happy Diwali to all our readers. Today's post, needless to add, is related to Diwali. B. Madhu Gopal writes in this article at The Hindu about how Childline, a voluntary organization, arranged for fireworks for street children:
They were the streetchildren, runaway kids and working children who came from diverse backgrounds to the Railway Institute near the Railway Station. Their common bond was the trauma that most of them faced in their families that made them flee their homes. The very thought of playing with fireworks seemed to make them forget their sorrow at least for a while. They were all grateful to Childline for realising that they too wanted to play like other children on Deepavali day. They had no words to express themselves but the joy in their eyes and on their faces said it all.
The report also notes a very heartening fact that Childline, the voluntary organization, has been arranging Diwali celebrations for street children for the past 6 years now. The event comprised of a cultural program followed by the distribution of packets of fireworks for each child.
Some more excerpts:
One little boy asked: "Sir, can I take these home"? He was a working child who had two more siblings at home. The older boys had a gala time turning the sparklers round and round, as it resembled a 'Vishnu chakram'. While some of the onlookers looked scared as the children could injure themselves, the boys and even most of the girls didn't show any signs of apprehension and thoroughly enjoyed their freedom.
Diwali, the festival of lights, truly was about dispelling darkness and bringing in rays of joy and light for these children.
Read the complete article here.
Image courtesy: C.V. Subrahmanyam at The Hindu.