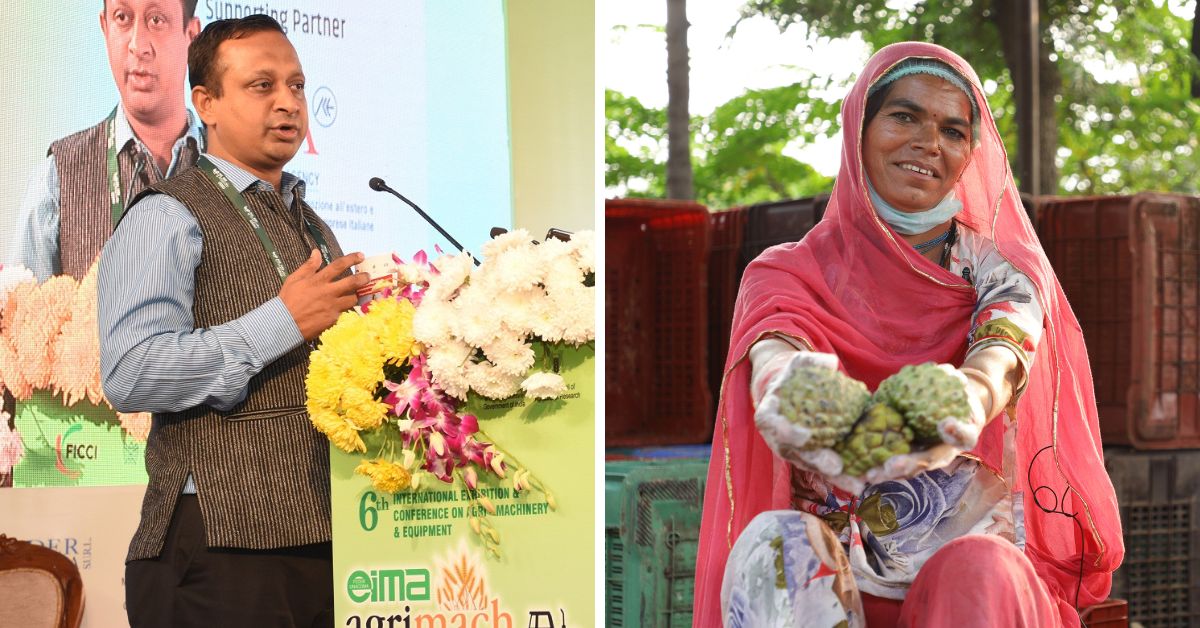 Rakesh Gupta founded Gramshree to educate and support tribal farming families through the entire value chain process. They're now earning up to three times more.
The custard apples that reach your fruit bowl go through endless rounds of bargaining all the while tribal farmer families in Kotra, Rajasthan, hope to get a fair price for their labour.
However, from being offered a measly sum of Rs 50 per crate, some tribals now earn Rs 150 per crate.
One of the organisations helping in this regard is Gramshree Development Services Pvt Ltd, which educates and supports tribals through the entire value chain process.
Founded by Rakesh Gupta, Gramshree educates tribals in rural areas about fruit processing by setting up processing units and training tribals to present fruit in a better condition. Gramshree's interventions are resulting in better prices and standards of living for the tribal farmers.
They started with a pilot project in 2016 with 500 tribals across multiple villages to check the importance of establishing a value chain. Today, Gramshree has replicated the model, setting up fruit processing units in 50 different villages of the state like Kotra, Gogunda, and Sayra, working with almost 2,000 farmer families, claims Rakesh.
Now the organisation has produced about 30 metric tonnes of custard apple pulp, which are sold to Gujarat, Rajasthan, Madhya Pradesh and NCR.
They also work with Indian blackberry (jamun) and tamarind, in Chhattisgarh and Madhya Pradesh, empowering around 200 families.
'Direct impact on tribal lives'
Rakesh hails from Ranchi, Jharkhand. He graduated in maths and did his postgrad in rural development from the Xavier Institute of Social Service, before joining the development sector. He then started working with the NGO Srijan, in Rajasthan's Tonk district, for four and a half years. "I worked directly with the community to establish a whole value chain there. It was a great experience," he tells The Better India.
Around 2011 he left Srijan, after acquiring enough experience to understand the challenges specific to India's rural areas. He then joined a charitable wing of an Indian conglomerate to understand the other side of social development like funding.
He worked closely with the 18 NGOs that the trust was supporting at the time. "But I was not satisfied," he says, "I wanted to make a more direct impact on the lives of tribal farming families."
He then started the research process and found that there were several NGOs in the sector doing great work, including bringing in new technology, increasing agricultural production and output, adding new livelihood activities to the farmers' lives, and more. "Ultimately, the farmers are left to deal with the market. That was the biggest existing challenge," he says.
Quitting his job, he decided to build an organisation that would assist farmers at the front end.
That's how Gramshree was born in 2014.
It was started as a consultancy, providing support to NGOs in different aspects of the value chain. But soon he began travelling to the tribal areas of Udaipur and started working with the tribals. "I found that tribals have very small land holdings and were living in a condition devoid of basic facilities. Their main option was to migrate," he says.
In the surrounding forest areas, Rakesh learnt that custard apples were in abundance. But since the areas they live in are deep in the interiors, the tribals were unable to bring the fruit directly to any market.
Sunkibai, a tribal farmer from Rajasthan's Surana village who has been associated with Gramshree for 18 months, has experienced this challenge firsthand. Earlier, she used to sell only to the locals in the neighbouring areas. She says, "Middlemen would come to buy custard apple, giving us between Rs 50 to Rs 150 per crate (20 kg of fruit). This amounted to between Rs 2.5 to Rs 7.5 per kg."
"They [tribals] were being exploited and I started thinking about how we could intervene," says Rakesh.
"We put in as much hard work, but the returns were low. Today, we earn more for the same work," says Sunkibai, adding that they get around Rs 12 per kg.
"Before we only grew corn, wheat, and mustard. But after Gramshree's residential training I grow more plants like pea, spinach, coriander, fenugreek, and more. My annual income for the past year has been around Rs 50,000," she adds.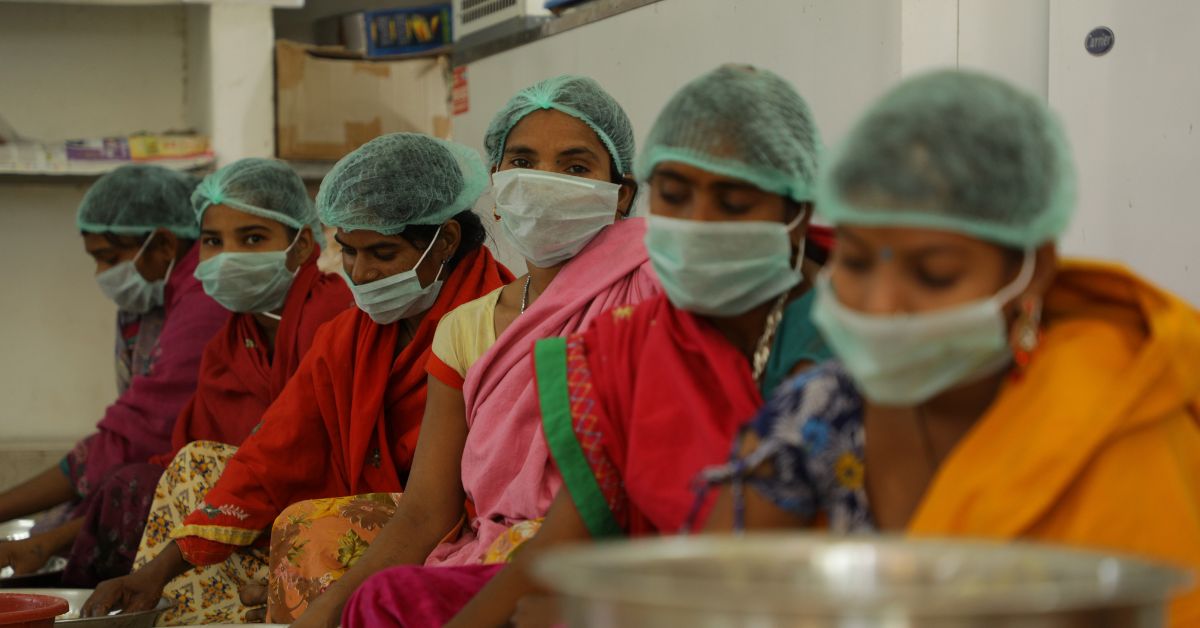 The pilot project
Gramshree decided to launch a pilot around 2016, with 500 tribal farmers from 30 villages, to study the importance of setting up a value chain. The idea was to improve the quality of the fruit before sending it out into the market.
They had decided to set up fruit collection centres, a processing unit, a storage unit, and a marketing network, all at the village level, instead of in Udaipur. This would allow employment for the local women who could work at the various facilities.
They approached Ram Avtar Kaushik of the Horticulture department of the Maharana Pratap University of Agriculture and Technology, Udaipur. Through him they learned that they could extend the life of the custard apple's pulp through the use of frozen technology, giving it a shelf life of almost two years.
They also mobilised the women into self-help groups and gave them necessary training. For instance, Gramshree asked them to focus on finding bigger fruit which would fetch a better price. They also taught them the importance of wearing masks and caps and trimming their nails while working in the processing units, so their hair or nails wouldn't fall into the pulp they were making.
They educated tribals, through documentaries and films, in the entire processing process, showing them how pulp is extracted from the fruit and the various products their fruit collecting efforts lead to.
As a result of these interventions, the price of the fruits the tribals were selling increased since they could define the quality of the fruit they were selling. If the fruit was between 200 grams and 300 grams, it was B grade, and the farmers received Rs 13 per kg, which amounted to Rs 260 per crate, whereas before they got about Rs 50. For A grade fruit, which was over 300 grams, tribals received Rs 15 per kg and Rs 300 per crate. "At the village level, the tribal earnings become triple, at least."
The next step was to establish a mini fruit processing unit for which they collaborated with the forest department and provided them with the land to set up the processing plant. Gramshree invested Rs 5 lakhs to procure machines, purchasing 15,000 kg of fruit and creating 3,000 kg of pulp. The women working here earn Rs 200 each day.
Their biggest challenge was figuring out where to market. From Udaipur, they slowly expanded their market to Ahmedabad as well and focused on the ice cream industry.
Overall, their efforts led to better earnings for the tribals and a strong supply of pulp which they could sell in the market, being primarily a B2B business.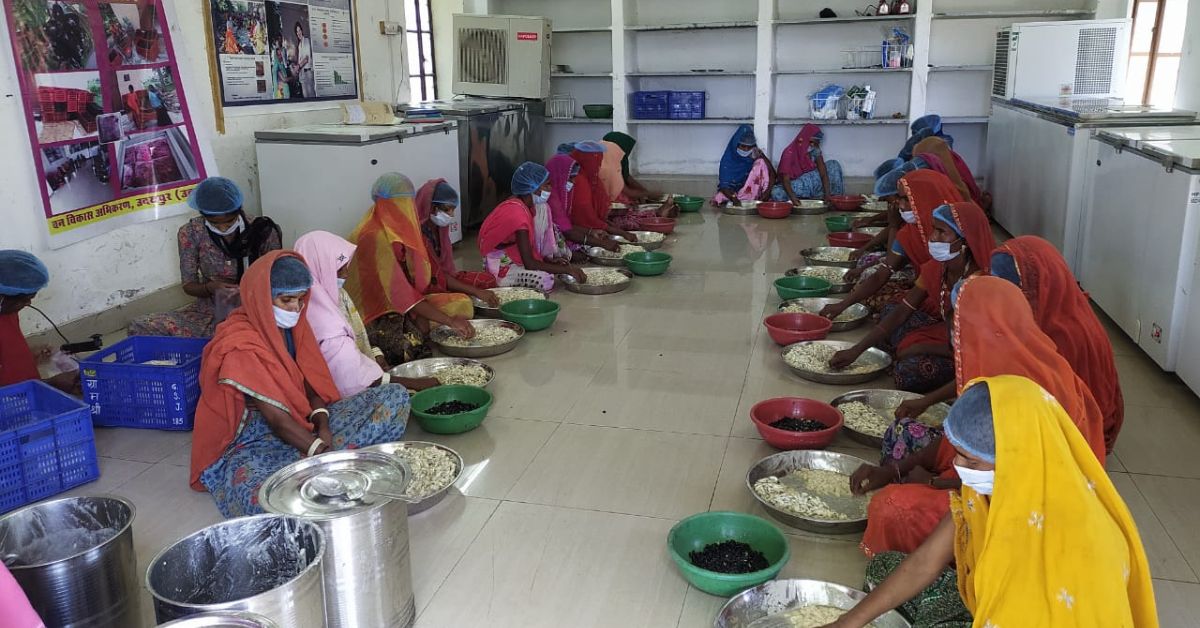 Empowering tribal communities
Today, Gramshree has replicated this process in different tribal villages, setting up processing units that employ about 50 women each. "They've been working for six years now, they're all skilled up," says Rakesh.
While working with the tribals, Rakesh realised that a lot of work needed to be put in to improve the way of life of the tribals, and established the nonprofit Gramshree Foundation Trust.
The Trust works at the backend, mobilising tribals, forming producer groups, supporting farmers with commercial vegetable cultivation, and marketing and sales. Its main goal is to build the capacity of the tribal women through creating producer groups of about 15 women each and offering on-ground support.
While middlemen still exist, Gramshree has established itself as a strong competitor, providing farmers with better rates, support, and training. The women themselves notice the difference in rates.
"Earlier, we sold custard apple to middlemen at whatever rates they fixed. After Gramshree's intervention, almost 40 of us formed farmer producer groups and started selling to the market directly. We decided that if any middleman's van from outside came to collect fruit, we wouldn't give in. We would make the pulp ourselves and sell that. The middlemen tried to threaten us, saying we can't do this. At midnight one day, they called the police, the sarpanch, and the whole gram panchayat to scare us. But all of them supported us," she adds.
Going forward, Gramshree is working to expand into other areas with high tribal populations, like Madhya Pradesh, Chhattisgarh and Jharkhand. While the tribals have access to the forests and knowledge about where to find the fruits, Gramshree is mobilising and educating them to earn better profits for their efforts.
"What Gramshree ultimately wants is that the tribal community in the village should do the procurement and processing of fruits, and we will help them reach out to the market. We will build their capacity so that their produce matches the quality of market demand," says Rakesh.
Edited by Yoshita Rao
We bring stories straight from the heart of India, to inspire millions and create a wave of impact. Our positive movement is growing bigger everyday, and we would love for you to join it.
Please contribute whatever you can, every little penny helps our team in bringing you more stories that support dreams and spread hope.