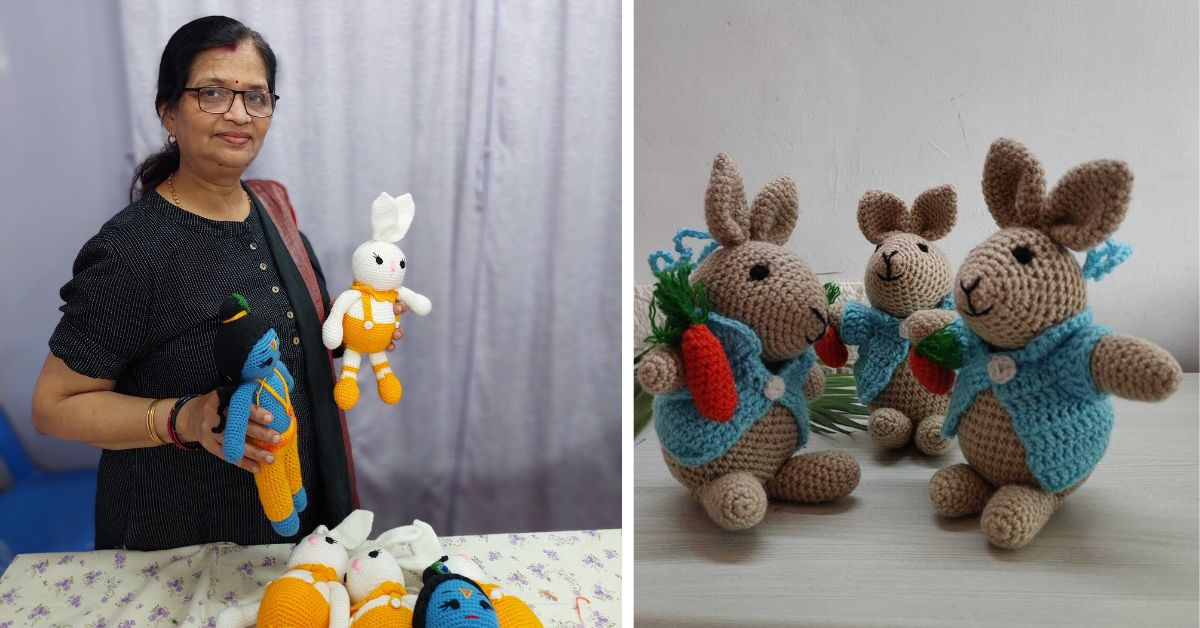 Kanchan Bhadani started her entrepreneurial journey in her 60s by launching a crochet toy business called LoopHoop to pursue her passion for crocheting. Her business empowers tribal women of Jhumri Telaiya in Jharkhand.
Hand-crocheted items were a common sight in most households before the fast-paced textile industry took over the markets. Mostly mothers and grandmothers, after completing their daily household chores, would sit with their crochet needles making a number of items from tablecloths and curtains to sofa covers and toys.
While such items have been diminishing over time, a 61-year-old woman from Jharkhand is hand-making crocheted toys to bring the art form back to life.
With her business 'Loophoop', Kanchan Bhadani has sold over 3,000 hand crochet toys since its inception in 2021. Additionally, she also provides free training to girls from tribal communities and homemakers to help them earn livelihoods.
So far, she has trained over 50 tribal women in the art of crochet. Out of this, most work with her to make the toys for the company.
From a homemaker to an entrepreneur at 60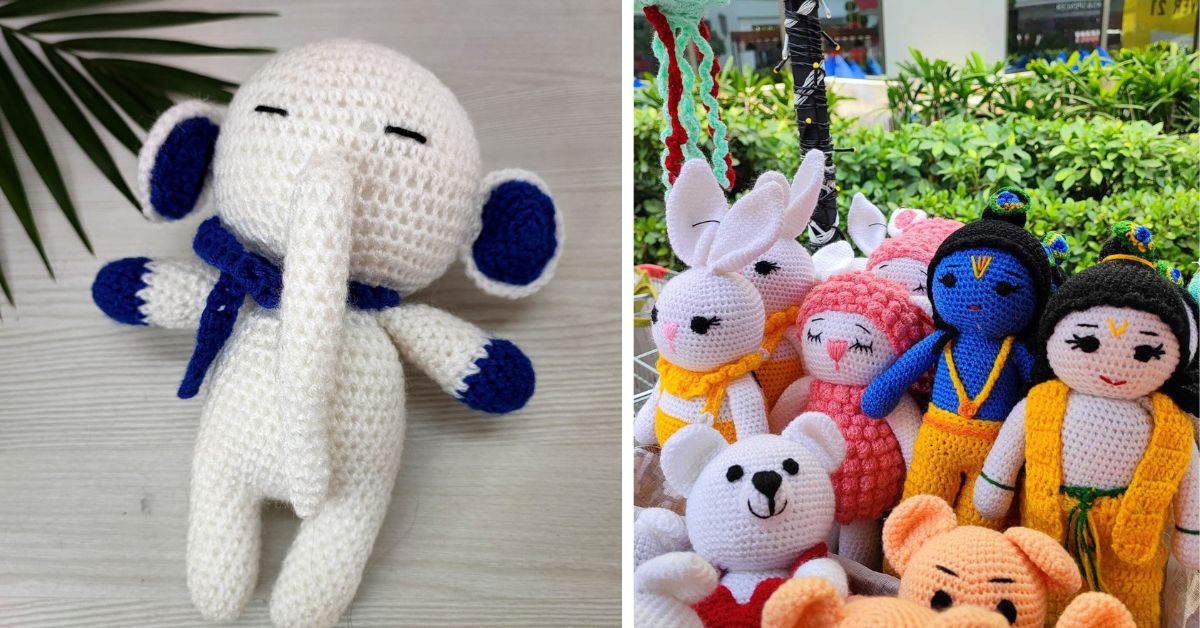 Born and brought up in Kolkata, Kanchan grew up watching her grandmother and aunts making crochet toys and table cloth. "All the women around me knew the skill, even if they did not use it as often. In those days, stitching, weaving and crocheting were taught to every girl," she recalls.
Much like her aunts and grandmothers, Kanchan too learnt the skill. "I would watch them make crochet items, and then in school, we were given special training to learn the art. I always loved doing that and kept practising," she says, adding that in 1982, she got married and moved to Jhumri Telaiya in Jharkhand.
"After passing my intermediate exams, I couldn't continue my education as I was married and had to move cities. But I kept my passion for crocheting alive and didn't stop practising," she says.
While she was passionate about her art, something else bothered her and eventually developed as yet another passion she would pursue. "Since moving to Jhumri Telaiya, I would come across a lot of tribal women who were not literate. They could only work in the mines, which was a daily wage job, and the money was not enough," she says.
Seeing these women suffer, Kanchan always thought of how she could make a meaningful difference in their life. "I knew I would do something for them but was not sure how," she recalls.
As a homemaker, she says her dream of doing something for tribal women got lost in her household responsibilities. "Raising three kids and running a household kept me busy for years. I could not focus on my social work aspirations for a long time. At the time, I just wanted to focus on my kids and raise them well. However, as they grew up and found their footing in life, my desire to follow my passion came back," she says.
While she would occasionally give classes to women eager to learn crochet, most of the time she was a homemaker…until 2021.
"By 2021, all three of my kids were settled in life, and I was free of responsibilities. I had taught many girls and women how to crochet, so I knew I would do something along those lines. It was in 2021 when I got the idea of LoopHoop with the help of my children," she says.
"We knew it would be easy to find karigar (workers) in Jhumri Telaiya as there were quite a few tribal women who were housewives and would love to have some financial support," she says.
Crocheting with a cause
"It was my children who helped me set up the website and social media for LoopHoop," informs Kanchan.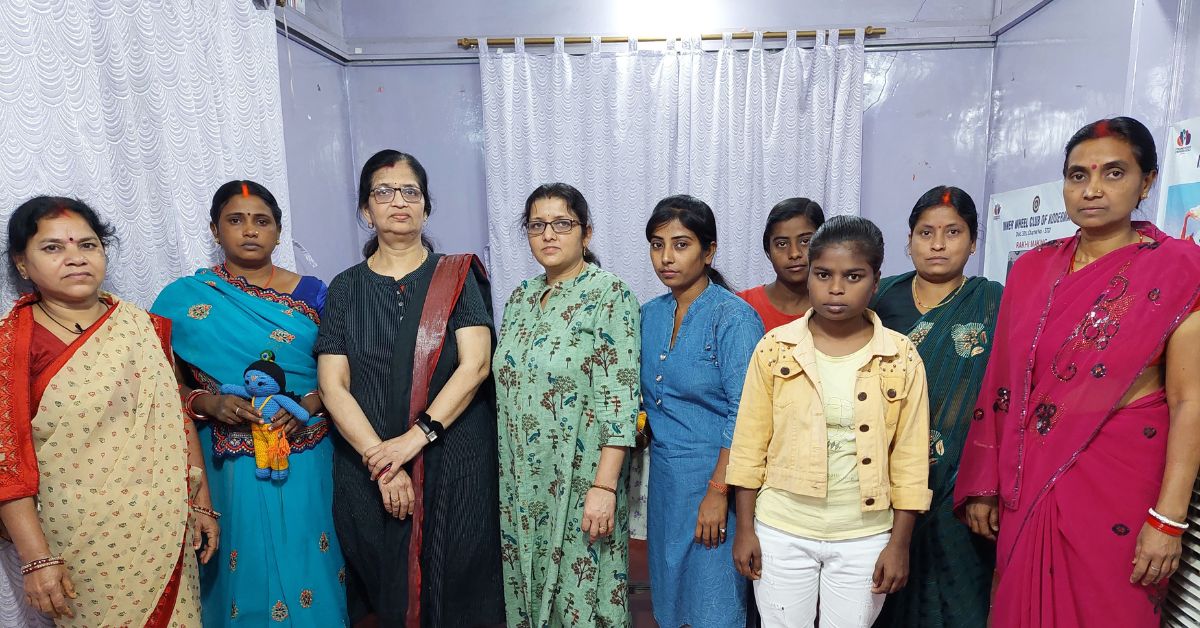 Explaining how the business works, she says, "I hire homemakers and girls from the tribal communities and teach them how to crochet for free. Most of them are quick learners and take up the work very seriously."
She continues, "Since they are mostly homemakers, they cannot come and devote hours to the work. So we ask them to take the wool, design and crochet needles, and do the job at their ease at home. This makes the job more viable to them."
She has taught over 50 tribal women so far. "Although there is no prerequisite to learning crocheting, most of them take around 10-15 days to learn the basics of it. Further, if they keep practising they can be more proficient. Currently, out of those 50, we have 25 who work with us regularly. They take the stuff from us and come back with toys." she informs.
The women who work with Kanchan get paid for the products they make. "On average, if they are working 2–3 hours every day, they make more than Rs 5,000 in a month," she says.
21-year-old Sonali has been in Kanchan's team for nearly two years now. She makes more than 30 toys in a month. "I took training for two weeks and learnt it very easily. Kanchan ma'am gives us assignments. We just have to collect the materials and bring the products to her after some time. This work has given me a lot of confidence and financial stability," she says.
"With the money I earn, I was able to pay my tuition fees for college with the same money. I make around Rs 5,000 a month by working only for a few hours a day. The flexibility in work hours helps to earn while I study," she adds.
Kanchan makes various types of soft toys — such as octopuses, dolls, caterpillars, elephants etc. She has sold over 3,000 toys so far. The products are available to buy from their official website, Instagram profile and on platforms like Flipkart and Amazon. The company currently makes a revenue of more than Rs 14 lakh per annum.
"I also try not to waste any materials. With whatever wool that is left, we make some other toys so that there is no waste left behind," she says.
Sunitha, who purchased a doll and a turtle for her toddler from LoopHoop says, "I loved the quality of the product. The fact that they are handmade adds value to the product. My toddler loves to play with it," she says.
Kanchan, who became an entrepreneur when most people plan to retire, has no plans of stopping. "I always dreamt of doing something for the tribal community, and today, I have trained many women. I know that even if they don't join my team, they have a career option with them."
She adds, "I believe there is no right age to start something and follow your passion. So I intend to keep working and improve the lives of these tribal women."
To check the crochet items you can visit the website or the Instagram profile.
(Edited by Pranita Bhat)
We bring stories straight from the heart of India, to inspire millions and create a wave of impact. Our positive movement is growing bigger everyday, and we would love for you to join it.
Please contribute whatever you can, every little penny helps our team in bringing you more stories that support dreams and spread hope.
Tell Us More