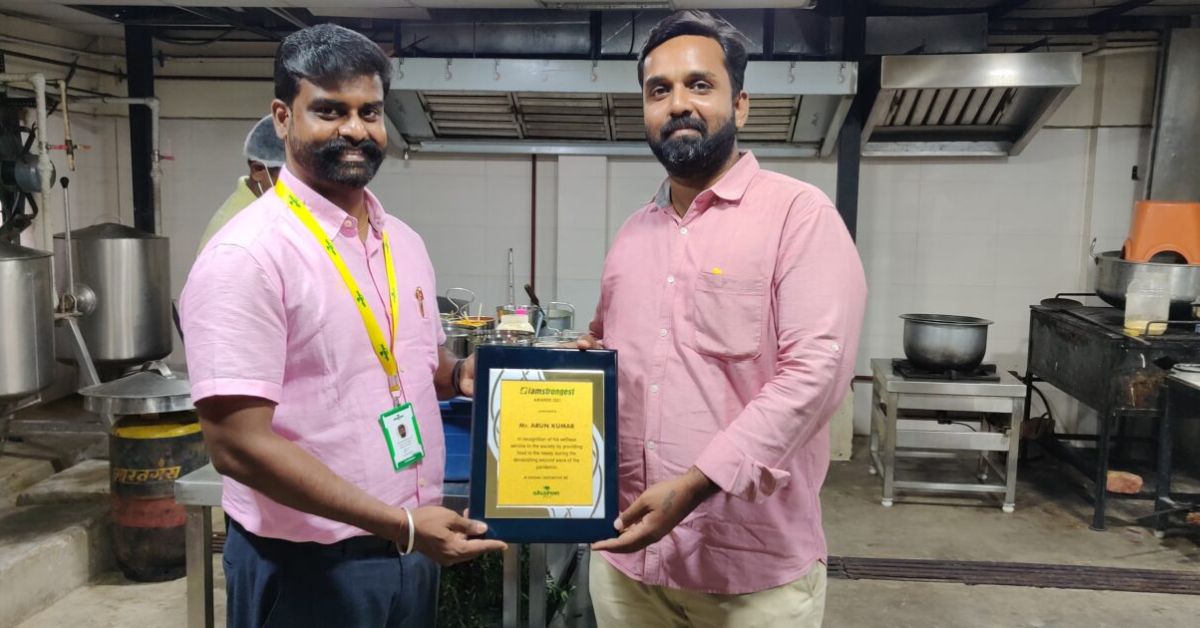 To recognise these extraordinary contributions to society, SharonPly — a leading plywood manufacturer in South India — introduced its #iamstrongest Awards initiative.
---
This article has been sponsored by Sharon Ply.
---
In times of crisis, ordinary people assume extraordinary roles to reach out and help. These are common people who make a difference in the world by being the change instead of waiting for one.
One such instance where this was more evident than ever was the COVID pandemic. In March 2020, the country was jolted into a crucial phase that saw many ordinary citizens stepping up to take on extraordinary challenges.
Among these were doctors who sacrificed their safety to get medical assistance in time for those affected. The news also highlighted social workers who went the extra mile to distribute groceries to the elderly and poor.
These stories reflected courage and bravery.
To recognise these extraordinary contributions to society, before and during the pandemic, SharonPly — a leading plywood manufacturer in South India — introduced its #iamstrongest Awards initiative.
Through this, people have shown exemplary dedication and are acknowledged at an annual award ceremony.
The winners are given a commemorative plaque and a cash prize by Shri Vishnu Khemani, Managing Director, SharonPly.
Here are the inspiring individuals who were presented with this award.
1. Mr. Kalyana Sundaram, Chennai (Awarded in 2021)
When the COVID lockdown struck, 56-year-old Kalyana Sundaram realised that many in his city went hungry every day.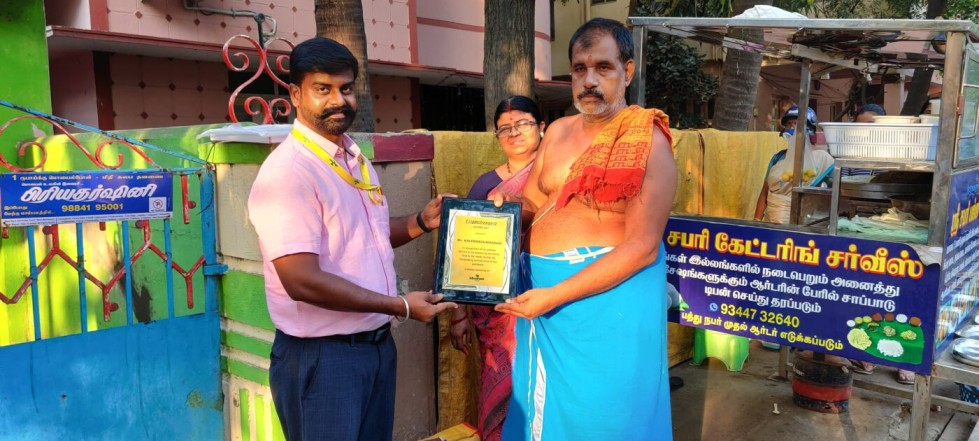 A street food vendor, he used his pushcart in West Mambalam for a good cause. He deposited small amounts of money into his account and collected Rs 80,000. After withdrawing this money, he began feeding those who otherwise would be hungry.
2. Mr Chandrasekhar and Mrs Pushparani, Trichy (Awarded in 2021)
The duo did not want people to go hungry during the lockdown. With food availability being a problem, they set up a food stall in Khajamalai near the Anna Stadium in September, with their son's help.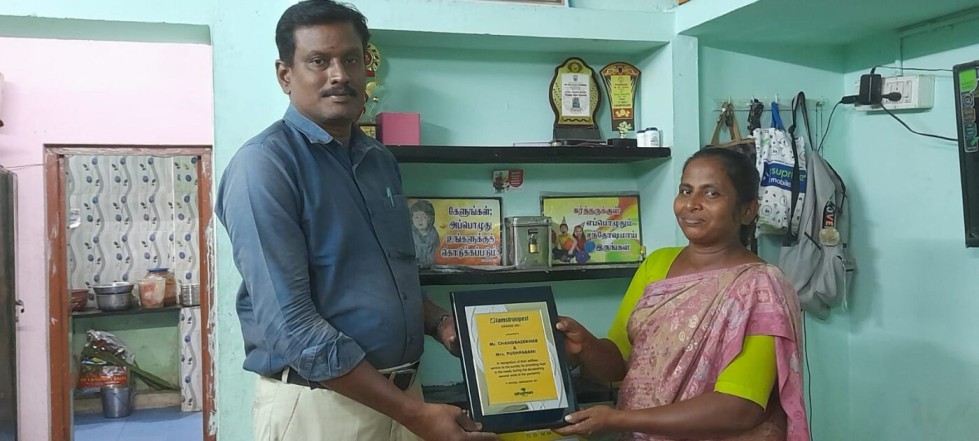 Here, they began serving rice for Rs 5. These were of different varieties such as sambar rice, lemon rice, tomato rice, etc.
3. Mr Muthupandi, Thoothukudi (Awarded in 2021)
At his shop on Kadalaiyur Road junction in Kovilpatti town, a bunch of bananas could be seen hanging outside the shop during the lockdown.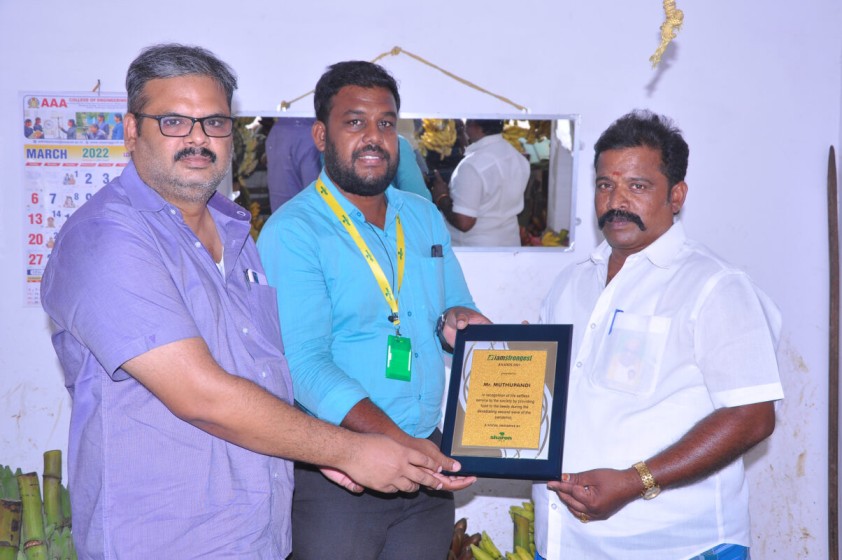 This fruit vendor decided to use his business to do good. The banana bunches had a sign that read in Tamil, "Eat if you are hungry. The fruits (bananas) are free of cost. Don't waste it."
Passersby and children could eat their fill for free.
4. Mr Arun Kumar, Chennai (Awarded in 2021)
As the head of Chennai's non-profit organisation, No Food Waste (Chennai Chapter), Arun Kumar has spearheaded the solution to tackling the problem of food wastage. Weddings in India are a cause for celebration but end up contributing to a lot of surplus food being produced.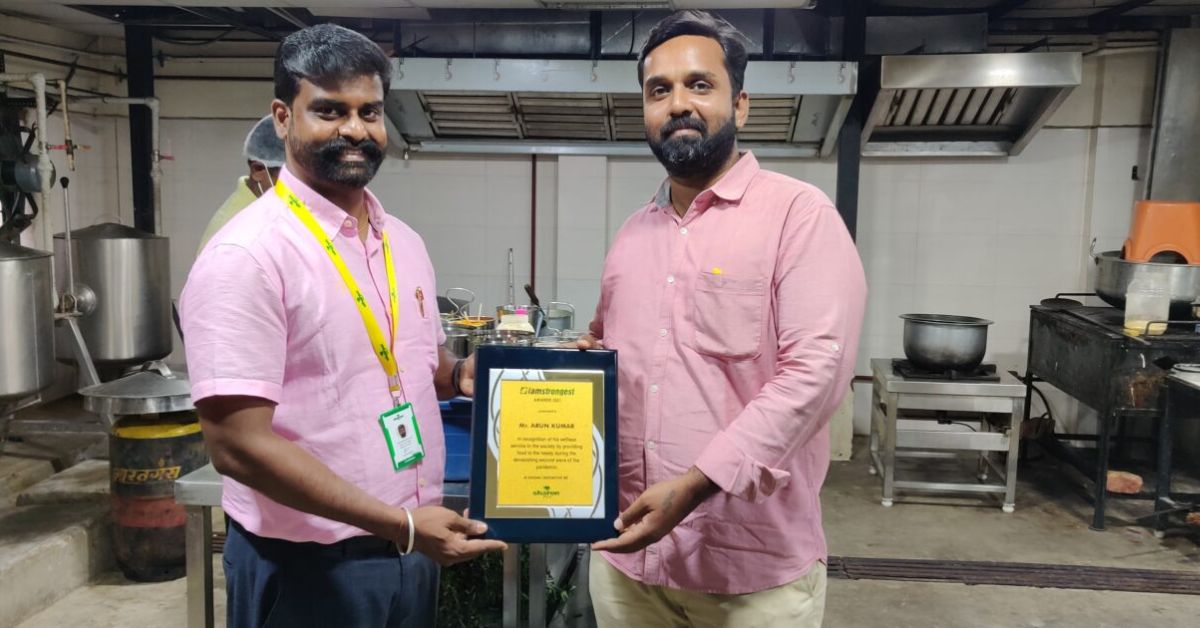 To combat this problem, Arun Kumar decided to launch a campaign where he would collect excess food produced during weddings across the city and then distribute this to the hungry.
5. Dr A Simon Hercules, Tamil Nadu (Awarded Posthumously in 2020)
An accomplished neurosurgeon, Dr Simon was drawn to social welfare causes before the pandemic struck. "He used to conduct medical camps in remote villages in Tamil Nadu and provided care for poor patients. He has also contributed to the social welfare activities in Chennai and other parts of Tamil Nadu," his colleague Dr V G Ramesh said in an obituary.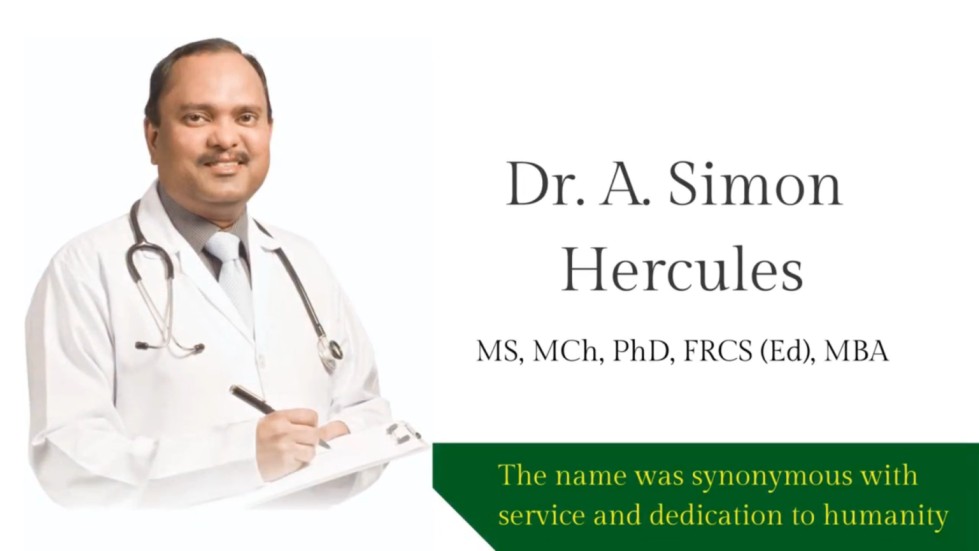 Throughout the pandemic, Dr Simon continued to treat his patients, putting his life at risk. However, in April 2020, he became the first Medical Doctor in Tamil Nadu to succumb to the virus.
Ironically, the same doctor who had risked his life for people's safety was denied burial at Kilpauk cemetery as locals protested. They feared that COVID could be transmitted through the body.
So Dr Simon was given a hurried burial at Velangadu in Anna Nagar at night.
Last year, after his wife Anandhi Simon sought permission from the Madras High Court, the doctor received a dignified burial at the same Kilpauk cemetery in July 2021.
6. Inspector Balamurali, Tamil Nadu (Awarded Posthumously in 2020)
The Law and Order Inspector of Mambalam station tested positive for COVID in June 2020. He was taken to the Rajiv Gandhi General Government Hospital (RGGGH) and then transferred to the IIT Madras campus to show improvement.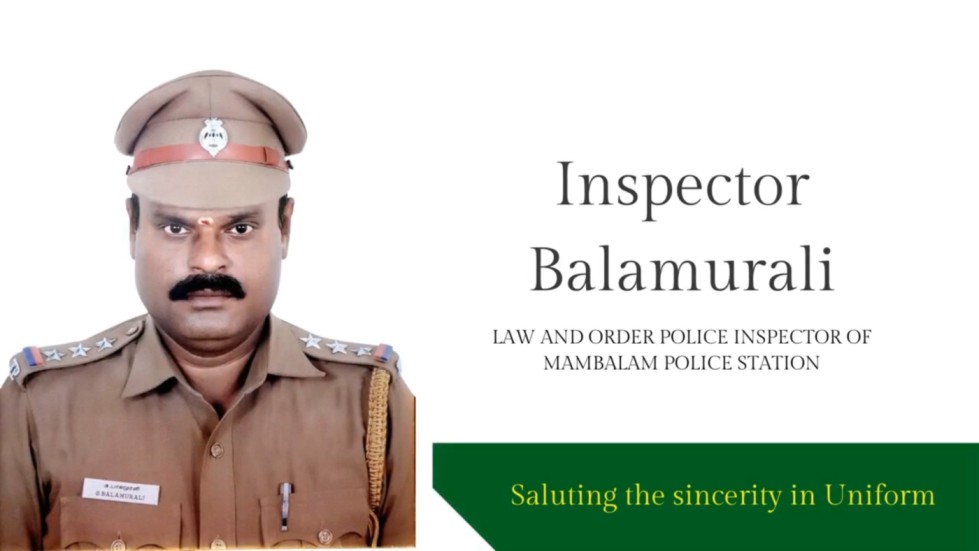 However, his condition deteriorated, and he died on 17 June 2020. The award was a recognition for him being the first police personnel who was martyred during the pandemic in Tamil Nadu.
7. Sister Joan Mary Priscilla, Tamil Nadu (Awarded Posthumously in 2020)
Sister Joan Mary Priscilla had her retirement planned for 27 March 2020. However, she stayed back to tend to the sick when the pandemic began. Two months later, she became the first nurse in Tamil Nadu to succumb to COVID.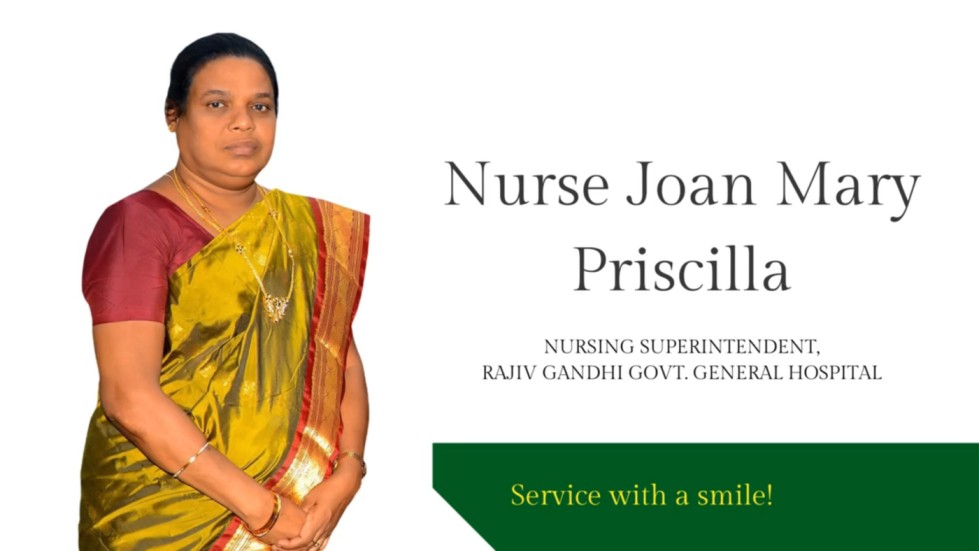 "Joan was a dedicated nurse all her life and was always committed to serving the sick. The moment her hospital authorities asked her to stay for COVID duties post-retirement, she readily agreed and threw herself headlong in the service of the ill," said Victoria Solomon, Joan's cousin to The Tribune.
8. Ms Malathi Raja, Chennai, Tamil Nadu (Awarded in 2019)
Malathi Raja is a Wheelchair Basketball Player from Tamil Nadu. She has fought against all odds – poverty, disability and social stigma to rise as a valuable player. She has represented the state and country in several tournaments in India and abroad. She has encouraged many disabled girls to take up the sport, and she says there are around 150 players now in Tamil Nadu.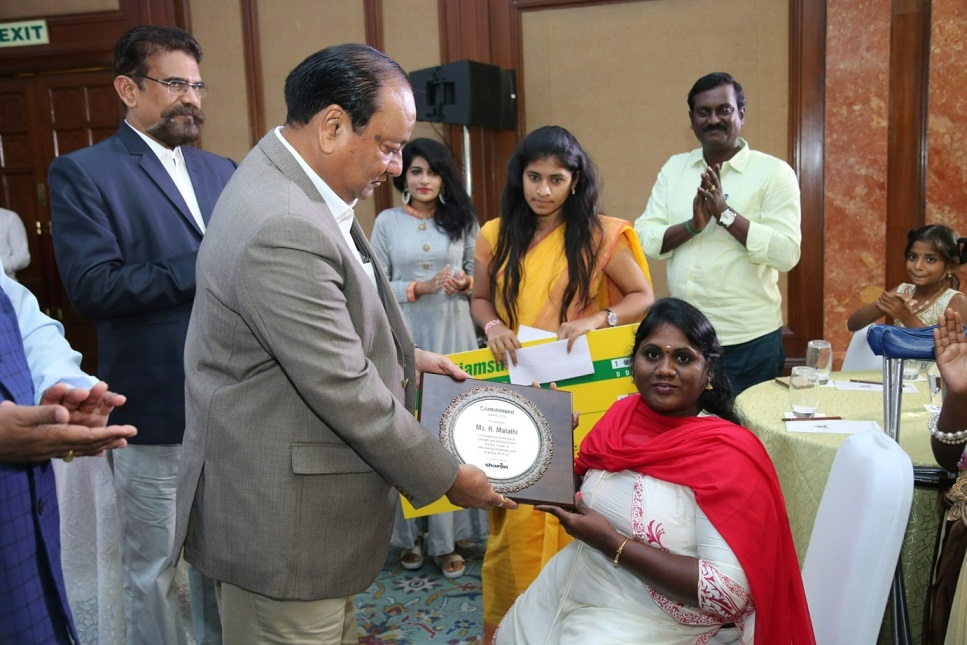 Her experiences led her on a quest to find solutions for people with mobility and physical challenges to be able to travel if they wished to. This led her to launch her travel start-up, Yathumagi Travels, in 2021.
"Yathumagi translates to 'a person who can be anything' — that is our dream. We can be anything we want to, go anywhere we wish to, and see the world in our wheelchairs," Malathi declares.
"She is a great source of inspiration for other people like her who battle physical disability. Her plans include coaching other para-sportspeople," says Mr Khemani.
9. Ms Logammal, Tiruvallur, Tamil Nadu (Awarded in 2019)
Logammal, who grew up in Aranvoyal village in Tamil Nadu, always believed that children had the power to shape society for the better.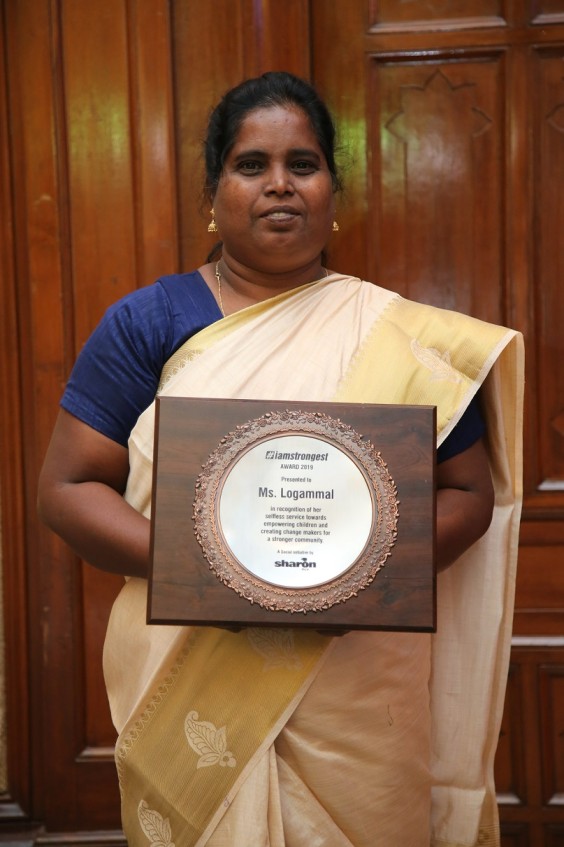 So in 2006, she started a chapter of the Children's Parliament in the village to teach social responsibility among children. While the kids are involved in making plans about improving the town and facilities, Logammal acts as a guide during these Parliament sessions.
"They should be conscious about the welfare of the community and should be problem solvers when they grow up," she says.
Over time, these discussions have catapulted impact in several ways — regulating water supply, installing water pumps and street lights, and the local liquor shop being shut down.
Logammal also extends this idea to other villages, wherein she helps them set up a Children's Parliament. She has trained over 20 such chapters to date.
While these heroes were awarded as part of the #iamstrongest initiative, SharonPly launched another campaign as part of this initiative in May 2022 — #QuenchTheThirst.
The motive behind this #iamstrongest initiative was to help the birds and animals beat the heat during summer by distributing water bowls. SharonPly has distributed over 1,000 water bowls all over Chennai, asking people to place them outside their houses or balconies.
Along with this, an online contest, #QuenchTheThirstChallenge was conducted wherein participants were asked to click a selfie with the water bowl placed outside their houses or balcony. Eight lucky winners were selected and given gifts as a token of appreciation.
#QuenchTheThirst campaign will be back next summer.
Sources
Dr A. Simon Hercules – Community Neurosurgeon Whose Life was Nipped in Bud by Dr VG Ramesh, Published on 6 July 2020.
A nurse who continued in Covid-19 care post-retirement dies of the virus, Published on 30 May 2020.
Family in Tiruchi sells variety of rice for ₹5 to help workers, and students by Kathlene Antony, Published on 7 November 2020.
Fruit vendor offers free bananas to feed hungry, Published on 22 May 2021.
Edited by Yoshita Rao
We bring stories straight from the heart of India, to inspire millions and create a wave of impact. Our positive movement is growing bigger everyday, and we would love for you to join it.
Please contribute whatever you can, every little penny helps our team in bringing you more stories that support dreams and spread hope.
Tell Us More