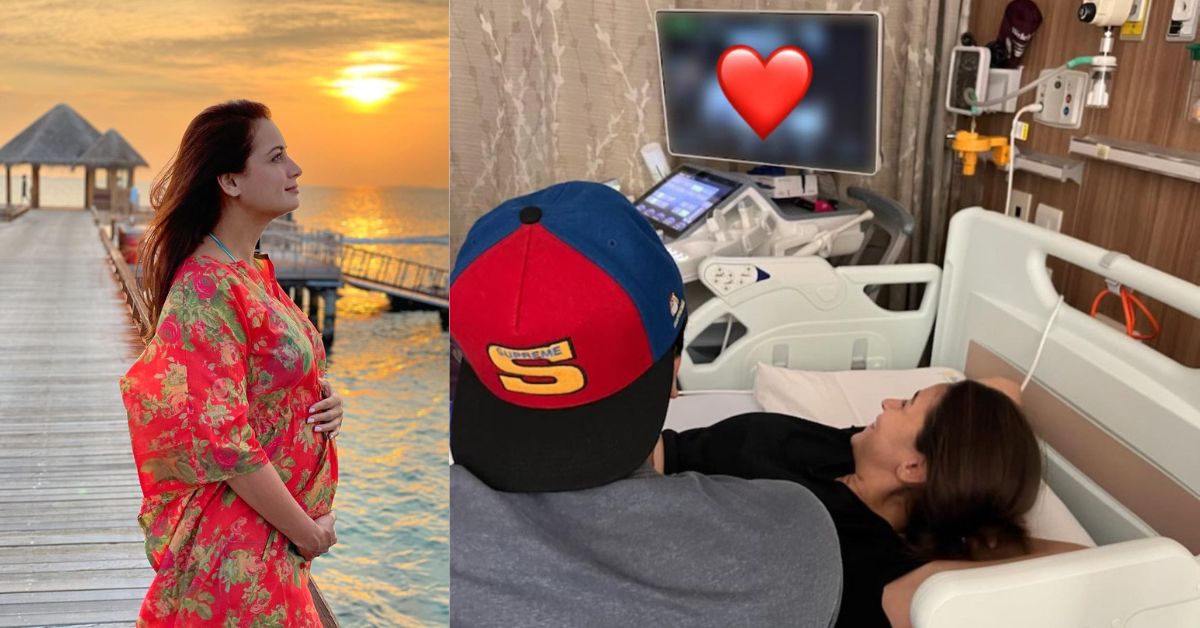 The recent announcement by actor Alia Bhatt about her pregnancy once again shone light on how insensitive comments ridicule women's choices and their lives.
Quintessential questions for newlyweds in India include, 'Is there any good news?'
As a married woman, I have also not been spared. When I moved cities a few years ago, the first question I was asked by neighbours was, 'How many kids do you have?' The questions get more intrusive, hurtful and extremely personal as the years go by.
A few weeks ago, we moved again — this time to Kochi. I used to think that only older people ask intrusive questions but a young, newly married couple proved me wrong.
One might think that once a woman gets pregnant, the questions would stop. But all in vain. Case in point being Alia Bhatt. The actor announced that she and Ranbir Kapoor are having a baby on Instagram on 27 June, and the post went viral shortly after.
From trolls on social media to uncles on WhatsApp groups, everyone had an opinion.
'I am a woman, not a parcel.'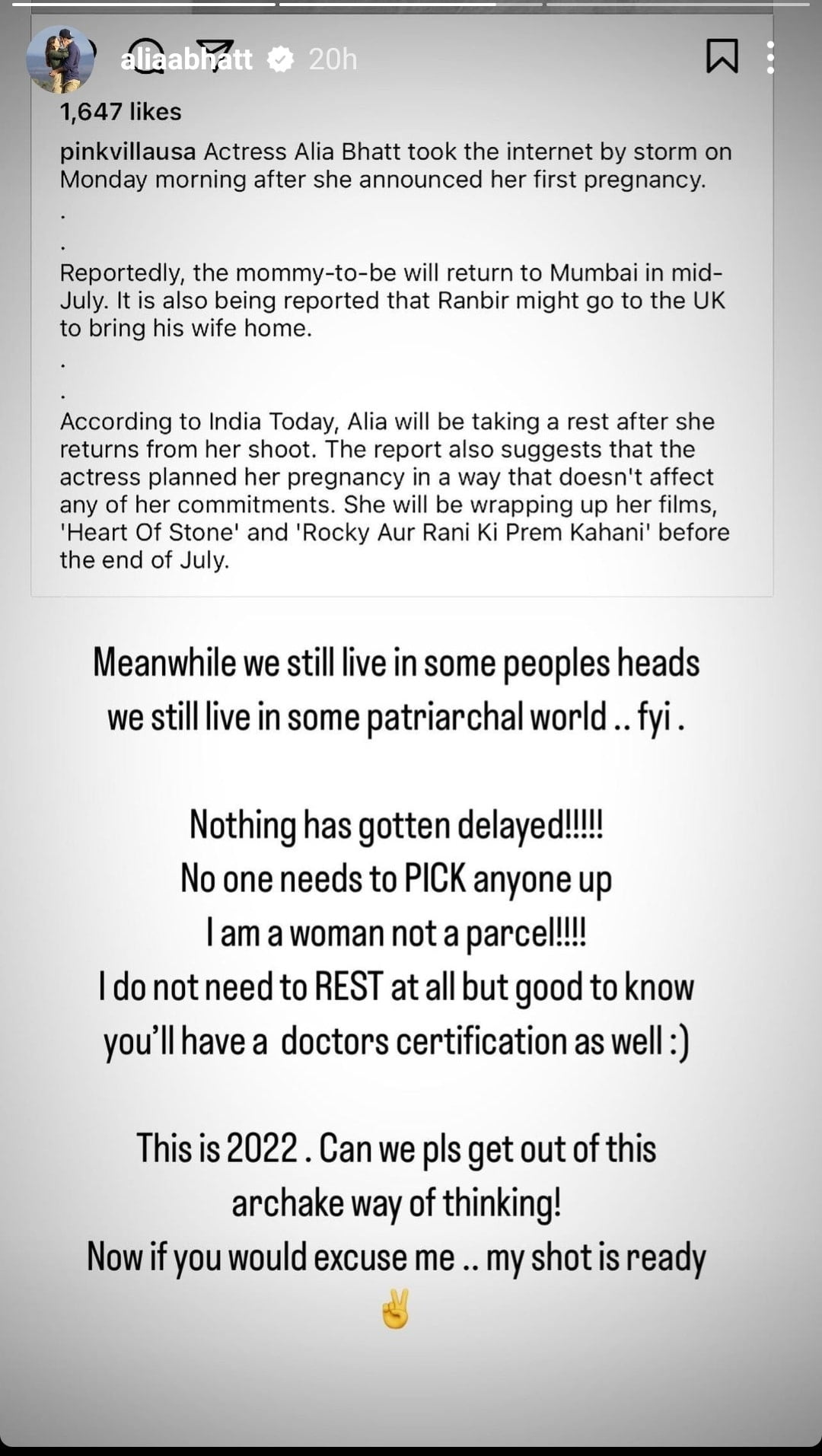 Alia was quick to give a befitting reply to an article that suggested she was going to be taking some time off after coming back from her UK shoot, and that Ranbir might be bringing her home.
She said, 'No one needs to pick anyone up, I'm a woman, not a parcel.'
This isn't an isolated incident. Celebrities like Neha Dhupia and Dia Mirza were also trolled after they announced their pregnancy a few months after their marriage.
'There should never be shame attached to motherhood.'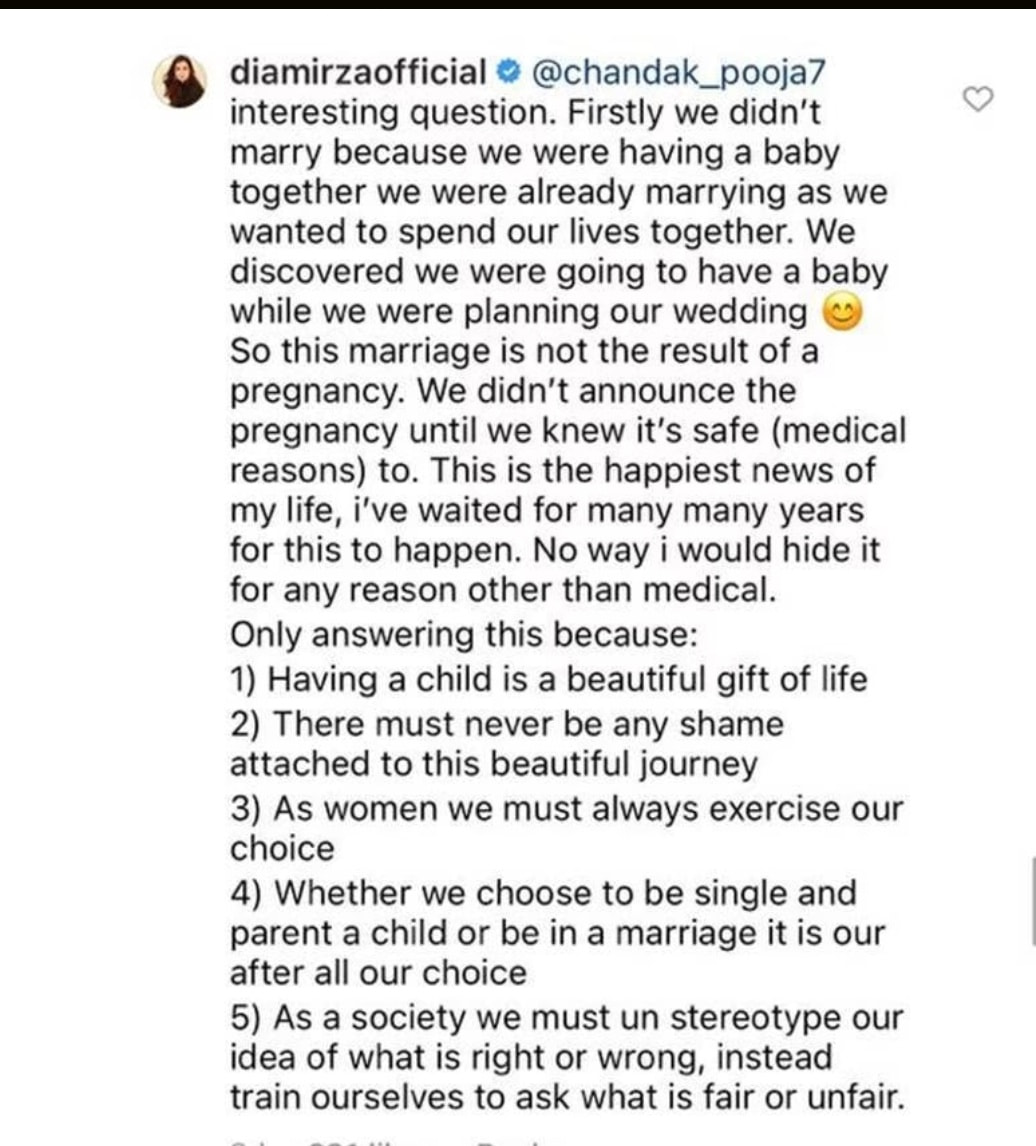 Dia Mirza was questioned on her pregnancy announcement timing, and she replied, "We didn't marry because we were having a baby together. We were already marrying as we wanted to spend our lives together. We discovered we were going to have a baby while we were planning our wedding. This marriage is not a result of a pregnancy."
In an interview with The Indian Express, she spoke about managing the negative comments after her announcement.
"Negativity can be pervasive if you let it permeate your heart and mind. This was the happiest moment of my life and there was no way I was going to let a few trolls turn it into a toxic slugfest. I refuse to make this time about people who cannot see the purity and beauty of an expectant mother and instead want to shame her, mock or troll her. I have always lived by my own convictions and I will continue to do so with a lot of pride and joy. There must never be any shame attached to this beautiful journey of motherhood and as women, we have every right to exercise our choices," said Mirza.
'Not okay to ask a woman when she is going to have a baby.'
TV actor Debina Bonnerjee has also spoken up against the questions that women are asked before and after getting pregnant.
In a video posted on Koimoi, Bonnerjee said that people must stop asking women, 'when will you have a baby?'
"We know what is good and bad for us. Every woman has her own reasons. She might not want to be a mother, she might be going through difficulties. Don't ask this question to another woman. It is just not okay," Bonnerjee said.
View this post on Instagram
On her YouTube channel, she spoke about her experiences before she got pregnant.
"When people say it's high time you have a child, or say that it will not happen, it is very hurtful. What helps you survive in such situations is your husband and a hobby. It's not your struggle alone. It's a joint venture with your husband. You can manage intrusive questions together saying we both are children now," said Bonnerjee.
However, women celebrities face a lot more public scrutiny, even if they're not pregnant. Recently, reports started emerging on whether Aishwarya Rai Bachchan was pregnant.
Hollywood star Jennifer Aniston beautifully articulated her dissent against body-shaming women in an article she wrote for HuffPost in 2016.
"For the record, I am not pregnant. What I am is fed up. I'm fed up with the sport-like scrutiny and body shaming that occurs daily under the guise of 'journalism', the 'First Amendment' and 'celebrity news'. The objectification and scrutiny we put women through are absurd and disturbing. We are complete with or without a mate, with or without a child. We get to decide for ourselves what is beautiful when it comes to our bodies. That decision is ours and ours alone," wrote Anniston.
But until society stops shaming women for their choices, we can voice the same sentiment as Alia did in her Instagram post, "Can we please get out of this archaic way of thinking?"
Sources
'For The Record', by Jennifer Anniston for Huffpost, Published on 12 July, 2016
Edited by Yoshita Rao