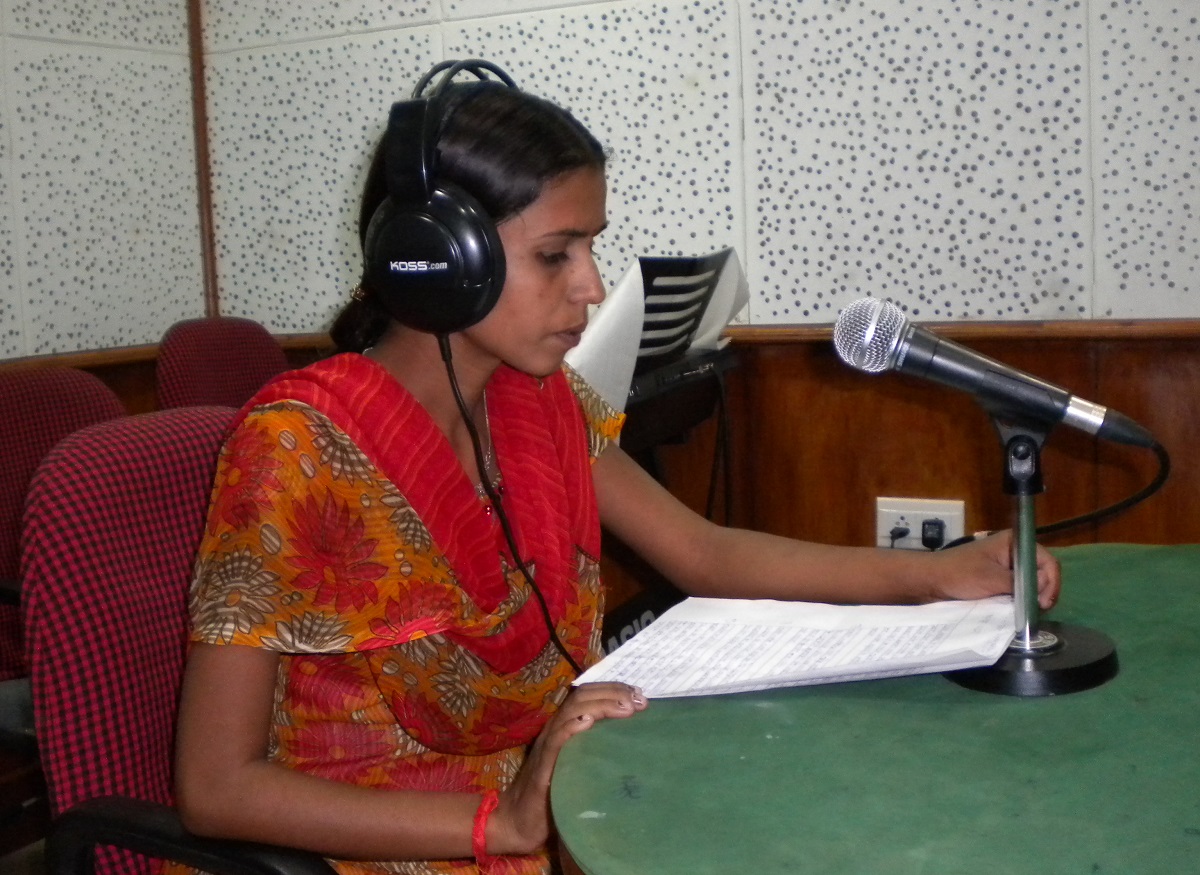 Lalitpur, Uttar Pradesh (Women's Feature Service) The moment Rachna, 19, steps behind the microphone she is a changed person. A radio jockey, she loves to communicate with her listeners on
Lalitpur, Uttar Pradesh (Women's Feature Service)
The moment Rachna, 19, steps behind the microphone she is a changed person. A radio jockey, she loves to communicate with her listeners on the community radio station in Lalitpur, a district in the impoverished, drought-affected Bundelkhand region of Uttar Pradesh (UP), India's largest state. Now a role model for girls in her village, she remembers a time when she was not even allowed to leave the house without a male escort. Today, of course, Rachna's voice is heard in every home in the remote corners of Lalitpur.

Says the radio jockey sitting comfortably at the radio station located in Alapur, a small hamlet in Birdha block of Lalitpur, "I can't believe I am now a RJ broadcasting and anchoring radio programmes. What makes it even more meaningful is that I get to talk about actual issues like mother and child mortality that affect my community."
Similar sentiments are echoed by Uma Yadav, 33, a housewife, mother-of-five and one of the 12 community reporters at the station, "Until now no daughter-in-law in the village had ever taken to reporting, recording programmes and getting involved in solving issues related to women. Initially, my family members refused to give me permission but once they realised how productive the work was, they relented. I still have to face the snide remarks of my sisters-in-law when I leave for the station every day and return in the evening, but I feel it's a small price to pay for what I want to do."
So committed is Yadav that after completing her daily chores she is motivated enough to walk three kilometres to reach the Lalit Lokvani office in Alapur to anchor shows and hold discussions on issues like breastfeeding and mother and child nutrition, which are two concerns that need immediate attention in Lalitpur.
Both Rachna and Yadav are part of a new communication revolution that has swept rural UP in the form of the much-needed Lalit Lokvani, the first community radio station in the state. In September, with the click of a button on the console, Ranvir Prasad, District Magistrate of Lalitpur, and Jugal Kishore, Joint Director of Bharatendu Natak Akademi and well-known theatre personality, made history by launching the radio service to reach over 80 villages.
What makes this radio station unique is the fact that it has encouraged women from within the community to take to reporting and anchoring programmes on issues that concern them. These focused scripts – that are usually written with women in mind – draw tremendous responses, especially because it uses the typical Bundelkhandi dialect.

Explains Shilpi Yadav, 25, a graduate who is a field co-ordinator of Lalit Lokvani, "At first it was a challenge to get the village women to listen to the broadcast. Since we began operations by narrow casting [disseminating information to a narrow audience, not to the general public] we had to travel to villages and ask people to come together at the 'chapal' (meeting place) or the panchayat building to hear the programmes. Often on these occasions, men would gather around us and poke fun at the issues we had discussed on the radio. Gradually, however, they understood that we had their welfare in mind. Today, even the men listen to us – not only on their radio sets but on the FM radio stations available through their mobile phones."
The community radio station had begun in 2007 by narrow casting programmes to a few villages. The station received its wireless operating licence (WOL) in August 2010, which allowed it to officially broadcast on a frequency of 90.4 megahertz to villages within a span of 15 kilometres around Lalitpur.
Says Ram Krishna of Ideosync Media Combine, who has trained the 15-member Lalit Lokvani team, "The community radio is a powerful medium that gives people a chance to speak to the government directly. Even when we were narrow casting, the reach was tremendous but now the service will give a boost to the process of skill building among the people of Lalitpur. And when women motivate women by using the power of technology, the impact is phenomenal. Another advantage is that thanks to mobile telephony people can listen to programmes in privacy and call in and express themselves as individuals on any subject they wish to discuss. And for the adolescents – a potentially large listener base – there is huge scope to communicate through this medium."
An initiative of UNICEF Lucknow, Sai Jyoti, the NGO that runs the station, and Ideosync Media Combine, community radio is being pegged as an important means of community outreach in UP, a state where the people have been facing multiple problems for decades.
But can these young women radio jockeys make community radio the powerful tool of information dissemination it is made out to be? Explains Rachna Sharma, Behaviour Change Communication Specialist, UNICEF Lucknow, "In the three years that Lalit Lokvani had been narrow casting to the villages it demonstrated what a powerful tool community radio is. The women anchoring these shows focus not only individuals shaping lives of people but also facilitate a more horizontal spread of information. This is ushering in a remarkable change in behaviour and attitudes, something that is very relevant in Lalitpur since a number of integrated government development programmes are located here. It thus provides the best convergence base for community development efforts."
Adds Mridul Srivastava, Station Director, Lalit Lokvani, "CR reflects the real voice of the people. It is a service that caters to the interests and needs of a certain area, its culture, craft, cuisine and above all social and development issues. It has also helped mobilise women, who have become an integral part of this initiative. Most of our programmes have participants from within the community, including women who present shows keeping in mind the Bundelkhandi language and tradition. Issues like breastfeeding, the care of newborns, general health, hygiene and sanitation, nutrition, child marriage, child rights and education are covered."
But running a radio station is not cheap and Lalit Lokvani has to generate Rs 70,000 (US$1=Rs 44.3) every month to keep going. While UNICEF Lucknow plans to support the station until 2012, the team at Lalitpur has already started working out ways to generate money with on-air advertisements.
Says Ram Krishna, "Programmes are broadcast for an hour every morning from 7 to 8 am, with two repeat broadcasts – 1 to 2 pm and then 5 to 6pm. Now we have managed to keep aside five minutes for airing ads, which can double up as the station's remuneration. Talks are already on with the district administration, which is keen to disseminate information about government schemes being run for people. They feel community radio is a good medium for this. And since women figure as a major chunk of the team, government agencies find it doubly relevant to use this as a platform to educate and create awareness among the community on issues of women and child welfare."

Vidya Galav, 20, another talented RJ on Lalitpur Lokvani, couldn't agree more. As she put it, "I believe community radio is the ultimate agent of social change that will liberate our mothers, daughters and sisters from their mental and physical shackles. Through the radio they can listen and learn that women can go beyond the role that society has laid down for them and transform themselves."
This article has been written by Anjali Singh for
Women's Feature Service
(WFS) and has been published here based on an arrangement with WFS. Anjali Singh is a Lucknow based development journalist.
Article and images copyright: Women's Feature Service.
We bring stories straight from the heart of India, to inspire millions and create a wave of impact. Our positive movement is growing bigger everyday, and we would love for you to join it.
Please contribute whatever you can, every little penny helps our team in bringing you more stories that support dreams and spread hope.