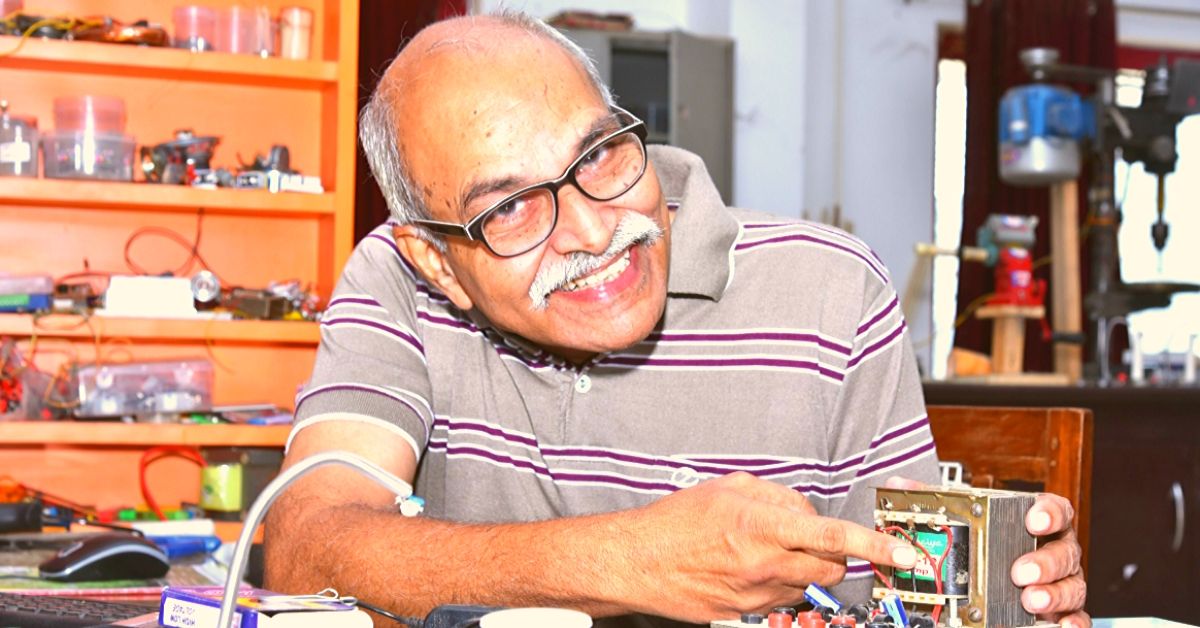 "Science cannot be taught in isolation. Science cannot be taught at school without knowing the kind of lives my students are living," says retired IIT-Kanpur Professor H C Verma.
Harish Chandra Verma wasn't an excellent student at school. Studies didn't interest him as he struggled to pass all his subjects. For the Darbhanga native, whose family had endured hard times, adapting to an education system in Bihar that emphasised rote learning, was difficult. His father, who ran a school up to Class V in Samastipur, did his best to motivate young Harish to focus.
Nothing worked until his mother, an unlettered woman, issued a challenge to him in Class X. On the occasion of Chhath Puja, his mother had made a lot of Thekuas, a delectable sweet dish served during the festival. Her deal with young Harish was simple.
"That I must sit in her room with my books and stationery; for every hour I sat there, I would get two Thekuas. Naturally, I saw this as a good deal because I could just sit around and eat Thekuas all day long. Also, since my mother was unlettered, she wouldn't know whether I was studying. Her only condition was that I had to sit with my books. She didn't specify that I had to read them," says Professor Verma, in a conversation with The Better India.
Initially, he took advantage of the situation, but soon, he had an epiphany. If he was sitting in a room for one hour, what else could he do?
So, the young student thought he might as well read the textbooks at hand.
"Once I started reading, I got a clearer understanding of the lessons. The logic, the arguments, and the thought processes made sense. Soon, I began to think about my subjects more closely. That's how I became motivated to study. After four or five years of very poor results, my academic fortunes began to change. That year, I passed all subjects for the very first time," he recalls.
The following year, he joined Patna Science College, where he encountered a stimulating learning environment with high-calibre teachers and quality infrastructure. He would go on to finish his BSc (Hons.) in Physics at the institution, following which, he did his MSc (Physics) and PhD at the Indian Institute of Technology-Kanpur.
Today, the man who struggled to pass all his subjects until Class X is a Padma Shri awardee. This year, the Government of India recognised his contributions and yeoman service to furthering science education in the country, particularly Physics.
Anyone who has studied high school Physics in India recognises the two-volume Concepts of Physics that he authored nearly three decades ago. More importantly, the man who was rejected by the education system in his early years dedicated his life to fixing it.
Teaching Physics: From Bihar to the rest of India
After completing his PhD from IIT-Kanpur, Dr Verma joined Patna Science College as a Physics lecturer. It was a dream come true for him. Beyond helping them obtain good marks, he wanted to facilitate a learning environment that elicited excitement, affection and love for physics. It's a pursuit that continues till this day.
Before his appointment, however, he came across a unique textbook by American authors David Halliday and Robert Resnick called Physics. The more famous version of this textbook titled Fundamentals of Physics authored alongside Jearl Walker came out later. Today, this textbook is popularly known to students all over the world as 'Resnick & Halliday'.
"It's a textbook I love even today. The clarity, coherence, and problems that it formulated were excellent. Moreover, it was relevant for students of Classes XI and XII. So, I had prescribed it as the base textbook in my first year," he recalls fondly.
Despite Dr Verma's best efforts at teaching these concepts, using Resnick & Halliday, and the fact that those attending the Patna Science College were among the brightest in Bihar, his students were unable to understand Physics the way he desired.
His initial assessment was that he was a new teacher and maybe things would get better with time. In the next three or four years, he expended even more effort into teaching, but the results were the same. Following a string of failed attempts, he had yet another epiphany. He was missing something very fundamental.
"I realised that science could not be taught in isolation, without knowing the lives my students were living. It's not about the topic, a particular theorem, chapter, formula or concept. I had to know what kind of lives they were living after college and needed to re-tune my teaching approach accordingly," he recalls.
At Patna Science College, the students were generally from smaller cities and towns in Bihar. Dr Verma had to teach in accordance with their realities so that they were comfortable imbibing the knowledge he was trying to impart. This made him realise that although Resnick & Halliday wrote an excellent textbook, it was not compatible with the lives of his students.
"So, I began looking for someone in India who had written a version of Resnick & Halliday that is as authentic, lucid and coherent, but for ordinary students in Bihar. I did not find one. Most textbooks written by Indian authors were merely filled with statements of facts. That inspired me to take up this challenge and create a textbook that would be as authentic and lucid in its content, and touch the hearts of my students," he recalls.
Using that motivation, he spent over eight years creating content for a two-volume Concepts of Physics, which came out in 1992. The textbook has stood the test of time. In nearly three decades, the syllabus and examination patterns have changed, but this edition is still being used by so many students today.
Fast forward to 1994, when Professor Verma joined IIT-Kanpur as a faculty member. There, he began teaching first-year BTech students and realised that the problems associated with teaching Physics weren't limited to Bihar.
"It was a nationwide problem. The IITs admit the best and brightest from around the country. These are smart students, but the problems I saw at Patna Science College were the same for first-year BTech students from all over the country in that there was no link between what they had learnt in the past and their real lives. And this impacted their learning. If you understand the fundamental concepts well enough, you will be able to create new solutions and innovate on your own. That was missing in my first-year students. Their core understanding of concepts wasn't very good," he argues.
The way Physics was being taught to classes IX-XII was producing dismal outputs. Thus, in early 2002, he began interacting with teachers from all over India, particularly those teaching high school through the Indian Association of Physics Teachers (IAPT). That's when he decided to create content for the entire country. He started developing experiments which could be used by teachers as demonstrations (DEMOs) in their classrooms, which were one or two minutes long and could be adjusted in a 40-minute classroom period.
Suppose you are teaching refraction of light. You could use a light beam, a laser torch and some water. You could show light bending when it falls on the surface, and then approach the blackboard where you could talk about the angle of incidence, the angle of refraction, etc. That would create a new impact on a student's ability to learn the concept rather than the teacher limiting themselves and their students to diagrams on a blackboard. These are DEMOs or demonstration experiments with no measurements that give teachers a platform to build their lecture.
So far, he has created nearly 1,000 such DEMO experiments. He also conducts workshops for school teachers emphasising the use of DEMO-based Physics teaching where students can establish a link between science and life.
He has also trained more than 8,000 teachers. As per the feedback he received, about 1,000 of them have changed their approach to teaching, creating their own DEMO experiments while using his resources as well.
"We conduct five-day or seven-day camps for teachers in Kanpur regularly. Based on these camps, workshops, interactions and workshops, 26 teachers have opened their own laboratories. We call these facilities 'Anveshikas'. In 2011, I initiated a new project called the National Anveshika Network of India (NANI) which has become a flagship programme of IAPT. In the past nine years, this chain of science laboratories have been established in 26 cities," says Dr Verma.
All these Anveshikas are spearheaded mostly by school teachers. They do this work voluntarily alongside fulfilling the mandate given by their schools. They find time to teach, run these labs, and invite students and teachers from other schools.
Another unique programme of the Anveshika Project is the National Anveshika Experimental Skill Test (NAEST). This annual event seeks to encourage the culture of science experiments where a national competition is organised for schools as well as colleges. Through the Anveshika network, thousands of students from schools and colleges from across India appear for the test every year. They conceive, and design new experiments and all 26 Anveshikas replicate them at their centres, and there is an evaluation scheme.
In the final rounds, they do not set any time limit for students to complete their experiments. No student is allowed to leave without completing the experiment and understanding the scientific process behind it. The objective is to ensure that they learn.
"During my internship with Dr Verma, I attended his workshop for Kendriya Vidyalaya teachers, where I observed his teaching style. It's different from any class I have attended. In his class, everyone is a teacher and can put forward their approach to solve problems. He is not the focal point of his classes and allows listeners to speak and raise doubts. His classes are like debate sessions. When he asks questions, they are aimed at enhancing conceptual knowledge," says Rishikesh Vibhute, an engineering graduate who teaches Physics to Class XI and XII students in Latur, Maharashtra.
Back in January 2017, Rishikesh applied and got selected for an internship with Dr Verma, developing physics-related experiments for teachers to augment their classes. An engineer, who opted out of a fat paycheck to teach students in his hometown of Latur, Rishikesh not only learned how to develop experiments but also stayed on to work on other projects.
Today, he is on the cusp of co-authoring a book which combines moral fables and physics with Dr Verma and another colleague. They are in the final phase of publishing.
For the forgotten small-town science students
His latest focus has been conducting free online courses for BSc students across small cities and towns in the Hindi belt. Despite retiring in 2017, IIT-Kanpur has offered him the platform to run these courses.
"I aim to groom the next generation of science teachers. Students studying in BSc now will provide the workforce of teachers at all levels, schools, colleges and universities and also drive research. No one pays attention to degree colleges in cities like Ghatampur, Gaya or Hoshangabad. Through these online courses, I am trying to ease their access to quality learning, and motivate them into becoming good educators, while also helping them enjoy the subject," says Dr Verma passionately.
The first course was on Semiconductors sometime in 2017. But it was in English, a language Dr Verma realised could cause barriers to learning. Therefore, in the following year, he offered his second free online course on the Special Theory of Relativity in Hindi. It was a three-month course spread across 24 lectures with each one running for 30 minutes. Nearly 18,000 students enrolled and asked as many as 4,000 questions.
The course generated so much academic interest that students in the class would answer the questions posed by their batch mates. For the 4,000 questions asked, nearly 11,000 replies came, and Dr Verma offered his inputs where he could.
The next course was conducted the following year on Quantum Mechanics, where 29,000 students enrolled. Once again, the course witnessed incredible participation.
---
Also Read: IIT Grad Quits Singapore Job to Teach Poor Kids From 11 Flood-Prone Assam Villages!
---
Besides creating quality content, he is also actively involved with Shiksha Sopan, an initiative driven by students at IIT-Kanpur, which seeks to help underprivileged children living in villages surrounding the campus. Student volunteers offer lessons in their learning centres. More interestingly, they offer scholarship programmes so that the children have enough money to buy books, stationery and school uniforms.
Mind you, this article barely scratches the surface of Dr H C Verma's contributions to science education and research. Reading the thousands of heartfelt comments filled with gratitude from his students, colleagues and admirers on social media following the news of his Padma Shri award, one can only imagine the number of lives he touched. And the best part remains that he isn't done yet and has kept his door open for anyone seeking his counsel.
That's the mark of a legendary teacher.
If you want to help Dr H C Verma to further his work with Shiksha Sopan, please click here.
(Edited by Shruti Singhal)
Like this story? Or have something to share? Write to us: contact@thebetterindia.com, or connect with us on Facebook and Twitter.
We bring stories straight from the heart of India, to inspire millions and create a wave of impact. Our positive movement is growing bigger everyday, and we would love for you to join it.
Please contribute whatever you can, every little penny helps our team in bringing you more stories that support dreams and spread hope.
Tell Us More