"People tend to trust animals more quickly than humans. We select only those animals who actively and willingly choose to interact with humans."
Home is a place where I'm welcomed with a wagging tail. At least for me. The way my dog jumps on me excitedly takes away all the stress of the day. If you are a dog or a cat parent, you know how amazingly destressing it is to live in a home with a pet. It's not just our emotions steering this belief. Scientific research proves the benefits of pets and this time you can experience their "healing power" first-hand in Pune.
Animal Angels, India's only registered NGO to promote the benefits of human-pet interactions is holding a workshop in Pune to help animal lovers destress in the company of dogs, rabbits and fish. A therapy session like no other, the workshop is for anyone struggling with depression, anxiety, high blood pressure or even the stress of daily routines.
Click on this link to book your slot for a therapy session with furry friends.
What's the fuzz about?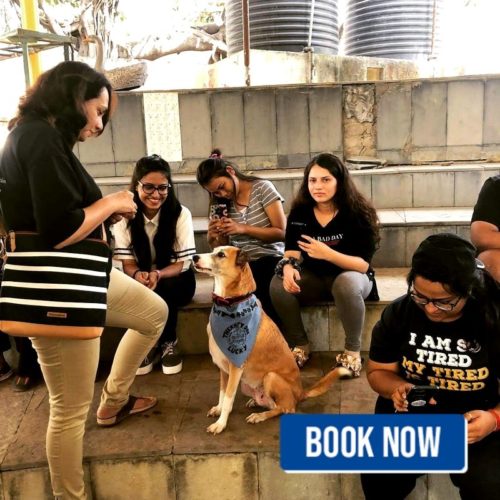 We go through a lot every single day. Whether it is the stress of work, a heartbreak or crippling loneliness, we could all do with a friend who listens, understands and doesn't add to our burdens. This Pune workshop is about this and more. It is not just a bunch of dogs to play with. As Minal Kavishwar, the founder of Animal Angels shares, "It is like any other therapy session – structured and led by a certified therapist. But with a pet animal involved in it."
Kavishwar started her NGO in 2003 after researching the benefits of Animal Assisted Therapy (AAT). A clinical psychologist herself, Kavishwar has seen 7/11 victims, children with learning disabilities and those living with cerebral palsy benefit from such uncommon therapies.
"People tend to trust animals more quickly than humans. This trust is the first step in the process of healing. We select only those animals who actively and willingly choose to interact with humans. There are no forced interactions between the animals and the people," she clarifies.
Book your place for the therapy session by clicking on this link.
An animal for your ailment: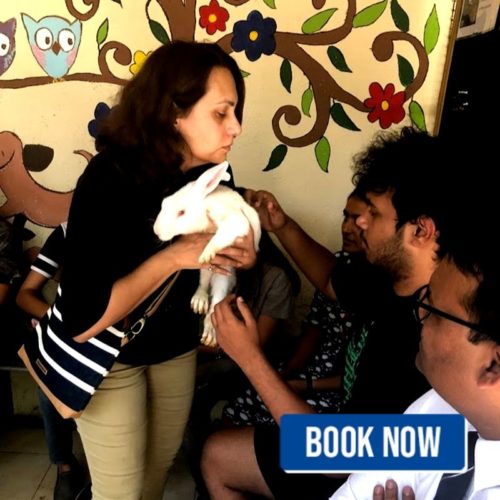 The mention of animal therapy usually makes one think of dogs. And although they are an important part of these sessions, they are not the only heroes. "Some people are not fond of dogs while some cannot afford to adopt them – either due to space or time restrictions. For such people, rabbits are awesome therapy animals," Kavishwar explains.
Even for those who are prescribed strict bed rest or are wheelchair-enabled, taking care of dogs, feeding and cleaning after them can be impossible. Kavishwar also explains that these pets are great companions for those suffering from high blood pressure or muscle and bone pain too. You can get the details about how fish, cats, dogs and rabbits can help your well-being in the workshop.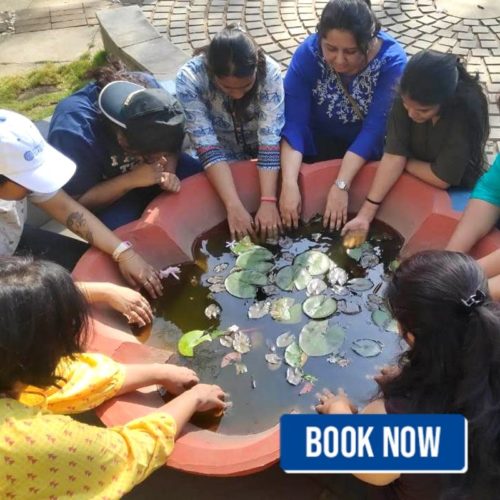 Come with an open mind to learn about animals and you have a treat ahead of you. You start in a therapy garden where Kavishwar and the other certified volunteers will explain the human-animal connection. You will be introduced to rabbits and fish in the first half. An indoor session will let you get acquainted with them. After the break, you get to meet the therapy dog.
See how it feels to befriend an animal that is patient, attentive and eager to listen. You'll get plenty of those here. Click here to book your place for the Pune animal-therapy workshop.
---
Also Read: Taking Your Pet Along on Trains, Flights? Here's Everything You Need to Know
---
(Edited by Saiqua Sultan)
Like this story? Or have something to share? Write to us: contact@thebetterindia.com, or connect with us on Facebook and Twitter.