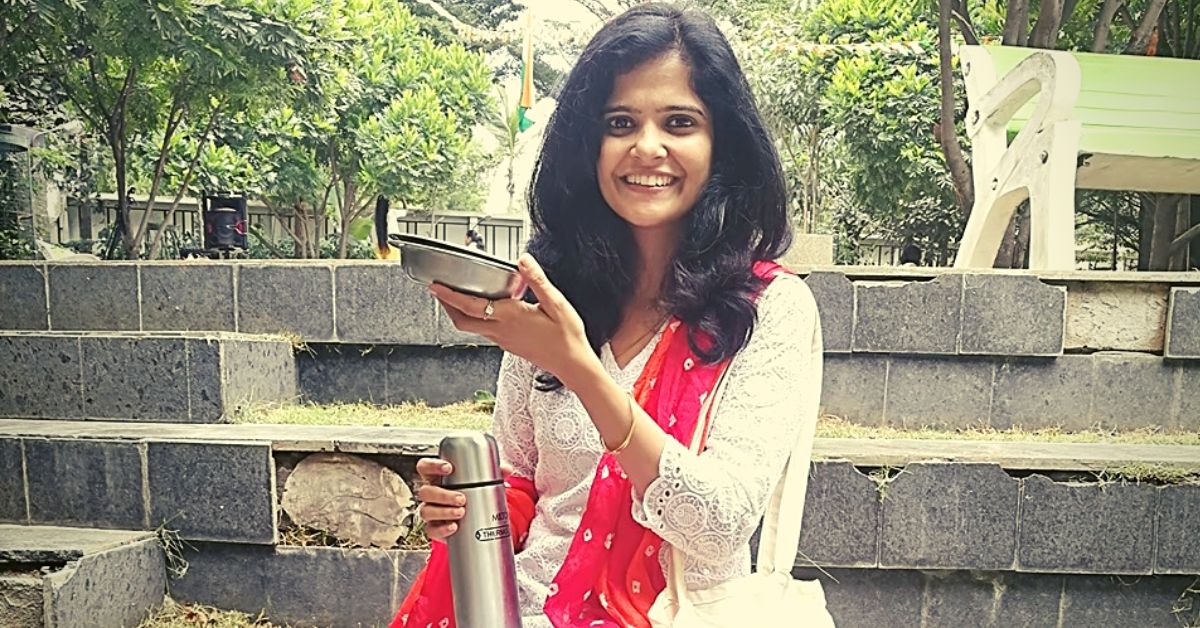 "How difficult is it to carry your own basic cutlery when eating out? My daughter doesnt even use a straw for drinking coconut water. If she can, why cant you?"
When Bengaluru-based Rishita Sharma, Padma Naveen and Seema Sharma, started the #BYOCSelfie (Bring Your Own Cup Selfie) challenge on October 6, 2018, they had not expected it to receive such a phenomenal response on social media.
As per the challenge, which is very much in progress, every participant has to carry their own cutlery, when eating out, especially in places where disposable cutlery is used.
---
Want to join the army of eco warriors? You can start small, by carrying your own cutlery. Check  out some wonderful options, here!
---
From steel glasses, plates, containers, bowls to even straws, you can carry a BYOC kit, take a selfie when you use it and post a picture on social media with #BYOCSelfie.
"Often, we know that something is wrong but don't know how to remedy it. And, sometimes even if we are aware, carrying out a solo movement seems near impossible. But, with a little collective push, it can all fall into place," says Rishita.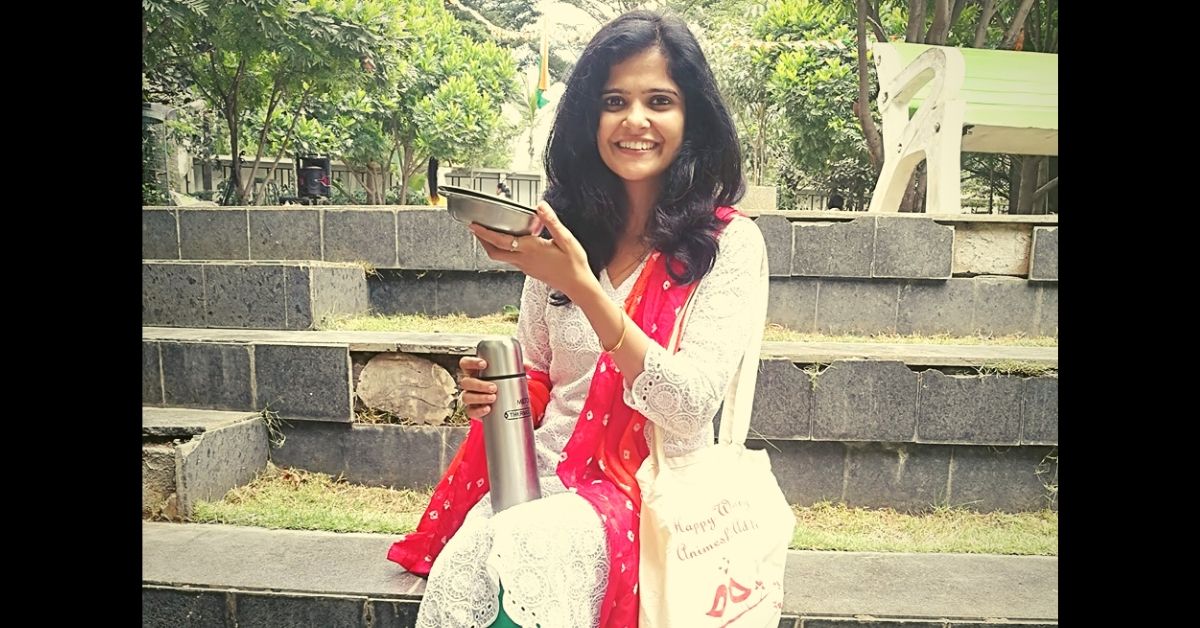 Rishita is the co-founder of Rent-a-cutlery, an organisation that rents out stainless cutlery, and Green Utsav, an event management company which ensures zero-waste events.
"I only wanted to spread awareness about the reckless use of plastic cutlery and encourage citizens to take up sustainable alternatives," she asserts.
Speaking to NDTV, Seema Sharma, a part of Kasa Muktha (Garbage Free) Bellandur and Bangalore Eco Team, said, "The challenge is not about taking a glass tumbler out of the office, clicking and sharing a selfie and then getting back to paper or plastic. It is about using reusable cutlery out of habit."
Recalling the trigger to start the social media challenge, Rishita speaks about the daily use of plastic cups during tea and coffee breaks in most offices. Be it, small tea vendors of big cafes like CCD or Starbucks, the use of disposable cutlery is massive.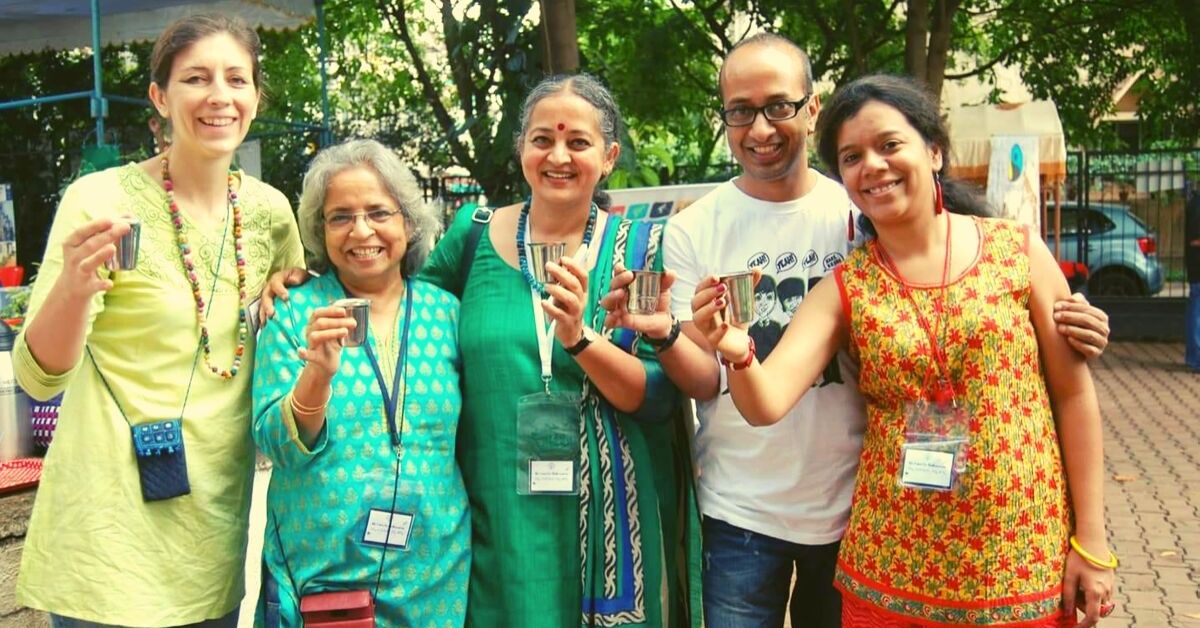 "We knew that the rampant use of disposable cutlery was a nuisance, especially in a city like Bengaluru, where these tea stalls or fast food centres placed outside IT parks generate tons of plastic waste every day. Be it festivals, occasions or regular lives, each of us by accepting to use a simple plastic straw or a paper cup, is contributing to the degradation of the environment. And, why let this happen when there is a simple solution⁠—to either rent bulk steel cutlery from us for occasions or carry your own!" she declares.
Rishita herself always carries a kit with a stainless steel water bottle, a tumbler, spoon and a couple of plates. What is especially heartening is that her 6-year-old daughter is a part of her plastic-free lifestyle. "She has never used any plastic cutlery. Every time we head out, she ensures that we carry the kit. If she can be this conscious, why can't others?"
In a year, the challenge has garnered serious momentum and has graduated into a movement with several brands replicating the same.
@narendramodi request you to please support #BYOCselfie campaign to eliminate single use plastic. pic.twitter.com/D3d9Kp1dgZ

— Suresh Ramasamy (@SureshR28580812) October 10, 2018
"Corporates and brands can really push the cause further by participating. Chai Point and Corner House have already started the same, and we hope more like them join in because they can not only make a huge difference but also set a great precedent. This indeed can be a great CSR for them!" she says.
This year on Gandhi Jayanti, they are trying to create a chain effect by encouraging people to donate cutlery to strangers. "Be it the security guard in your society or office, or even a cab and auto driver, a simple act of donating a cutlery kit to them can make a big difference on the ground!"
https://www.facebook.com/photo.php?fbid=2183210588367641&set=bc.Abp9ewjTayzS2B0-U7GiHNAaKMvkSGqlN76-qCnwGxkgG1Uoc5xMSnv3nVLCYcN9OvHhj2Ny2MWMDdHIeUDBoA0KOhLDy1DJBwUyv48OqGh17OAoh9IP_7x5sAA5BBLfqy_AuxIo8HXm3Vuyn3MH8448&type=1&opaqueCursor=AbqMVUsAdXR0Gmi_LcwYwUYjqGsmzP7CwKh3bKjEuJurs3HHTFB-ID33kvTnLT0OeKubcLaeSecwjr-dHH1JN-svA2kk2lJYb0N3YqgdQgTLovjqIVDtfQ45GVxPmTBn7xSWvDadiIr8eBFlJcQ7OVtn38Urhq2c8vMZRFmJOXxvQDF5YKz3kyijzlOovMNgwbxf1mWD9brHDiJtGzd6BIAt0d-lA8WhjVRJ36syQm89b1C4TwzWfb_3XCY5sNNu3S1d6YpfWC10PCkblI11vHc4fEKoQ2LxWeP1aHiCIbYv_XAa5NDYugcwS8JENc7xHDe1FehO7bBexHlLFvTRkPUBM9g7pRWLzAI7VWzwyyPiDTbpc4x0N2iT5yPqKcpxRX1vHZGTivn4f4-o9we7TsnoFC9aTaRnFUbB4YPPdISuaoAvu59RvGLSoH14C32CXNms9_keh_cn_H9Gl5thU471YnhDtakKmvA9pFMr9kOHIw&theater
While these three wonderful women are spearheading this critical challenge, people from all walks of life are also joining in to bring the much-needed change. From offices, malls, cafes to airports, the wave of BYOC can be felt online.
Here are a few people who are now a part of the #BYOCSelfie Challenge:
https://www.facebook.com/photo.php?fbid=1963636870383026&set=bc.AbqaOk3WnqjXGrx98vKhNOIPoYnOgL50bM8U7QdFgz3Pwypj-Lu69rXR6PoWqbMz-4X29v-dEW1ssBq4XrxAT_d1n6ywnF8R_eO1091Kd3zIMLC6WGNQ2Cb4hEBbxTNb6YbyXLHdcfOytkpW16vR8R7v&type=1&opaqueCursor=AbpGkw14joIuT1VNEc4ri4brZDS8aMRLk0FyBSd80Z89VRIjg_oU1-sfePMfDmYemyw4sCqJ2C1FamiOR4adDEYxnOJQoIeusuhJ0ecaRs5Lt5pVZomXBUctGD9lIn5uke8UdYYZUuwmtfKGQ-PevfMMDwDs95rqqes7btSwyfvCcJtO89a9uzWsyDY2hyYtx_nYlQFtvGR-y2JHpHk8pcX5wAUQ4SIERCsFTM_H6ubxRyOQFj2lBRftYHxolms5w0_1z3Q2ZhrkAftVuMG92or0timjksAjaxo4hzl5wtuunwHy8Oq9PKpgKH3-gqpd7PKBDqYdraElEgAK0yl0vKs4Ev7cWIOPo5HBW7fwJGQsmWt7892z5U2zMfjmEsVgC4LS78NOrxbF5CxOclKsgT89ju45Sp4cMm_pTe6Lve62RUCVXiqxYeVz429I5a-rpesU87uTfH-R56YnCa0pw6QyR9gEuZ7xSwPILFf_HOakP-e9RwiPVw_R44rGDHNWlZcHq1oRI-fQgu0jj_VacztzRJ0vovgrR8eYr2xmd10PraR1PapdtUyga0_CtlA_kvOHmvOVbVpZA8nEdKrwmibNEflU20bWc4LbtzyVsn4dSw&theater
https://www.facebook.com/priyanka.namshikar/posts/10215742016437857
https://www.facebook.com/amita.pillai.1/posts/10212264015291703
https://www.facebook.com/nandhini.sriraaman/posts/10212059399631225
https://www.facebook.com/photo.php?fbid=2529735673768467&set=bc.Abo4cp9dZaBbg7LRmZZ208x026QTB1Mhl7qTDlGZ4kf9u1TD1ORJR0YDG9pTSkSSab80H0bFrZCRco5hLUfGkM7bmlE211QfAzfwJGm-PEgeh7T-0_EA76yAY_fGCsxjtlYlkQKamcq6JvBv2KJgHOKI&type=1&opaqueCursor=AboqqW9YYsUwdy7JlWvecA5veA7tDAk6x6H5NffyGD2_8sUoLGF0ocsAIkxdJHLeWyjd-Mo03bNOkSkU1R1fZ6GvYXtm2I99ULnISfWzNQz6Z_RH4uBEZ85Z0ADvzeNtGbCa5XxLr8-ybuF9AiqnEamoxBYJLXRXYjjuNua5euXRUYsvBUsgoSK9Ofcn-VebIzUQtZCIcMLT6YhyMDAsG3XZ9geTA0xsY8aOLHmgeL7eIMot7Y7eRuqxs-nwu46N19w45D8AeA9RHSv9f8gvc2WHYlnDFeuyHFYzWuwLQZpcTQpJZv-zzoXj-vpQGNFrkO_VVdYSfZ1NmG81yt0o4-hJj31xb3OYYBuM1WmaKF9A4P6FRH4utdiyk4NF_gIYSJa7ZLcdAsSQfS5TEA1fDrQBR_l80fzuqvdoQWLHEuOQNnTfjCIsJ1218yoT8TFLt0t5hp5mcODVATVkAdDuKw8XTC2nmDkiS5BRhKBFU5QIxg&theater
https://www.facebook.com/nandhini.sriraaman/posts/10212029784650869
https://www.facebook.com/photo.php?fbid=2806799302678803&set=bc.AbpQmw7QE3uoGoYoLKnsPqK3UE1JZ061kvyV3JzMwctR3Gb9LyTKFOyEp8F4Bi99sMpATMYr8U-NMKVBLU3lQInPtWUQEDXpYrTkHOJ-cGsYA4E8GEbuf89imHF1Wd3bVmIIs_wris0cWXcrIPxnnx1I&type=1&opaqueCursor=Abo8lbzC9PP3Ci10IvQEyYFHBChXKmADacRrlbHCz1Ni_o6kCLRVlO8LlhCCrr3ewSOs-mhZfswmgONxNyoDpcW77XX-ERVihqj1h9V3kOYxYuCNiyfzzyNJau6PNlR5uKLVSzAYjZFa_KKsVMxLZFquVxeoYAe6DNavjxZ-V6rV30CBpIQB_va5FRn8EhiAIbgma3uOJWul_LXWAlFR3epEJRrkHZQ1WZUwtliDLL1PRxi9bDf3IL4jefHDAxtd1FKxbEaC-gr-KK8oaQyjUl4IVGIpyWIJ3NcT2H8SBogWX47NeSRiRpUm8_56_3RiZzdj1m5ma37dgnNQQsNzun-dNionJ3cMgmmg9sxi6P4p6mNOYvs9xbGlcz9e22BA_UWsveLx54iFXP_dI1EzCLwwuuOeQJTRD2I7_ObcWZxPeMb9HfyZKZJgEbfnBDvGnmIU2BEVso9pIa-oqKTJXLdygDKIy2H-D8qB3VGb7jtEXXX8SMObQe9sOBUSXIENTfbRJzf2w3zp5sh6xV1feOmp&theater
---
Also Read: Bengaluru Couple Shows That Big Fat Weddings With 3000 Guests Can Be Eco-Friendly Too!
---
(Edited by Gayatri Mishra)
We bring stories straight from the heart of India, to inspire millions and create a wave of impact. Our positive movement is growing bigger everyday, and we would love for you to join it.
Please contribute whatever you can, every little penny helps our team in bringing you more stories that support dreams and spread hope.