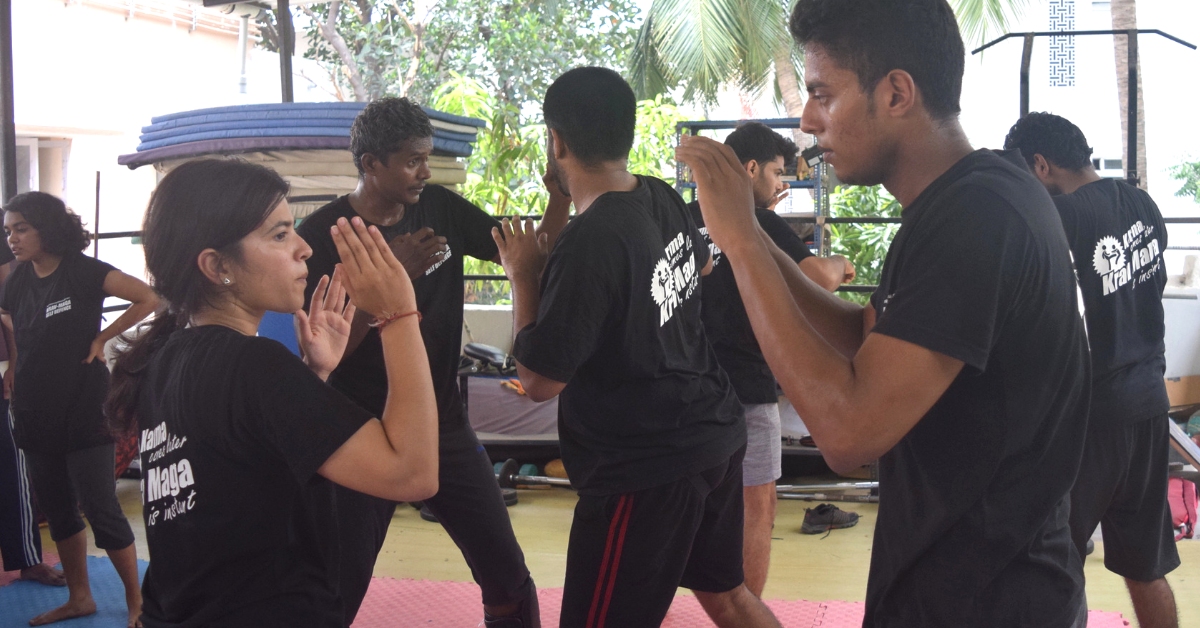 59-year-old SreeRam started learning this form of self-defence when he was 45, and three years later, started his own Krav Maga academy in Chennai.
How many times have you felt vulnerable while walking down the street, not just at night but also in broad daylight? This has happened to me so many times that I have lost count. Sometimes, I wish I were brave enough to turn around and ask the letching men to back off, but have been unable to gather the courage to do so.
When Sreeja, an Assistant Director in films, found herself in a similar situation, she decided to stand up for herself and take matters into her own able hands.
---
If your choice of workout involves outdoors then do check out this organic line of joggers and leggings, made from Bamboo fibre at The Better India shop here.
---
Like most days Sreeja was returning from work and was at the Perungudi railway station in Chennai when she realised that a man was stalking her. She was worried, but instead of letting it get to her, she proceeded calmly with her weapon of choice—a ballpoint pen—and made a quiet exit.
So what did Sreeja do exactly with the ballpoint pen? Well, she took off the cap of the pen and aimed for the aggressor's eye.
This video might give you a sense of the various techniques that one could adopt to keep aggressors at bay.
Sreeja believes that this was only possible as she has received training in an Israeli self-defence technique called Krav Maga from her father, S SreeRam. Originally developed in the late 1930s by Hungarian-born Israeli martial artist, Emrich "Imi" Lichtenfeld, it was used by the Israeli army before being redeveloped for civilian use in the 1960s.
59-year-old SreeRam started learning this form of self-defence when he was 45, and three years later he started his own Krav Maga academy in Chennai, in which he has directly or indirectly impacted the lives of almost 30,000 women.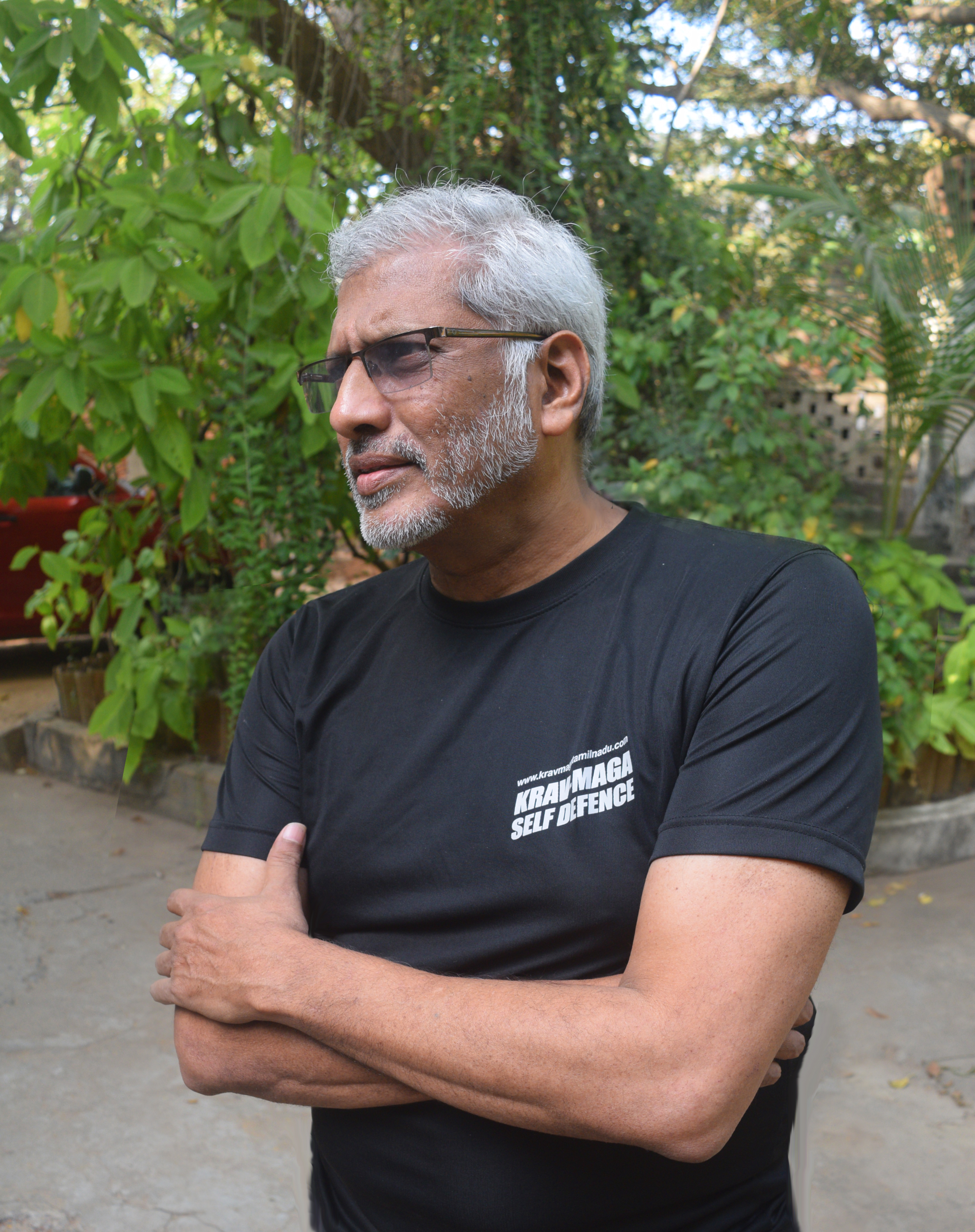 In this fascinating conversation with The Better India, he speaks about why he chose this martial art, how he works, and ways in which women can protect themselves from aggressors and attackers.
"For over two decades, I was an advertising and branding person. I worked as an art director and then moved to the corporate sector, where I was heading the marketing communication for an anti-virus software company," he begins.
I ask why he chose to make the shift from a comfortable corporate role to teaching Krav Maga, and he replies, "I was a black belt in karate when I was in college, so the interest was always there, but life in the corporate world did not allow me any time to pursue this interest."
At the age of 45, SreeRam felt that everything around him was going downhill.
"I would keep reading about cases of women getting abused and raped day-in-day-out. While I was making money and leading a comfortable life, I felt that I needed to break free of that routine and needed to vent and find an avenue to do that."
It was during this phase in his life that he came across Krav Maga, which was a different sort of martial art he says. "Instead of spending money on going to a gym and running on the treadmill, I decided to learn it."
Teaching self-defence
SreeRam was the oldest student in the class, and admits that his fitness levels weren't up to the mark.
"Until then, I was smoking and drinking heavily, so even to manage the class well was an effort in the beginning. It took almost six months of training to regain a working level of fitness," he says to me.
When he started learning, it wasn't to train others. "I just wanted relief from my mundane job, and I didn't have a clue that life would take such a turn," he mentions.
Every six months, SreeRam would visit Delhi, where Israelis would come to conduct the instructor course.
"It usually is a one-week-long packed course where one is kept busy from morning until night. Even that was something that I looked at as a break from my routine. I had completed three levels so when I was approached to teach in Chennai, I agreed," he says.
SreeRam started by teaching on Sundays—he used to hire a hall in a nearby school and slowly he found students.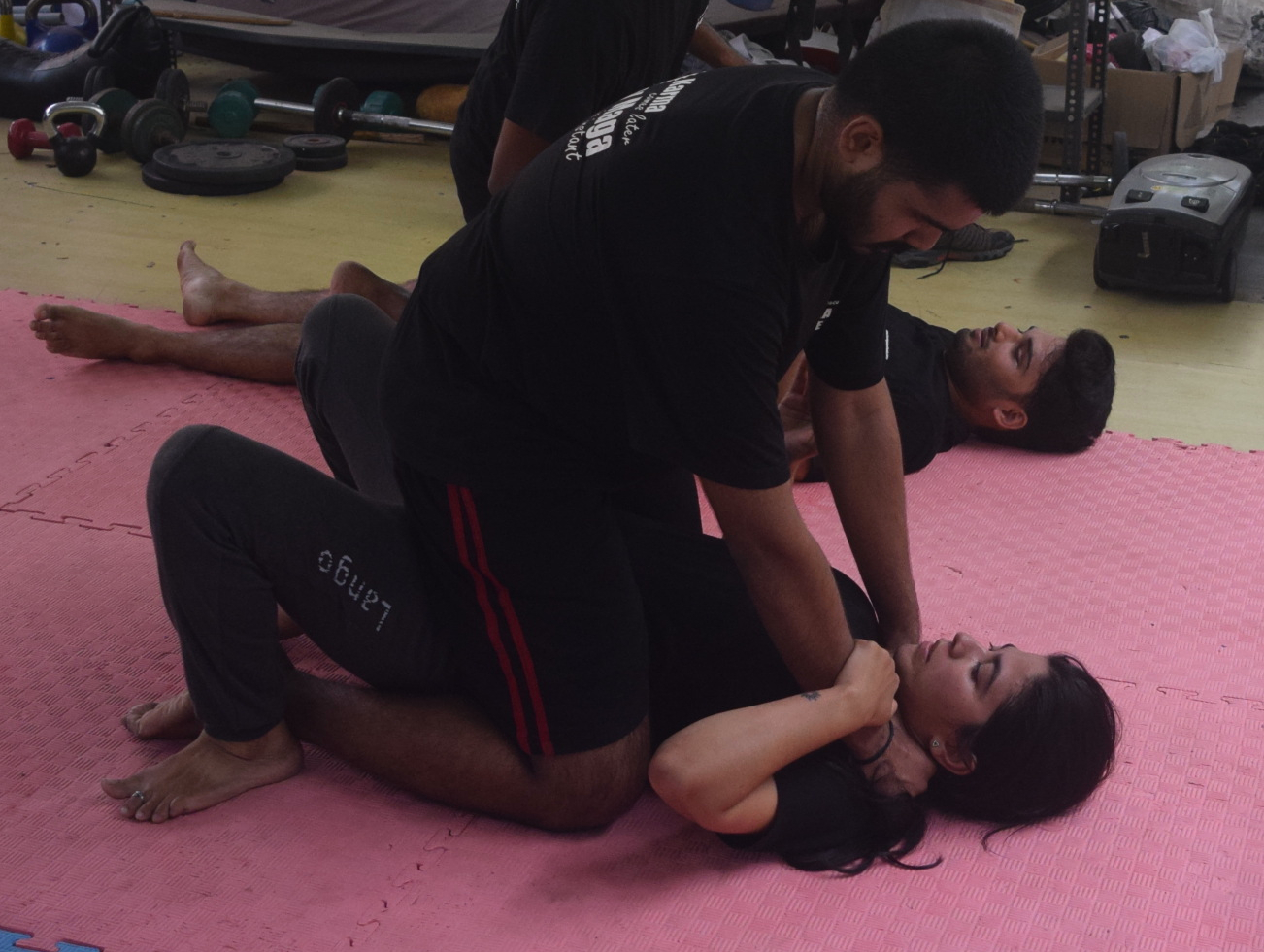 "I decided to consult on various projects and teach Krav Maga on weekends. I even went to Israel to get an independent instructor certificate."
I ask him how much this would cost someone, and SreeRam says that other than the travel expenses to Israel, the course and certification costs about 1500 Euros (Rs 1 lakh).
In Chennai, the classes cost Rs 4,500 for working professionals for three months.
"We wanted to make this affordable and even teach approximately 20 per cent of the students for free. We have an incubation plan for boys from lower-income backgrounds wherein once they learn they go to schools and conduct classes and also earn some money out of this. We have about seven such boys," he says.
A typical day in SreeRam's life is as follows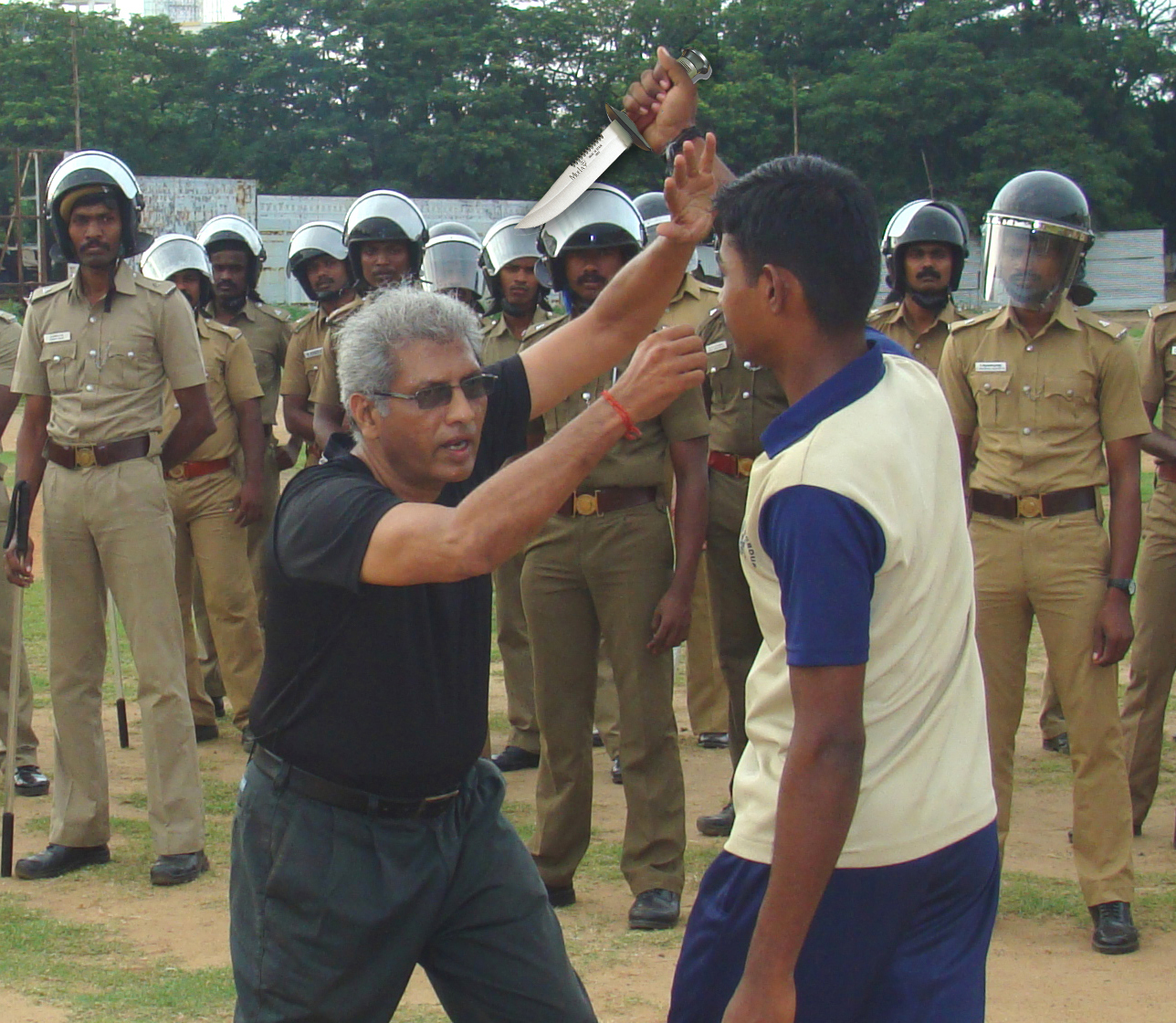 "I start my class at 6:30 am, and that goes on for an hour. The rest of the morning is spent in fine-tuning various pitches and paperwork. Afternoons and evening are spent in schools and colleges where we conduct classes and workshops. Usually, from 3-5 pm, we are at schools in various parts of the city. I also teach the Tamil Nadu police, where I am a regular trainer at the Commando school."
With an average of 100 students each month over the last ten years, SreeRam has impacted and changed the lives of many people in Chennai. He goes to talk about why it was so important for him to train women.
"I was watching the news one day about a girl being molested by a man because she had argued with him earlier. That stayed with me, and when the opportunity came up, I spoke to the Chennai police commissioner about training women. We started by training two women officers from every station and over three months, trained 70 women officers, and thus began our journey with training women."
Has the experience of training women been any different from training men?
"While there are apparent differences in their physiologies, Krav Maga is not based on physical strength. When we teach women, we focus on techniques they can use to defend themselves and leave the scene. Even though women realise that it is a critical skill, they are slightly cynical about it," he explains. While this is true, many students often call SreeRam to thank him for training them, telling him about how they used the techniques to defend themselves from aggressors.
In Krav Maga, SreeRam says that the emphasis is on using available objects to defend oneself. Remember to use your voice, your fingernails, your high-heeled shoes, even a pen as weapons if the need arises. For example one can use bags, chair to shield themselves, pens, forks, scissors can be used in place of knives, and alcohol, perfume and deodorant can be used to temporarily blind the aggressor.
To understand what women who train with SreeRam feel about the art form, I spoke to 29-year-old Sudha Rajagopal, who has been training for three years now.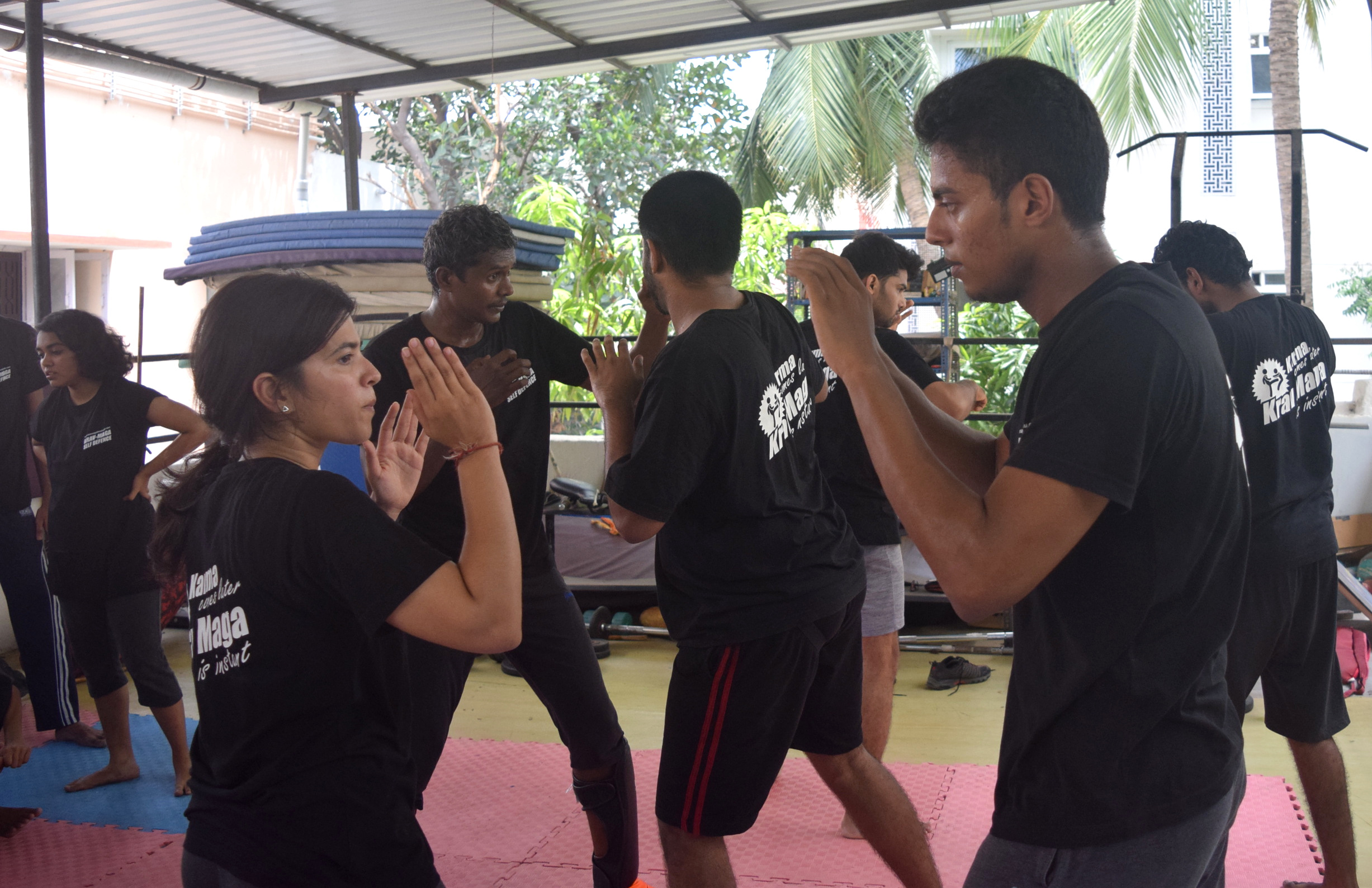 "The fact that this was a technique that would help me defend myself is what attracted me to it in the beginning."As a woman, there were several instances where I have been eve-teased and made fun of, while earlier I never dared to do anything about it, learning Krav Maga has instilled tremendous confidence in me."
She adds, "What's also amazing about it is that anyone can learn it, without the need to have any prior training or fitness levels."
So does learning this martial art form make you a superwoman?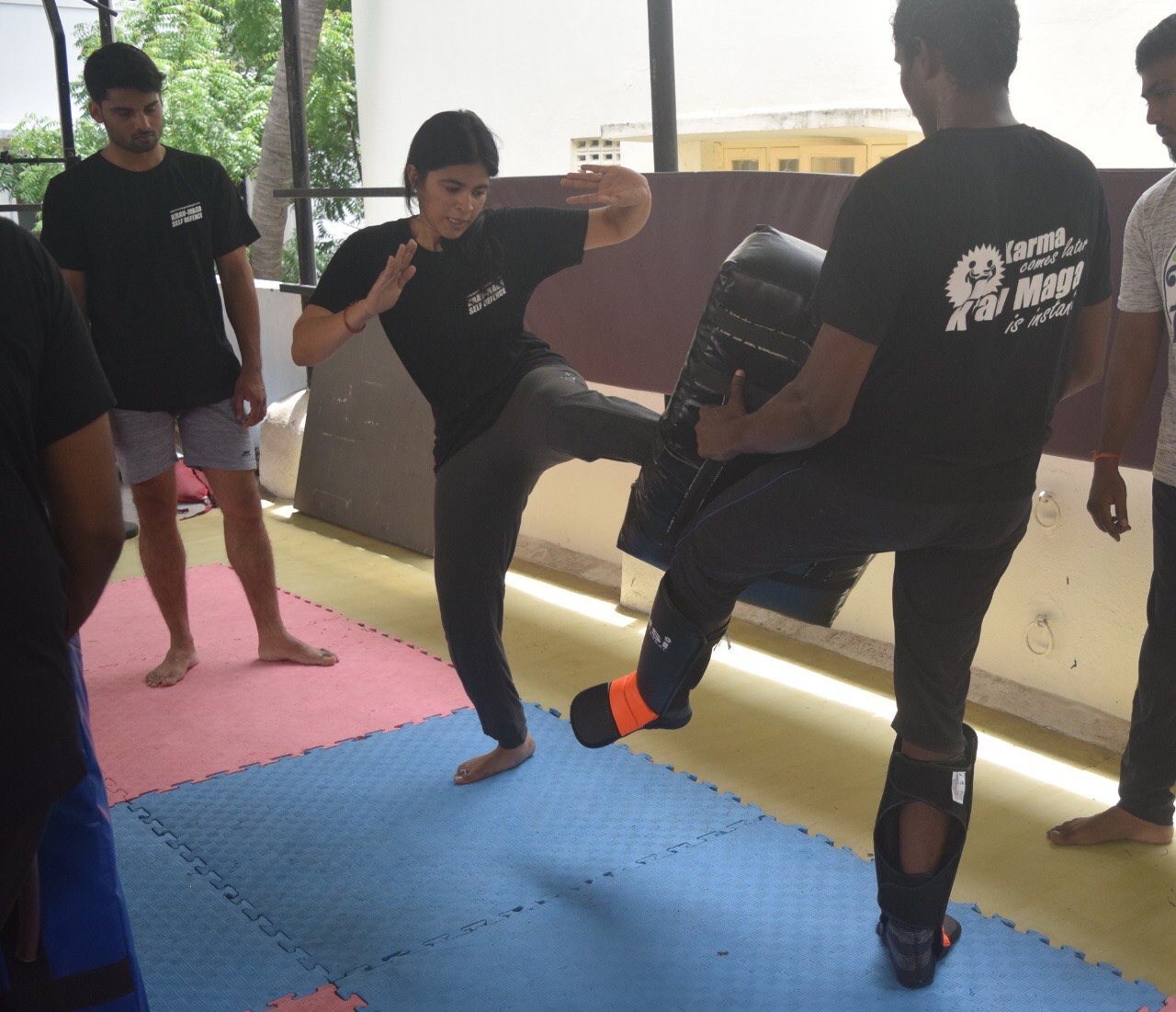 "Absolutely not. What it does is give you the ability to defend yourself. You tend to feel helpless in situations where you face an aggressor, and this art form equips you with the ability to fight back."
This technique can be taught to anyone aged 10 and up.
"Anyone younger than that is not in a position to comprehend the potential harm that it may cause. Even if kids come to class, we only teach them techniques to improve balance and stamina. The intent is to tire them out. However, anyone above 10 learns the proper techniques," says SreeRam.
SreeRam's important tips for women:
1. Be aware
One of the essential aspects is situational awareness. Everyone is usually glued to their mobile phones while walking, and one must remember that no crime happens just like that. An aggressor or a thief studies the situation well before an attack takes place, and therefore, one must be aware at all times.
2. Always keep your antennae up
Taking off from the previous point, SreeRam says that whenever you are in a public place watch out for out of the ordinary things. You might notice being followed, or someone clicking pictures without your knowledge. If your guard is up, you will see these things and can take immediate action to stop it. Crime never happens suddenly, so always be prepared.
3. Don't reveal your emotional vulnerability
Whether online or offline, SreeRam urges women and girls to not reveal their emotional vulnerabilities. You will find people taking notice and showing concern immediately and while sometimes this concern may be well-intended, many times it is not and can cause grave issues. So refrain from doing so. Don't assume that everyone around you is good. People who wish to win you over will always put their best foot forward, so take your time before you completely trust someone.
After this in-depth conversation with SreeRam, I have made up my mind to find a centre near my home so that I can also learn this self-defence system.
It's important to always feel in control, and Krav Maga is one step in that direction. If this has inspired you to learn this martial art form or reach out to SreeRam to get more information, you can e-mail him at kravmaga.chennai@gmail.com or check their Facebook page here.
(Edited by Gayatri Mishra)
Like this story? Or have something to share?
Write to us: contact@thebetterindia.com
Connect with us on Facebook and Twitter.
Tell Us More
We bring stories straight from the heart of India, to inspire millions and create a wave of impact. Our positive movement is growing bigger everyday, and we would love for you to join it.
Please contribute whatever you can, every little penny helps our team in bringing you more stories that support dreams and spread hope.