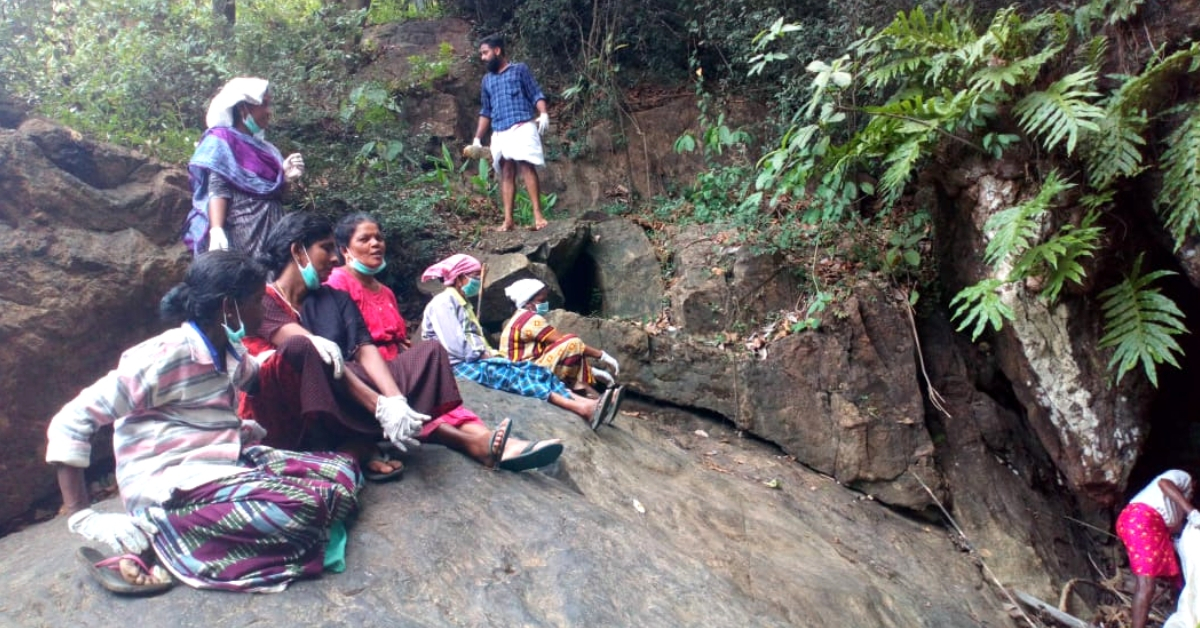 One of the United Nations Environment Programme (UNEP) registered programmes in Kerala for June 5, the drive witnessed large scale planting of trees, cleaning of the nearby catchment area and forested stretch as well as a collection of about 15 sacks of plastic waste.
The wilderness surrounding the Archal village in Kerala's Kollam district hides a pristine secret— the Erappu Falls.
Its name, which translates to 'noise' in Malayalam, was given to it as the rush and roar of the waterfall manages to drown every other sound in the vicinity.
Erappu is one of those rare waterfalls that has never dried up, even in the summer. Standing tall atop the waterfall is an ancient banyan tree, whose aerial roots seem to appear like billowing locks of hair amidst the misty sprays of the falls.
Officially known as the Archal Oliyaruku Erappu Waterfalls, the stream of origin of this water body flows through the Shendurney-Kulathupuzha forest range, before cascading over steep rocky slopes and leaving behind a deafening roar.
Its beauty, however, was no match for the mystery, myths and ghost stories that surrounded it, and these kept generations of people living in and around the village from venturing towards it.
Perhaps in the olden days, the lack of electricity along with fear of wild animals in the surrounding forest must have scared people to approach this site.
Rumours about the region being haunted and teeming with evil spirits began circulating, and before long, Erappu became infamous with its share of spooky stories and notorious tales.
One of the stories recounted by elders of the village is that of a cowherd named Kattibrayi, who had taken his animals for grazing near Errapu and ended up finding a mysterious cave. Curiosity got the better of him, and he went inside to inspect—but never returned.
There were many others like him, and soon, the villagers began to believe that the spirits of these cowherds haunted Erappu.
And then there were those who utilised rumours to their advantage and made the location a haunt for their dubious activities. The fear of running into such shady characters at the cost of their own lives further prevented people from heading here.
Eventually, the waterfalls also ended up becoming out of bounds for the women, and nobody questioned or challenged the restriction; not even the women.
But all of these myths, rumours and restrictions finally found an end on June 5, 2019. The villagers broke free from their prejudices and assumptions and conducted a green drive to save Erappu and its surrounding biodiversity, truly commemorating World Environment Day.
One of the United Nations Environment Programme (UNEP) registered programmes in Kerala for the day, the drive witnessed large scale planting of trees, cleaning of the nearby catchment area and forested stretch as well as a collection of about 15 sacks of plastic waste.
Over 300 women were part of this drive, and for them, seeing the waterfall for the very first time was nothing short of a revelation.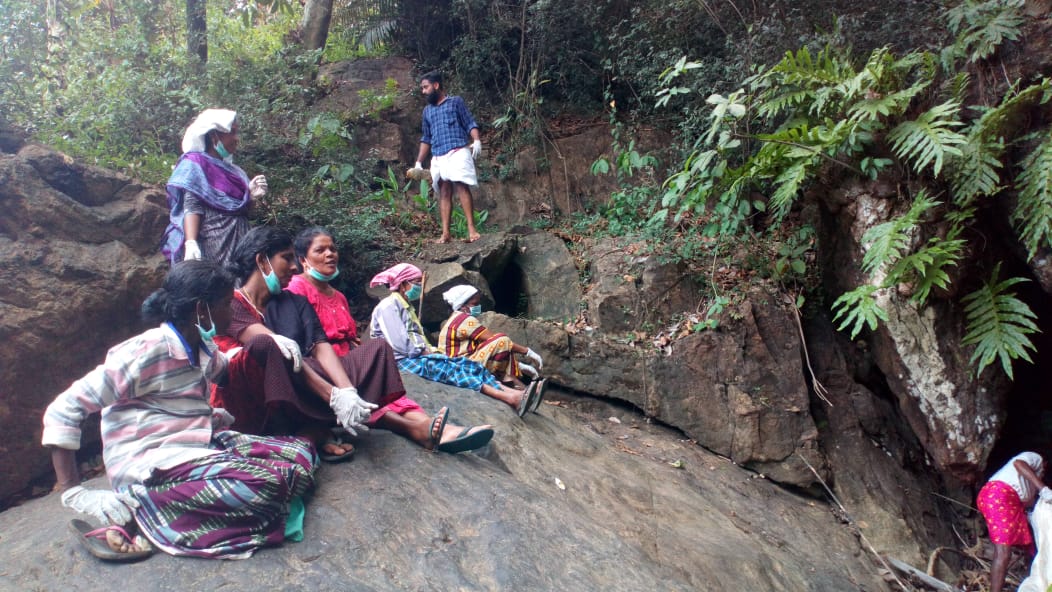 "Our Erappu was this beautiful?!" said Shantha, one of the residents of Archal, as she looked up to admire its breathtaking beauty.
So what exactly had transpired that led these villagers to let go of these myths and become guardians of a waterfall and neighbouring forested tracts?
Speaking with The Better India is 25-year-old Vishal Udayakumar, one of the residents of Archal.
"Even though the story of Kattibrayi is still told in our village, there is no such cave in existence!" he begins.
He further explains the lives of people living in Archal, have always been intertwined with Erappu.
"My ancestors, who were mostly farmers, were among the very first to settle here. The entire region was densely forested, and the low-lying areas were converted into paddy farms. Back then, the existing system was that feudal lords from Kollam would come and take away all the harvest. The water from Erappu was the lifeline that not only fuelled the agrarian activities but also all of our lives," he says.
Because Erappu was such an intrinsic part of their lives, the waterfalls and the forested stretch was given a kaav or sacred grove like reverence.
But at some point, stories and myths surrounding Erappu started taking root until they became a part of their lives.
Vishal also recalls how his grandmother would narrate stories of spirits in the forest and how dangerous it was to step out past twilight.
"Back then, it used to get very dark here, and the stories told by elders definitely had a role in furthering the general fear. Following a few deaths, this dread intensified to the extent that people, especially women, started avoiding the waterfalls altogether," he remembers.
But as times changed, a trickle of men slowly started frequenting the place. This then led to people visiting their relatives in Archal being shown their local tourist spot. However, they would be shown the falls from far.
Word slowly started spreading, and more people started flocking to Erappu, projecting a very promising scope for a tourism boom in the sleepy little village.
Shortly after that, the District Tourism Promotion Council included Archal in their tourist map.
"Even then, the women stayed away from Erappu. Perhaps it was because of these stories and myths," Vishal says.
But on June 5, a rather large congregation including hundreds of women, men and kids set out for Erappu. All of them took a pledge that they will look after the waterfall and the forest surrounding it.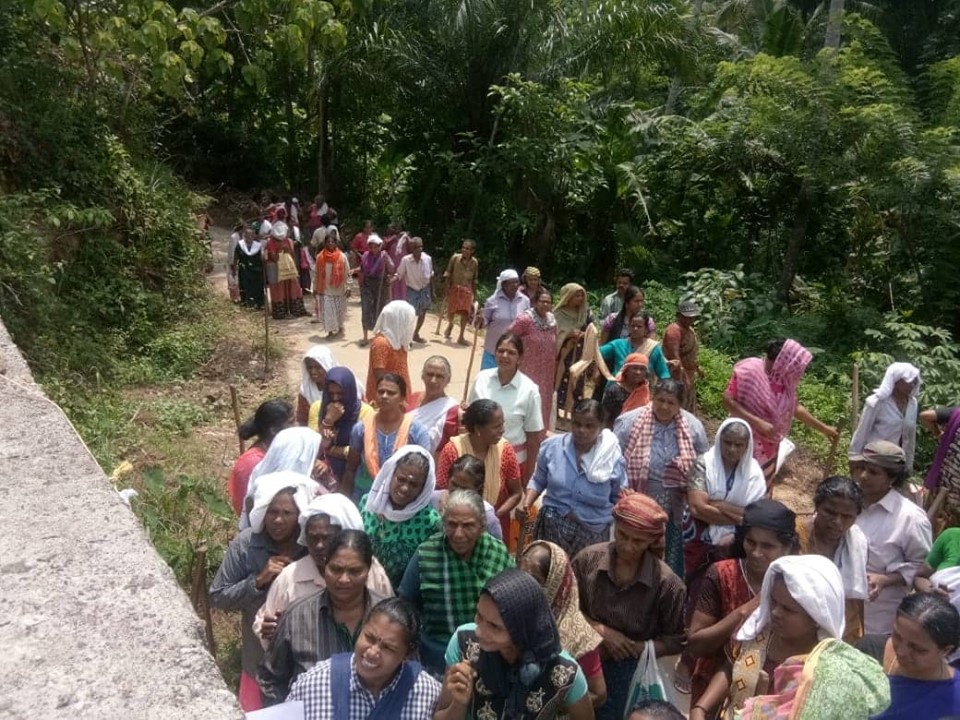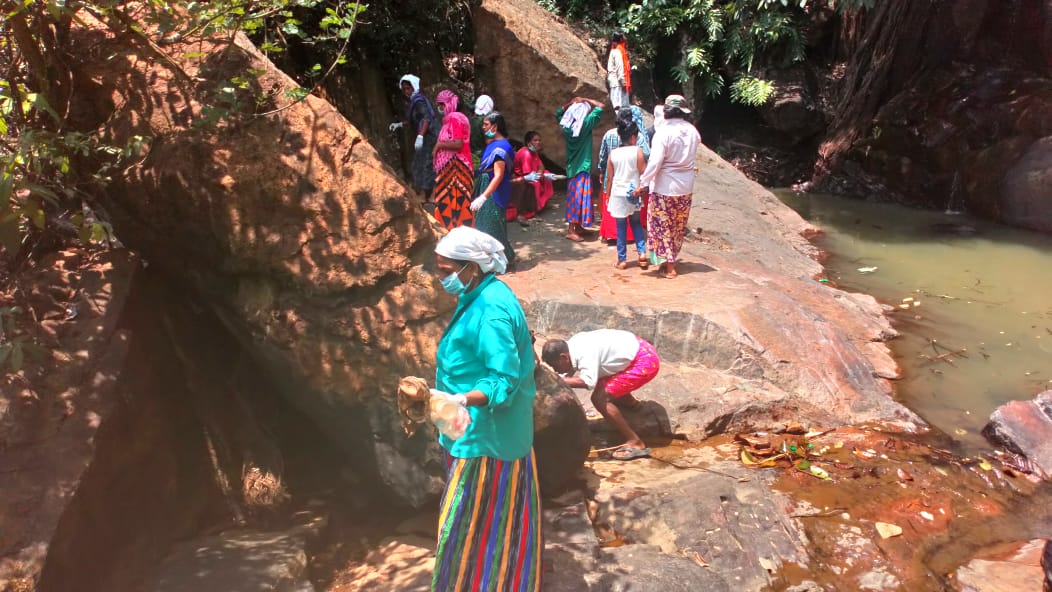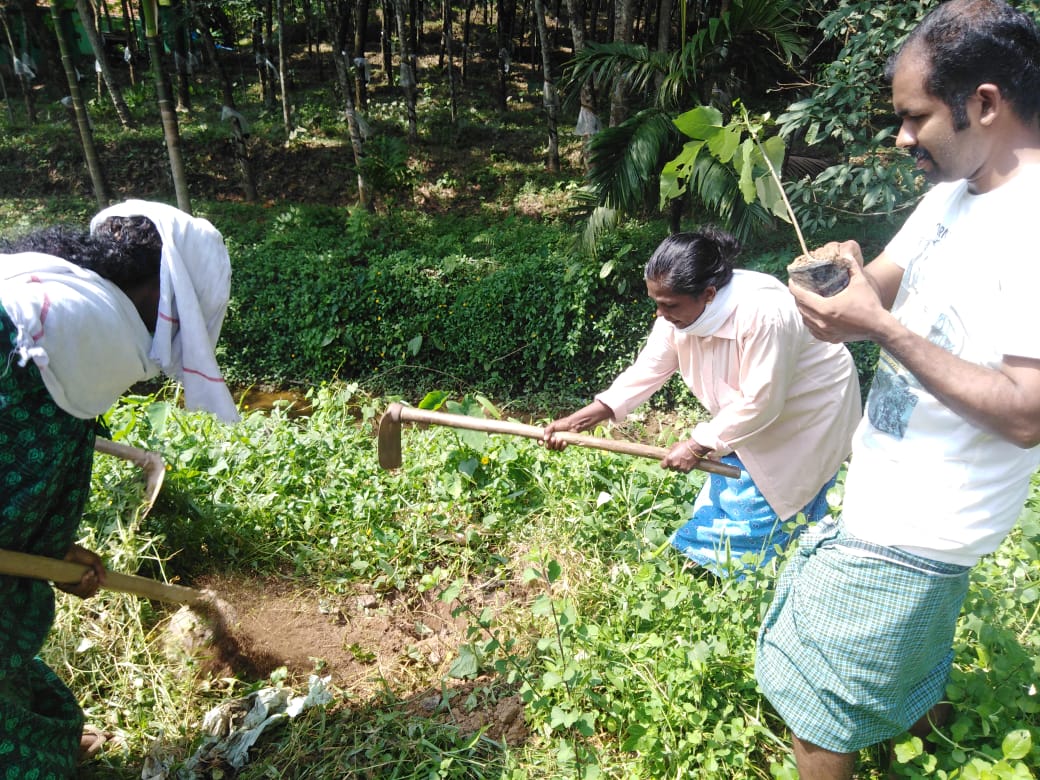 This declaration was signed by these folks on a white cloth, as a testimony to the fact that Archal and its villagers had opened their minds. They wanted to step towards the path of conversation, and women like Shantha finally got to see up close the natural gem that had always been right next to them.
"All of us went ahead and planted hundreds of saplings including medicinal ones along the 2 km road stretch between Gurumandiram junction to Archal Oliyaruku Erappu. These were supplied by Sanjeevani Social Forestry, under the Kulathupuzha forest department for free," says Vishal, who was one of the coordinators of the green drive.
Even though the plastic usage is minimal in this village, the villagers found how dumping of plastic waste and liquor bottles in the stream over the years eventually led to its accumulation near the falls.
One of the goals for the drive was to collect all of these and dispose of these through appropriate channels. They were able to fish out about 15 sacks of plastic waste that was then sent to a recycling unit. To stop littering haphazardly, they've now installed waste bins across the region.
Apart from the village folk, there were women workers under Kudumbasree and the NREGA scheme, as well as volunteers from the nearby Shahul Hameed Memorial Granthasala (library) and Naveena arts and sports club, who came forward and joined hands with the gram panchayat to support the cause.
There were also other reasons that led the people of Archal to spearhead this initiative. They were worried that the tourism boom in Erappu would put its pristine beauty at stake. Also, certain parties have been conducting illegal activities such as quarrying and deforestation around the waterfall, in recent years.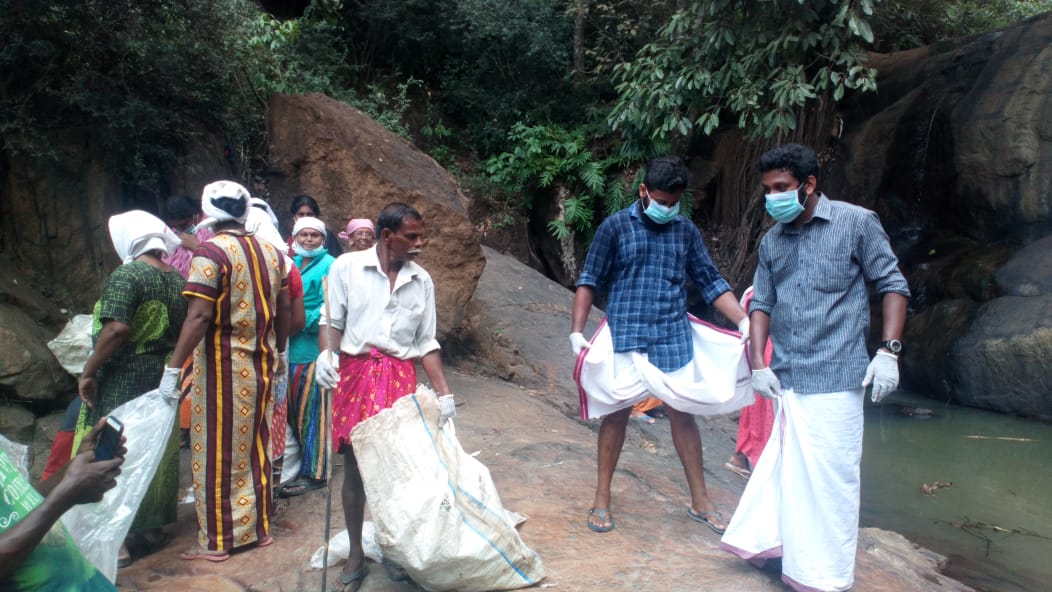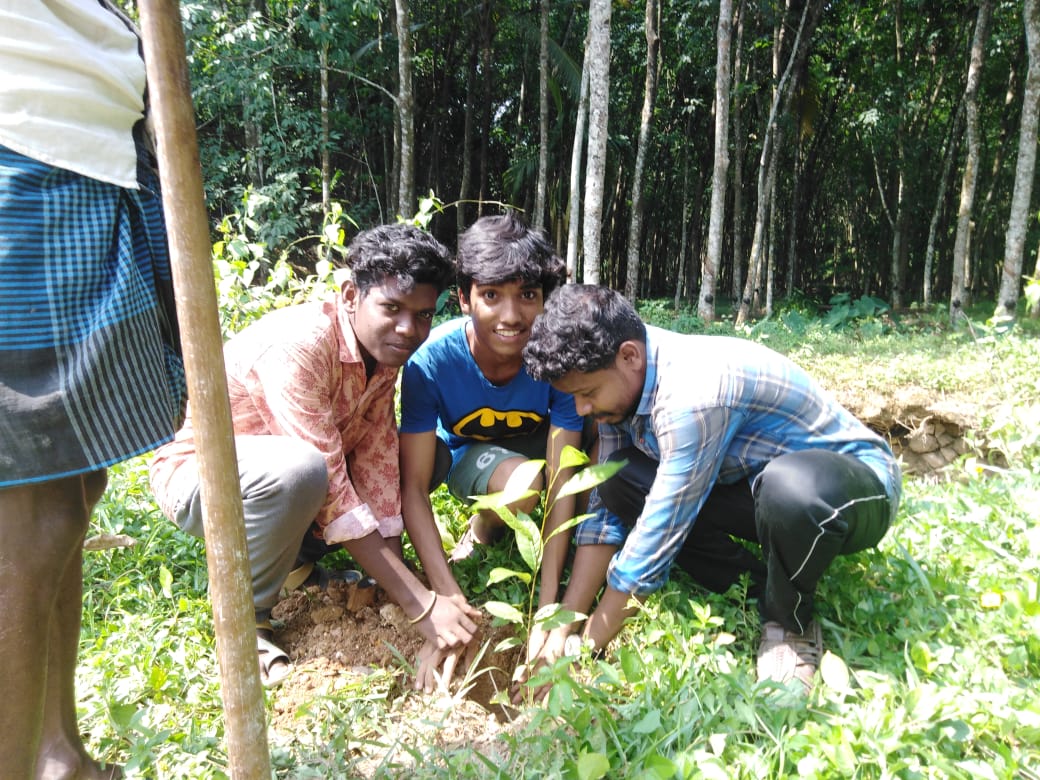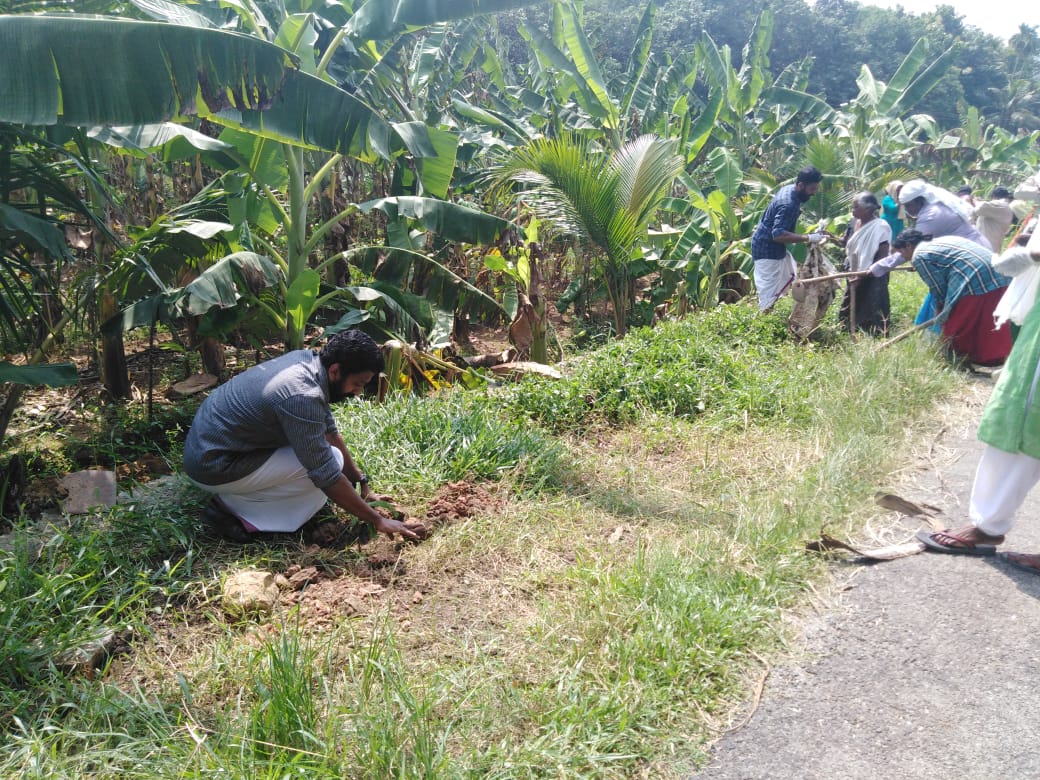 So, they took these preemptive measures, and established a local body named Archal Oliyaruk Erappu Athijeevana Samithi was to oversee the  same.
"Because the area is relatively lesser known and not under any surveillance, people with rubber plantations slowly started encroaching and farming over patches of land, where good and fertile soil often accumulated after a good rainfall. Also, many anti-social elements were trying to turn Erappu into a drinking haunt. We have been witnessing a steady fall in the water flow and are unable to use the water like in the olden days. Erappu has been part of our lives since birth. When we knew exactly what was being done to destroy Erappu and the surrounding environment, we just couldn't sit and do nothing," concludes Vishal, who is an alumnus of TISS.
---
You may also like: In Kerala, 700 People Worked 70 Days to Revive a River Considered 'Dead' for over a Decade!
---
While the initiative harbours on environment conservation, Vishal believes community awareness and participation is vital for the movement's impact before the tourism boom hits Erappu and changes it forever.
Archal's participation towards environment conservation was registered as one UNEP's programmes in Kerala for World Environment Day, which was successfully carried forth through community participation and willingness of a group of people to let go of their archaic beliefs and practices.
If a village as small as Archal can come together to protect the environment, imagine how far India can go towards championing the cause if we all do our part.
All photo courtesy: Archal Oliyaruk Erappu Athijeevana Samithi.
(With inputs from MB Jayasree and Ranjith KR)
(Edited by Gayatri Mishra)
We bring stories straight from the heart of India, to inspire millions and create a wave of impact. Our positive movement is growing bigger everyday, and we would love for you to join it.
Please contribute whatever you can, every little penny helps our team in bringing you more stories that support dreams and spread hope.