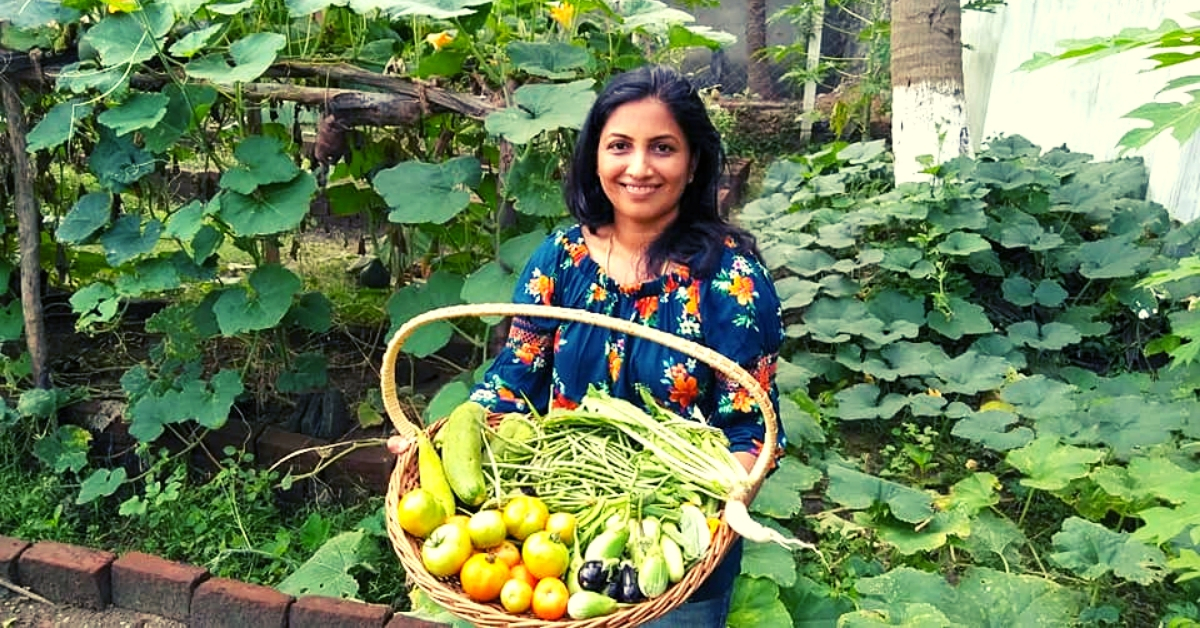 What difference is one less plastic item going to make? The landfill will not be unburdened if I treat my household waste. Judiciously using water is not going to avert the water crisis—If you ever had such thoughts, these five Indian families will change your mind!
Should I adopt an eco-friendly lifestyle? The thought has crossed my mind several times.
I often think of giving up plastic or reusing my bath water to water the plants.
Then I ask myself, what difference is one less plastic item going to make? The landfill will not be unburdened if I treat my household waste. Judiciously using water is also not going to avert the water crisis.
Thanks to these excuses or logical reasons, as I like to tell myself, I fail to honour my intentions.  
It is a human tendency to avoid taking actions if they are not taken by our fellow humans. But there are families in India that are leading their lives with the bare essentials and reducing their carbon footprints.
Here are five examples of families across the country that are setting us all #EcoFriendly or #GreenGoals.
1. Delhi Family Produces Minimal Waste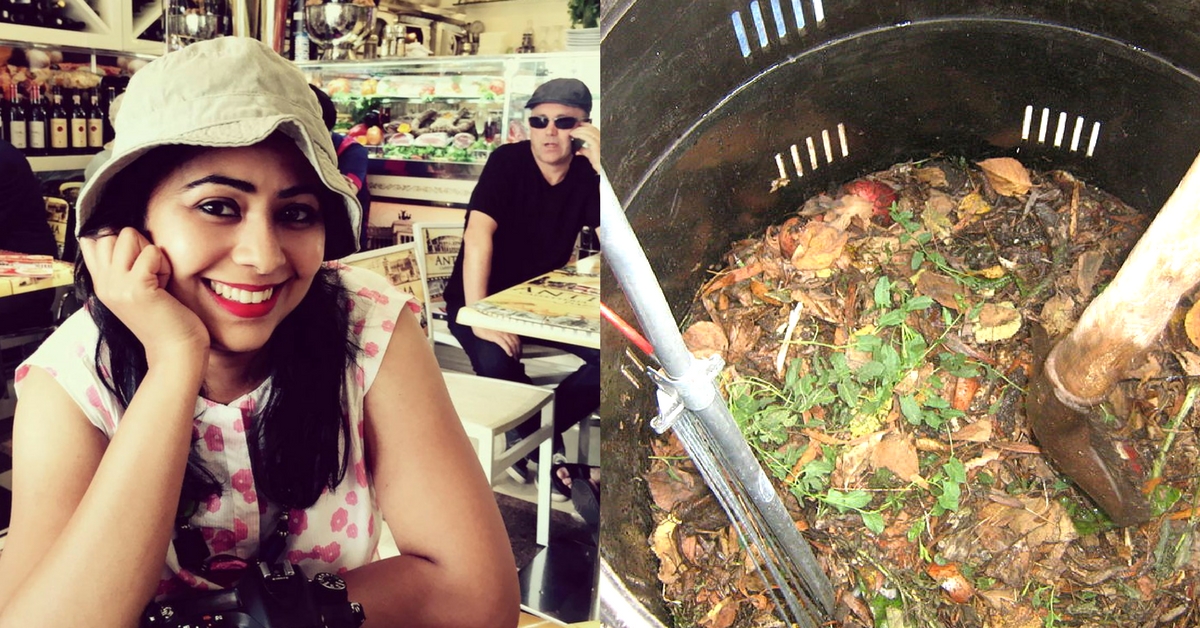 Proving that friends can be a good influence, Priyanka Dev from East Delhi started her family's waste-free journey in June 2016 by executing the key principle of waste management—source segregation.
She purchased two bins, one for wet garbage, and the other for dry waste like plastic, paper and glass.
---
Buy waste segregation stand on The Better India shop, here and home composting kit here. 
---
Since 80 per cent of their household waste comprised wet garbage, the family of six purchased a khamba, a kind of composting bin. The set of three khambas that converts kitchen waste into manure costs around Rs 2,800.
They have also stopped using harmful detergents and floor cleaners and switched to more nature-friendly options. She makes a concoction from orange peels and jaggery to clean floors, and another with vinegar and baking soda to clean toilet pots.
Lesson: It may be inconvenient in the initial days, but once you get into the habit, it becomes a part of your daily routine.
2. Chennai Family Fights Plastic & Grows Organic Food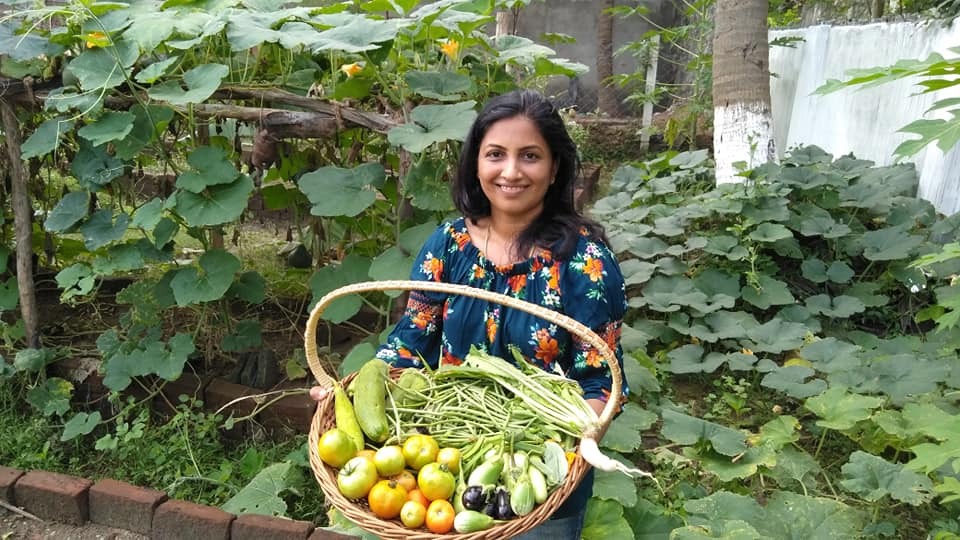 You do not always need a tragedy or an inspiration to mend your lifestyle. Kalpana Manivannan from Chennai switched to eco-friendly living after she read about the ecological conditions.
"I was working as a high school biology teacher and thus, was always conscious about both, what chemicals we ingest through different products and what we let out in the environment. Honestly, going zero-waste is a step-by-step effort that we are still pursuing," she tells The Better India.
Knowing that it is impossible to go zero-waste in a world where consumerism is at its peak, Kalpana has set realistic goals.
From using steel tiffins; replacing snacks with fruits, vegetables and nuts; cutting down on plastic packaging; sourcing veggies, grains and pulses in bulk directly from agricultural fields, her family is taking several steps towards a greener life.
She also makes personal hygiene products such as soap, body butter, shampoo and tooth powder at home, consciously replacing daily-use commodities with eco-friendly ones.
Lesson: Make it a step-by-step process rather than giving up everything at once.
3. Jharkhand Family Slashes LPG Bill by Half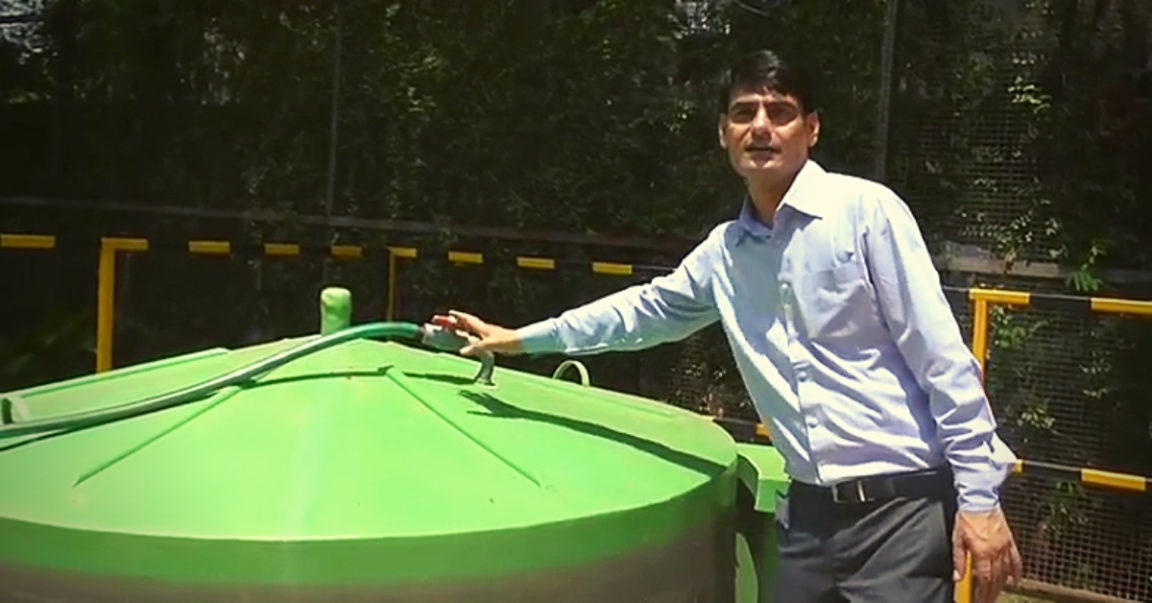 41-year-old Gaurav Anand is probably the first man in Jamshedpur to build a biogas plant that perfectly fits in his balcony. In 2017, he assembled and created a portable biogas plant that can convert one kilo of waste into fuel and slurry compost.
Although he invested around Rs 10,000 for the plant, today, his monthly expenditure on LPG has reduced by half. Besides, he uses the nutrient-rich manure to make his plants healthier.
The organic or kitchen waste is deposited in the cylinder that has two outlets; the biogas outlet comes with a 10-metre pipe, which is directly connected to the kitchen and attached to the stove.
"In a 50:50 composition, I pour around 80 kg of cow dung and water inside the cylinder which is placed in the dome. After this, 500 gm of kitchen waste and a glass of water are poured into it through the inlet. It can take a daily kitchen waste load of 500 gm, which decomposes to create biogas within 24 hours," he tells The Better India.
Lesson: A family of four or five members will need to have an area 1-metre wide and 1.5 metres tall to install a portable biogas plant.
4. Bengaluru Family Conserves Water and Saves Money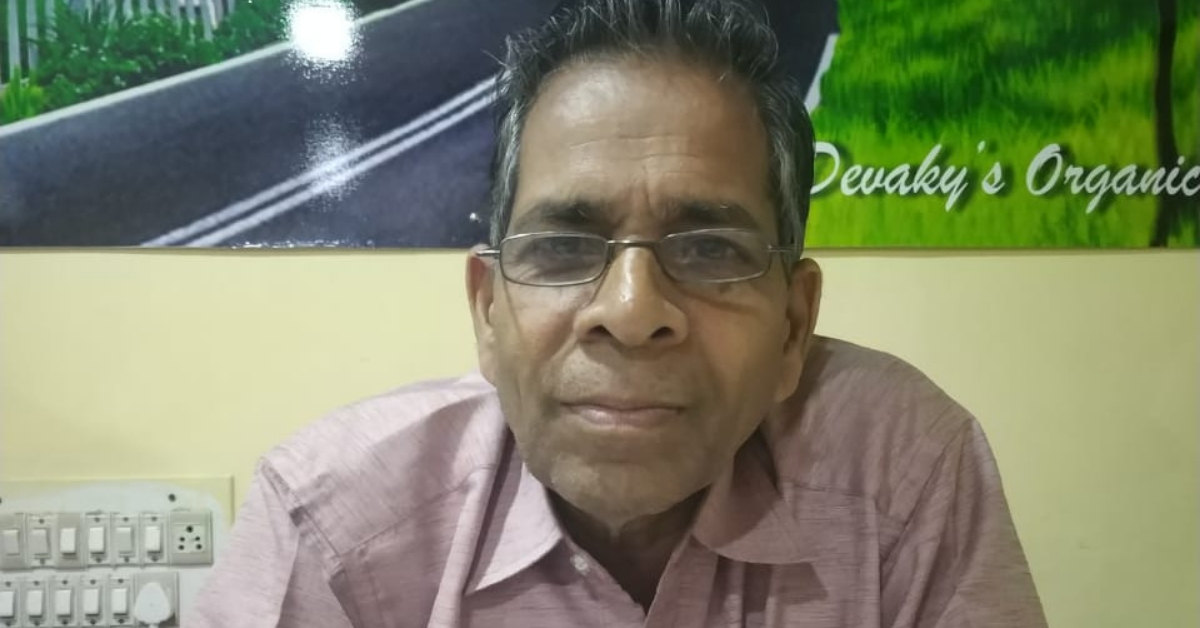 Purushothaman, a former technician from the Defence Research and Development Organisation (DRDO), has saved 60,000 litres of water through Rain Water Harvesting (RWH)!
When he moved to his new house in 2011 in the same colony, he installed two RWH systems to save and reuse water.
"Water crisis is something that everyone is aware of, but no one is doing much to avert it. RWH is the simplest means to store water and reuse it," says the 69-year-old.
---
Buy water saving device at The Better India Shop, here.
---
This has not only helped his family conserve water but also reduced their water bills significantly. Every month, they pay only Rs 100 for their consumption.
The family uses conserved water to clean utensils, mop the house, and water the plants. Besides developing a garden at his home, Purushothaman has also planted trees in his locality. With help from homemade manure and stored water, he has planted more than 6,000 trees so far.
The family also prevents approximately 30 kilos of wet garbage from going to the landfill per month; they convert it into manure every 45 days. The wet waste is deposited into the composting drums in his house.
Lesson: Install a Rain Water Harvesting Unit and cut down your water bills. If you do not have space, focus on reducing water wastage.
5. Pune Family Shows How to Exercise and Save Water at the Same Time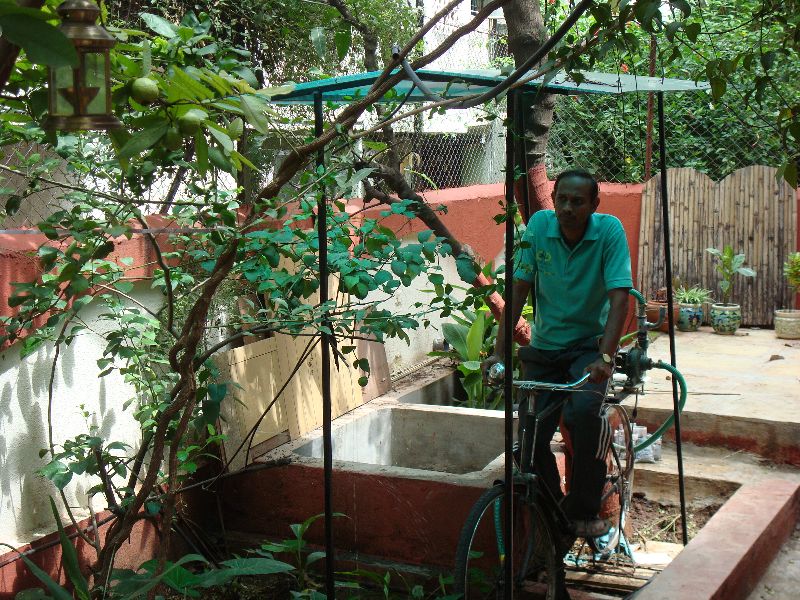 Sanjay Athavale from Pune has been recycling wastewater from his bathroom and kitchen to water plants in his garden every day for the last four years. He uses a cycle that powers a pump when pedalled.
One minute of cycling provides around 30-40 litres of water to the garden. Cycling for as less as 20-30 minutes each day, his family recycles over 600 litres of water!
The wastewater purification system at his home diverts bathroom water to a water tank where it is purified using a cleansing mechanism that consists of sand, stones and coconut waste. The tank has three layers of filters—coconut peels and stones for the first layer; then comes sand for the second layer; while the last layer is made up of ecofert, a fertiliser that Sanjay received from an NGO.
The tank also has Kardal trees inside it, because the roots of these trees purify water, which then flows into the next pit for storage.
The storage tank contains guppy fish who feed on mosquito larvae that usually appear on still water. This purification process ensures that the water doesn't stink. Sanjay's family then pumps the water into the garden using the drip irrigation system.
Lesson: A mechanism that helps solve more than one objective serves as added incentive. Look at how you could solve two (or more) problems with one solution.
---
Buy Products that Can Help You Go Green on The Better India Shop, here.
---
These families prove that the willingness to act on your intentions can make an eco-friendly or sustainable lifestyle possible. These green warrior families had their share of troubles while implementing these changes. But what sets them apart from the rest of us is that they did not give up till they achieved their objectives.
As for me, I have started carrying a cloth bag every time I step out of the house, refusing plastic bags and straws wherever I can, while my family composts wet-waste at home in Mumbai.
I'm sure that these small steps will help me create an overall eco-friendly lifestyle.
(Edited by Shruti Singhal)
Like this story? Or have something to share?
Write to us: contact@thebetterindia.com
Connect with us on Facebook and Twitter.
We bring stories straight from the heart of India, to inspire millions and create a wave of impact. Our positive movement is growing bigger everyday, and we would love for you to join it.
Please contribute whatever you can, every little penny helps our team in bringing you more stories that support dreams and spread hope.