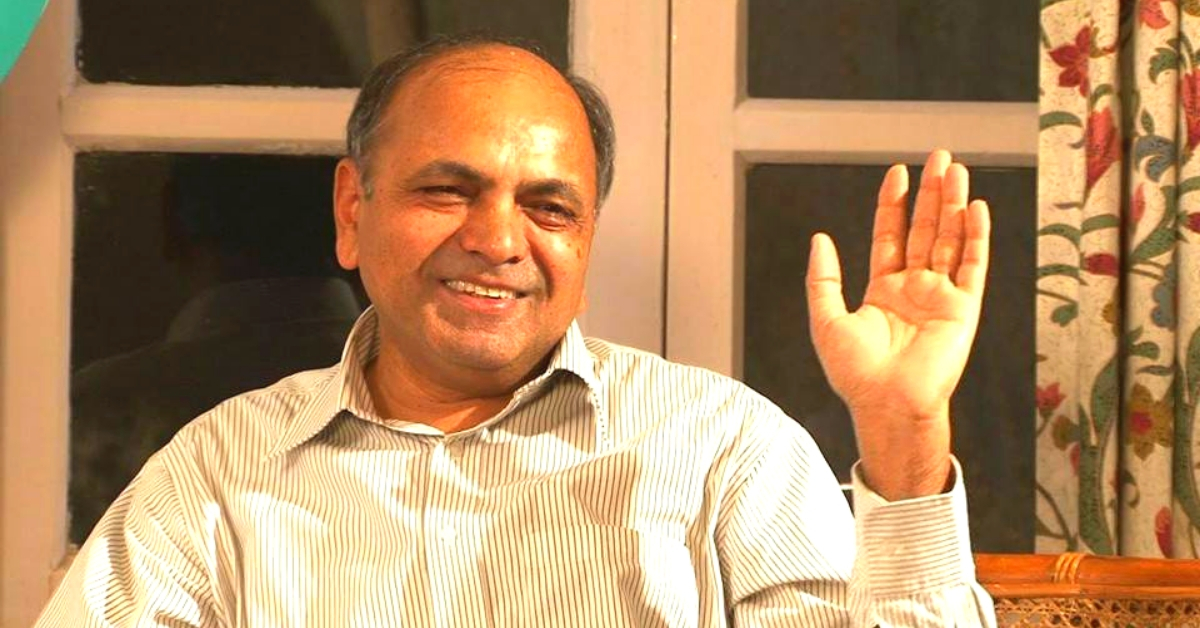 With 2019 designated as the UN's year of indigenous languages, here's the story of the Padma-winning scholar who conducted the first definitive 'People's Survey of India.''#History #Heritage
Did you know that:
There are 780 different languages spoken in India, and 86 different scripts?
16 languages in Himachal Pradesh have 200 words amongst them to describe snow?
Different nomadic communities in Rajasthan have a diverse number of words to describe the desert landscape they traverse?
In the last 50 years, India has lost approximately 250 languages?
These are the results of a three-year People's Linguistic Survey of India (PLSI) led by Padma Shri and Sahitya Akademi award-winning linguist Ganesh Narayan Devy.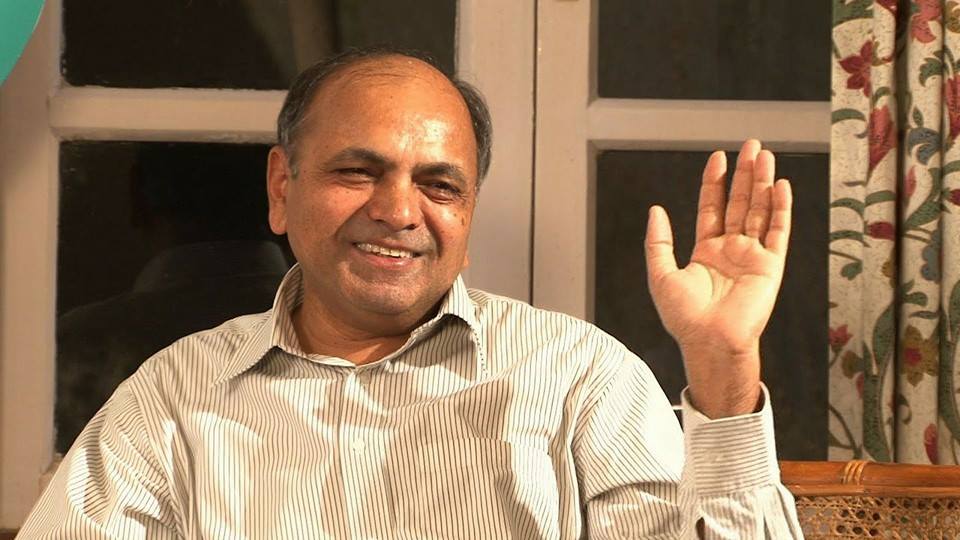 Working with Orient Blackswan, a publishing house, the PLSI will be published across 92 books, of which 45 are available for anyone who truly cares about discovering India's startling cultural diversity.
The first volume was released on September 5, 2013, and as per reports, the rest of these books will be out of publication through the course of 2020.
Starting in 2010, Devy put together a team of more than 3500, including writers, professors, researchers, school teachers and anyone who was inclined to help. From the middle of 2010 to the end of the following year, he made around 300 trips to different parts of the country, holding workshops on how to conduct such surveys.
By 2013, each state had a coordinator while a group of 80 scholars made up the national body overseeing this exercise nationally.
Why did Devy undertake such an enormous task?
Well, the last linguistic survey of India was carried by the British colonialists from 1894 to 1927.
Led by George Abraham Grierson, who was appointed the superintendent of the Linguistic Survey of India, the 30-year exercise found that there are a total of 364 languages and dialects in India.
However, there were many shortcomings when it came to the methodology, and the survey was criticised for leaving out large parts of the country.
Things did not change post Independence either—no government had carried out such an exercise, and scholars like Devy didn't trust the figures the Census of India was putting out.
As he writes in a recent column for The Hindu:
"Under the heading "Hindi," there are nearly 50 other languages. Bhojpuri (spoken by more than five crore people, and with its cinema, theatre, literature, vocabulary and style) comes under "Hindi." Under Hindi, too, is the nearly three crore population from Rajasthan with its independent languages. The Powari/Pawri of tribals in Maharashtra and Madhya Pradesh too has been added. Even the Kumauni of Uttarakhand has been yoked to Hindi. While the report shows 52,83,47,193 individuals speaking Hindi as their mother tongue, this is not so. There is a similar and inflated figure for Sanskrit by counting the returns against the question about a person's 'second language."
Humble beginnings
Born on August 1, 1950, into a Gujarati family in Bhor, a village nearly 50 km away from Pune, Devy studied at a Marathi-medium school village school.
By the time he was 10, his father's business had gone bust and it fell upon Devy to pay for his education. So besides studying, he took up a whole host of menial jobs to support himself.
He dropped out of junior college in Pune because everything was taught to him in English, a language he barely understood then.
The young boy moved to Goa, where he worked as a manual labourer in a mine, but during his spare time would voraciously read books in English. He eventually found his way back into the formal education system, studied literature in college and pursued an MA and PhD from the Shivaji University in Kolhapur.
For his PhD dissertation, instead of focussing on traditional Western cannons, he decided to study the works of Sri Aurobindo.
It was during his long hours at the library at Shivaji University, where he met his wife Surekha, who was pursuing her PhD in chemistry.
For his second master's degree at the University of Leeds, his thesis was on the work on AK Ramanujan, the poet, anthropologist and translator.
A scholar comes to the fore
From the early 1990s, he published several important works of literary criticism—After Amnesia (1992) and Of Many Heroes (1997)—among others.
The focus of his works was on what he called the "Bhasha," which according to this Caravan Magazine profile includes, "the numerous vernacular languages of India—produced from 1000 CE till the arrival of the British have been more or less forgotten."
This discourse moves away from the general culture wars between those advocating for greater Sanskritisation of Indian culture or those steeped in Western education and intellectual thought.
In 1993, After Amnesia won the Sahitya Akademi award. However, in 2015, he returned the award as a mark of protest of against the murder of eminent scholar MM Kalburgi.
"Seventeenth-century India presents a record of highly impressive achievement in arts and literature. The contributions to music, painting, dance, architecture and poetry made during this period form a glorious chapter in Indian history. Yet, no simple formula of the relationship between living cultural traditions and great social problems can explain the entire period satisfactorily. One encounters a paradox difficult to explain. Side by side with the emergence of a novel Marathi poetics in Tukaram's (1598–1649) redefinition of the Hindu world view, one finds Jagannatha (1620–65) concluding the long, tired line of Hindu poetics in Sanskrit. On the one hand is seen the development of a novel literary genre like Assamiya Buranji, on the other the faltering progress of the Bhakti school, created so ably in the preceding century by Mira (1498– 1573), Kabir (1440–1518) and Tulsidas (1532–1623)," writes GN Devy.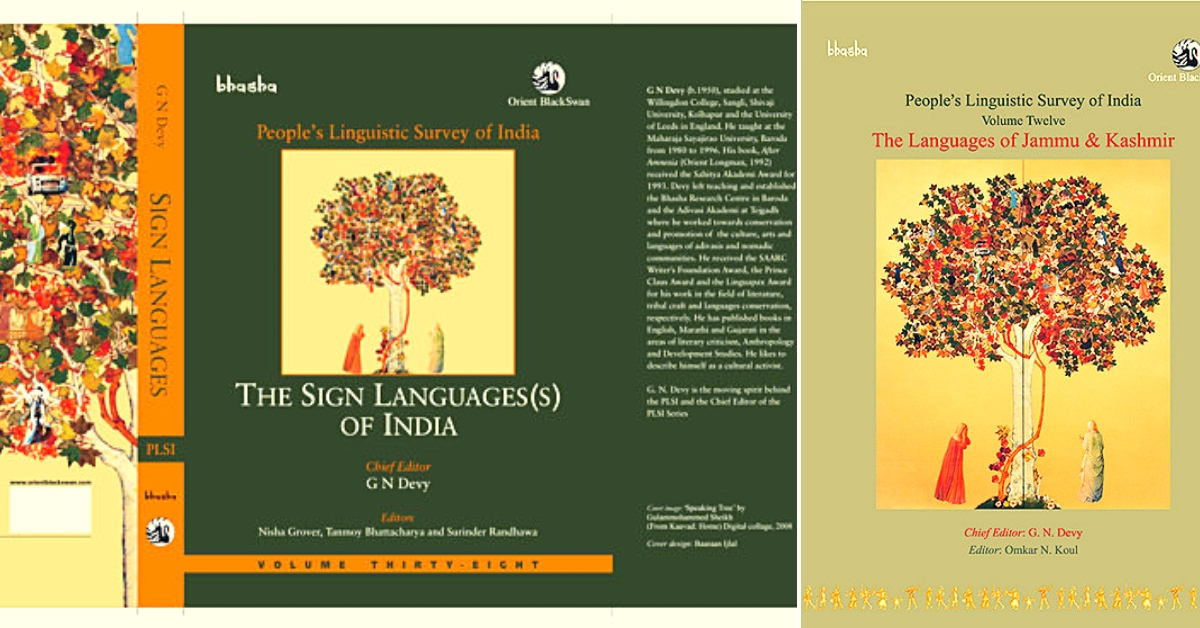 Activism
Devy didn't just dedicate his life to scholarly pursuits. Back in 1987, while teaching at the Maharaja Sayajirao University of Baroda, he created a team of 120 students for relief work in over 30 villages affected by a debilitating drought, raising money for food, medicine and fodder and distributing them for a year.
He taught at the university until 1995, and after quitting, he started the Bhasha Research and Publication Centre, a non-profit in Tejgadh, a village in the Vadodara district of Gujarat.
Before he delved into the study of languages, there were basic material needs of the village that needed to be addressed.
"I spent nearly ten years putting together a healthcare scheme, a microcredit scheme (which spread to over 2,000 villages), grain and seed banks, establishing schools, creating employment so that this work becomes possible, a building so they can meet, management structures so that the building is kept properly. It was like a traveller preparing for his journey, and putting together his car, bolt by bolt," he says in an interview with The Hindu.
Today, the centre documents India's various cultures and languages.
Three years later in 1999, he started the Adivasi Academy, which is essentially a library/museum chronicling tribal culture, art and literature.
The Academy today has approximately 50,000 books on these subjects, a museum, healthcare centre and even a school. Interestingly enough, once he set everything up, he quit the management and let the local community take over.
Also Read: Fearless, Compassionate And Martyr: The Story of an Actress Who Took on The Emergency
He also joined forces with Mahasweta Devi, another Indian literary giant, to protect the rights of Denotified Tribes (DNTs), whose way of life and livelihoods were actively and unfairly being crushed by both colonial and post-Independence jurisprudence.
When Devy went into activism full time, Surekha provided financial support. Today, the couple lives in Dharwad, Karnataka, one of the great forgotten cultural centres of India. There, he is fighting for justice for the outspoken Kannada scholar MM Kalburgi, who was allegedly shot to death for his critical views on religious orthodoxy.
Without the likes of GN Devy, can you imagine what we, as a nation, would have lost? He is not only one of the great chroniclers of indigenous languages and knowledge systems, but also a man at the forefront defending India's most vulnerable communities.
What a remarkable man!
(You can buy different volumes of the People's Linguistic Survey of India here.)
(Edited by Gayatri Mishra)
Like this story? Or have something to share? Write to us: contact@thebetterindia.com, or connect with us on Facebook and Twitter.
We bring stories straight from the heart of India, to inspire millions and create a wave of impact. Our positive movement is growing bigger everyday, and we would love for you to join it.
Please contribute whatever you can, every little penny helps our team in bringing you more stories that support dreams and spread hope.