"If the US can fly 14 to 16 million such rockets every year, then why can't India reach a margin of over 50 million rockets?"
As children, we often dream big, but our childhood dreams seldom make it to reality. Stuck in a limbo of 'fantasy', most of us eventually abandon them.
But, two rocket enthusiasts dreamt of flying one; an unfulfilled dream that eventually shaped their lives, they gave India its first commercial model-rocketry startup.
Alumni of the Indian Institute of Space Technology (IIST), Thiruvananthapuram, Divyanshu Poddar, and Akash Ekka, began the company with the idea to enable all, especially children, to make and fly their own rockets!
In 2010, the duo began to work on the idea as students of IIST.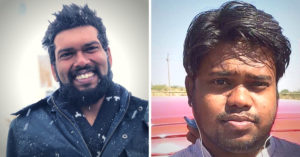 From designing to conducting model rocket-building workshops, they continued it non-commercially until 2016, when the startup decided to venture into the untapped commercial market of model rocketry.
"It was a risk worth taking. We knew that it would be very unpredictable, especially because there was no other company in this area commercially, and also because the market for rockets in India is fairly new and untapped," Divyanshu Poddar, tells The Better India.
He continues, "If you compare India with other countries in this area, it is lagging. Our point is that if the USA can fly 14 to 16 million such rockets every year, then why not India, using its vast potential to reach a margin of over 50 million rockets? We don't want Indian kids to miss out on the learning and opportunity of flying a rocket."
He added that while India has been well ahead in space research and technology, its outreach to schools and colleges is still lacking. It is this gap that their startup hopes to bridge.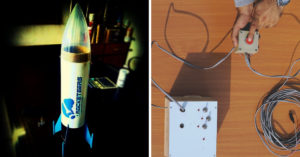 Owing to the efforts of the past few years, Rocketeers has expanded to four offices–in Bengaluru (technical and design), Delhi (manufacturing and regulations), Ludhiana (warehousing and manufacturing) and Sivakasi (fuel).
Their model rockets that fly up to 900 feet come in five different models. And the biggest is even equipped with the capacity to carry a payload using three fuel cartridges. These are also capable of flying between 300 to 900 feet in safe areas, open spaces, with or without payloads.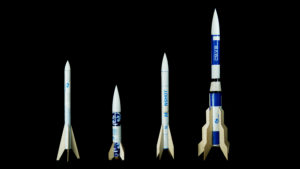 "If you compare our rocket with a Diwali rocket, you will see that while the biggest Diwali rocket weighs 32 g and has the capacity to carry 16 g of fuel to reach a maximum height of 270 feet; our smallest rocket weighs 35 g without fuel, carries 7 g of fuel and reaches up to 350 feet," explains Divyanshu.
Model rockets, in general, are known to be light and made of non-metallic components. The fuel that powers them is usually black powder and ammonium perchlorate composite propellant. Due to this, the cost is also extremely affordable. At Rocketeers, the rocket kit ranges from Rs 890 to Rs 3,000, with fuel.
However, Rocketeers' take-off hasn't been all that smooth. One of the biggest challenges came from the government, shares co-founder Divyanshu.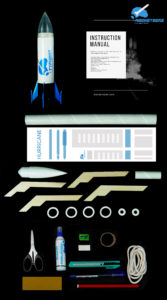 "The one thing we ensured was that all levels of the government knew that we are a company called Rocketeers and that we are working on commercial model rockets," says Poddar.
He says, "One of the major hurdles in India is the lack of proper regulation. Drones have certain guidelines here. But rockets have no restrictions at all. This is not positive. Because zero regulations often bring forth a threat of a near-complete shutdown at any given time."
Since then, there have been several attempts to reach out to the government on regulation, without much success. For the past few years, more than 14 companies have tried to commercialise model rocketry in India, but in vain.
Meanwhile, Rocketeers continued to conduct workshops across the country, teaching and enabling citizens to make their own model rockets.
"We want to become the company which ushered in a bubbling ecosystem of model rocketry in India. Currently, the USA, UK, and South Africa have been leading in this sector, then why not India which is already equipped with so much potential," says Divyanshu.
And, to do so, they are planning to release their expertise in the open-source arena.
"Our building and educational modules will be in open-source for anyone to use. Only our fuel cartridges will be built internally. At the end of the day, we want more people, especially students, to build rockets and increase the bulk of knowledge and innovation in the field, thus flourishing the ecosystem."
---
Also Read: ISRO Launches Heaviest 'Baahubali' Rocket: 8 Amazing Facts About GSLV Mk-III!
---
Now, as the first Indian company to sell model rocket kits online, Rocketeers further plans to work with outreach organisations, including the Society for Space Education Research and Development, to make it more accessible to the youth.
(Edited by Shruti Singhal)