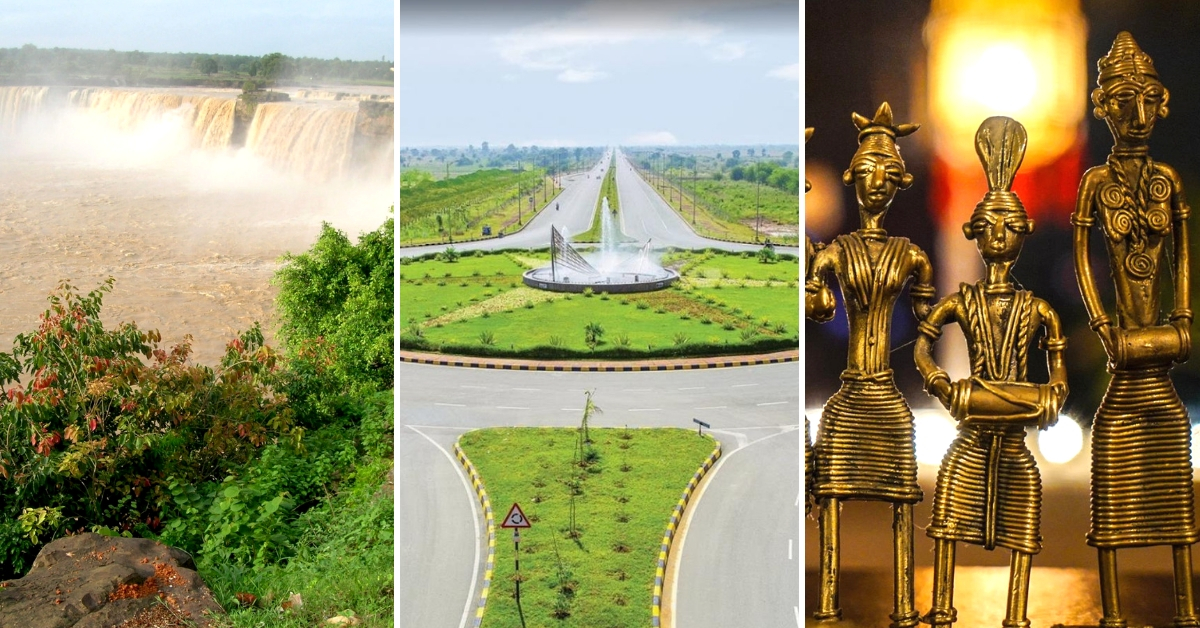 Located at the very heart of India (literally), the country's tenth largest state by land area vibrates with the spirit of a wild and progressive spirit that can barely be seen elsewhere.
---
This article is sponsored by the Government of Chhattisgarh.
---
Dense forests, colourful dances and enigmatic tribes. These are but few of the thoughts, along with others, that come to mind when one hears the word 'Chhattisgarh'.
But what about substantial development projects? Ultra-modern smart cities? An IIT and an IIM? A mobile phone in every hand?
Suprised? These are just some of the many surprises that Chhattisgarh holds.
Located at the very heart of India (literally), the country's tenth largest state by land area vibrates with the spirit of a wild and progressive spirit that can barely be seen elsewhere.
As you travel through its forests or take in the massive rivers, scenes and locations mentioned in the Ramayana and the Mahabharata seem to come alive – despite the ever-increasing signs of development and modern growth.
Members of a Muria tribe, perhaps seen in one of the colourful haats (markets) that are a regular fixture of southern regions like Bastar, may appear to be straight from the 10th century thanks to policies that encourage them to retain their traditional clothing and still-preserved language.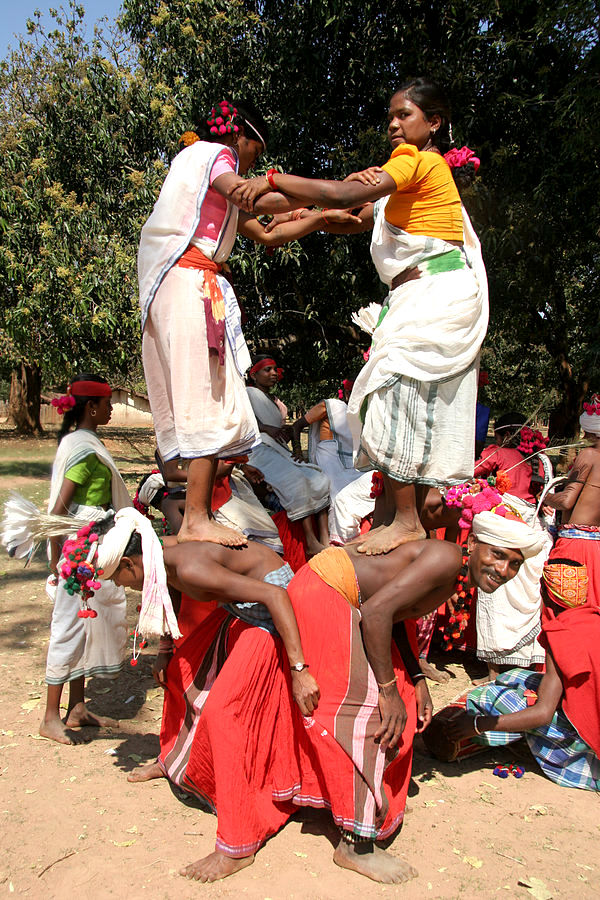 But that stereotype is wholly shattered when someone pulls out a mobile phone for a quick call!
This duality – the modern mingling freely with the ancient – taking shape all over the state right now, is why Chhattisgarh is an experience we cannot afford to miss.
Chhattisgarh, as we know it now, began on November 1, 2000. The dagger-shaped state was created from ten Chhattisgarhi and six Gondi speaking districts of the former Madhya Pradesh.
It currently has 27 districts with Raipur as its capital and a population of 2.55 crore. It shares borders with a whopping seven states – Madhya Pradesh, Uttar Pradesh, Jharkhand, Odisha, Telangana, Andhra Pradesh and Maharashtra. Chhattisgarh has three of India's 100 planned 'Smart Cities' – Atal Nagar, Raipur and Bilaspur.
The state is also very well connected through railroads and airports. Raipur's Swami Vivekananda Airport has been ranked first in consumer satisfaction, among the 51 airports polled. There are daily flights to all major cities in the country, and the infrastructure is being ably used as a catalyst for change.
For example, the newly opened Jagdalpur Airport in the Bastar region makes it convenient for tourists and locals to visit the region all year-around – a major change from 15 years ago.
Five major rivers cross the state – The Mahanadi, the Godavari, the Sone, the Brahmini and the Narmada.
The demand for a separate state reached new heights in the 1990s, thanks to a united effort from politicians of all hues from the region. The word 'unanimous' can be found several times when researching the birth of this new state – which was admittedly a good omen for the future.
The origin of the name remains somewhat lost in the mists of time. It is commonly understood that it comes from a literal translation of the word 'Chhattisgarh' – which means 36 forts.
Whatever the exact reason behind the name, Chhattisgarh developed a distinct socio-cultural identity over the centuries – an essential factor leading to the state's creation.
Like all regions of India, there is an ancient history to this place far beyond our modern considerations. For example, legends say this region, known then as Dakshina Kosala, was once ruled by Kusha, the son of Lord Rama. The ruins of an ancient settlement, called Kushasthalipura, have been uncovered near modern-day Bilaspur. Over the centuries, the area has been ruled by the Mauryas, the Guptas and many smaller kingdoms. Even the Cholas of Tamil Nadu once ruled southern Chhattisgarh.
Whoever the overlords were, in the dense jungles of Chhattisgarh life was unchanged for the many tribes native to the land.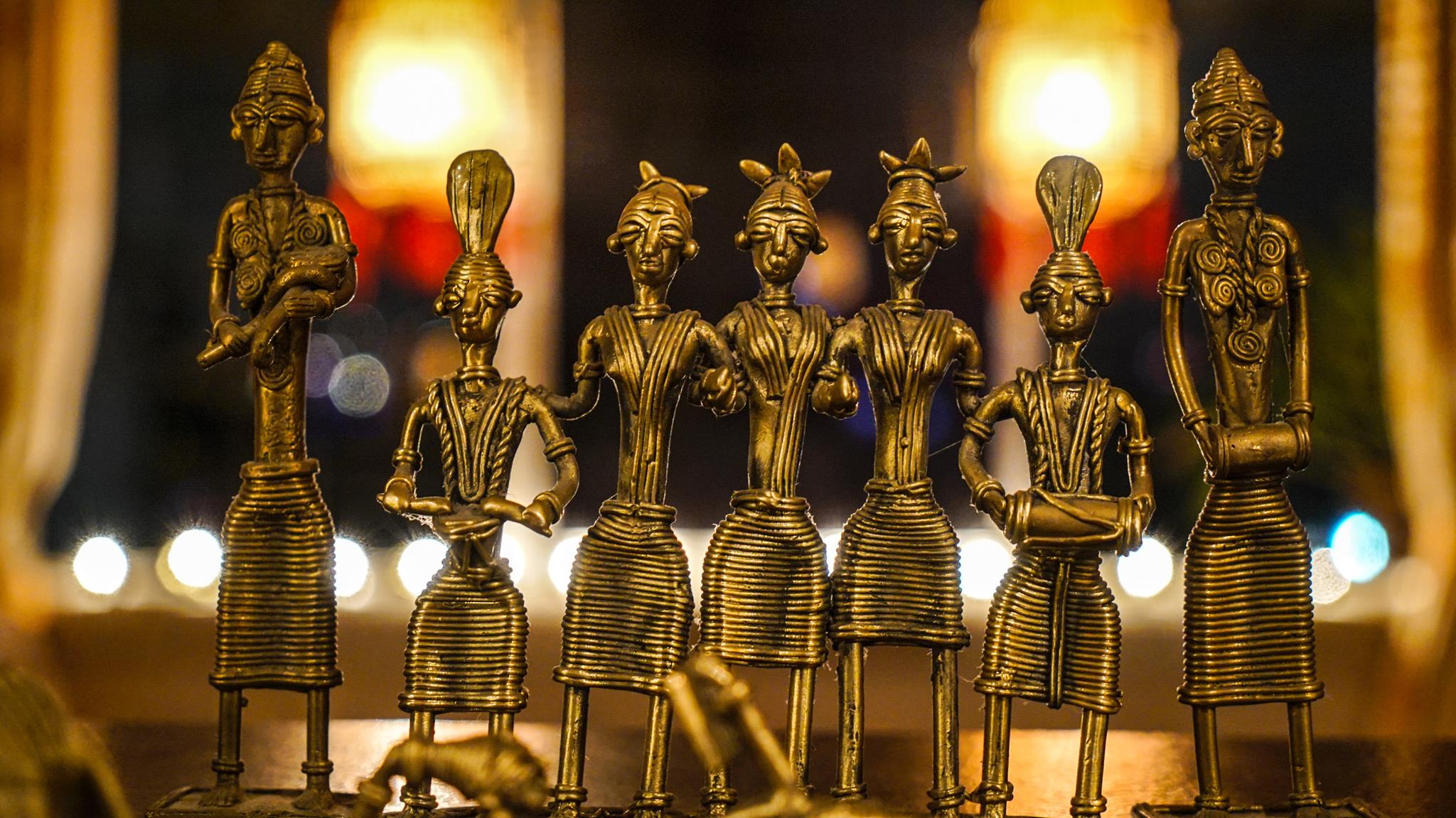 Unique in their culture and heritage, they form the core of the southern parts of the state today. Scheduled Tribes (ST) in the state are about 10 per cent of all ST in India and together with Scheduled Castes, are about 50 per cent of the state's population. There are 42 scheduled tribes in the state, who speak 93 dialects.
These tribes have defended and preserved their ancient forest-based culture over the millennia, giving the state its distinct flavour. The largest group are the Gond, various clans and sub-sects of whom once ruled these lands – building palaces and forts.
But perhaps the most famous of Chhattisgarh's tribes are the Bison Horn Maria, whose iconic Bison horn helmets and dances form a visual and cultural treasure found nowhere else.
Along with the tribes – whose distinct variety and culture make Chhattisgarh unique in India, the local food is another cornerstone of the state's standout aspects. There is, of course, the famous red ant chutney – tangy and spicy. But there is also chicken cooked inside parcels made from the leaves of the Saal tree and rice soup, for example.
Rice is a dominant crop in Chhattisgarh, which is known as the 'rice bowl' thanks to the extensive cultivation of the crop. Some of the state's most famous dishes are made from rice. Like Muthia, made from rice flour and spices rolled into a ball and boiled or steamed or Chousela, which is a puri/roti made from rice.
There is also Aamat, the local version of the sambhar to eat it all with. But the most unique dish has to be Bore Baasi – cooked rice dipped in buttermilk, a quick cooler during those hot summer days.
It is not all rice though. There are snacks like the Bhajia and Bara – Chhattisgarh's own version of Bhajjis and Vadas and the Tilghur, a sweet ball made of Til and jaggery. And for the Dal fans among us, there is the special Dal Pithi, made with rotis in Dal.
These cultures and cuisines are framed by some of the most stunning natural wonders in the country. 41% of Chhattisgarh is covered in forests and the state is crossed by mighty rivers like the Indravati, giving an abundance of sights to go marvel at.
From the Chitrakote Falls (India's widest waterfall) to Bhairamgarh Wildlife Sanctuary (home of the state's famous wild buffalo), one could criss-cross the state and never be too far away from a nature lover's paradise.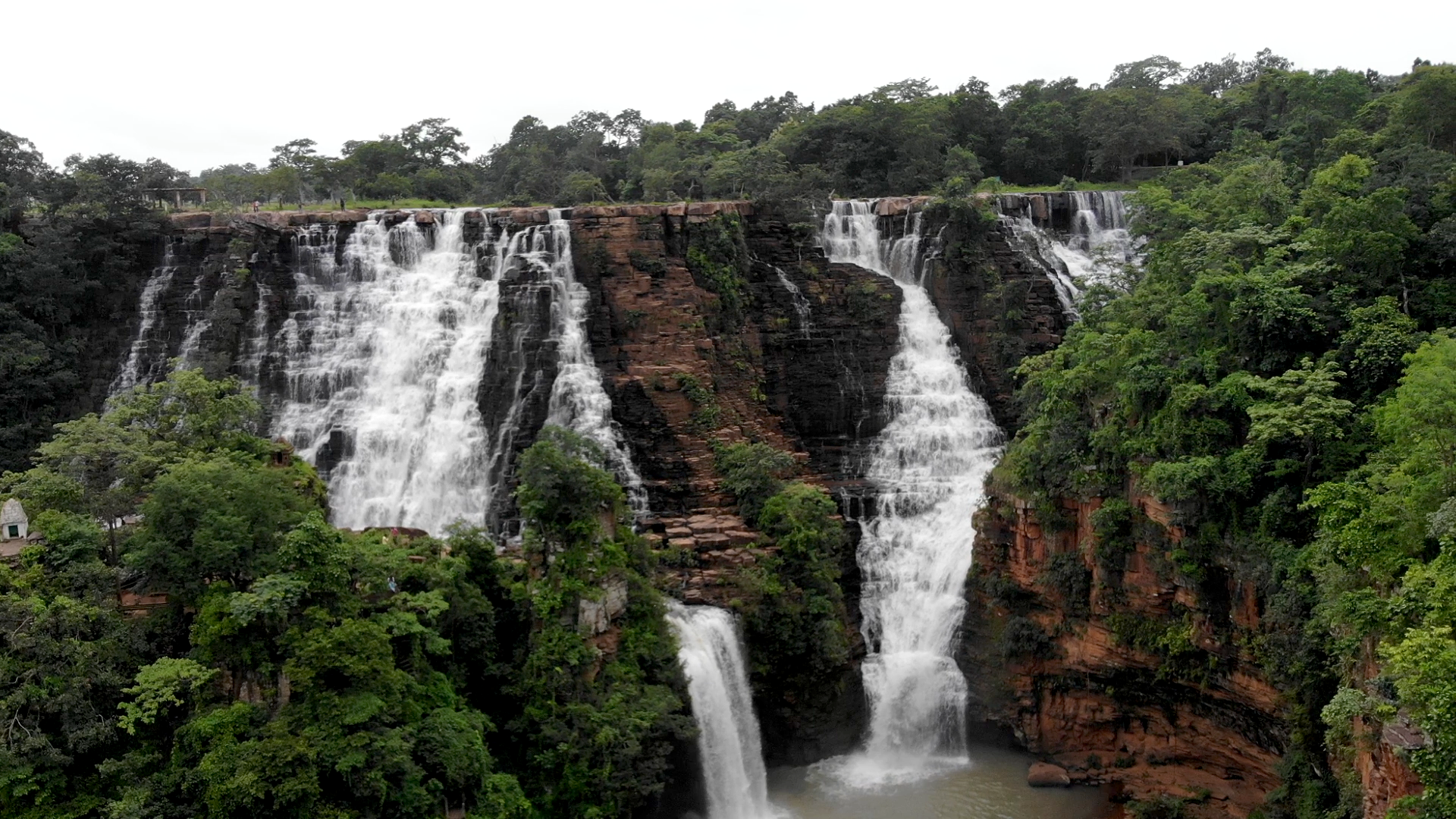 The state has identified 43 waterfalls for tourists, who can also visit the state's three national parks, 11 sanctuaries or even, for the more adventurous, 21 caves set up for exploration!
The state has also integrated several development projects into its tourist plans, giving travellers plenty of varied experiences. Gangrel Dam, for example, is the backbone of irrigation in the region, but also a fast-growing hub for water-based adventure sports.
And even if nature and sports is not your thing, ancient temples and historical excavations abound, maintained by the state. Just in a single location, Sirpur, explorers can view 22 temples to Lord Shiva, five to Lord Vishnu, 12 Buddhist viharas and even a Jain vihara – all carefully preserved!
If the depth and breadth of possibilities in the state surprise you, it is not an uncommon reaction. One thing about Chhattisgarh is how powerfully it manages to surprise – especially for those of us who feel their opinion of the place is already formed.
This view is re-enforced when considering how far the state has come from 2000. When Chhattisgarh was created, it was one of the most backward states in India. As Rajat Kumar, CEO, Atal Nagar Vikas Pradhikaran and Special Secretary to Chief Minister, told The Better India: "The state separated because a lot of people felt that their aspirational needs were not being fulfilled. But we have changed that,"
Indeed, it has been a furious 18 years of activity for the state, which began without even a proper cadre of IAS officers. Today, there are signs of ever-larger projects, initiatives and schemes everywhere.
Ranging from special schools for those affected by Left Wing Extremism (LWE) to building entirely new cities like Atal Nagar, it has been holistic growth in all directions.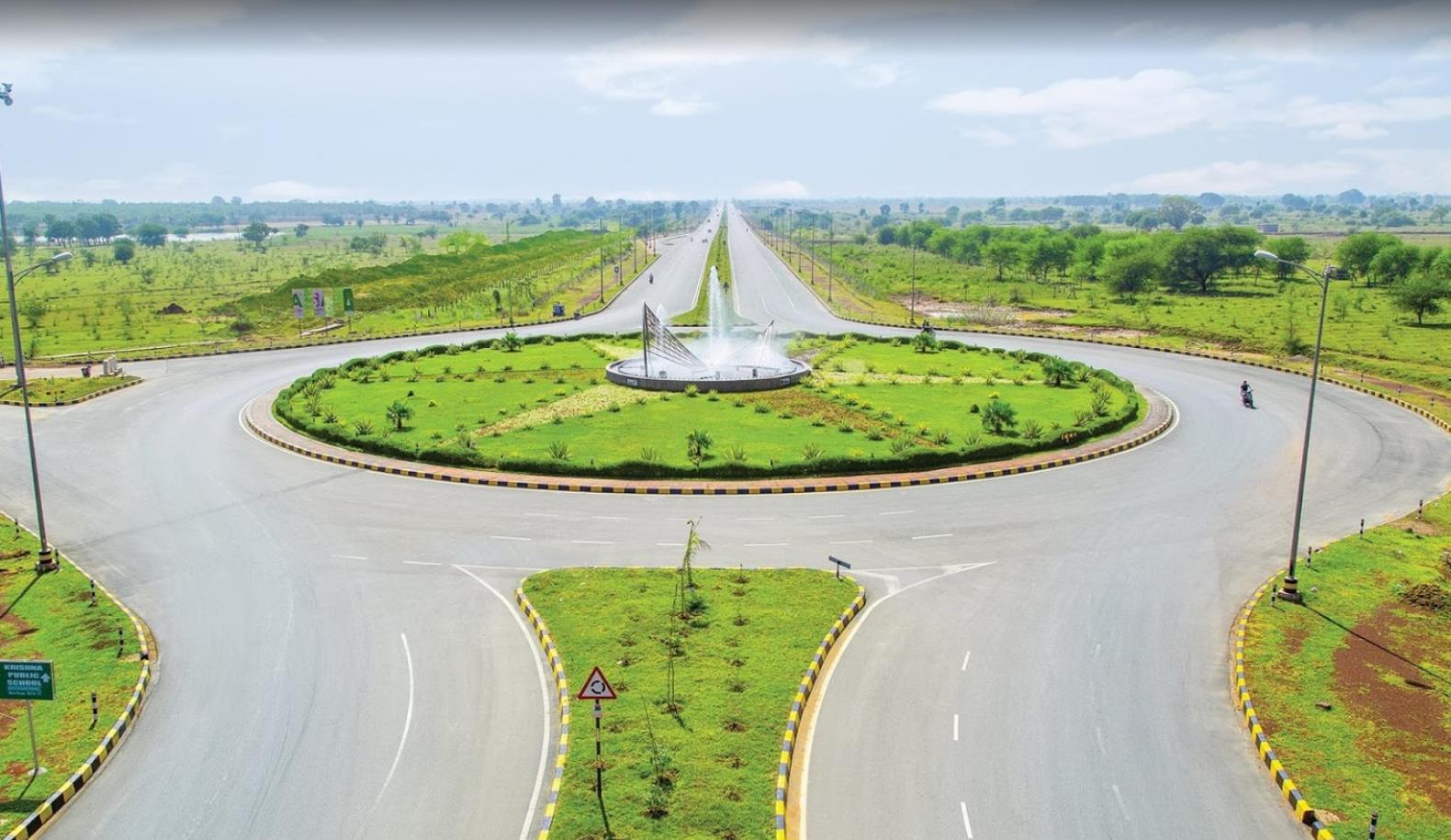 "Benchmarks like poverty, IMR (Infant Mortality Rate), MMR (Maternal Mortality Rate) etc., have changed dramatically since 2000. These hurdles were overcome over the years. For example, MMR has dropped from 349 to 170 — almost a 50 per cent reduction," says Rajat Kumar.
An often overlooked fact that facilitated this change is political stability. Chhattisgarh has had the same Chief Minister – Dr Raman Singh, and the same government, for 15 years now, allowing long-term plans to be adequately created and, more importantly, implemented.
Some of these projects, like the newly built Atal Nagar smart city, will literally take your breath away – since it is difficult to believe how such an advanced city could have been built in such a short time.
But it has been built indeed – just another surprise in Chhattisgarh.
And all of this, perhaps wrongfully, is hidden behind a veil of ignorance, stereotypes and thick forests. Consider this story –
In 1857, during India's first war of independence against the British, Vir Narain Singh, a zamindar, formed an army of 500 and battled the British in the forests. Singh has already been arrested in 1856 for looting grain stocks and distributing them among the poor. The Raj had to send a powerful army to crush him – which they did after a prolonged struggle. Singh was hanged on the 10th December 1857 – a martyr for freedom.
But how many of us have even heard of him, though all of us should have?
There are thousands of such stories and hundreds of such little-known locations and sights in the state. For the traveller, the tourist, the history buff or those keen for religious experiences – Chhattisgarh has plenty for every taste, an adventure around every corner.
Like this story? Or have something to share?
Write to us: contact@thebetterindia.com
Connect with us on Facebook and Twitter.
We bring stories straight from the heart of India, to inspire millions and create a wave of impact. Our positive movement is growing bigger everyday, and we would love for you to join it.
Please contribute whatever you can, every little penny helps our team in bringing you more stories that support dreams and spread hope.