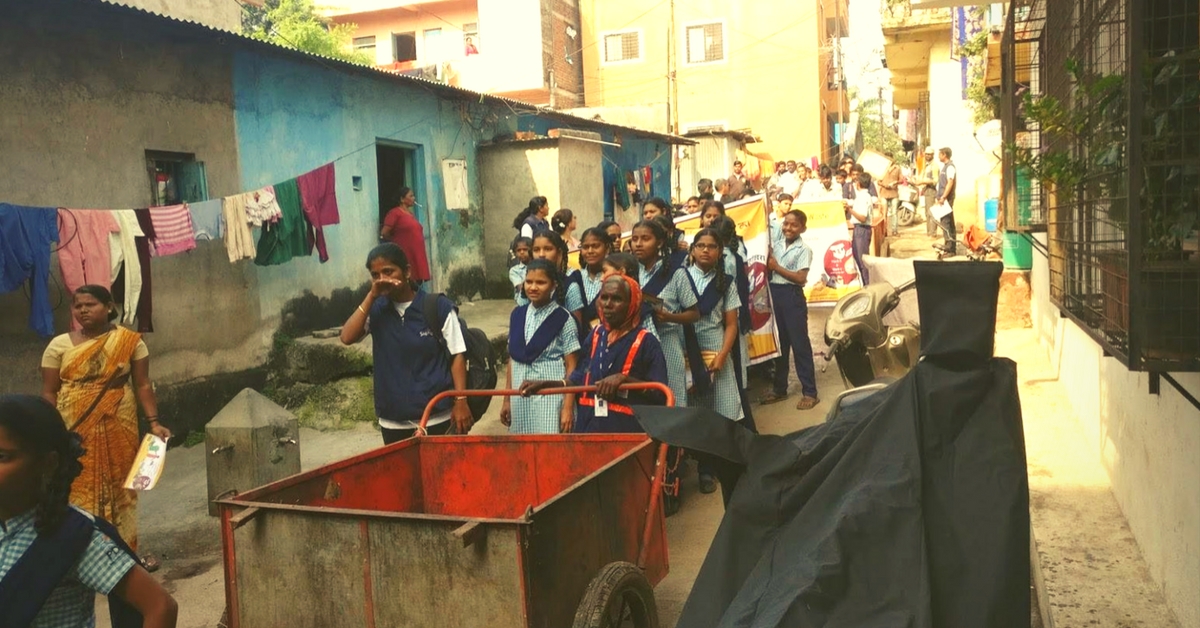 If public health benefits from the containing and reducing spread of infection were to be calculated, it would turn out to be a considerable saving to the exchequer.
Rajni Vaidyanath Salunke lives in the Kishkinda Nagar slum of Pune. She is one of the over 14 lakh people who live in the 500 slum pockets of Pune and who make do with homes that have often been described as squalid, deprived, small, ill-ventilated spaces with no sanitation and as hotbeds of ill health and infections.
"The gutters would get choked with all sorts of garbage. Even if we dumped the garbage in the container provided for it, animals and vermin would rummage through it and scatter it all over. In the rains it would be a nightmare as even the drains within the house would get flooded and we would get awful blackish sludge across our floors. My little one had no place to play or sit. Everything would be damp, stinking and we would fall sick", she says, describing how mismanaged waste sets off several chain reactions.
Over the last year though, the pile of garbage is no longer sitting in the filthy container. SWaCH, (Solid Waste collection and Handling services), a waste picker's cooperative and the Pune Municipal Corporation (PMC) have started a 'Door-to-door' waste collection system.
For a minuscule user fee of just over a Re. 1 a day, waste collectors come six days a week to your doorstep and take the wet and dry waste away.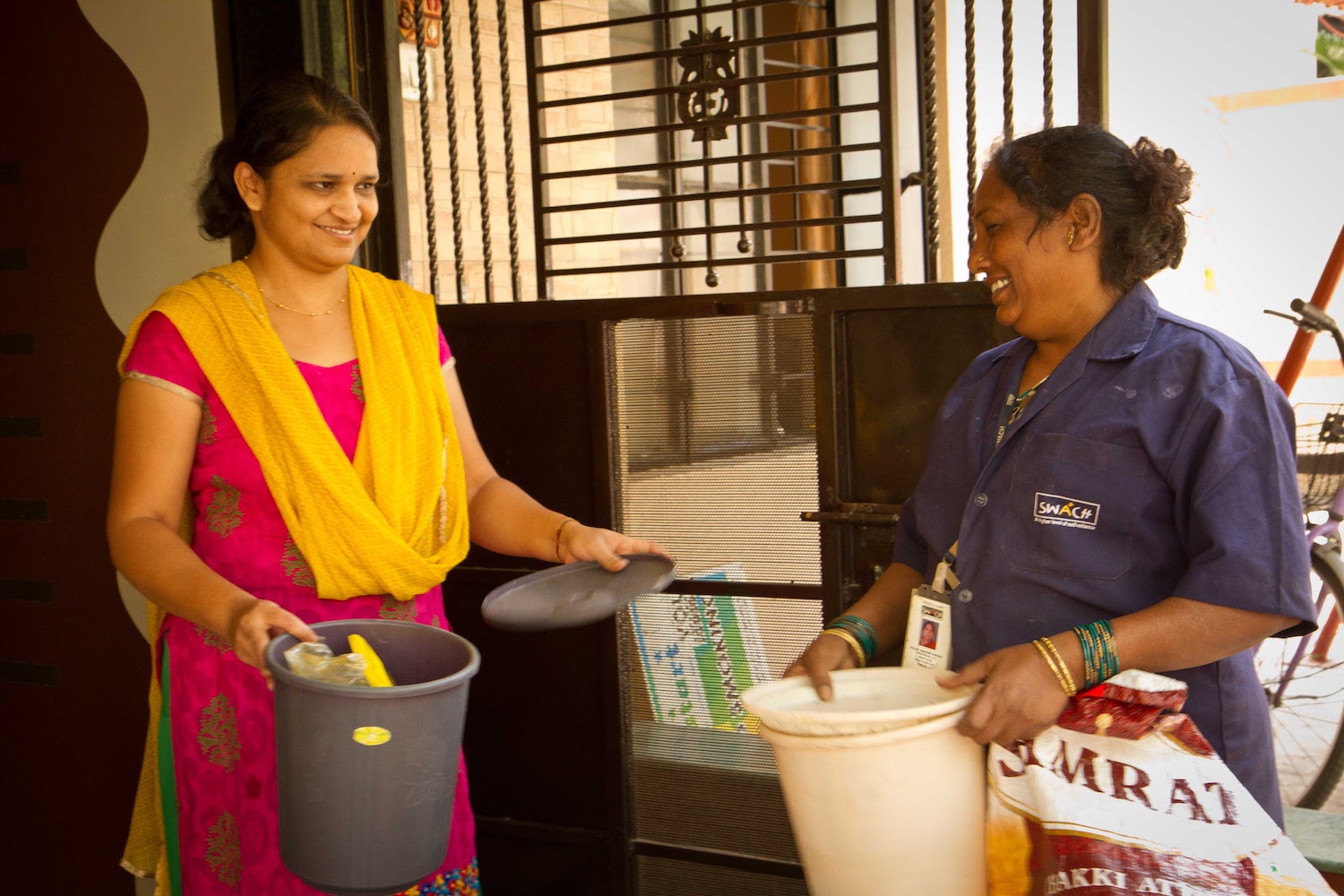 "The garbage gets collected every morning and taken away by waste pickers authorized by the PMC. In an effort to make slums cleaner, the PMC and SWaCH have gone on a war footing, and the gullies are certainly cleaner, and there are fewer flies, filth, vermin and disease."
As per the Swachh Bharat urban government norms and the Union government's 2016 SWM Rules, Urban Local Bodies in all cities are expected to select a suitable operator who will be eligible to undertake 'door-to-door collection' (DTDC) and transportation of municipal solid waste up to secondary collection points. DTDC is universally accepted as a highly efficient way of managing waste.
It enables better segregation at source and in turn better recycling and less landfilling. It also provides equitable services to all, contributing towards the health and sanitation of slum dwellers. Plus it ensures living wages to waste pickers who provide an essential service to the city in under difficult working conditions.
The first step in the implementation is awareness, says Sandhya Dhamale, a Zone coordinator for SWaCH.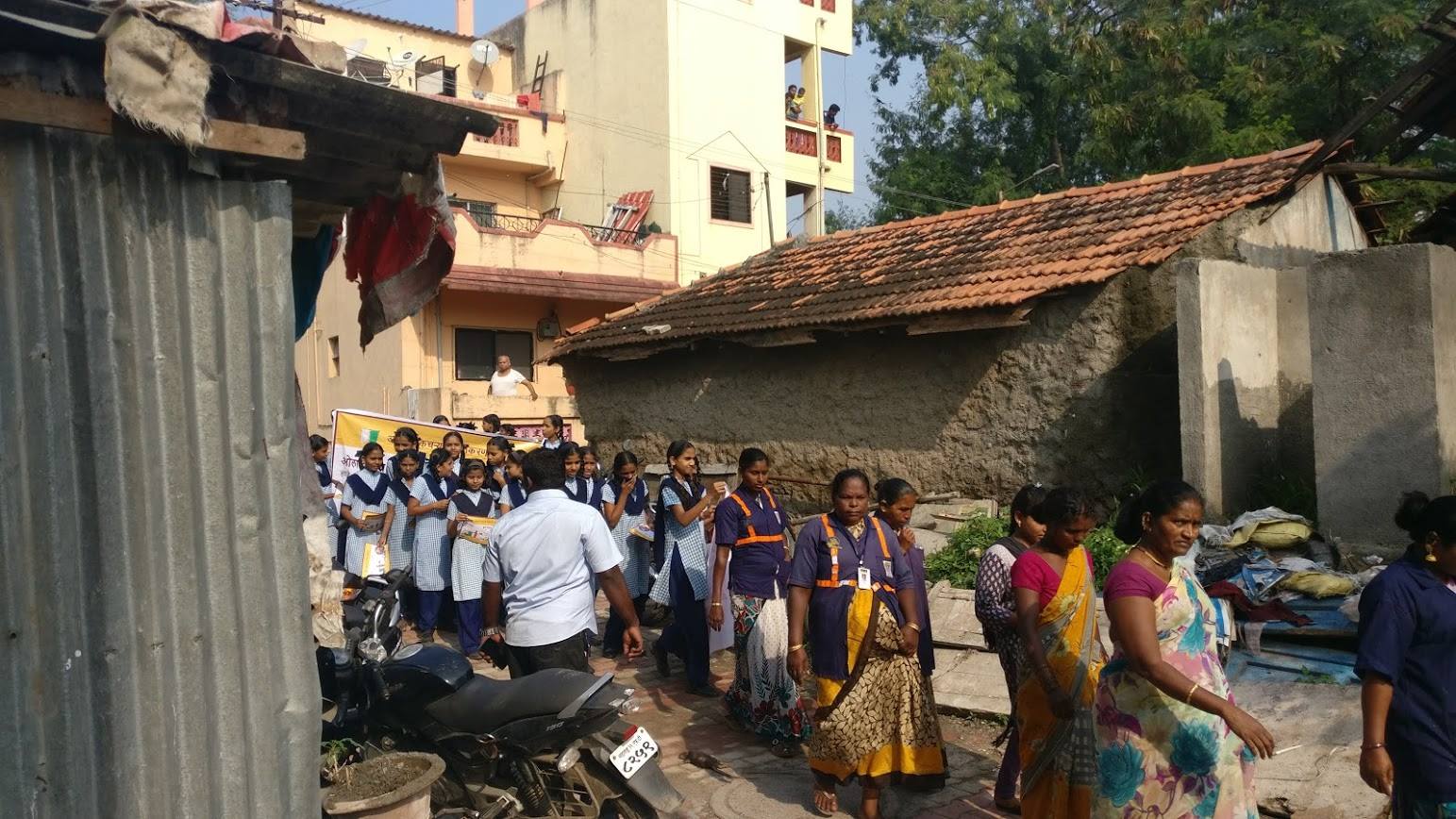 Pune city has been distributed into administrative zones and wards for easier monitoring of waste, and her role is to ensure that the zones which are her responsibility are waste–aware.
"The educated middle class and elite have some idea about waste and the need to dispose of it in an environmentally safe manner. But in slums, the day-to-day issues like jobs and lack of employment obscure issues like waste management, though it impacts them the most. We have to start with education which itself is an uphill task as it is often not possible to get everyone together at one time.
We have had several rallies, street plays and door-to-door engagements. All this has lead to a measurable impact wherein slum residents have commenced segregation and stopped littering".
Plus there is the low fee, in this case, Rs 35 a month, or a rupee a day. "The benefits of having better surroundings and a cleaner, more sanitary environment with fewer chances of debilitating illnesses like dengue, malaria and diarrhoea etc. should be obvious. The money spent on medical bills would warrant them paying much more than a rupee a day," says Suman More, who has been waste picking all her life and currently is the president of SWaCH.
A detailed study from 2011 shows that 32.5% residents of Pune live in slums – amounting to almost 2,11,423 families. In the past year, concerted efforts have led to over a third of this population, some 70,000 homes, being covered.
If public health benefits from the containing and reducing spread of infection were to be calculated, it would turn out to be a considerable saving to the exchequer.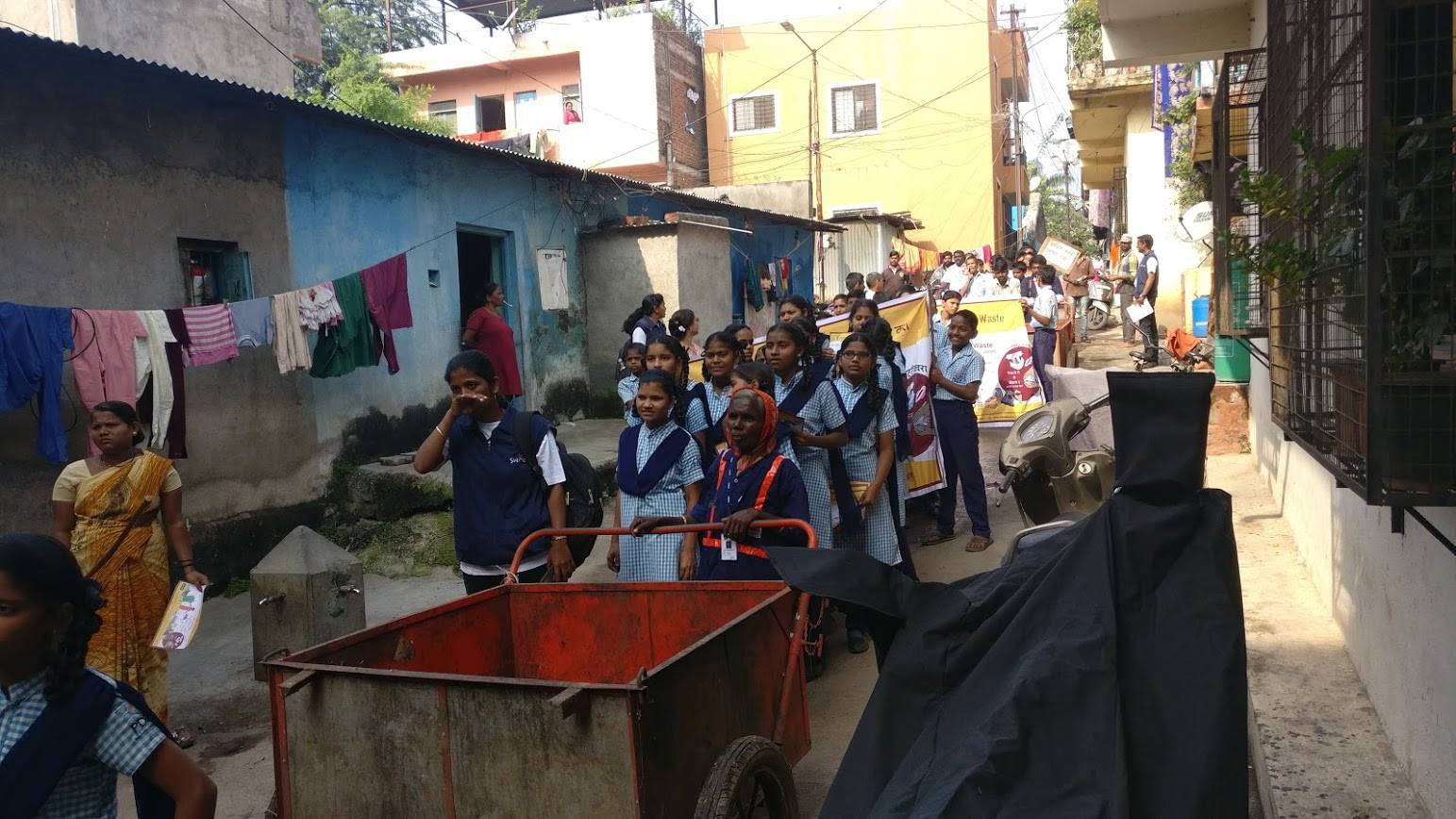 Mr Jayant Bhosekar, the PMC Assistant commissioner/Ward officer in Kothrud where recognised slums have been covered entirely, admits that it is a difficult task that requires a mix of education, awareness, cooperation, some strict measures and penalties.
"It is a tough job, but it has to be done. Waste pickers need to earn a living and slum dwellers not just reticent but often irregular about paying the user fee. Waste has to be picked up on a regular basis to have an impact."
With a mix of the carrot and the threat of a penalty stick, he motivates his team at the municipality and works with the door-to-door collection agency, SWaCH to ensure the system works.
Sanitation Inspector Santosh Tatkar, who has been extremely efficient at removing all bins from the areas he supervises, says that the secret to success is having just one waste collection agency and one representative from the municipality who work in tandem.
"Not only have we succeeded in removing the bins in Jai Bhavani Nagar which had over 1800 homes, but we have also been able to provide a sorting and material recovery shed to waste pickers in that very same spot where the messy overflowing bin used to be. SWaCH helped create awareness and swiftly set up a system of waste collection, which we as municipal authority enforced.
If requests and reasoning did not work, we named and shamed some people and told others we would do the same to all offenders. Today, every home hands over their waste to waste pickers who work in close concert with the ghantagadi trucks of the municipality and remove the waste. There should be no parallel systems. Even the most stubborn naysayers realise they have no recourse, and respond to the clear message from the municipal authorities. The PMC sanitation workers are also less burdened." he says.
On the list of smart cities, Pune has proven that it is ahead in the game by making a difference to several issues with just one strike against unsanitary slum conditions.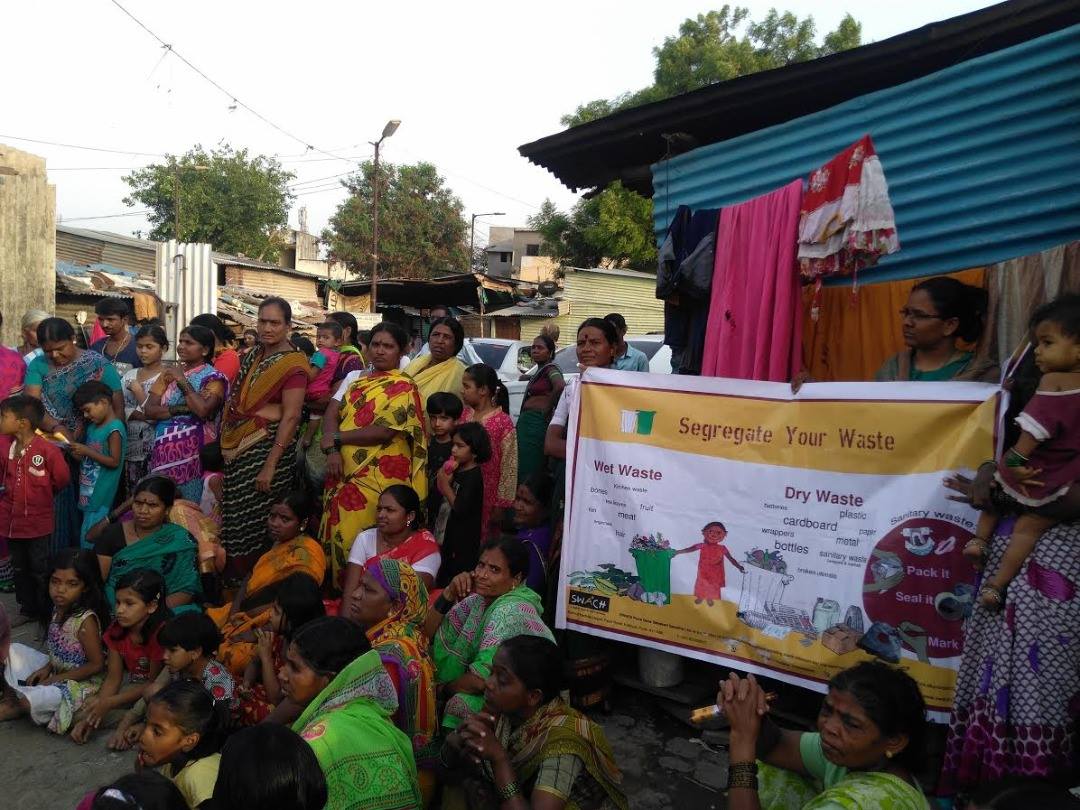 Through its door-to-door collection waste management system, it has provided livelihoods to waste pickers, bettered recycling and ensured better public health.
"I worry a little less about my family and me falling prey to diseases and losing wages to sick days. I see fewer stray animals and insects as they have nothing to scavenge from. The waste collector in our basti is from among us so understands what we go through and as interested in keeping our surroundings clean. We also feel pride in knowing that we contribute to keeping our surroundings clean," says Rajni Salunke.
There may be a reason to be even more proud soon, says Suman More of SWaCH. Assigned the task of providing door-to-door waste collection services to all the slum homes in Pune, SWaCH, which is wholly owned by waste pickers themselves, is putting its entire might to complete the task in another year.
---
This article is a part of The Better India's attempt to drive conversation around the United Nations' Sustainable Development Goals (SDGs) and where India stands with regards to meeting these goals. Many organisations across the country are helping India proceed towards fulfilment of these goals and this series is dedicated to recognising their efforts and the kind of impact they have created so far.
---
Like this story? Or have something to share? Write to us: contact@thebetterindia.com, or connect with us on Facebook and Twitter.
NEW: Click here to get positive news on WhatsApp!