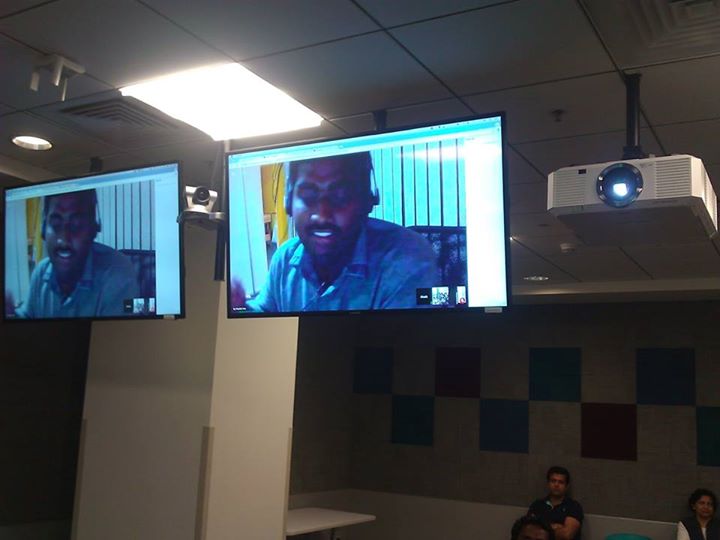 Education is the most important pillar in a country's growth. When 85 percent of the government schools in India are located in rural areas and do not provide good quality education, there is a need to come up with an alternative solution to this problem. The team at eVidyaloka is bridging the gap and trying to solve the issue by their digital classrooms. Read more to know how.
When we talk about the growth of the country, we take various factors into consideration and education is one of them. While urban schools are getting the best of infrastructure, facilities and teachers, schools in rural areas are still struggling for facilities as basic as toilets. Lack of teaching staff and motivation among students are two of the major reasons behind poor education quality in rural schools. 85% of the government schools are in villages, and do not get the benefit of quality education.
Started by Satish Viswanathan and Venkat Sriraman, eVidyaloka is a not-for-profit organization that aims to improve the quality of education in remote regions of India through digital classrooms. The primary purpose that the organization strives to drive is creating a knowledgeable and empowered rural India through quality education.

eVidyaloka has already reached out to over 650 students so far through digital classrooms across
13 schools in Jharkhand, Andhra Pradesh and Tamilnadu, with help of around 100 volunteers across 33 cities in 11 countries, and delivered over 2500 online classes that translates to more than 50,000 child learning hours.
"We want to look for practical solutions to the problem. The idea is to enhance the learning outcome of the students by bringing learning modules, students and technology together," says Ramkumar Vankatraman, member of board/trustee of eVidyaloka.
The team believes that India should take advantage of those digitally aware people who are willing to teach. While there are multiple efforts to solve the education problem in India including driving volunteer teachers, the challenge still is in assimilating the skills and resources required and building teacher networks in remote locations.
"eVidyaloka is looking to support the education cause through innovatively using the digital classroom model and connecting passionate teacher volunteers – which can truly be scalable, and also create a great impact to support the Government's initiative in rural education," says Venkatraman.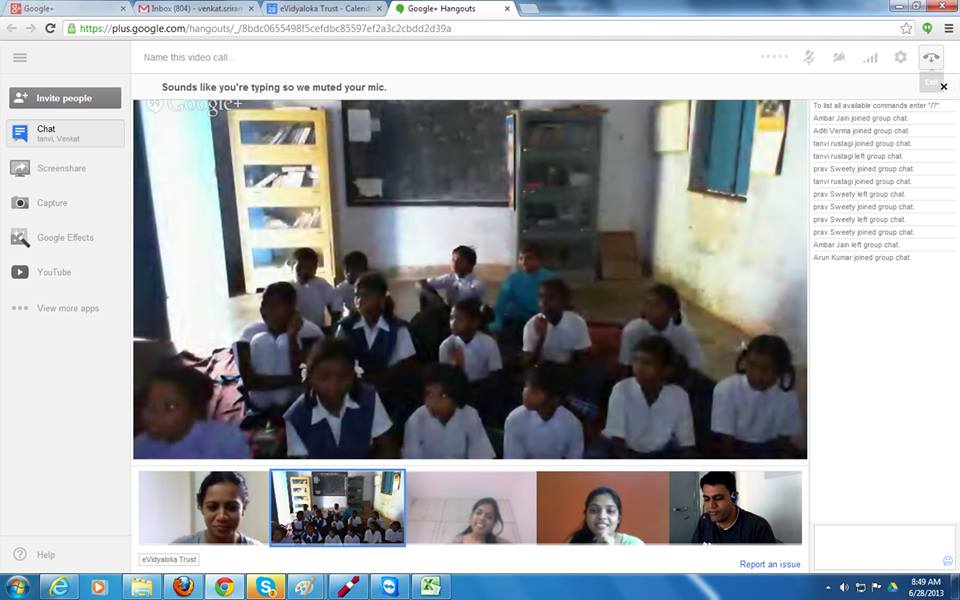 How does it work?
The digital classroom has a 32" LCD screen with a high-power camera and a conference mic. The classes are taken by teaching volunteers based across the globe through Skype. The eVidyaloka team arranges for the class timings and centres depending upon the batch size and availability of the teaching volunteers. The teachers include housewives, working professionals, and even senior volunteers who have retired from various careers including the defense forces.
The focus is Government schools and Local NGOs and partners located in these villages play a very critical role in the delivery model. In addition to identifying the schools and active engagement with the local regulatory authorities,the local partners actively take care of the classroom setup and sustained children attendance levels.  The target students are of the age group 11-14 and are taught Mathematics, Science and English with the same syllabus as prescribed by the local State Board.
"These subjects are more useful and practical in regular life for these students and are thus our priority at present," says Ventakraman.
To avoid reinvention of ideas, eVidyaloka is partnering with non-commercial organizations that are working in the same sector.
The challenge
The biggest challenge is also the opportunity that eVidyaloka is seeking to tap. While India has a shortage of 1.2 million teachers, we also have more than 40 million people who graduated in the last 20 years who could be a ready source to tap into. "Effectively attracting, engaging and maximizing this pool of volunteers to evolve social teaching is the most important building block"says Ramkumar.
Rural areas always have connectivity challenges with more frequent power cuts, hindering the regular teaching process. Part of the digital classroom infrastructure hence also include power back ups for emergencies. In places without power supply, eVidyaloka works with alternate power supplies like Solar.
Also, identifying students who are open to learning through this type of classroom model took some time. eVidyaloka partnered with various local NGOs as they would know best about their particular conditions.
While language is perceived to be a barrier, the eVidyaloka team has been fairly successful in overcoming this through an active content management that enables volunteers to adapt teaching in the local language, which is typically their mother tongue – even though it was not their own medium of instruction during school days! eVidyaloka classes are taught everyday by volunteers cutting across 11 countries from the US to Australia, reaching to children in remote rural corners of India in Hindi, Tamil and Telugu.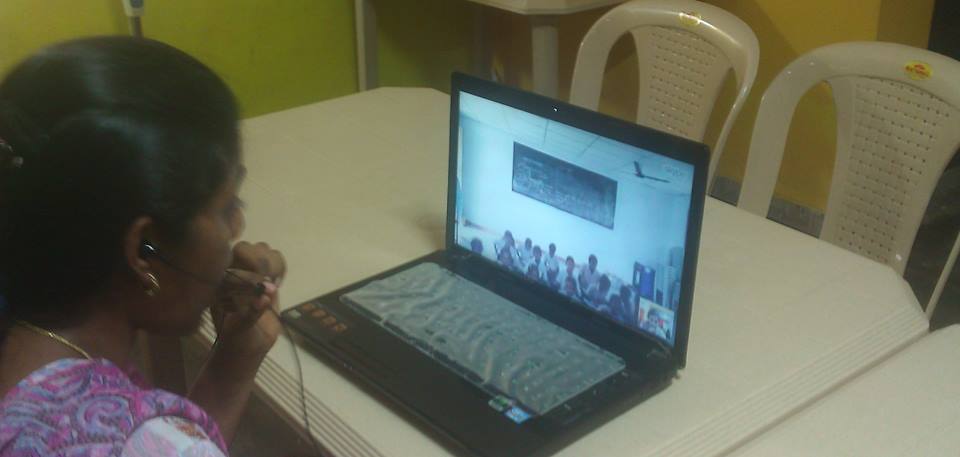 The future
eVidyaloka plans to reach over 1300 children across 28 centers, with over 200 digitally connected teachers this academic year.  The team believes that this fabric created by connecting global pool of teaching resources with rural children has enormous potential to address the core issue of quality education.
Lessons learnt
The journey so far for the eVidyaloka has been very enriching and emotionally rewarding. When 2 girl children from Thenur, the first center that eVidyaloka began its operations 3 years back in Tamilnadu excitingly reported that they have scored more than 90% in their 10th exams this year, the team felt the results of the many hours of investment by its volunteers have begun to bear fruit. Even while the eVidyaloka classes are considered to supplement the school education, the team is highly committed to have a very thorough student progress assessment, to track and measure the impact.
"The biggest lessons we have learnt is that quality education is the most important thing today. If we provide it to even one child, he or she becomes empowered and lights the whole village," Venkatraman says.
Interestingly, some of the centers that eVidyaloka today reach out to include remote locations in forest reserves of Tamilnadu, distant villages in Jharkhand that are rated to have high security concerns and also deeply interior villages in the Krishna river belt of Andhra. Most of these villages have only have middle schools that teach up-to 8th standard, and the child usually has to step out of his village to pursue studies in a high school to a neighboring town.
"When the child develops the confidence and the interest to pursue his studies, that in itself is the first symptom of what could be a life changing decision for the child.If we provide it to even one child, he becomes empowered and lights the whole village." Ramkumar says.
The team also believes that you have to be patient as coordinating with so many people at the same time is a challenge and only spontaneous thinking can solve the issue.
How can you help eVidyaloka?
eVidyaloka strives to connect the willing volunteer with the yearning child. You can support eVidyaloka in various ways. You could become a teaching volunteer with them and teach the students in remote villages digitally, without actually travelling to these villages.
You could also help the team to develop the standard study programme and help them create an IT support system. In case you want to visit these centres, you can be a volunteer to administer back-end class operations.
Apart from that, you can donate, spend some time, share the joy or just simply spread the word.  A sum of just Rs.10,000 can fund the annual education of 3 children. Your contribution can help them reach out to more children across more villages.
Visit their website for more details.
Like this story? Or have something to share? Write to us: contact@thebetterindia.com, or connect with us on Facebook and Twitter (@thebetterindia).
About the Author:
Born with a hobby to travel, talk, express and write, Shreya gets to do all of that and is even paid for it! Interested in rural development and social issues, she dreams of actually bringing a change in society and writing a book of her own one day. When she is not preaching others about a better India she is busy watching movies and playing video games. Follow her on twitter:
@shreya08
We bring stories straight from the heart of India, to inspire millions and create a wave of impact. Our positive movement is growing bigger everyday, and we would love for you to join it.
Please contribute whatever you can, every little penny helps our team in bringing you more stories that support dreams and spread hope.