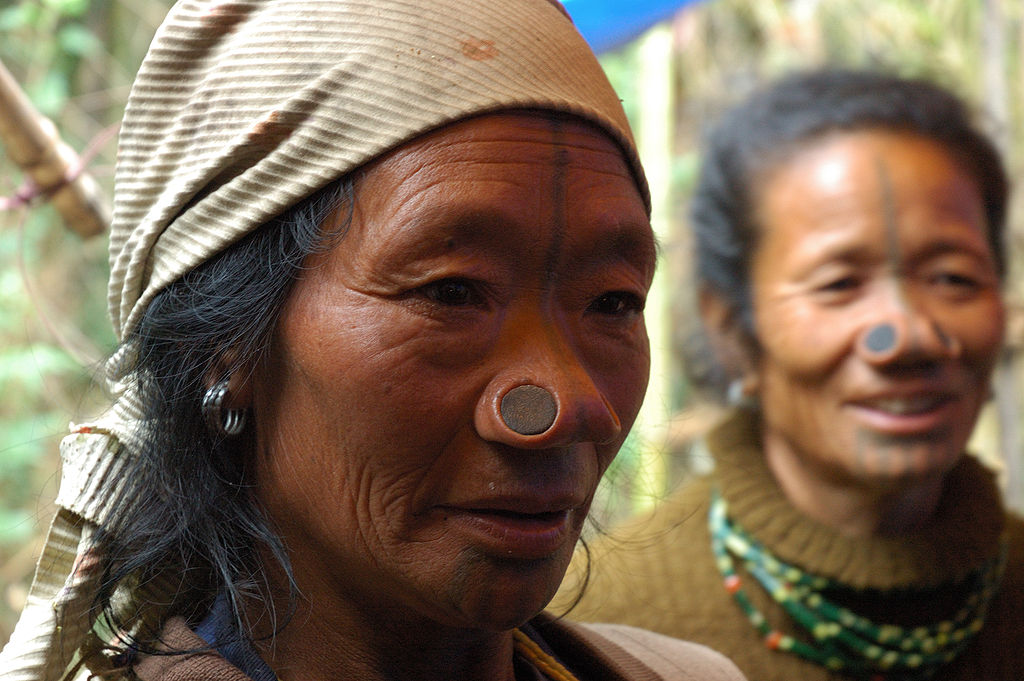 A small tribe in Arunachal Pradesh located in a small valley has been able to defeat modern technological advancements in terms of environment conservation. The Apatanis from Ziro have a unique lifestyle that focuses on living in harmony with nature. This post will take you to their homes and give you a glimpse into their lives that are simple, peaceful and rare to find in the present era.
A small tribe in Arunachal Pradesh located in a small valley has been able to defeat modern technological advancements in terms of environment conservation. The Apatanis from Ziro have a unique lifestyle that focuses on living in harmony with nature. This post will take you to their homes and give you a glimpse into their lives that are simple, peaceful and rare to find in the present era.
Ziro is a small picturesque valley tucked away in the lower Subansiri district of Arunachal Pradesh. Somewhat off the popular tourist path of Tawang, this little valley and its people have much to offer to those seeking beautiful unexplored regions in our country and a culture to learn a lot from.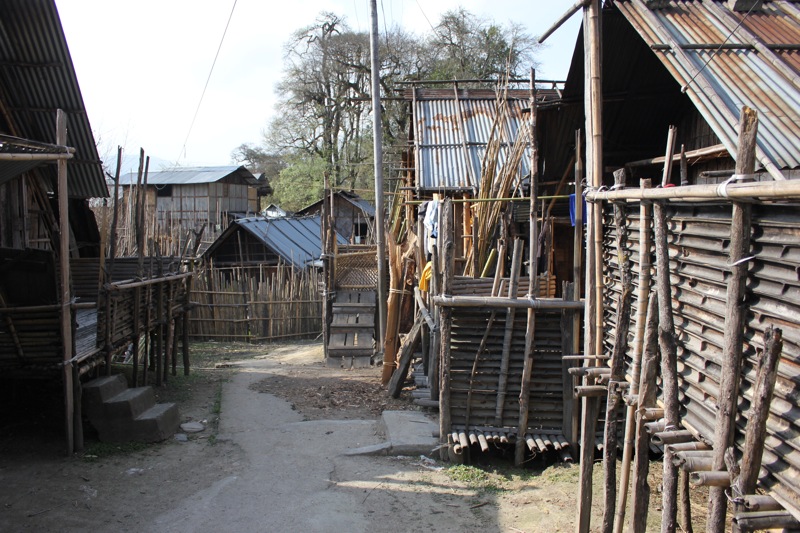 Ziro is home to the tribal group called the Apatanis which is one amongst the very few tribes in the world that worship nature (Sun & Moon). Apatanis are famous for their unique methods of sustainable farming and social forestry. In April 2014, Apatani Cultural Landscape has also been added to the tentative list of UNESCO World Heritage Sites for "extremely high productivity" and "unique" ways of preserving ecology. I had an opportunity to stay with one such Apatani family in Hong Basti (village) of Ziro and get a glimpse into their lives & surroundings.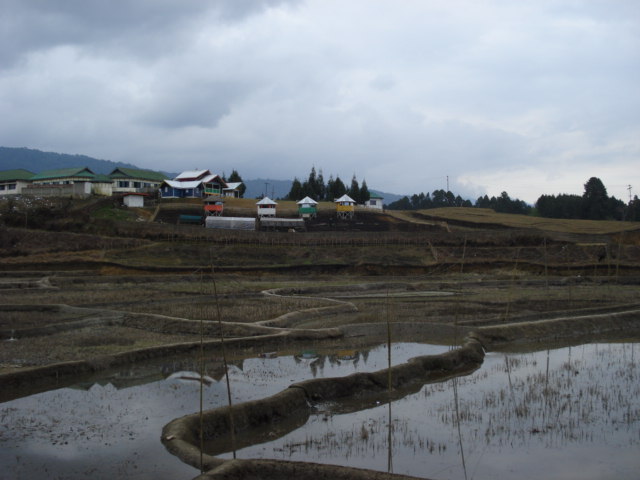 The Apatanis are primarily into farming. They are famous for the sustainable and efficient methods that they have been following to cultivate rice. The farm lands are built on flat lands and therefore, wet rice cultivation is followed along with pisciculture. Even the elevated partition bunds between rice plots are utilised to grow millets. Their farms are uniquely marked with efficient channels and canals for irrigation purposes. There are no farm animals or machines used; instead, the focus is on using nature friendly and sustainable methods only. They have also successfully been able to conserve the forests around the valley which serve as water sheds for streamlets flowing down into the fields, thereby, helping them in the irrigation system. There is too much to learn from them on how they have used traditional methods to attain what the modern machines and systems have been unable to!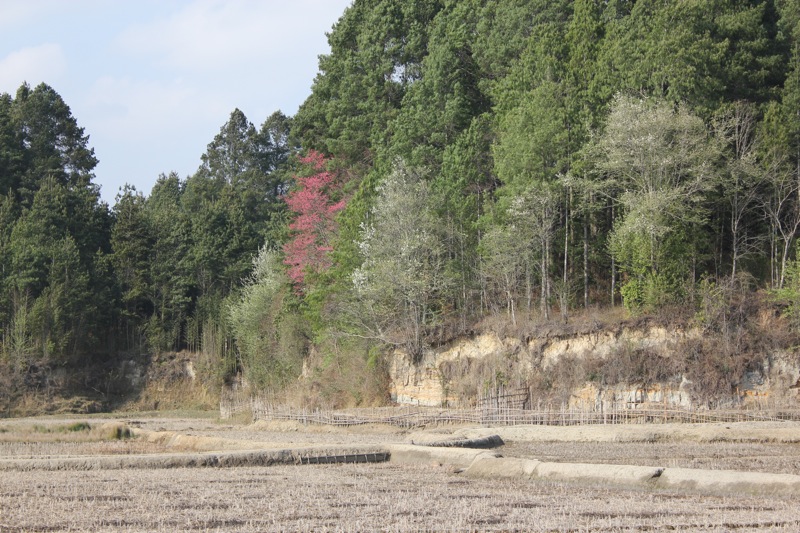 They live in very simple bamboo huts perched on top of vertical wooden stilts forming dense settlements called Bastis. Almost all houses in Hong Basti were traditional, but a little walk into other villages like Hari & Siiro will show signs of more permanent, brick & mortar like structures coming up. In spite of this, these simple yet just adequately furnished houses are one of the examples which forced me to rethink on our consumerist approach towards living. The centre of the house, not only serves as a kitchen where food is cooked over wood fire, but also as a gathering point to talk and discuss matters. Fire is lit right in the centre, around which family members and visitors sit to chat, watch TV, play music or simply spend time with each other.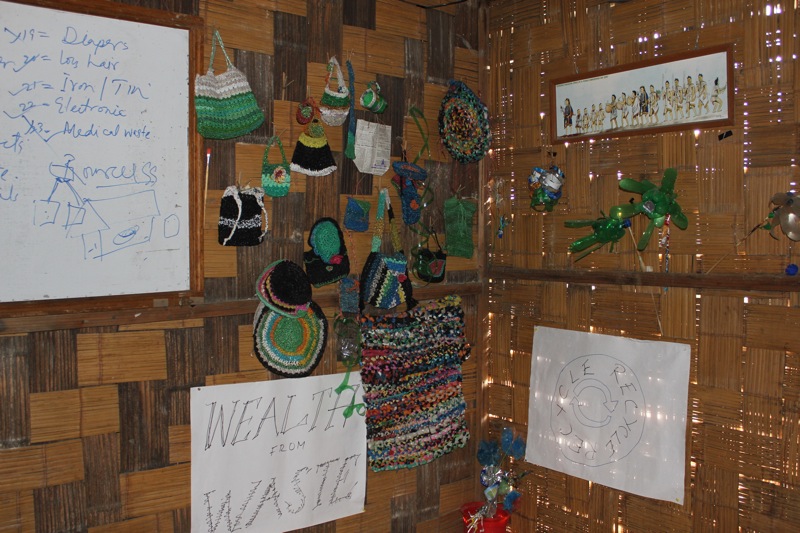 A usual day in a Ziro village can begin as early as 5:00 a.m. when all the adults, after finishing their morning chores, leave for their farm lands, and children for school. The entire village seems to come to a halt in the late morning hours till evening, with just a few women engaged in weaving traditional clothes, if not going to the fields. Being on the eastern side of the country, the sun can set as early as at 4:30 p.m., depending upon the time of the year. As a result, all the evening activities are rolled around 4-5 pm which is also the time for everyone to be back to their homes, take a stroll, meet neighbours and friends and for children to play in open spaces around the village.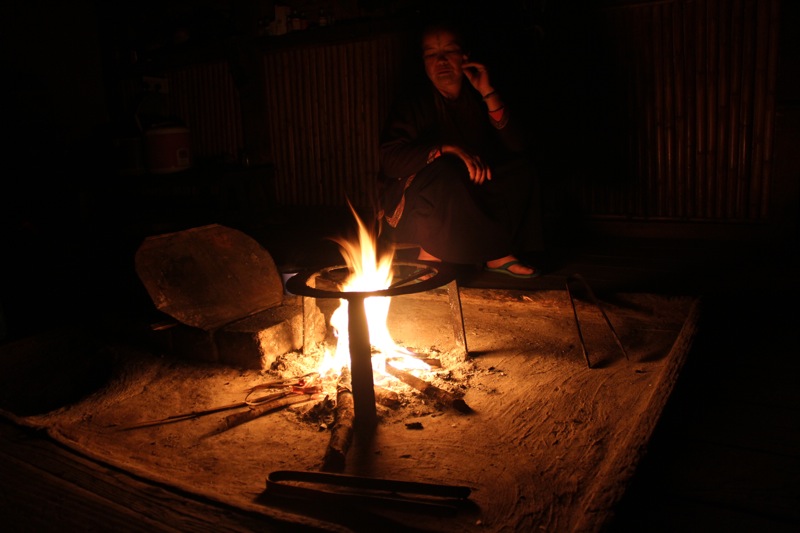 Every evening after sunset, our hosts received their neighbours and relatives who would mostly just stop by to say hello, and they all would be served the traditional homemade rice beer with special Apatani salt called Tapyo. Traditionally Tapyo is made at home using ashes of certain indigenous plants, which to a large extent is also responsible for saving Apatanis from problem of goitre, which is otherwise a major concern in other nearby tribes. Now, of course with the easy accessibility of iodised salt, this problem has been tackled by all. Drinking freshly made rice beer is more of a social activity and along with it came discussions and insight into the lives of the Apatanis. During those evening sessions, topics discussed were as varied as environmental conservation & politics to trends of love marriage & music.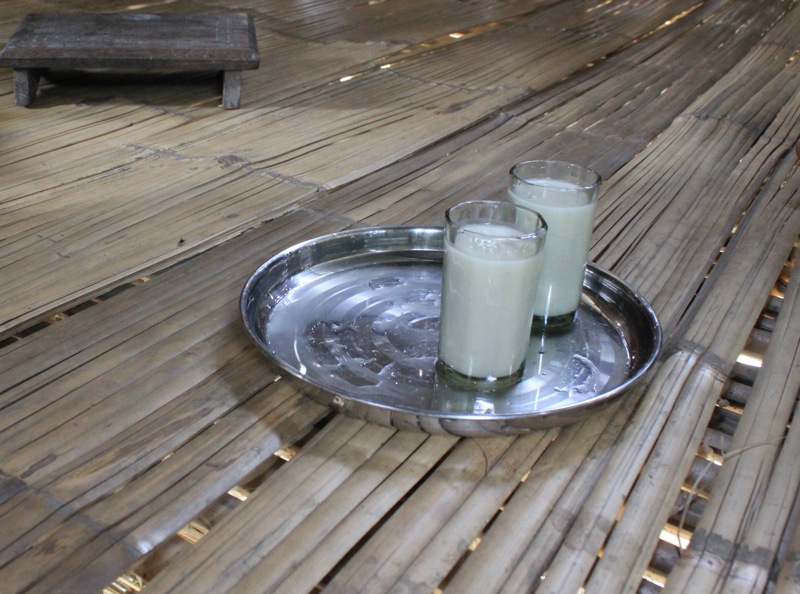 Another unique feature of Apatanis and probably most photographed by tourists are women with facial tattoos and nose plugs. There is no documented reason as to why the tradition started, but we notice that this tradition is no longer followed by the younger generation. Even many women from older generations have opted to take off their nose plugs.
Food in a traditional Apatani home revolves around rice for obvious reasons. Rice is often accompanied with boiled vegetables, meat preparation or other delicacies cooked in bamboo shoots. There are hardly any spices used in traditional Apatani food, hence the green chilli, which accompanies every single meal.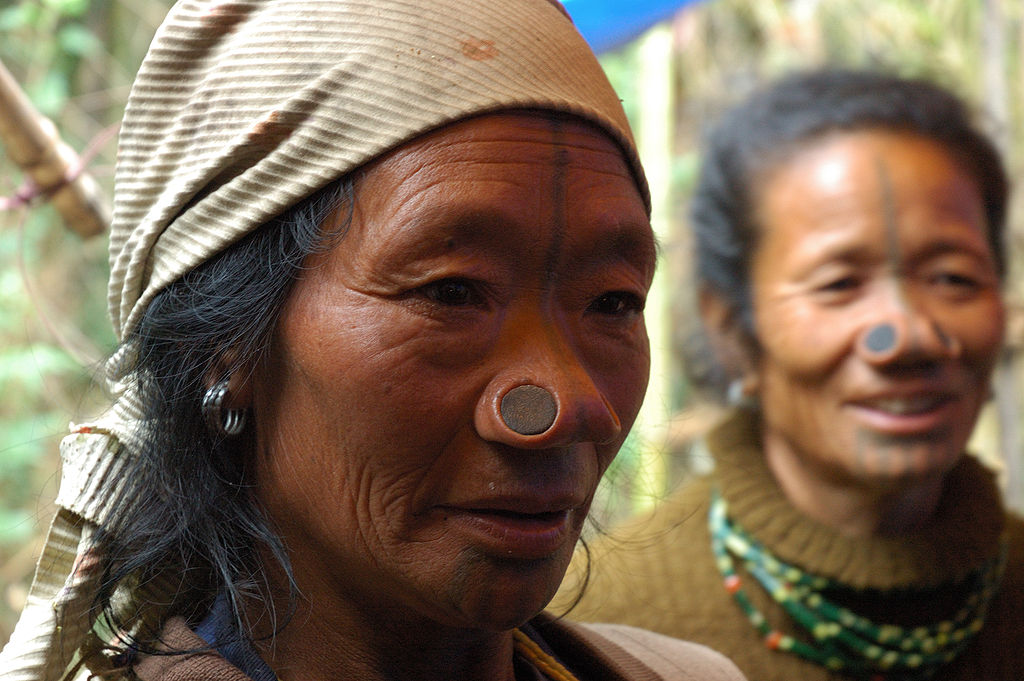 Fortunately my travel coincided with Myoko festival in the month of March. It is a month long festival of friendships and merry making, starting somewhere around 20th March every year and going on for one full month. A couple of villages get together every year (on rotation) to host this festival. The unique feature of this festival is that homes of host villages are open 24×7 for guests throughout the month. Just about anybody can walk in, greet and enjoy rice beer and local delicacies! Apart from feasting, there are lots of sports events, singing competitions, stage shows, etc.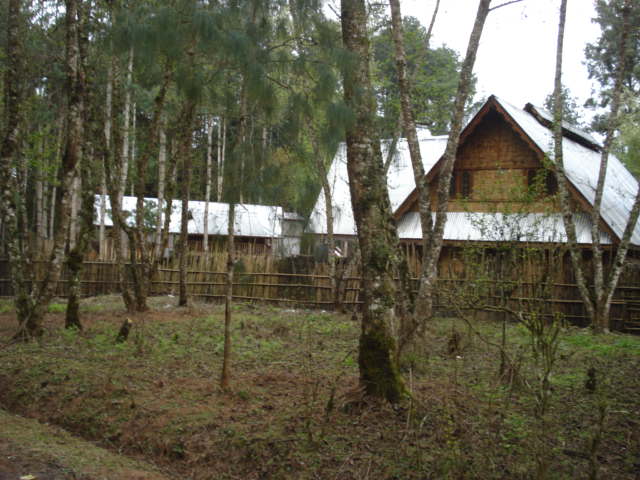 With all the goodness & simplicity of Ziro and its people, there certainly are some problems too. Infrastructural facilities like decent roads and drainage system are missing. Employment opportunity is only available in government sector which of course has limited seats due to which the younger generation is increasingly moving out to neighbouring states. A local municipality like body is missing which needs to ensure cleanliness within the villages and public areas. Even though some local NGOs like Ngunu Ziro are working in the areas of sanitation, environmental conservation and recycling, a lot is still left to be done.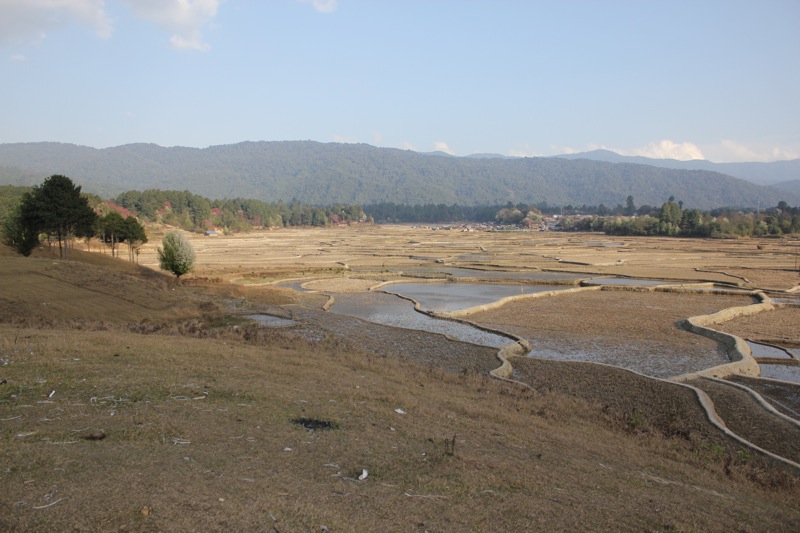 Ziro is an excellent opportunity to visit a landscape with beautiful forests, rolling hills and rice fields, and also home to a unique culture which has set an example to the world for successful co-existence of man and nature.
How to Reach– Ziro is located at a distance of 167 kms. from the state capital Itanagar and can be approached by private car rentals, bus or shared taxis (Tata Sumos) from Guwahati, Itanagar, North Lakhimpur. Nearest airport is also Guwahati.
What is the best time to visit– Ziro boasts of cool climate all through the year, with chilly December & January. However the post-monsoon month of September is the best time with lush green rice fields. This is also the time for the annual Ziro festival of music, where top music artists from across the country come down to collectively entertain, camp and celebrate.
Where to Stay–
Hotels:
Hotel Blue Pine, located near main town Hapoli (03788- 224812)
Siiro Resort, located in Siiro village (03788- 225123)
Ziro Valley Resort, located next to venue of the Ziro Music Festival (+91 9612914294)
Home stays:
Traditional home stay, contact Narang Tam (+91 9402464841)
Guesthouse with modern facilities, contact Kago Kampu at Abasa Home stay (03788-225561)
About the Author: Richa Gupta is based in Mumbai, is an avid traveller and also passionate about encouraging responsible and alternative travels. After having worked in the fashion industry for over six years, she decided to quit and started with a little not-for-profit initiative to help people with travels which not only help support local culture, economy and environment but also offer life changing experiences. She blogs at http://travels-and-stories.blogspot.com/
Thanks to Shruti Mehrotra for Editing.
We bring stories straight from the heart of India, to inspire millions and create a wave of impact. Our positive movement is growing bigger everyday, and we would love for you to join it.
Please contribute whatever you can, every little penny helps our team in bringing you more stories that support dreams and spread hope.
Tell Us More