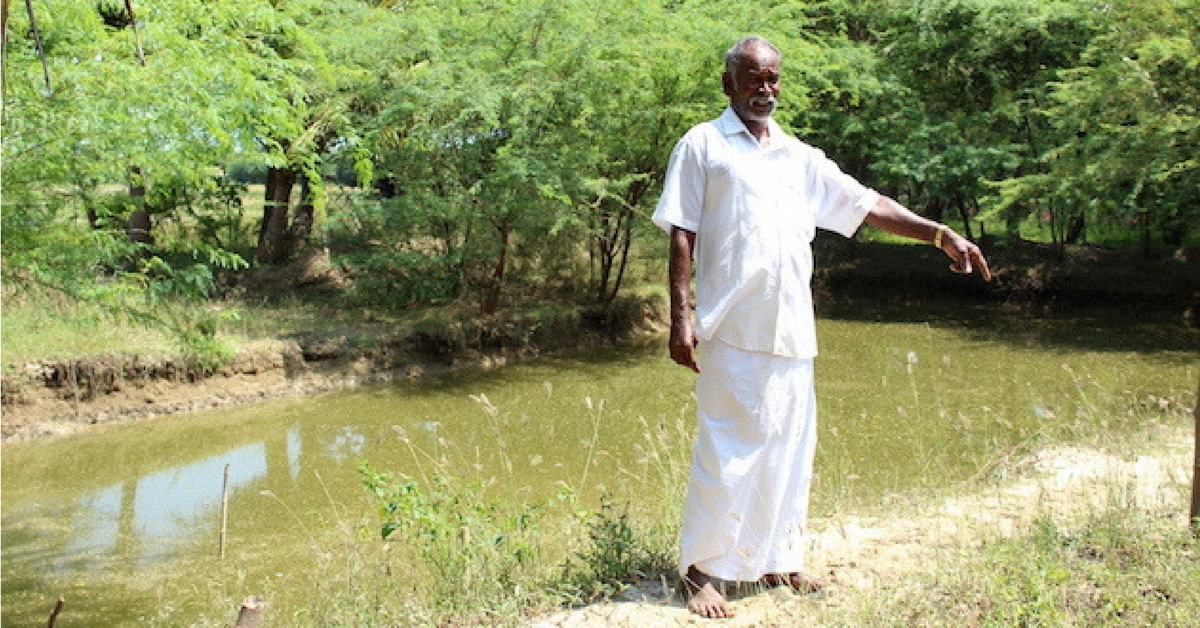 Farmers of Vedaranayam in Nagapattinam district of Tamil Nadu are surviving the current drought by growing diverse crops that suit their soil, despite the failure of the rains and not getting water from the Cauvery River for many years. Sharada Balasubramanian takes a closer look.
Jayapal Kaliyaperumal, a farmer from Adamangalam village near Sirkazhi in Nagapattinam district, trots down to his six-acre dry paddy land. This year, the severe drought took away his entire paddy harvest. However, in this brown patch of land, bright yellow flowers and clusters of green gram stand out. "This yellow flower is from the Kavalai plant, which strengthens and regenerates soil," says Kaliyaperumal.
Kaliyaperumal grew green gram and vegetables like brinjals this year to offset his paddy loss. "Paddy needs water in the flowering stage, and that did not happen due to failure of rains," he told VillageSquare.in.
In the coastal Nagapattinam district, farmers face two issues – salinity in water and lack of water source for irrigation. Kaliyaperumal says, "A decade ago, we received Cauvery water in this village. Farmers would have survived drought if that water was available."
In Adamangalam, many farmers shifted to sugarcane over the years. Though the land area under sugarcane increased, the productivity fell, and the soil quality degraded due to chemical inputs. "Farmers just want one thing today – they want someone to take the produce the day it is harvested. As sugarcane factories guarantee that, many farmers shifted to this," Kaliyaperumal says. "They offer a complete package to the farmers, and that is where the farmers stop thinking and someone else thinks and decides for them."
Growing the right crops
Farmers in the Vedaranyam region believe that crops should be grown according to soil type. Also, farmers must not completely depend on paddy for their survival. Millet cultivation is propagated widely today, as it consumes less water and is considered healthy. However, millets cannot grow on all types of soil. "It will not grow in my soil," says Kaliyaperumal.
For Venupgopal Sundarraj from Kathripuram village, a mix of soil, sand, and clay creates a congenial environment for growing millets. "The soil quality is such that all the rain gets deeply absorbed. After paddy, we grow vegetables, then tamarind, followed by cashew," Venugopal told VillageSquare.in. "In April-May, mangoes and sesame can also grow in these villages. Finger millets and foxtail millets can be grown here. That needs to be promoted as water consumption is low."
Also, crops like groundnut and coconut are the major crops grown here other than paddy. Balasubramanian, a farmer, says, "Pearl millets can be grown here. Where one kilogram of paddy consumes 1,300 liters of water, pearl millet consumes only 116 liters."
In loamy soil, sorghum can be grown, whereas in black cotton soil and sandy loam soil, pearl millets can be grown. Finger millets can be best grown in porous, flight red loam and sandy loam soil. Sandy loam, clayey, and alluvial soil is best suited for foxtail millets.
Barnyard millets can grow in sandy loam to loam soil.
In Alangadu village, Ramu Raja, a farmer, has been guiding other farmers on crops that could be grown in less water. After three failed paddy crops, Raja did not give up farming. He rather resorted to new practices. Here, the soil is a mix of sand and clay. "We grew cotton this year with corn as border crop," he says.
At his farmland, there is maize-cotton inter-cropping. For watering the crop, Ramu pours diesel in an oil engine. A hole is dug for 10 feet in the ground. The oil engine pumps groundwater and that is used for grow cotton. "Only cotton is our savior crop," he told VillageSquare.in. It sells for ₹50-55 per kilogram. We can get 50 kilograms per acre in a day."
Innovative farming
At Thandavankulam, the last village near the sea, Rajaraman Narayanasamy found new ways to earn income through different means. This year, he was the only farmer who did farming in his village. In one portion of the land, he harvested paddy, and in another portion of land, he grew vegetables. On another patch of land, he raised a vegetable nursery, and he sold these to farmers in the village. In a farm pond, he grew azolla plants for cattle fodder. Recently, he started apiculture to produce honey.
Earlier on, Narayanasamy asked farmers to bring all the seeds they had. All the seeds were pooled together to get different varieties. The farmers distributed this in the village. "After the tsunami, the Centre for Indian Knowledge Systems (CIKS) adopted our village, and gave us farming inputs for organic farming," he told VillageSquare.in. "I am the only organic farmer here."
Unlike other farmers, he does not depend only on farming for his livelihood.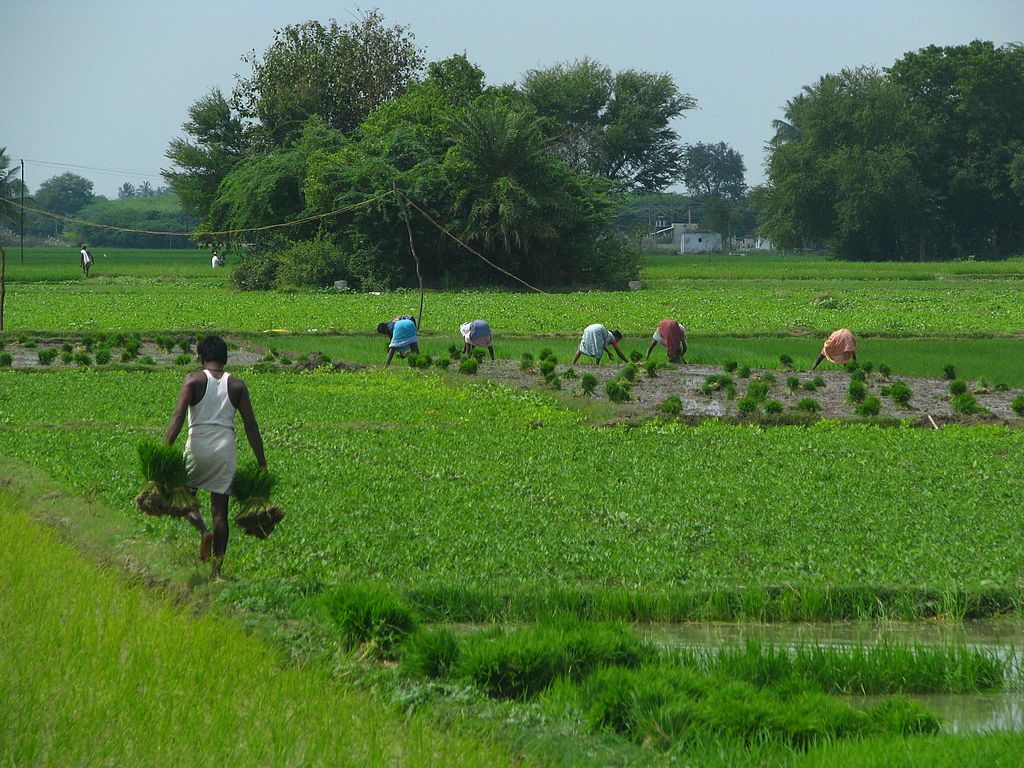 Where other farmers in the region are skeptical to grow sesame and other plants due to grazing problem, Narayanasamy has found ways to tackle this. He says, "I spent time in finding out plants that cattle do not graze on. Also, I grew plants like pungai, nochi, kaatu nochi, and kalayana murungai, as these trees give natural richness to soil." This year, he harvested paddy worth ₹45,000.
He adds, "We don't need to depend on the government for solutions. People have to work on their own to survive. If the government is not doing anything, people need to step in and work."
He believes farmers can earn just from trees. He says, "It is like a small savings scheme. Growing trees will also increase the water table. We cannot wait till we get water. We need to take care of the farm, use cow dung once in two weeks, neem leaves for pest attack and pheromone traps, and grow border crops. Farmers can grow plants like pulicha keerai on borders, and if there is a pest attack, they can pull away and throw these plants at no expense."
Are farmer suicides a social issue?
Farmer suicides in Vedaranyam have grabbed media attention. Balakrishnan Marimuthu from Paliyankarai village says, "When the crop fails once, the farmer finds it disheartening, and does not have the mental ability to accept that it could be better the next time."
He believes that if farmers have water sources like farm ponds to store rain water, they could grow other crops like coconut that are suitable to the soil. Balakrishnan advocates organic farming practices as a solution to drought and farmer suicide. He says, "Farmers should also be content with 8 kilos instead of 15 kilos, without the need to use pesticide. Further, farmers should also know to use less water."
Sundarraj concurs, "There is a saying from Nammalvar, crusader of organic farming in the state, 'If you eat more salt, you have to drink more water.' If you use chemicals, it is 48 % nitrogen and 54 % salt. If we need to give that extra water for the salt, where is water? 50 out of 100 people could survive instead of 10 people out of 100 if farmers didn't use fertilizers."
The cost of farming inputs has gone up over years, one of the reasons why farmers face debts.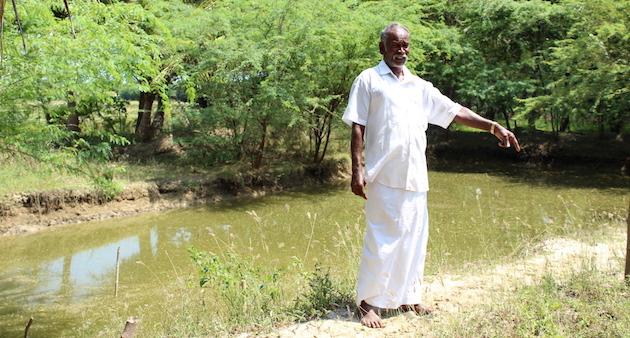 Subhashini Sridhar, Project Director, Centre for Indian Knowledge Systems, told VillageSquare.in, "The Central Government has reduced subsidies, and the input cost has increased by almost 20 %." Data from the Tamil Nadu government's Agriculture Department points out that the price of urea for a 50 kg bag has increased from ₹276 in 2014-15 to ₹284 now.
Vedaranyam is a multi-cropping region. "Unlike villages in Tiruvarur, which is a complete clay belt and where people depend on one crop, in Vedaranyam, people can do multi-cropping. If there is crop loss from paddy, people can do floriculture," Subhashini told VillageSquare.in. "The farmer suicide problem in this region is exaggerated. There are social issues too. Though climate change is undeniable, one cannot say that farmer suicides are just due to drought. We need to look into this from various angles."
Sundar Raj says, "People are only dependent on paddy, and that is where the problem lies. Also, we do not need compensation, but good water harvesting structures like farm ponds. This is what the government needs to focus on."
About the author: Sharada Balasubramanian is a journalist from Coimbatore.
Adapted from an article originally published on VillageSquare.in. Subscribe to VillageSquare's weekly update on the website for more stories from rural India.
---
Join us to help 20,000 Villagers in drought-hit Nagapattinam by restoring its lakes and ponds
Unable to view the above button? Click here
---
Like this story? Or have something to share? Write to us: contact@thebetterindia.com, or connect with us on Facebook and Twitter.
NEW: Click here to get positive news on WhatsApp!
We bring stories straight from the heart of India, to inspire millions and create a wave of impact. Our positive movement is growing bigger everyday, and we would love for you to join it.
Please contribute whatever you can, every little penny helps our team in bringing you more stories that support dreams and spread hope.
Tell Us More