She grew up in America with a free spirit and was once an officer with US Military. While submitting her thesis on analysis of anti-trafficking NGOs, called "Victimhood Discourses and India's Anti-Trafficking NGOs", she ended up discovering the direction of her life. Meet Robin Chaurasiya – who has spearheaded Kranti, an NGO, to focus on helping trafficked girls escape the sex trade, heal, achieve a good education, and be self-supporting.
The fact that Robin Chaurasiya's parents immigrated to Indore and she grew up in Seattle in the United States did not lessen her love for India and Indians. The lady is a staunch feminist and assumed the role and responsibilities of an activist for social change at a very young age. After completing her MA in Gender Studies at the Central European University in Budapest, Robin Chaurasiya started volunteering in Mumbai and founded Kranti, an NGO that aims to empower girls from Mumbai's red-light areas to become agents of social change. She was equally supported by Trina Talukdar, another passionate social entrepreneur.

Robin Chaurasiya (left side in the pic) joins us today to share her views and vision.
I've always been frustrated by society's "writing off" of marginalized people – sex workers, queer people, differently-abled people, etc. It's not that they lack the ability to building amazing lives and communities; it's that society purposefully restricts and prevents them from doing so. I have spent much of my life traveling the world and volunteering in different NGOs, but the place that struck me the most was my time at the Rescue Foundation in Mumbai.
Robin narrated a 5-year old incident that happened while she spent 5 months volunteering with teenage girls who had been "rescued" from brothels.
These girls were kept in the NGO for anywhere from 5 months to 5 years, following a 'rescue, rehabilitate, repatriate' model – after being taken from brothels, they spent time at the NGO, learned unsustainable skills (achar/papad making, tailoring, etc.) and then were either sent home to a situation where nothing had changed, or married off if they had no family. There was no formal education, no therapy, no true healing. The staff there always told the girls, "tumhari zindagi barbad ho gayi." But they're 15, 16, 17…I felt that their lives were just beginning! What if someone wanted to become an astronaut? A painter? A writer?? But even more than the girls' desire to grow, heal and work, I found they had an incredibly strong desire to "fix" society, or at least the things that had caused them to end up where they were. So the idea of Kranti was born – a place where girls learn, heal, grow – but also learn about social justice and how to be leaders in their communities.
We must tell our our readers that prior to founding Kranti, Robin was an officer in the US military and a well-known activist who raised her voice for queer rights in the army.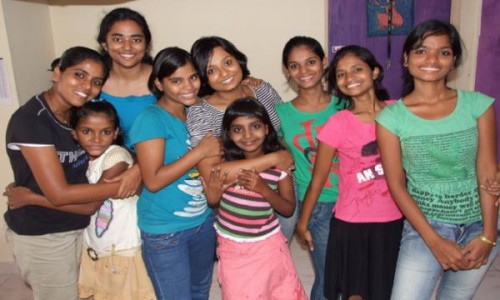 What is different about Kranti is the fact that it does not regard Red light area or sex workers with disrespect or a skeptical attitude. Kranti believes that red light areas are like any other workplace and hold the potential to be healthy, empowered communities and rights-based work places if we give them enough support. Kranti believes that sex work is a job or profession like any other and should be legalized and supported with benefits.
And Kranti has done its part by being just the right support for many girls. Sometime back, Shweta Katti, an 18-year-old girl was in the news as she succeeded in fighting the social stigma of growing up in Mumbai's oldest red light district, Kamathipura, and earn a scholarship from a university in the United States for her studies.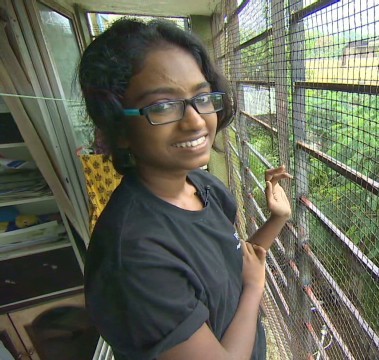 This Mumbai resident – Shweta Katti – on National television confessed how NGO Kranti helped in empowering her. Says Chaurasiya:
Kranti's core belief is that girls from red-light areas, if provided with the same education, training and opportunities as middle/upper income children, will not only be "as good" leaders, but that they will be far better leaders – more compassionate, more innovative and more resilient because of their backgrounds. Shweta is proof of this belief – she's traveled several countries alone, taught girls who are at-risk for being trafficked, worked for Adivasi women's rights, spoken at 50 conferences to audiences of 5K+, and shared her experience of child sexual abuse with thousands of kids across India. I do not know any "normal" kids from middle/upper classes who could accomplish these things. It feels wonderful to know that so many people around the world are inspired from her story and also that her life will go a long way in changing people's mindsets about red-light areas.
Indeed, Kranti has emerged as an NGO working for women's rights by providing a healing home, comprehensive education and personalized opportunities to empower and equip India's trafficked girls, sex workers, and otherwise socially disadvantaged young women. It also aims to provide these women and daughters of sex-workers with the knowledge, skills and confidence necessary to build fulfilling futures.
We are still in the process of perfecting our model. We've basically created an equation for empowerment, but each girl has different variables. For some girls, it's dance, for some it's karate, for others it's drawing. So we are currently working on expanding those variables. In the long run, we want to create our own home which will include living space, a coffee shop/bookstore selling the girls artwork, space for theater/film screenings and other community events, and a regular schedule of activities for marginalized girls from various communities. We struggle a lot with our current housing situation, where girls are called 'randi' (prostitute) on the streets, our building watchmen tell people they are 'rescued girls', etc.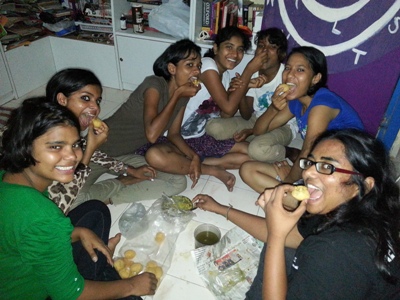 Robin also shared that Kranti team dreams of having their own school some day for marginalized girls which will offer all of the education, training and opportunities that Kranti's girls currently have.
When all of these girls start traveling the world and become amazing leaders/social change agents, we want the world to realize that marginalization does not have to be a burden – it can be an asset.
What an inspirational vision that is! Women like Robin Chaurasiya stand out as perfect examples of Women of Substance and we applaud her role as a social activist. Hoping to see many more Kranti girls hitting the headlines for all the right reasons! Way to go, Kranti!
This post was published on 
Halabol Voices
, which is an initiative of Halabol – a platform for initiating change, and reprinted here with permission.
We at The Better India want to showcase everything that is working in this country. By using the power of constructive journalism, we want to change India – one story at a time. If you read us, like us and want this positive movement to grow, then do consider supporting us via the following buttons.
Please read these FAQs before contributing.