Krishna Thakur, 30, did not know how to ride a bicycle. "But I'll learn. I want to be part of your women's cross country cycling expedition," she assured Vasumathi, the
Krishna Thakur, 30, did not know how to ride a bicycle. "But I'll learn. I want to be part of your women's cross country cycling expedition," she assured Vasumathi, the leader of the group that was planning a 3,000 kilometre ride along India's east coast, all the way from Kolkata to Kanyakumari at the southernmost tip of the subcontinent. A week before the Go Green Girls expedition was scheduled to pedal off, Krishna still had no bike, much less having learnt to ride one. Yet, she was raring to go. There was something about the Go Green Girls' initiative that kept Krishna motivated.
Today there are innumerable programmes that aim to empower women; but empowerment through adventure is unique and is something that the Women's Adventure Network of India (WANI) strongly believes in. The association, which was started by 11 women adventurers, included Bachendri Pal, the first Indian woman to climb Mount Everest and her associate Vasumathi, also a seasoned mountaineer. The organisation not only arranges climbing expeditions but has also supported cross-desert camel rides. Having seen the destruction of the glaciers in the Himalayan region during her climbs, Vasumathi came up with the latest idea of a trip that combined feminist and environmental concerns.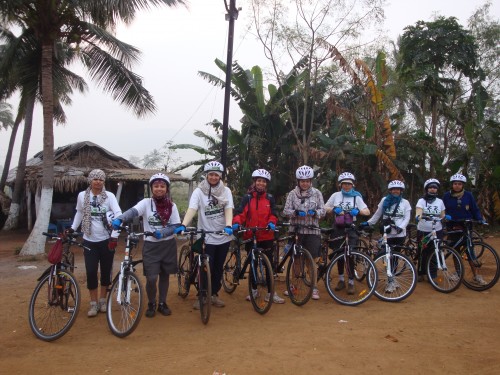 When the Go Green Girls (GGG) cycling expedition was announced, 25 women, aged between 20 and 58 years, from different parts of the country enrolled immediately. Adventure was second nature to some of the participants. There was Rupa, who is a bungee jumping instructor from the north; Krushna Patil, 20, from the west, who has conquered six summits worldwide and was the first Maharashtrian to climb the Everest at the age of 19; and Rina from Delhi, the first Indian woman to ski to the South Pole. Smitha, the deputy leader of GGG, is a trekker and renowned Kathak dancer from the south, while Bachendri's cousin – Bimla – from central India is a trainer and mountaineer. Every region of the country was represented through the participation of these women.
After knocking on many doors for sponsorship and being told that the expedition was "unworkable", the group decided to fund itself. However, eventually BSA Hercules provided bicycles, helmets, knee guards and gloves, the Tata Steel Adventure Foundation sanctioned one lakh rupees, the Karnataka Mountaineering Association funded GGG's brochure for their press conferences en route, and the Indian Mountaineering Federation (IMF) too pitched in with support.
The road trip was flagged off on Republic Day from Kolkata, as the women slowly pedalled their way southwards. A truck loaded with tents, blankets, provisions, kerosene, clothes, and a stove for cooking on the highway followed the cyclists "but we did not have to light the stove even once during the 35 days we cycled," says Vasumathi. Local hospitality, received from complete strangers, kept them fed most of the days. Even at roadside 'dhabas' (small eateries) the proprietor would often say "I saw your picture in the paper (or on local TV last night), be our guest – "Aap se chai ka paisa nahin lenge (we will not take money from you for the tea and snacks)."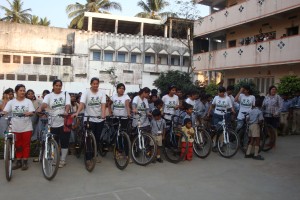 In the towns they passed through, local Rotary clubs organised get-togethers, hospitality, publicity, and talks during which the group members described their expedition. After riding for 60 to 100 kilometres every day, at sundown the women would pitch tents, or stay overnight at a school hostel or local club, and be back on the road before sunrise the next morning.
"It was exhilarating," recalls Smitha, who maintained a daily blog for all the 35 days (available at www.gogreengirls-g3.blogspot.com), chronicling their novel experiences en route. This trip also marked a number of firsts for many group members. Two had never seen the sea; one had never sat in a truck, while another had never tasted the delicious 'nungu' (date palm) fruit that south India is famous for. Some of them from the north had never heard of Tirunelveli, Dindugul or Ulundurpettai – picturesque towns along the highway in Tamil Nadu.
Starting from the state of Bengal, they passed through Odisha, Andhra Pradesh and Tamil Nadu, learning about local geography and culture. They discovered Asia's biggest temple gopuram at Tiruchirapalli in Tamil Nadu, the world famous Konarak temple in Odisha, the different weaves and designs of Madurai, Odisha and Andhra saris – and cuisine of India. They also picked up nuggets of information en route such as learning at a match factory they visited near Sattur that it takes a team of 60 workers to make a single matchbox.
And wherever they halted the city gals took every opportunity to chat with groups of local women they met during their daily tea or lunch stops. They talked about their hometowns, why they were undertaking a cycle journey of over 3,000 kilometres and they even spoke about environmental concerns. "In a sense, this trip was a widening of horizons all round – for us and for the women we encountered," says Vasumathi.
They always rode single file on the highways, for safety, with a 'leader of the day' ensuring that the group stayed together and waited for the stragglers or those who got tired faster. If someone had a punctured tyre, they loaded the bike on to the lorry and took out a spare one."Yes, our thighs got sore and, at one place, we had to share one bathroom among the 15 of us! But it was still fun," the GGG team declares, even days after their memorable trip.
The minister for environment flagged the group off at Tirunelveli while the president of IMF specially flew down to Kanyakumari to flag them in for the last leg. Can they remember any interesting experiences? "There was a huge python across the highway in Odisha that a lorry had apparently run over," recalls Vasumathi, while Smitha remembers an encounter with armed motorbike-borne Naxals at 4 am in Andhra Pradesh. "Nothing happened, we just cycled past, and they let us go," she says.
Energised by their cycling expedition the group is already itching to set out on its next trip in 2012. Where are they headed? Replies Vasumathi with a chuckle, "Just wait and see, we're planning something women have not tried before."
We bring stories straight from the heart of India, to inspire millions and create a wave of impact. Our positive movement is growing bigger everyday, and we would love for you to join it.
Please contribute whatever you can, every little penny helps our team in bringing you more stories that support dreams and spread hope.