In the freezing January night of Delhi, when the entire city dons their sweaters, monkey-caps and mufflers with a hot cup of tea (which they enjoy holding instead of drinking),
In the freezing January night of Delhi, when the entire city dons their sweaters, monkey-caps and mufflers with a hot cup of tea (which they enjoy holding instead of drinking), there are few under-privileged who cannot afford even a blanket and die – without a roof or cloth on their bare bodies – to add one more to the count of deaths in North India due to cold wave every year. As of 13th January 2011, 159 such under-privileged succumbed to the dance of death this season.
Is there are ray of hope for the rest? Yes, there is. Meet Nirsa – a sweet little girl who makes her living by selling pens, pencils and other knick knacks at the traffic signal near Hazrat Nizamuddin. She has her little space under the flyover near the signal and with younger brother, elder sister and someone she calls "mummy", that's what pretty much her world is. At a tender age of 5, she is learning her lessons of life the hard way. Selling pens can hardly help her to survive every single day, eliminating the idea that she can ever dream of getting into a school. The freezing winters of Delhi leave much to be asked for in her ragged old frock. But last winter she found a helping hand in the form of NBDD (NCR Blanket Distribution Drive) volunteer Neha, who distributed blankets to her as well as other people residing in and around that flyover. For NBDD, it's not about changing the lives of the people but doing something even more basic than that – making them survive – enabling them to fight their battle of survival against Mother Nature.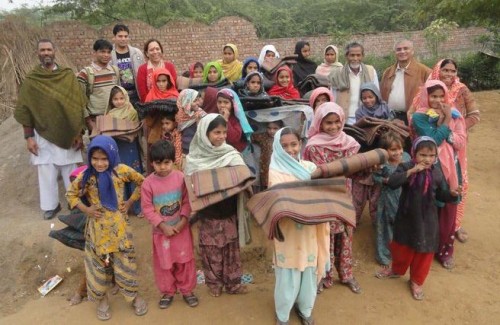 Ironically, the birth place of the drive isn't NCR (National Capital Region). NBDD was born out of concern for those dying due to cold and a strong inner drive to do something for them. In 2005, when the winter temperature in Ahmedabad went down below six degrees, the sad news of children dying of cold in the vicinity of IIM-Ahmedabad shook Ankit Gulati, Atul Mehta, Jyoti Bhasin, Amit Lakhotia and few of their other friends. It was then that the group stood up to collect funds, buy blankets, hire an auto and move around the nearby areas of IIM to look for the needy people and distribute blankets to them. This gave birth to the blanket distribution drive that has, till date, distributed more than 8,000 blankets to the poor and needy people in Ahmedabad and Delhi. Today, the primary focus of the drive is the NCR region, where the drive began in 2007 when the core team moved to Delhi to begin their corporate careers and shared the idea with Vipul Kedia – their senior at IIM and a very good friend. Also, being one of the worst affected regions in winters, NCR was a logical and obvious choice for the drive. Since then, Vipul has been spearheading the activities of NBDD in the NCR region.
Expansion
While the drive kicked-off successfully in the initial years, it was soon realized that it should not be restricted to a handful of people. Moreover, it was not practically possible for a bunch of guys to reach out to the needy in the entire NCR region. Hence, the expansion plan started with NBDD started collecting funds from volunteers and asking them to reach out to the needy people in their areas. A single vendor was given the purchase orders and the responsibility to deliver it to the specified location which helped NBDD to procure blankets at the least possible cost.
Today, around 60 to 70 volunteers provide their time and effort to NBDD in the region and help the poor in fighting the cold. Expansion has made it possible for NBDD to reach the remotest areas of NCR – from Ghaziabad to Noida to Gurgaon. This has also helped spread the message of NBDD to different areas of NCR.
In 2010, NBDD partnered with IIMPACT (an initiative by an IIM-A alumnus – 1978 batch – to provide education to the socially and economically underprivileged girls who have no access to schooling) to provide blankets to needy families through IIMPACT's network. IIMPACT gave an estimate of five thousand blankets for distribution, which provided considerable boost to the goals of NBDD.
Reaching out to the Neediest
Ensuring that the help reaches out only to the neediest has been the principal challenge for NBDD. Since the inception, making sure that the help reaches only to the ones who are actually in need has been the key objective of the drive. In the early days of the drive in Ahmedabad, Ankit and his team would check that the blanket is provided only to the ones who really need it. While some people were found sleeping on the streets without adequate cover, the team used to silently put a blanket on the person and in case there were people around, the person was awakened to let him/her know about it so that no one else can steal the blanket.
This mantra was carried along when the drive shifted to NCR region as well. While the definition of "needy" can be subjective, NBDD core team has always tried to communicate it as best as possible to make sure that every penny spent goes to the right person.
To quote an example which Ankit shares with me – "About a week back, I was in Gurgaon and we couldn't find many people around. And then I found this couple, with four children actually. For these four children, the man had only one shawl – only one shawl in the Delhi cold and nothing else. What I saw him doing was cut his shawl into a small piece. So I asked him what he was doing. He replied that they had a baby around 2-3 days back and he just has one shawl to cover everyone. He was just making sure that he was cutting some part for the infant and that small cover is for the baby only. This was really moving, so I said "yeh lo, ek blanket lo" ("Here, take one blanket"). He was really touched by the gesture. And then he said, "Sir, ek blanket aur hoga?" ("Sir, would you have one more blanket?") Since I had two blankets more with me, I handed him over the three blankets. So, a lot of times what happens is when you help such people, they will really thank you and bless you from their hearts, which is what gives you the KICK."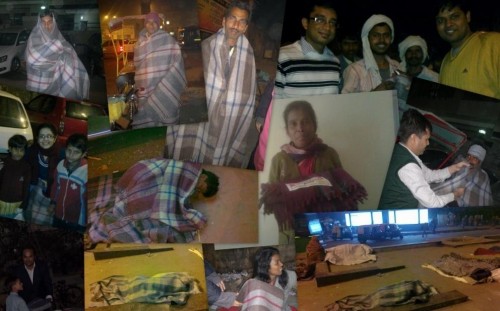 Having said that, it is also very easy to drift away and not to spend too much effort checking if the beneficiary needs the donation or not. An activity wherein you have to go out and find needy poor can be very exhausting on a freezing winter night. While there are nights when a volunteer does not find a single needy person, there are also times when volunteers encounter a mob of needy people. Doing a check on whether he/she is actually the deserving person is an extra work. Hence, distribution experience might not be always rosy, which essentially means that only serious and dedicated volunteers are able to sustain this activity.
Thus, there is no denial that there would be certain amount of leakages where a person, who received the blanket, may sell it the next day to get himself something else (food, clothes, shelter – worst would be liquor). However, even if the drive is able to save one life, it is worth it.
The Road Ahead
The drive has already spread its wings across the NCR region and is in a self-growth mode through word of mouth. The FB page has increased its awareness across India. Collaboration with IIMPACT will spread it further to the states of Uttar Pradesh and Bihar, which are some of the poorest states in India along with Jharkhand, Chhattisgarh and Rajasthan. As the popularity grows, the idea is to get more and more volunteers into the activity and help save as many lives as possible.
For those who might want to join the drive can contact the core team at ncr.blanket.distribution@gmail.com. The team is more than happy, not only to accept contributions (monetary and voluntary) but even extend help to those who want to start similar initiatives on their own.
Jay Mehta is an industry analyst, freelance writer and active blogger. Inspired by the concept of The Better India, his passion for writing and a desire to contribute his little to improve the society, he expressed his interest to author articles for the website.  Before his stint with the corporate sector, Jay completed his management education from Management Development Institute, Gurgaon.
We bring stories straight from the heart of India, to inspire millions and create a wave of impact. Our positive movement is growing bigger everyday, and we would love for you to join it.
Please contribute whatever you can, every little penny helps our team in bringing you more stories that support dreams and spread hope.