Her sparkling eyes seem to speak. Indeed, they actually do. Bhavna Botta was born with Athetoid Cerebral Palsy, which makes her unable to walk, talk or write. But nothing has
Her sparkling eyes seem to speak. Indeed, they actually do. Bhavna Botta was born with Athetoid Cerebral Palsy, which makes her unable to walk, talk or write. But nothing has been able to stop this gritty young woman from chasing her dreams. She is perhaps the first person in India – and one of the very few in the world – to have completed a full-fledged commerce degree from a mainstream college, the Ethiraj College in Chennai, by using the unique eye pointing technique. What is more, she scored nearly 70 per cent in her final examination.
Eye-pointing works like this: The person scrolls with his or her glance a chart (or computer monitor) that displays alphabets, letters or words, arranged in designated numbered columns, and with signs for 'yes' and 'no' enables verification. This is tracked either manually or through a computer that keys in the sentence spelt out by the glance. Today there are even speech synthesizers that convert sentences into words and play them out, allowing the person to carry on a conversation. The brilliant British physicist, Stephen Hawking, uses a speech synthesizer, although his medical condition is quite different to that of Bhavna's.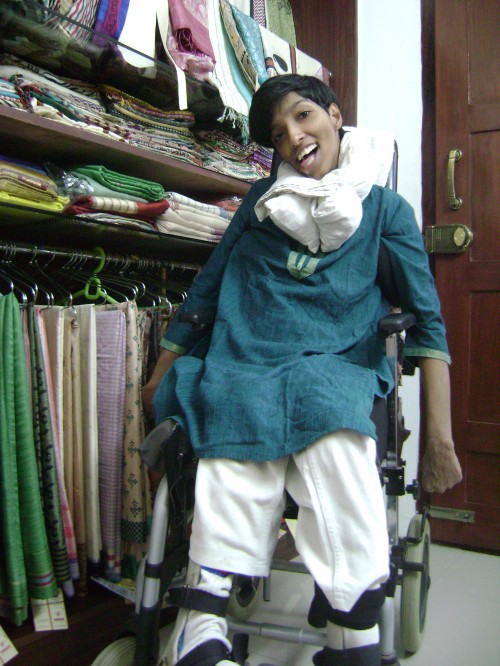 Bhavna's rehabilitation process began when she was just six months old. And before she got started on the eye-pointing technique, she was provided with all kind of support during her school years. At Vidya Sagar (formerly the Spastic Society of India), founded by Poonam Natarajan, who is now the chairperson of the National Trust of India for the Welfare of Persons with Autism, Cerebral Palsy, Mental Retardation and Multiple Disabilities, a simple alpha-numeric chart was developed specially for Bhavna.
Today, her commerce degree is no longer a benchmark for this amazing woman. Barely out of college and just 23 now, Bhavna is already an entrepreneur. Her textile enterprise, Saahaagika, is no run-of-the-mill textile boutique either. It is, as Bhavna puts it, 'business with a social conscience'. Saahaagika sources organic textiles from the Jharkhand Silk Textiles and Handicrafts Corporation Limited, which in turn sources its merchandise from tribals in the region. Ahimsa silk (silk obtained without killing the silkworm) is sourced from Sri Kusuma Rajaiah, who pioneered the technique. Now, Bhavna has also tied up with Auroville's Upasana-Paruthi project that markets organic cotton textiles and outfits, and supports the cotton farmer community. Saahaagika stocks saris, kurtas, kurtis, shirts, saris, stoles and dupattas.
'Saahaagika' means natural. "It has to be organic," Bhavna points out with her eye. She first researched into these fabrics through the internet and other sources. Before starting out, she made sure to visit a dozen boutiques and survey customer behaviour, besides quizzing her family and numerous friends. Incidentally, before honing in on the idea of Saahaagika, Bhavna had considered starting a mobile library that would home-deliver books to the physically challenged.
Bhavna is a hands-on entrepreneur. She handles all her official communication, including interactions with the customers at her shop. An assistant follows her to support her physically, but the negotiations are all hers, including those involving significant sums of money – like the loan for two lakh rupees she needed from the Indian Overseas Bank for setting up her shop.
Remarks her mother, Kalpana Rao, "I am not sure how she manages it, but when she comes back home, she has the job done!" Kalpana is always at hand to help out. When technology fails, Bhavna can always depend on her mother. Her laptop had literally crashed on the weekend I met her but her mother was at hand to read aloud Bhavna's eye-pointing from the chart. With such innate resilience, it is hardly surprisingly that Bhavna had been voted Miss Smiley, and Miss Final Year at college.
Here then is a clear-headed young woman who instinctively knows what she wants. Recalls Kalpana, "She has always been like that. In school, even as an eighth grader, she was sure that she wanted to do business." Bhavna took accountancy in Class XI and chose Entrepreneurial Development as her elective in college. When she entered college, her mother had suggested that she take up science – since science was her own major and was a subject she thought she could help her daughter with. Bhavna, however, had other ideas. She was already envisioning the steps she needed to take to fulfill her entrepreneurial interests. At every stage she made her own choices. "After her commerce degree, the family wanted her to acquire an MBA. But Bhavna wanted to set up shop straight away," reveals Kalpana.
Bhavna is now all focused on opening another outlet of Saahaagika in Anna Nagar, near south Chennai. This involves a fair bit of commuting and her mother tried to counsel her to bide her time, but Bhavna can hardly wait to take up a fresh challenge. Short cuts are not for this rising entrepreneur. She could have taken a loan from her parents to set up her business, but Bhavna decided to go for a bank loan. Clearly, the idea of being self-reliant is something she cherishes deeply. Like all young women, she can be head strong but there can also be no denying the determination and grit.
So how is business, I ask her. "Going on," she replied, "Dull after the Diwali rush." Now her clientele tends to be older women, but Bhavna is looking at trying to expand the youth market and get youngsters to root for her organic outfits. She agrees though that she may have "to do some kind of campaigning for this". Her ultimate vision is to establish an 'adda' or hangout that doubles up into a library-coffee shop-gallery-boutique.
Technology has proved to be a true blessing. Bhavna uses Erica, an eye-gaze technology, which tracks eye moment, and types the letters chosen by her glance. Then there is a non-contact switch called Aditi, designed by IIT-M, Vidya Sagar and the Chetna Foundation, that gives Bhavna the left click of the computer mouse to access the computer.
Many friends and associates have done their bit, like close friends Meenakshi Subramanian and Sujatha Shriram. Then there is Bhavna's sister, Nandini, and her band of enthusiastic friends. In fact Nandini and friends Ashwath, Akshay, and Sridhar together created the website, logo and brochure design for Saahaagika, while Aishwarya, an engineering student, became a model for Saahaagika garments.
Among the most important of the many things that remain in your mind, long after you have stepped out of Saahaagika, is Bhavna's quiet confidence, which perhaps flows out of an oasis of will power. Even though she has already created a stir by showing how much is possible – whether you are physically challenged or not – one can't help feeling that this is not the last one has heard of this courageous young woman.
Check out Saahaagika on the web at www.saahaagika.co.cc
We bring stories straight from the heart of India, to inspire millions and create a wave of impact. Our positive movement is growing bigger everyday, and we would love for you to join it.
Please contribute whatever you can, every little penny helps our team in bringing you more stories that support dreams and spread hope.