Ishika Mondal, 34, works for two hours every day in waist deep water, trying to keep the fragile 'Gracilaria' or 'Seola' (seaweed) seeds alive at the small experimental seed bank
Ishika Mondal, 34, works for two hours every day in waist deep water, trying to keep the fragile 'Gracilaria' or 'Seola' (seaweed) seeds alive at the small experimental seed bank in her village of Harekrishnapur in Sunderbans, West Bengal. "This is our hope for the future. Selling the seaweed every 40 days will bring money for our families," says Ishika.
In contrast Raushi Singh, 45, wakes up at 4 am and treks for about one-and-half hour along the muddy banks of the river Bidya in the delta region, searching for crab marks. She plunges her hand deep into the crab holes and pulls out these crustaceans. "It's risky and crab bites are common, but most women in our village forage for crabs like this. We then walk to the market, about two-hours away, to sell them so that we can buy essentials for our family," says Raushi.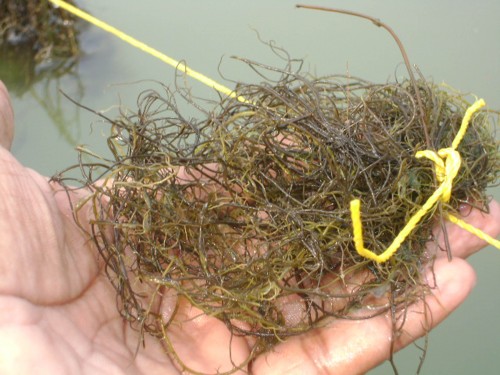 For Raushi, an alternative means of livelihood, like the seaweed cultivation project, would definitely mean some relief from this dangerous and exhausting struggle for sustenance – a way of life for hundreds living in the Sunderbans.
The continued impact of Cyclone Aila – that hit parts of Eastern India and Bangladesh in 2009 – has taken a heavy toll, both on the environment and the local communities in the Sunderbans. There has been large-scale migration of the men to larger cities in search of work, which has left Ishika, Raushi and many other women to fend for their children and themselves on their own.
Panchanan Das, Chairman, Forest and Land Committee, Basanti Panchayat Samiti observes, "There has been almost no rabi or kharif (winter and summer agricultural seasons) cultivation in the region since Aila because of the salinity in the soil caused by the receding flood waters. Forget paddy, even fruits and vegetables refuse to grow. Prawn and fish cultivation is also at a standstill, as the 'bheris' and ponds in which they were reared, were filled with saline water. Incidence of viral disease in fish, post-Aila, has gone up as well. With no livelihood options left, 90 per cent of the male youth and about 20 per cent of the young women here have moved to cities like Kolkata, Delhi, Mumbai and even to the Andamans and Gujarat. In most villages only women are left behind with young children."
The women soon realised that there was no surety that money would arrive at the end of the month from their husbands, sons or brothers, and even if it did, the amount would always remain uncertain. "With no men around, finding work became a priority for us. The panchayats have been unable to find us employment through the MGNREGA (Mahatma Gandhi National Rural Employment Guarantee Act). Whatever little work was offered involved hard manual labour like building embankments – impossible for women to do. We suggested poultry, goat-rearing, handicraft, but nothing materialised. Self Help Groups (SHGs) and NGOs have provided some alternative means of livelihood," says Uma Deb Sharma, 45, of Thakurgheri village under Basanti Block.
Then, with the aim to provide a better means of livelihood to the local women, the Nature Environment Wildlife Society (NEWS) initiated the seaweed project on an experimental basis in three villages on four plots. "We had seen a similar project at Mandapam in Tamil Nadu, where there is a seaweed processing factory as well. Seaweed needs both saline and sweet water to flourish and the Sunderbans is ideal for this, as saline water regularly flows in during high tides," reveals Barnita Dasgupta, Project Coordinator, Community Development, NEWS.
Adds Aparna Mondal, 35, Secretary of the Saradamoyee SHG under Jyotispur gram panchayat, which runs the Seaweed Project at Harekrishnapur, "'Seola' offers a nutritious dietary alternative and is extremely beneficial for pregnant women. It's excellent food for the people in Sunderbans. We can also sell it to baby food and diet supplement manufacturers. There will be a yield every 40 days if the experiment works."
If things go according to plan, there are hopes for the production of 15-30 kilograms of seaweed per woman, every 40 days from individual plots. "One kilo will fetch Rs 20. We aim to involve about 800 women in this project," says Rajnarayan Mondal, 42, Local Project Coordinator, NEWS.
Besides the seaweed initiative, the mangrove nursery project has emerged as another successful means of livelihood for the women in the Basanti block. Anjali Sardar, 45, a widow, whose two sons have left Sunderbans in search of work, says excitedly, "We are cultivating 'kalobain' (Black Avicenea) saplings that we'll sell for one rupee each to the NGO when they are ready. We also plan to plant them along the river banks to earn extra money. In fact, we got paid 35 paise per jute bag we stitched, which are used to collect clay from the river banks and the 'Kalobain' seeds from the forest. The seeds have now been planted in the clay. That was hard work. These days we spend two hours every morning and evening watering and caring for these saplings."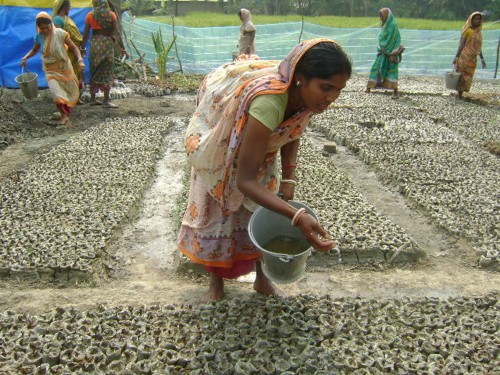 Environmental concerns like the need to plant and protect the mangroves in the Sunderbans are also being addressed by the NEWS project. "After Aila, the realisation dawned that areas with greater density of mangroves had remained relatively unscathed. Now these women are not only involved in planting new trees, they also take a keen interest in protecting them," says Ankita, Project Trainee, NEWS.
Thirty-two year old Kanondolai's house was submerged when Aila hit the delta. Earlier, her fields yielded about 10 'basta' (One 'basta' equals 60 kg) paddy per 'bigha'. Now the yield is not even three 'basta'. There is loss in cultivation due to the poor soil situation. Her son is a pipeline worker somewhere near Mumbai and he sends about Rs 300 home, hardly sufficient for Kanondolai, her husband and a young daughter, a student of Class VII. So she diligently works at the nursery.
"Many girls have gone to work in cities as domestic help. I fear many are being trafficked. I don't want the same for my daughter. The nursery project is my safety net. I made money from the jute bags I stitched and once the saplings are sold, I will have money in hand. My husband is ill but he does odd jobs. We will manage somehow," she says.
Most families in Sunderbans claim that they have received no compensation yet for building/repairing their houses, post cyclone Aila, let alone any other monetary help from the government. Basanti block authorities say that of the Rs 52 crores due as compensation for repairing dwellings, they have received only Rs 24 crore till 2010-11. Even the sanctioned fortification of embankments has not taken place. At the most, only some superficial work has been done.
It is obvious that hardly any post-cyclone intervention by government agencies has taken place in Sunderbans but it is heartening that the residents, particularly women, are trying to mitigate the financial, social and environmental impact of Aila to some extent, and doing this themselves.
We bring stories straight from the heart of India, to inspire millions and create a wave of impact. Our positive movement is growing bigger everyday, and we would love for you to join it.
Please contribute whatever you can, every little penny helps our team in bringing you more stories that support dreams and spread hope.