Faridabad (Women's Feature Service) Twenty-one years ago Savita Mohanty had chanced upon a job ad in a newspaper. The work appeared to be emotionally demanding but she decided to send
Faridabad (Women's Feature Service)
Twenty-one years ago Savita Mohanty had chanced upon a job ad in a newspaper. The work appeared to be emotionally demanding but she decided to send in her CV anyway. Today, she is a 'mother' to 11 orphaned and abandoned children between the ages of eight and 13. Her address: Jeevan Jyoti, House No. 7, Greenfields, Faridabad, the first SOS Children's Village in India, set up by the NGO to give homeless children a family – a mother, siblings, a loving home and an extended village community.
Mohanty, 46, could have chosen an easier life. As secretary at a private firm manufacturing electronic machines, this single woman, who had also had a stint as a nursery school teacher in her hometown of Bhubaneswar, Orissa, was living an uneventful life with her extended family, until she saw the ad. The idea of working at a SOS Children's Village was appealing because even though she had chosen to remain single because of personal reasons, she loved children. "Initially, I had thought that I would be a caretaker … but when I got an individual house and my own children, I was really happy," she says, admitting that early on she had had doubts on whether she could be a 'mother' to so many children.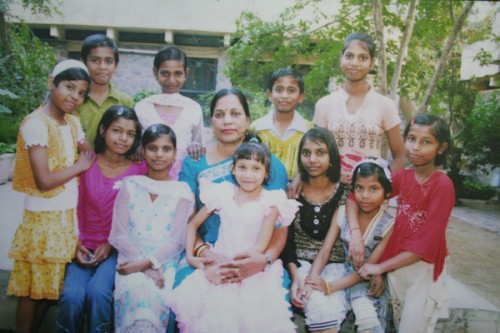 Parenting can never be easy and it's a tough grind for Mohanty. She is on her toes from dawn to late at night. There's loads of house work and then she has to put a lot of effort into gaining the trust of the children who have suffered traumatic upheavals in their lives and sometimes clearly carry vestiges of this in their behaviour. She also has to take care of their daily needs and guide their emotional and social development. She does all this in close coordination with the SOS Village director and other colleagues.
Mohanty's neighbour, Kamolini Senapati, 44, is the 'mother' in Sneh Sadan, House No. 8, Greenfields. It's been 20 years since she first came here. A graduate from Salabala Women's College in Cuttack, Orissa, Senapati has trained as a primary school teacher and thought that working in the SOS village would be a natural progression in her career. However, midway through her two-year training to be a 'mother', that has both theoretical and practical aspects to it – all prospective 'mothers' have to undergo this – she began to have serious doubts on whether she was cut out for the job.
"When I first joined the Mother's Training Centre in Faridabad I had no idea of what the work involved. Later, I began to feel that I was definitely in the wrong place. During the course of my training, I had worked as a support to some mothers and seen how children could be very difficult and obstinate at times," she recalls. But she stuck it out, convinced by other trainees that the Village was the best option for a single woman like her, looking for a secure environment. "I realised that I would be pushed around in the outside world. Moreover, the idea of mothering children in dire need of love and care inspired me," she adds.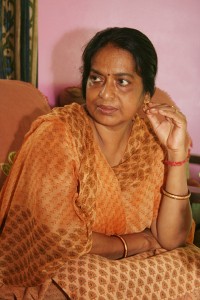 Watching their vulnerable children grow into confident adults is their biggest reward. Mohanty can't stop talking about Ranjana, 22, who came to the Village as a little girl of five after the death of her father. She was brought in by her impoverished mother. In this new but nurturing environment, Ranjana flourished and went on to complete her initial education at the nearby Hermann Gmeiner School run by the NGO. When she displayed an exceptional talent for art – her paintings are proudly displayed on the walls of House No. 7 – her 'mother' and the village authorities encouraged her to enrol at the South Delhi Polytechnic as a student of fine arts. Now in her third year, she is also awaiting her results in the Delhi University open examinations. Although she lives at the Polytechnic hostel during the academic sessions, no one can keep her from her Village family in the vacations. While she enjoys her break, she also lends her 'mother' a much needed helping hand.
Her sister, Manika, 23, also comes home eagerly for holidays. A diploma holder in Fine Arts from the South Delhi Polytechnic for Women, she has studied graphic and web design at Gecko Institute and wants a career as a graphic and web designer. She will soon be moving to shared accommodation in South Extension, a south Delhi colony.
Besides the sisters, Mohanty also looks lovingly towards 10-year-old Aparna. She considers this happy child as one of her greatest successes as a parent. Aparna, now a student at Hermann Gmeiner School, was an abandoned premature baby girl, weighing a mere 600 grams, when she was handed over to Mohanty, who shuttled between home and hospital and nurtured this beautiful bundle of joy into the healthy young girl she is today.
But if Mohanty is a proud mother then Senapati has her own brood to brag about. There's Leena, 22, who received a scholarship to study at the HG School in Bhimtal, a sister Village school in Uttarkhand. She has acquired a Bachelor's degree in Computer Programming from Delhi University and will be joining the Kurukshetra University for an MBA. "I never felt that I was alone or had nobody in the world," says the bright youngster.
In order for SOS mothers and their children to develop a strong bond, the Village has appointed three counsellors, who act as much needed confidants. The children greatly benefit from their educational, emotional and personal counselling. "Love, security and guidance are very important for these children," says Archana Chaturvedi, a counsellor at Greenfields. Even the 'mothers' can talk to them freely.
Other coping techniques available to the women include yoga and meditation workshops; the spiritually inclined are encouraged to go for temple outings. Often need-based workshops are also organised for the 'mothers' and their teenage children on issues like sex education, health, hygiene, child protection policy and child rights and responsibilities.
Of course, despite all this, there can still be clashes between the mothers and their adolescent children, like in any regular family. But here, too, counsellors help to iron out the differences. To build a sense of community, prayers are held every evening for the entire Village. For 30 minutes, the mothers and children talk about Village-related issues or the events of the day. "We try to provide a natural family environment," says Chaturvedi.
The children need all the normalcy the Village can provide. Village Director K.S. Dubey says, "They come from various backgrounds that are sometimes very adverse and it impacts their mind. In the beginning some show symptoms of trauma. We get consultations from experts for those who are suffering… Sometimes, a child recovers quickly and sometimes it takes longer."
But once the children grow older, their 'mothers' say, they begin to ask questions about how they arrived at the Village and most fill in the blanks slowly, without going into too much detail. "Their friends often question why they stay in an SOS Village. They learn to open up with friends. Many boys and girls tend to avoid going into details when interacting with the world outside," says one 'mother'.
As in most professions, the SOS mothers step back when they reach the retirement age of 58 years. But some are so rooted that they choose to stay on in the accommodation provided to them. They also have the benefit of medical facilities and a small pension. It's a hard life, they say, but then what could be more rewarding than nurturing children who, but for their care, would have remained relegated to the fringes of society.
(Names of children have been changed to protect their identity.)
We bring stories straight from the heart of India, to inspire millions and create a wave of impact. Our positive movement is growing bigger everyday, and we would love for you to join it.
Please contribute whatever you can, every little penny helps our team in bringing you more stories that support dreams and spread hope.
Tell Us More