On a beautiful evening in a small remote village in Gujarat, a farmer who owns some buffaloes goes to a dairy cooperative society (known as Sahakari Mandali) in his village
On a beautiful evening in a small remote village in Gujarat, a farmer who owns some buffaloes goes to a dairy cooperative society (known as Sahakari Mandali) in his village to sell milk. He collects his passbook that records the milk poured, fat percentage and money he would earn. He happily goes back home satisfied with the income his buffalo is generating. After some time, a growing child in Kolkata licks the last drop of milk; a family in USA eats a delicious slice of cheese, while a girl in Australia is delighted to have an ice-cream, all made from the same milk the farmer gave to the Sahakari Mandali! If the farmer had lived in a bygone era more than half a century back, his buffalo would generate lesser milk, most of which would be spoiled due to lack of proper chilled containers. He would have to travel long distances to deliver the milk to the only dairy in vicinity, Polson dairy in Anand and face the unfair and exploitive practices to get meager amounts. India then was not even capable of fulfilling its own milk needs. About 60 years later, India today is the world's largest producer of milk and milk products. How this turnaround happened is now a legendary story with Dr. Verghese Kurien as its hero and millions of farmers supporting him to launch a white revolution.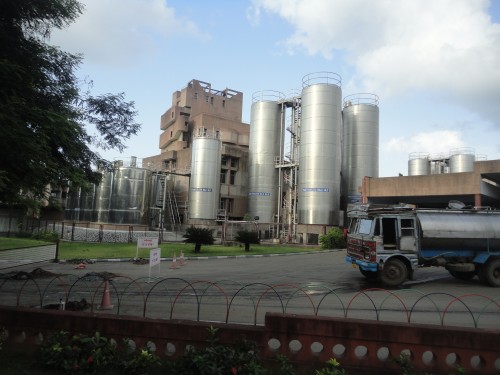 The origins
Inspired by India's freedom struggle, it all began when farmers in a small town near Anand city in Gujarat made milk as a symbol of protest. They approached Sardar Vallabhbhai Patel for a solution to combat monopolistic practices of the Polson Dairy. He inspired them to be united and fight by removing the middle men and supply milk directly to Bombay. In 1946, under the guidance of Morarji Desai (Ex-prime minister of India) and Tribhuvandas Patel (local farmer leader and also the first Chairman of Amul Dairy), this group of farmers from two villages formed their own cooperative now known as Anand Milk Union Limited – AMUL. They were then joined by Dr. Verghese Kurien in 1949. They designed a 3 tier model with milk collection at village level Dairy Cooperative Society, milk processing in plant at district level milk union such as Amul and milk distribution plus marketing done at state level milk federation.
The then Prime Minister Lal Bahadur Shastri studied the Amul Model during his visit to Anand and impressed by the whole setup and asked Dr. Kurien to replicate this Amul model in entire country. In 1965, National Dairy Development Board (NDDB) was formed and Operation Flood program was launched to make similar cooperative dairies across the nation and fulfill India's growing milk needs. Dr. Kurien and his team deliberately lobbied to keep the headquarters of NDDB in Anand, away from the power hungry and bureaucratic Delhi, and also aimed to draw the already accumulated expertise at AMUL. It was observed that while the milk collection is undertaken through various village level dairy cooperatives, milk products and milk distribution plus marketing must be through a single entity. Thus Gujarat cooperative Milk Marketing Federation (GCMMF) was setup in 1973 in which all co-operative dairies of Gujarat state became members and it has been marketing and managing Amul brand since then. GCMMF is today, India's largest food product marketing organisation with a turnover of US$ 2.2 billion in 2010-2011. A host of other organisations have sprouted due to the white revolution spearheaded by Amul. Indian Dairy Machinery Limited (IDMC), Institute of Rural Management Anand (IRMA), National Cooperative Dairy Federation of India (NCDFI), Dhara Vegetable Oil and Foods Company Limited (DOFCO), Mother Dairy Fruit & Vegetable Private Limited (MDFVPL), Animal Breeding Centre (ABC), Tribhuvandas Foundation etc. all have their roots in the operation flood and have provided job opportunities to thousands.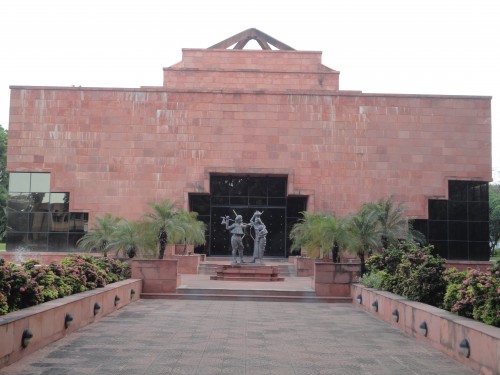 Amul in popular culture
Amul is also credited with a Guiness world record for longest running ad campaign of the world for its Utterly Butterly girl portraying day-to-day issues since 1967. In 1977, the Amul story was showcased through a Hindi movie titledManthan directed by Shyam Benegal starring Naseeruddin Shah, Girish Karnad, Smita Patil and Amrish Puri which also won National award for best film. The movie again demonstrated the power of collective might as the movie was financed by a contribution of Rs. 2 by 5 lakh farmers.
The contribution of Amul in development of rural India as well as economic growth of nation is unquestionable. But despite having such a successful business model with powerful social benefits, this model has not been successful in any other sector. Why hasn't India witnessed an Amul in agricultural products, packaged food items, consumer goods or any other sector?. The co-operative model has been tried but failed number of times throughout the world in numerous fields. Then what made Amul so successful which is so difficult to replicate? What did other equally dedicated efforts lack which Amul didn't? The answer probably lies with the people behind the efforts.
The people behind Amul's inception
While there are innumerable heroic deeds and stories surrounding Amul, the two main individuals behind Amul were Dr. Verghese Kurien and Mr. Tribhuvandas Patel. In 1949, Dr. Kurien, was a 28 year Old Mechanical Engineer from Kerala posted in Anand as a dairy engineer in government research creamery. While Mr. Tribhuvandas Patel was a local leader who had been imprisoned number of times during India's struggle for freedom. With the help of his supporters, he found a dairy co-operative in 1946 in Anand. Fed up with his monotonous and unchallenging job, Dr. Kurien was to leave Anand when Mr. Tribhuvandas Patel expressed his desire that Dr. Kurien stay back for few months as they needed an engineer who could oversee installation of the newly ordered machineries. No one then knew that Dr. Kurien would never leave Anand and make it the milk capital of India. The strength of Amul has been this strong bond of friendship between 2 very different individuals – One in his 40's, born and brought up in a village as farmer inspired by Gandhi and Sardar while another an engineer in late 20's having done masters in Michigan University, USA, believer of democracy, already sick of dull government job and looking for a challenge in life. One united more and more villages to set-up co-operative societies, while other brought technology and professionalism to the table. One brought people, other brought processes. One brought grassroots penetration in supplying milk while other brought knowledge and expertise in processing and delivering milk, both keeping bureaucracy and politics at an arm's length. Together they led a revolution where true power lied in the hands of people who followed them, a revolution that envisioned national growth by giving justice and opportunity to the poorest farmer in the remotest village. Both Mr. Patel and Dr. Kurien have been widely praised for their efforts. Mr. Patel was awarded Ramon Magsaysay award (1963) and Padma Bhushan (1964). He has also been member of Rajya Sabha twice. Dr. Kurien is already a world famous personality and has received number of national and international awards. The most notable ones being Padmashri (1965), Padmabhushan (1966), Padmavibhushan (1999), World Food Prize award (1989), International person of the year award (1993) etc.
The future
Today, GCMMF collects approximately 12 million litres of milk from 15,712 village cooperatives with 3 million milk producers daily. It has 47 sales offices and 10 lakh retailers in India. Its product range has expanded from milk and ghee, butter to cheese, health drinks, ice-cream, paneer, chocolates, curd, butter milk, and sweets to now yoghurt and pizza. NDDB now integrates 96,000 dairy co-operatives across India. Amul is one of the most well-known and trusted brand names in India. It has already entered various overseas markets such as USA, Australia, China, Hongkong, Singapore, UAE, Bangladesh, South Africa etc. Having already achieved all this, what's next for Amul? Where does GCMMF go from here? While GCMMF plans to enter newer global markets and launch more products such as Juices and Jams to leverage the brand name of Amul, there are number of ignored avenues which Amul can enter. Most of the focus in the past decade has been in diversification in terms of products and geographical reach. In short, the focus is in increasing the number of customers and the number of products used by existing customers. GCMMF has a huge network of suppliers at grassroot level. While Amul has done tremendous work for their economic upliftment, there is a need now to alleviate their educational and healthcare needs. Certain work along these lines is already done by the Tribhuvandas Foundation, a NGO that primarily focuses on healthcare of women and infants in few districts. This NGO is funded by village level dairy cooperative societies and Amul. This could be the perfect platform to expand into various other districts on a larger scale and broadening their horizon to provide complete healthcare services to poor farmers.
Amul has come a long way since its inception. And we hope there are many more such success stories in India that can then become fables for future generations to read and get inspired.
Swapnil Shah is an engineer from NIT, Surat currently pursuing an MBA from Nirma University, Ahmedabad. Inspired by the rising number of social enterpreneurs across the globe, he wishes to do his bit in making the world a better place. He is currently involved in two student social initiatives – Nirvana at NIT, Surat and the Saral foundation at IMNU, Ahmedabad.
We bring stories straight from the heart of India, to inspire millions and create a wave of impact. Our positive movement is growing bigger everyday, and we would love for you to join it.
Please contribute whatever you can, every little penny helps our team in bringing you more stories that support dreams and spread hope.