Subhas Dutta has spent the last three decades perfecting the dying art of active citizenship. He is the son of refugees from Bangladesh and calls the grand old city of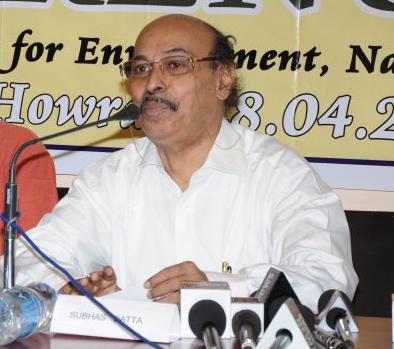 Subhas Dutta has spent the last three decades perfecting the dying art of active citizenship.
He is the son of refugees from Bangladesh and calls the grand old city of Kolkata his home. One could mistake this unassuming Chartered Accountant for a harmless 'Aam Admi' who's just trying to live his life and 'get by'. But underneath those thick rimmed glasses, are a pair of ever watchful, resolute eyes. Keenly observing the changing face of the city he lives in.
For thirty years Subhas Dutta has fought to preserve and protect what's left of Kolkata's fading environment. In the early nineties, the volume of PILs being filed by Dutta eventually led to a special Green Bench being established in the city's high court. It was also the first dedicated bench of its kind in India.
Subhas Dutta has filed more court cases on environment and heritage protection issues than anybody else in India. His day job has certainly lent to his meticulous approach to his activism.
"I do all the research my self, I go to every location personally on a fact finding mission, I take pictures, I talk to all the stake holders and then decide what's in the best interest of the people and the environment before filing each PIL", he shares. Currently, he has 10 cases in the Kolkata high court.
His dogged determination makes him a formidable foe and favourite punching bag for all those inconvenienced by his stand. Wielding great political and financial resources, they have tried to malign his reputation by insinuating his involvement in a molestation and an attempt to murder case. But the man remains undeterred.
"I'm not bothered by this slander. It's no surprise that they want to discredit me, it must mean that I'm doing something worthwhile", he quips.
Each of Dutta's successes is actually a success for the city of Kolkata. He has ensured the phasing out of 1.2 million old and polluting vehicles from the city's roads- which caused 2/3 of the city's air pollution. The annual book fair that used to trample and pollute the main Maidan has now been shifted to a another venue. "The Maidan is Kolkata's lungs and comprises 60% of city's green cover. It was littered with filth and uncared for, parts of it were used as parking space and rubbish was being burnt daily", Dutta explains. His campaign to protect Rabindra Sarobar saw thousands of citizens protesting and writing letters seeking funds and a mandate for its restoration. Dutta's work also ensured that there shall be no private functions in the Shibpur botanical gardens that leave behind a trail of empty bottles and paper plates.
Dutta laments the poor prioritization of environmental issues by our countries political parties. "No surprises here, since the government is the biggest violator of our country's natural resources; either to pursue its own short sighted goals or by allowing environmental degradation by the private sector".
In response to this predicament, Dutta has launched India's first Green Political Party. He was invited to Brussels and London to learn how a small but dedicated group of Green Party members are safe guarding their country's environment and the interest of the citizens in the long run.
"Creating a green political party is the best way to tackle the situation nationally. But no one wants to fund or align with a party that might be a stumbling block to their capitalist agendas." Dutta struggles to keep the green party afloat, even as the citizens of West Bengal pledge their allegiance to him. Internet forums are gushing with support for his work.
The West Bengal Government gives hundreds of crores in kerosene subsidy for the rural poor. Yet, no significant investment is made in solar power. Dutta is also worried about the construction of a Nuclear power plant in an earthquake prone area. "There is a lesson to learn from Japan's recent disaster. Even in the past we have seen poor disaster management by government authorities with the common man bearing the brunt, how can I support a nuclear power plant given these circumstances".
Dutta also feels that the nation is failing it's young with it's lop sided education. "Education of life, community and service" according to him are topics being taught neither in a classroom or at home. "A child today is taught only to be a competitive, self indulgent professional and the few who do go off the beaten path to study environment (care and management), for example, are unable to find jobs". Dutta suggests that taking care of the environment needs to become a mandatory part of Corporate Social Responsibility in India.
West Bengal, like the rest of India; is plagued with public apathy and a contagious sense of impotence among citizens, to change the situation. Subhas Dutta is living his life as an example and a cure, powering through every obstacle, equipped only with his moral discernment and a vision for a better India.
Tithiya Sharma is a former journalist turned backpacking blogger who's traveling the world looking for adventure and inspiration. She's using social media for social good as she finds and meets a hundred everyday heroes and discovers a world worth saving. Check out her quest for inspiration:
The 100 Heroes Project
.
Read all articles by Tithiya Sharma here.
We bring stories straight from the heart of India, to inspire millions and create a wave of impact. Our positive movement is growing bigger everyday, and we would love for you to join it.
Please contribute whatever you can, every little penny helps our team in bringing you more stories that support dreams and spread hope.