So where are my countrymen? I'm in foggy Delhi, finally boarding a flight to Varanasi/Benares/Kashi. And my co-passengers seem to originate entirely from Coloradoor Japan. A polite, professorial type is
So where are my countrymen? I'm in foggy Delhi, finally boarding a flight to Varanasi/Benares/Kashi. And my co-passengers seem to originate entirely from Coloradoor Japan. A polite, professorial type is thoughtfully touching a dog-eared translation of the Upanishads. A pretty woman from Liverpoolcarefully adjusts her spotless white kurta as she settles down next to me. Isn't Varanasi supposed to be our holiest city? So far, there are only eight locals on this flight.
We land into the spotlessly clean and spanking new airport. Sandeep, our guide, looks amused as he welcomes us. My host has requested him to show us the "real Varanasi" for a couple of days. Predictably, he steers us toward the old city. We might just be in time to catch the evening Aarti on the river ghats.
Unfortunately, everyone has the same idea. We are soon stuck in a noisy, slow moving jam of cars, open-roofed rickshaws and random animals all moving toward the river that still remains the hub of life in this city. Sandeep finally gives up and hails a few rickshaws. We climb onto one and wait for our bored sixty five year old driver. From this vantage point, I survey the swirling dust and mayhem around me. A loudspeaker is blaring "Munni Badnaam Hui Darling Tere Liye" and I have just spotted what I think is a Bandook ki Dukaan. My friend mutters that this crowded, cacophonous I-could-be-in-any-small-town-in-UP surely cannot be the City of Light, preferred abode of Lord Shiva. We are disappointed. Even the well-orchestrated Aarti with its loudspeakers and coordinated pundits feels like a bit of a tourist trap.
Sandeep is unruffled. Get some sleep, is all he will say. He is back at four a.m. and laughingly refuses to listen to any groggy protests. It's time to see the Ganga again. The sky is still dark and muggy, but the city is already springing to life. By the time we get into the boat, the gentle pre-dawn light of the sun has begun to envelop the entire river.
It is one of the most stunning sights I will ever see – this first break of day on a regal river. The soft morning light caresses the calm waters and casts a flattering glow on the various ghats. The boatman points out the five famous tirthas that pilgrims walk to and bathe in (Assi, Dashashwamedh, Panchganga, Adi Keshava and Manikarnika) while Sandeep keeps up a steady stream of commentary as we slowly row through the rest. The kaccha clay-banked Assi in the south (the entire riverfront used to look like this before the Maratha kings came in a few hundred years ago. Varanasi is atleast 2500 years old!). The Siddha Kshetra area (close to the Manikarnika), which is full of interesting and important temples that most modern visitors mostly bypass. The Nepali Ghat, with a temple built Nepali style. The Lalita and Sankat Ghats, home to important local goddesses Lalita and Sankat Devi. There are little tidbits for each of the ghats that we see, and there are many such ghats. There is one crumbly ghat at which no couple dares bathe together, for it is said to cause strife and separation to the most loving duos. The famous Sufi saint Kabir (who incidentally was a local) is alleged to have lain hidden on the steps of the Panchganga Ghat in wait of his guru. Yet another ghat (the Trilochan) houses one of the city's more famous svayambhu Shivlingas.
Our chatty, boisterous group is uniformly quiet. The light has been changing by the minute, and the river is now basking in a full, robust sunrise. Flights of Siberian gulls swoop over on their famously photographed migratory paths, but our fancy SLRs stay surprisingly put in their cases – these are moments better savored in full, by the microsecond.
We are handed over to a waiting panda (priest) who is to take us to the Vishvanath temple. The original temple was destroyed and rebuilt over and over again after the 1200s, when the Delhi Sultanate was formed and during various Mughal reigns till the 17th century. This version is built next door to the original site, where the Gyan Vapi mosque now stands. It's tiny and heavily surrounded by the most outrageous pandas I've seen (They ask us, straight-faced, to pay a thousand bucks for a plate of bilva leaves. "Do this for your ancestors, beti"), but the temple is very charming. Right next door is the deeply popular shrine of Annapoorna, the goddess with a ladle in her hand, who promises no one will go hungry here.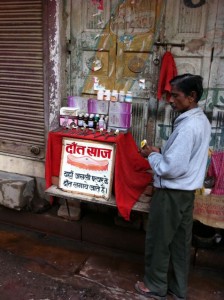 Now we can eat. Sandeep leads us to one of the many shops dotting the narrow lanes nearby – traditional breakfast in Banaras-speak is a plate of kachori subzi, with some jalebis and gulab jamuns on the side. I haltingly ask for something healthier. The owner scoffs cheerfully. "But I make everything in pure ghee, beta."  He finally relents and claps his hands. "Baby ji ke liye bread toast laao." An attendant brings me a plate stacked high with squares of hot toast smothered with their in house white butter. I meekly give in and ask to also taste the puris. They are delicious, as is the rest of the food that we will eat on this trip. Thanks to the influx of tourists, there are the usual pizzas and shawarmas, but honestly, it's the local food that is worth focusing on. For lunch, we eat simple home-style thalis of sattvic, yet incredibly flavorful food. Seasonal sabzis, freshly made achaar, dal, kadhi, luscious green chillies and exquisite papads. Our host still makes missi rotis the old fashioned way, on a roaring fire and insists that we drink the local lassi, hand churned from a cheerfully creamy, full-fat dahi.  For those who would like, pellets of bhang may be added to an early evening glass of thandaai. Everyone enjoys relating the story of the hot-tempered sage Vyasa who was about to curse the city in a state of abject hunger, and was mollified just-in-time with a delicious meal cooked by Parvati herself. But the sage's cantankerous temper still proved to be his undoing. Shiva banned him for other antics from the city save but for a few days, when he's allowed to visit.
A grizzled purohit at the Kaal Bhairav temple (the one place our driver, guide and accompanying locals all join us in visiting – this Bhairav is the city sheriff and account keeper, and a strict fellow, best appeased with good behavior) is amused when I tell him how people react when they hear you are going to Varanasi. Apparently you must give up something dear to you when you come to Kashi. Or you visit only if you are fifty six and over. He points to my shopping bags (we spent most of the afternoon at the local weavers, buying up sumptuous woven silk brocades and saris and drooling over some exquisite jewellery) and asks me if this feels like sanyaas (renunciation). "Indeed, why must you? The four aims of life are dharma, artha, kaama and moksha. You don't achieve moksha at the expense of the other three, you achieve it after you understand the nature of the other three. And pray tell me why you need to suffer so much? What you learn after years of study, you may learn in living playfully, in full mauj masti here." He bursts out laughing when we ask him if people truly do not fear death in the city of liberation. "Who does not fear it? But you may get a better understanding of it, and of life, when you are here. We believe Mahadev is the most gracious of all and will not forsake the city. Dharma may stand on one leg nowadays, but it isn't obsolete, you know".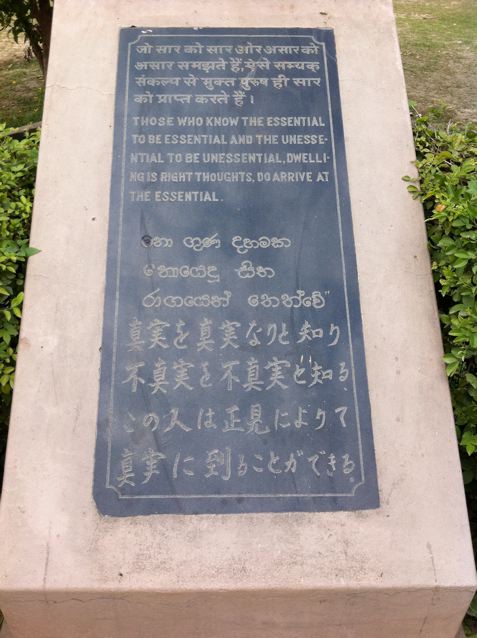 We have two more stops – Deena Chat, where we gorge on golgappas and tamatar chaat (We eat so much that Sandeep finally gives us a look of respect) and Sarnath, just outside the city, where the Buddha turned the wheel of the dhamma. In a city which has attracted seekers of knowledge since 1000 BC, the most famous has to be the Buddha. He attained enlightenment in nearby Gaya, but chose to travel the few hundred miles and give his first sermon in Varanasi, (already a famous centre of learning), where he knew he would have the right audience. Sarnath was also targeted by Qutub-ud-din Aibak in the 12th century so there are only fragments of the original structure, but there is a beautiful fourth century stupa courtesy Emperor Ashoka and the museum is a must-see. This is what I like best aboutVaranasi. There is something for everyone, and the categories more often than not, overlap, so much so, that sometimes they just feel quite irrelevant. The Shaivites, Shaktas, Buddhists, Jains, Vaishnavs, Sufis and countless others converged in one place with one objective in mind – a genuine pursuit of knowledge and the freedom to question, debate, laugh and choose.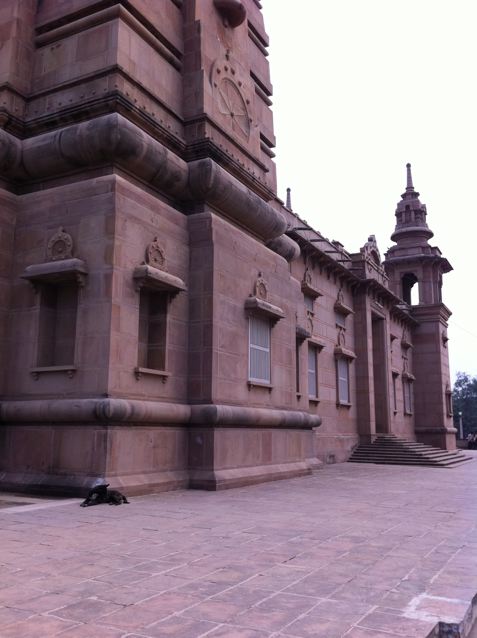 At our lush, quiet hotel, we are asked what we would like for dinner. Thai curry or club sandwich? It is a far cry from the dust and noise of the city outside. There is another group of tourists next to us who is being told about the standard sightseeing package. "Vishwanath-Sankat Mochan-Evening Ganga-with free Yoga Lesson and Hindustani recital" and I can't help but think of what the purohit gently told me the previous day. "There are three kinds of people who come here. The pilgrims, the guide book tourists, and finally those who come because they are meant to. Each individual, regardless of category, will have a different darshan (view) and a different perspective of the same place. You may be a priest, a poor man, or an industrialist. You may be devout or you may be agnostic. It makes absolutely no difference. Kashi itself comes from Kash, the Sanskrit word for brilliance and beauty. Does it matter where you are from or what you believe in? All that matters is what you seek and who you really are. You may see the light it reflects, or you may not. Ultimately, the darshan you get is the darshan He gives."
Aditi Sawjiani looks after Nandini Nalikka, a project that aims to preserve art, design and knowledge in the country. She is currently helping to train and develop products for a group of weavers and tailors in the South.
We bring stories straight from the heart of India, to inspire millions and create a wave of impact. Our positive movement is growing bigger everyday, and we would love for you to join it.
Please contribute whatever you can, every little penny helps our team in bringing you more stories that support dreams and spread hope.