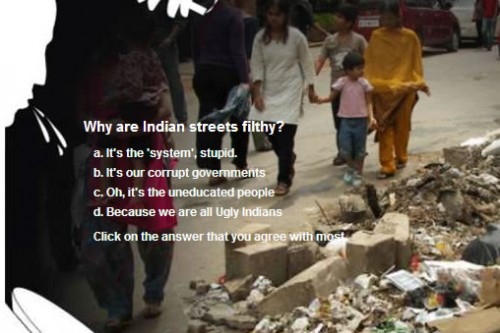 Visit The Ugly Indian and you are asked a question with 4 options. I doubt anyone will *not* click on the obvious answer. And that accuracy in answering the question indicates that we are indeed aware of our apathy towards public spaces, properties and immediate surroundings. But why is that the case? And can this Ugly Indian that resides inside us be banished forever?
To put it in their words:
Will The Ugly Indian ever change? Is there any hope?
Navigate through the site and you will perhaps heave a sigh of relief on knowing that things can be changed. All it needs is our will and cooperation.
There are interesting case studies put up where The Ugly Indian team has managed to completely transform certain shoddy and filthy public properties. One such case is that of a wall that was stained beyond recognition by paan chewers. The Ugly Indian team painted the wall strategically, urged people not to spit around the vicinity and put up pots with palm plants.
The transformation? No one spits on this wall anymore! You can check out the photographs on their site showing how this public space has now morphed into a pleasing sight rather than the eye sore it was. And here is the best part – cost of this entire activity was less than Rs. 500!

As wonderful as it is to read the various changes they showcase, it is also very interesting to know the people  – or the 'not-so-ugly Indians'  – who transformed this public place (which, incidentally, is Church Street – one of my favourite roads in Bangalore).
The people involved are the BBMP garbage staff, the private housekeepers and kabaadiwalas, the shopkeepers, and random passersby.
By transforming Church Street, The Ugly Indian has showed us that such a thing is possible in our country. They see hope. Do you? Would you like to make a change in your surroundings? Then write to them theuglyindian@gmail.com. You can also connect with them at their Facebook page.
And yes, visit The Ugly Indian only if you accept that we can make a difference.