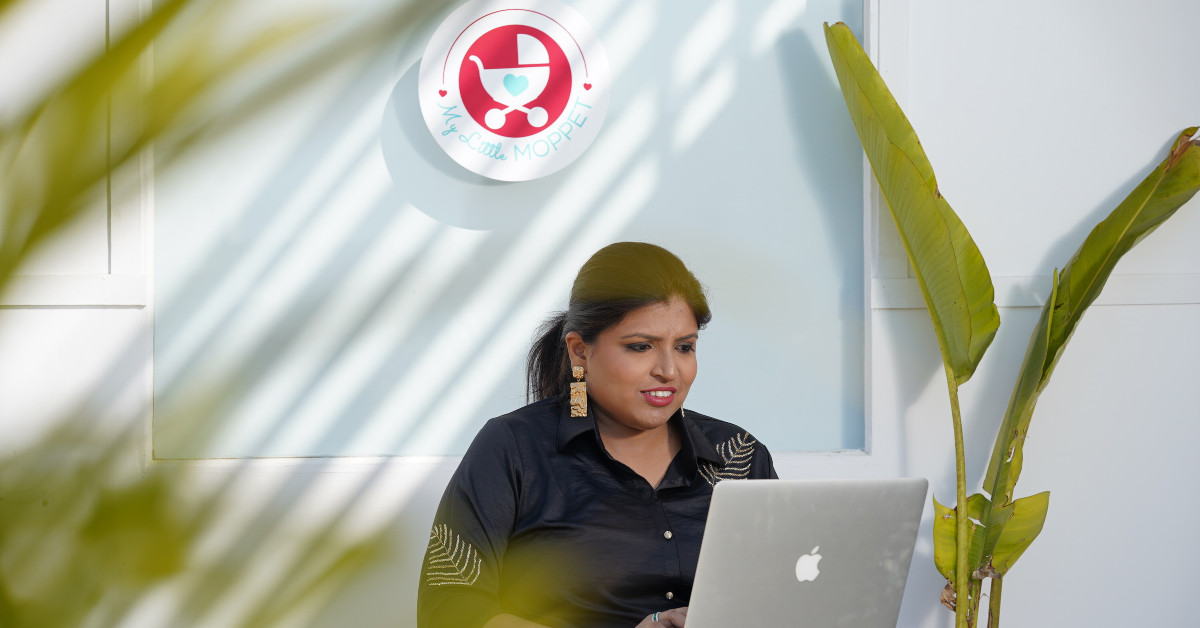 Dr Hemapriya Natesan embarked on an entrepreneurial journey in 2015 by selling nutritious food for children. As a new mother, she shared her family's traditional 'sathumaavu' powder (multigrain mix) recipe
Dr Hemapriya Natesan embarked on an entrepreneurial journey in 2015 by selling nutritious food for children. As a new mother, she shared her family's traditional 'sathumaavu' powder (multigrain mix) recipe on her blog and in mom groups, which ultimately gave rise to Little Moppet Foods.
She describes herself as an accidental entrepreneur who ventured into the world of business with no prior knowledge of it. Her venture grew into a multi-crore business, and the experiences and learnings she gained along the journey have made her a sought-after mentor for many aspiring entrepreneurs.
Little did she know then that back when she began this venture with her mother at their house in Madurai, it would eventually turn her into an e-commerce coach, impacting the lives of aspiring entrepreneurs.
"When I started Little Moppet Foods, I had to learn everything from scratch. I had no experience in food or entrepreneurship. As a physician, I did not know how to build a website or how to maintain accounts. It was just my mother and I handling everything. I made several mistakes and encountered many failures," says Dr Hemapriya.
Within just three years of starting her business, she earned crores in revenue. Not content with one successful venture, Dr Hemapriya expanded her horizons and launched two other e-commerce businesses.
A turning point amidst the pandemic
When the pandemic struck, she encountered shipping, employee, and manufacturing issues. Nevertheless, she adeptly adjusted her business to overcome the multitude of challenges. Additionally, this period also saw people losing their jobs, who approached her seeking guidance on starting their own businesses.
"I was very happy to help. I started conducting one-on-one Zoom sessions to help them out. Unfortunately, some of them started taking me for granted and missed scheduled sessions, which led to many cancellations," she adds.
This experience left Dr Hemapriya disillusioned, and she came to the realisation that people tend to undervalue what's given for free.
Later, a single mother's persistent request for help rekindled her passion for helping others. This determined mother not only embraced Dr Hemapriya's advice but also implemented it, leading to a successful business with substantial sales.
"I realised that there are genuine people whose lives can be impacted. I wanted to positively impact the lives of aspiring entrepreneurs — especially women — by sharing my almost decade-long entrepreneurial experience," shares Dr Hemapriya.
So, in November 2022, the doctor-turned-entrepreneur transformed into an e-commerce coach and began coaching aspiring entrepreneurs, officially. Today, her coaching community boasts over 100 members, many of whom have succeeded in the e-commerce business.
Dr Hemapriya's flagship course 'Millionaire E-commerce Empire' helps aspiring entrepreneurs launch their businesses within 90 days. It comprises pre-recorded sessions designed to guide them "from scratch to launch within 90 days".
Srividya, who runs a handwoven saree business, said that the course helped her tremendously.
"It was my dream to start a business and go online. I didn't know how to handle social media. Dr Hemapriya's course really helped me. I learnt about branding and marketing. She boosted my confidence and I am launching my website soon. I also attended a corporate event after the course. I would recommend Dr Hemapriya's course to anyone at any level of business," says Srividya.
View this post on Instagram
How to launch your business in 90 days?
While Dr Hemapriya helped over 100 entrepreneurs launch successful businesses, many weren't convinced that they could launch a business in such a short time. So she decided to demonstrate what it takes by launching a new business, this time in the public eye, through the 'Ecom Ignite Challenge'.
This challenge aims to demonstrate that aspiring entrepreneurs can launch their e-commerce businesses within 90 days with a modest budget of just Rs 20,000.
To illustrate her coaching, Dr Hemapriya will create a business from the ground up over the course of these 90 days, documenting her daily activities on her YouTube channel. During this challenge, she will unveil the inner workings of launching an e-commerce business — including finding a winning business idea, curating products, creating a brand, building a website, and officially launching the business.
"I am documenting my journey to launch a profitable e-commerce business in 90 days from scratch. I will be building an e-commerce empire live by sharing what I do daily on my channel.  I chose the business niche 'clothing' through a poll on Instagram. I will be creating the business, logo, and everything live with a budget of Rs 20,000," adds the doctor.
The Ecom Ignite Challenge, which started on 25 August, 2023, will end with the product launch on 25 November, 2023, which coincides with the first-year anniversary of Dr Hemapriya's e-commerce coaching venture.
"This is the first time that such a challenge is being done in India. In the world of e-commerce, it is a transformative journey. I hope to ignite the entrepreneurial spirit in new entrepreneurs and women looking to create businesses from the comfort of their homes," adds the entrepreneur.
She calls this "a 90-day odyssey"! But what is the driving force behind this challenge?
Dr Hemapriya says that it's the belief that everyone, with the right guidance, strategy, and determination, has the potential to turn their dreams into reality. Through daily updates and engaging content, participants will not only witness the birth of an e-commerce empire but also gain valuable insights and inspiration to pursue their own entrepreneurial dreams.
Here's how this challenge will help you build your business:
1. One hour a day:  A commitment of just one hour each day will be dedicated to the construction of this business. This illustrates the power of consistent effort, no matter how small, leading to remarkable results.
2. Budget of Rs 20,000:  The challenge will be taken on with a budget of just Rs 20,000, demonstrating that resourcefulness and creativity can surpass the need for a substantial bank balance when birthing a successful venture.
3. Live updates: Daily updates will be shared, providing an unfiltered view of the process — including the highs, lows, and everything in between. This transparency will allow participants to learn from both successes and setbacks.
4. Weekly contests and prizes: Engagement will be elevated with weekly contests, offering participants the chance to win valuable prizes — including free courses and coaching sessions — based on the accuracy of their answers to daily questions.
5. Community and support:  Participants will have the opportunity to join a dynamic community of like-minded individuals who are embarking on similar journeys. This community will serve as a source of inspiration, motivation, and a platform for sharing insights and experiences.
6. Grand launch in 90 days: As the challenge reaches its 90th day, participants will join in celebrating the launch of the meticulously crafted e-commerce business.
"This is an opportunity to challenge the status quo and show the world, and more importantly, oneself, that dreams are not just dreams — they are attainable realities. It's a chance to let the entrepreneurial spirit soar and redefine what's possible," says Dr Hemapriya.
Becoming an entrepreneur is the dream of many people, but not many are able to achieve that. Technology has made it possible for people to start their businesses, be it from any corner of the world. This is especially true for women, who can utilise their spare time to give wings to their dreams.
Dr Hemapriya aims to become the vessel to help women achieve their dreams. The Ecom Ignite Challenge offers a guide to anyone who wishes to learn the nitty-gritty of starting a business.
"I want to help women kick start their journey towards their passion. With the right guidance, you can achieve anything. Many just don't know how or where to begin. I have made many mistakes in my journey and have learned the hard way. I will help others avoid such mistakes and make their venture a success," she says.
You can watch Dr Hemapriya's journey through the Ecom Ignite Challenge here.