India has less than one mental health professional for every 1,00,000 people, and this comes at a high cost for many Indians seeking therapy.
In any Indian metro city, the average cost of counselling or psychiatric consultation is around Rs 1,500 per hour, while some mental health professionals charge as high as Rs 2,000 to Rs 4,000 an hour, according to a column in Mint. So, if you require a weekly appointment, the cost of receiving quality mental health care amounts to Rs 6,000 a month on average, besides the cost of buying medication.
This is something Ekta Prakash Sharma felt required urgent redressal. She has over a decade of professional experience working closely with organisations like the National Human Rights Commission of India under the Ministry of Home Affairs, the National Women Commission of India, UNODC (United Nations Office on Drugs and Crime) and many more prominent organisations on SRH (sexual and reproductive health) and mental health.
"Between the toil and labour of graduating college and working tirelessly for human rights, I began making progress towards what I wanted to contribute to society. It wasn't about completing projects and executing orders but taking charge of the current system that had serious gaps. The pandemic was undoubtedly the moment I needed to take that leap of faith in order to realise this ardent dream," says Ekta, speaking to The Better India.
"Due to the pandemic's prominent themes of loss, despair, and anxiety, there was an urgent need for us to become more conscious of the current state of mental health and the increased demand for psychological assistance. But following conversations with family, friends and colleagues, who were going through high levels of anxiety, I felt my limitations of what I could offer. More importantly, I came to realise that therapy is still very difficult to afford," she adds.
Responding to these concerns, Ekta decided to get connected with people she knew with the requisite domain knowledge and set up a non-profit rooted in professional support, affordable care and personal commitment to further the case of mental health.
Founded in May 2020, Humanising Lives is "dedicated to enabling individuals in leading humane lives by dedicatedly supporting them to heal themselves from different hues of trauma". Through various initiatives, it's seeking to make mental health care affordable.   
Affordable care
One of their standout initiatives in delivering affordable mental health care is the Pro Bono Therapy Project. It began about two years ago during the pandemic.
"With our first batch of psychologists, we conceptualised online therapy and made it pro-bono to make it comfortable for both clients and psychologists to take time and trust one another. In fact, the first time we opened the floor on our Instagram handle, we were flooded with requests. We were quick to realise that we need more people on our team to enhance our services. So, we rolled out different batches of trainees while maintaining the quality of services offered through batch-wise trainers and weekly supervisions with the head of the department," explains Ekta. 
Over time, however, their model has evolved. Today, Humanising Lives works both offline through their office in Noida and online as well via their LinkedIn and Instagram handles. 
"The pro-bono project offers therapy for free only for the first five sessions. This is to encourage both the client and therapist to assess for themselves the concerns and the course of the sessions in case of continuation. This is hoped to at least bring some awareness to the clients and increase their commitment to getting better. After the first five sessions, it's a charged programme. We offer subsidised care at a minimal cost of Rs 500 per session," says Ekta.
Sushree Sahu, psychologist and counselling head at Humanising Lives, says that there are currently 10 psychologists working full-time with the non-profit organisation and 20 psychology interns on the cusp of earning their master's degrees. 
Elaborating on the pro bono aspect, Sushree says, "Close to 80% of our clients end up continuing after completing their first five sessions with their assigned psychologist, following which they  pay a nominal amount which contributes towards compensating the therapist." 
"This is promising for us as it indirectly points towards the quality work of our therapists who work diligently to support their clients. Most clients who continue after the pro bono sessions end up spending many months. This also highlights a very important aspect of therapy — it's a slow and long-term process which brings about shifts in a gradual manner," she adds.
In their quest to deliver not just affordable mental health care, but also address issues of loneliness in big cities, Humanising Lives has started other initiatives. One such important initiative they started recently is called 'Baatcheet', which in Hindi translates to 'conversation'.  
According to Ekta, "Our Baatcheet sessions give people a chance to be fluent with their emotions. It's a space where people can connect with people around them on a deeper level while the whole setup is held together and facilitated by experienced psychotherapists. After all, in our everyday lives, it's very rare to find people who are willing to listen to you with open hearts and no judgement. By providing such spaces, Humanising Lives is trying to build a culture which promotes opening up and makes you feel safe while doing so."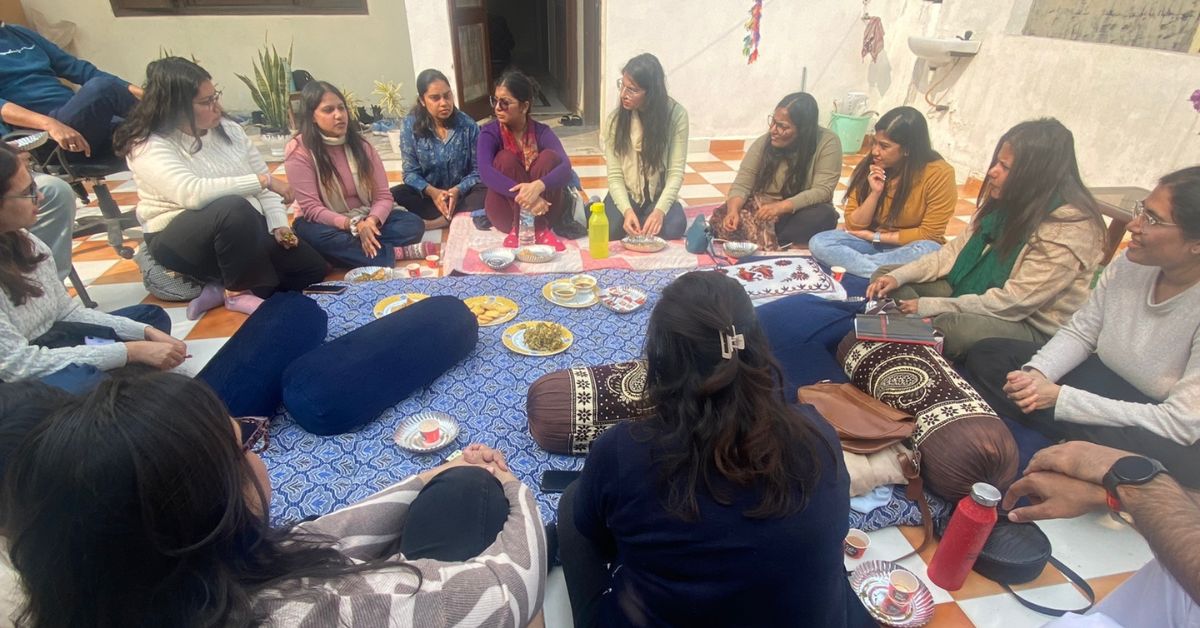 This initiative has been launched in Delhi, Noida, Gurugram, Mumbai and Bengaluru.
Going further, they have also started initiatives for marginalised communities as well. For the past two years, they've been running support groups for more than 50 people from the LGBTQI+ community with trained queer affirmative therapists and two queer volunteers heading it.     
"We have two members from the queer community who are currently working as mental health advocates for the queer population by providing them psychological first aid," says Sushree. 
Meanwhile, Humanising Lives also runs a programme for the reintegration and rehabilitation of prisoners. They provide psychotherapy and counselling to inmates and ex-offenders from different prisons as part of the prison rehabilitation and suicide prevention program for prison officers. Ekta has previous experience working with women prisoners on their sexual and reproductive health and mental health in collaboration with Indian Correctional Administration.
"A lack of psychiatrists, psychologists and dysfunctional state machinery is contributing to worsening mental health conditions in prisons. Treating people during incarceration and providing access to mental health after they're released may reduce recidivism rates," she says.
And the impact of their work has been felt by clients. 
"I saw the story of free pro-bono sessions of counselling on Instagram and thought, 'why not try it?' For years I struggled with speaking my heart out to others, but the pro-bono sessions helped me express myself. My friendly therapist at Humanising Lives allowed me to speak my mind, listened patiently and helped me express things that I never confronted before. The sessions were therapeutic," says Shivalika (name changed), a Delhi-based digital marketing professional.
Meanwhile, Niharika (name changed), a student currently studying in Canada, says, "My sessions with Humanising Lives came at a critical phase in my life. I was going through a lot and finding a therapist was difficult. At this juncture, a friend of mine told me about Humanising Lives. They've been very helpful and the past few months have been filled with growth and realisations. Their non-judgemental approach really opened up new perspectives for me. I still have some way to go in my therapy, but I feel like I'm in a safe and right space."  
Who is delivering this care? 
"The professionals engaged with the clients hold Master's degrees in psychology and start their training period with us. After rigorous rounds of interviewing and Q&A on basic psychological concepts, they are accepted into our Gift of Therapy internship programme. After three months of rigorous training through Gift of Therapy, they're recruited. Post recruitment, they're supervised and monitored closely on their performance, client feedback and professionalism," says Ekta.
"More importantly, we also ensure that our therapists also have each other to talk to and look after one another to ensure camaraderie and support," says Sushree. 
So far, Ekta claims that Humanising Lives has completed over 5,000 hours of therapy sessions. "Going further, more than 2,000 clients have continued to work with us for the long term. We have also worked with over 175 international clients from countries like Canada, United Kingdom, USA, etc. and even other nations like Bangladesh, Turkey, etc.," she adds. 
What more can be done to make mental health more affordable?
According to Sushree, "Mental health insurance is the best way to actually help make therapy affordable to Indians. Most people who wish to engage in the process may get deterred by the costs. Some organisations provide mental health coverage through medical reimbursement policies, but many don't. Another way to address this concern is having more trained in-house psychologists available at schools and offices although people have doubts about confidentiality within the same system. But I believe it's a step in the right direction. When schools and workplaces cover your mental health, it makes it more accessible and acceptable."
With regards to mental health insurance, in October 2022, the Insurance Regulatory and Development Authority of India (IRDAI) made it mandatory for all health insurance policies to cover mental illnesses in compliance with the provisions of the Mental Healthcare Act, 2017. 
Of course, there is still a long way to go to make mental health care affordable in India, but organisations like Humanising Lives have shown that it's possible.  
(Edited by Divya Sethu; Images courtesy Humanising Lives)
Additional sources:
'Unaffordable mental healthcare puts additional stress on millennials' by Paras Sharma; Published on 9 October 2019 courtesy Mint
'Number of psychiatrists in India: Baby steps forward, but a long way to go' by Kabir Garg, C Naveen Kumar, Prabha S Chandra; Published in Jan-Feb 2019 courtesy Indian Journal of Psychiatry
We bring stories straight from the heart of India, to inspire millions and create a wave of impact. Our positive movement is growing bigger everyday, and we would love for you to join it.
Please contribute whatever you can, every little penny helps our team in bringing you more stories that support dreams and spread hope.