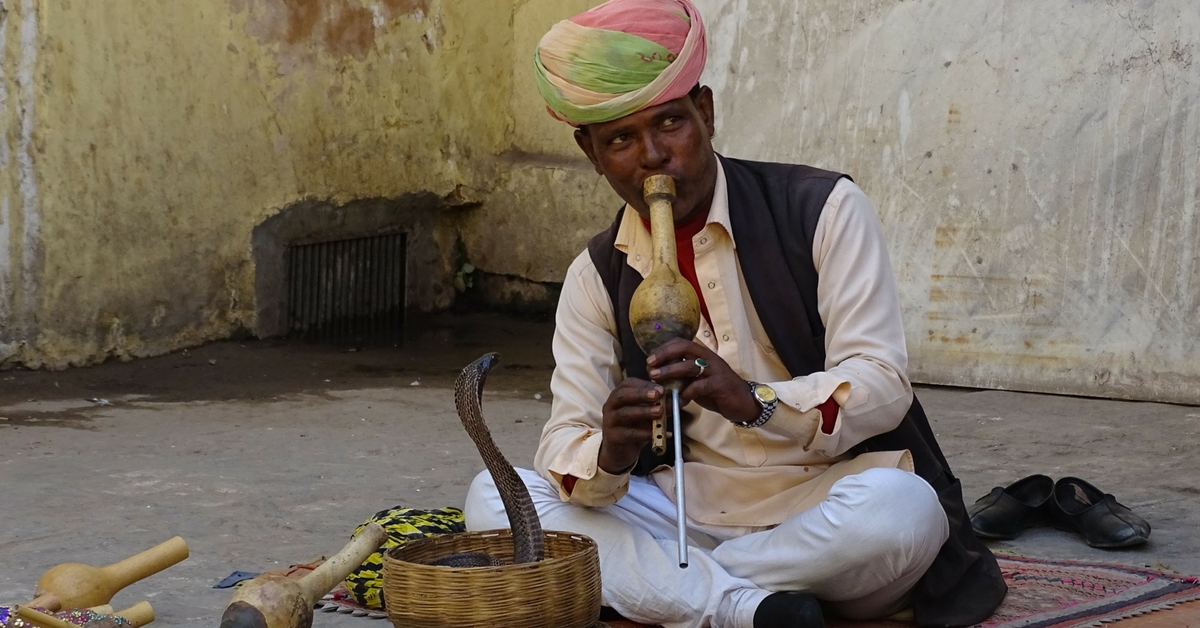 The snake is a powerful symbol in Indian mythology and Hinduism. But due to various beliefs and myths surrounding snakes, every year, thousands of them are poached from the forests for snake charming. Rise in awareness, conservation efforts, and stringent law enforcement have led to a gradual decline of this practice in big urban cities.
Exoticized as 'tradition' in India, the profession of snake charming is one that is rife with cruelty and mistreatment of snakes. Every year, thousands of snakes are poached from the wild and subjected to devastating procedures to prevent any mishaps during handling by the saperas (snake charmers).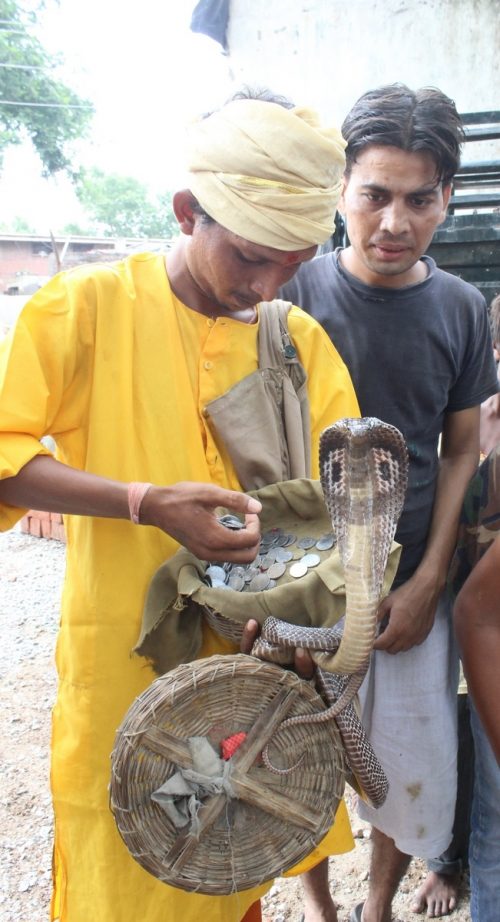 In the case of venomous snakes like cobras, the fangs are crudely extracted, and the venom glands are painfully gouged out or punctured, thus disabling the snake's only means of defense, feeding, and digestion, essentially condemning it to a slow, excruciating death. Non-venomous snakes are not spared either, and have their mouths stitched shut, making it impossible for them to eat. The snakes are starved and kept in dark, cramped cane baskets for the rest of their lives, so the snake charmer can earn money by 'charming'/exhibiting the snake.
The Wildlife Protection Act of 1972 bans, and has a prison sentence for, any form of trapping, snaring, capturing, or even hunting of snakes, and using them for display and entertainment.
Despite the act being a powerful legislation, it is not uncommon for people to commit wildlife crimes, encroach on wildlife habitats, engage in hunting, illegal commercial dealing of wildlife articles, etc.
In their efforts to conserve and protect these largely misunderstood reptiles, wildlife conservation NGO Wildlife SOS over the years has created several employment opportunities for reformed snake charmers. By rehabilitating snake charmers and turning them into snake rescuers, they have been able to harness the tracking and trapping skills of these communities and work with them positively, while providing them an alternative livelihood and income.
Today, these erstwhile snake charmers are helping the organization protect the lives of these magnificent yet highly misunderstood reptiles.
Currently, over 50 families from these communities are working on various projects.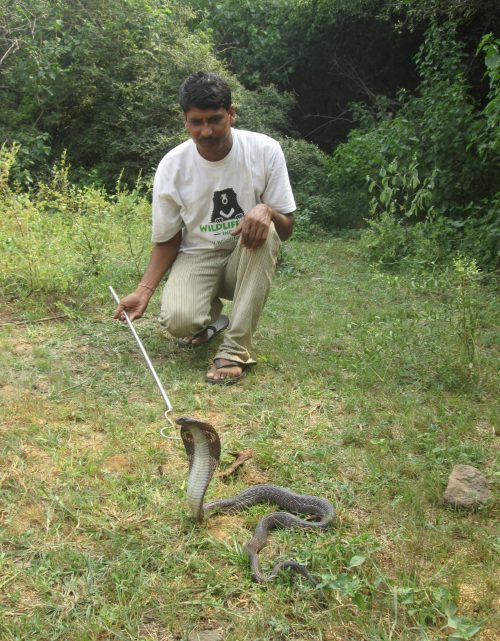 One of the rescuers admits his days travelling through the capital city of Delhi with a cobra in a wicker basket ready for display. "For me, snakes were simply bread and butter." Today, he works with Wildlife SOS in the National Capital Region. Part of the rapid response unit, he handles the wildlife helpline and rescues the very animals he once persecuted. "I've learned to respect them as things that have life and deserve a chance to live naturally in the wild. Now I go around helping people coexist with these reptiles, and encouraging other snake charmers to give up the profession."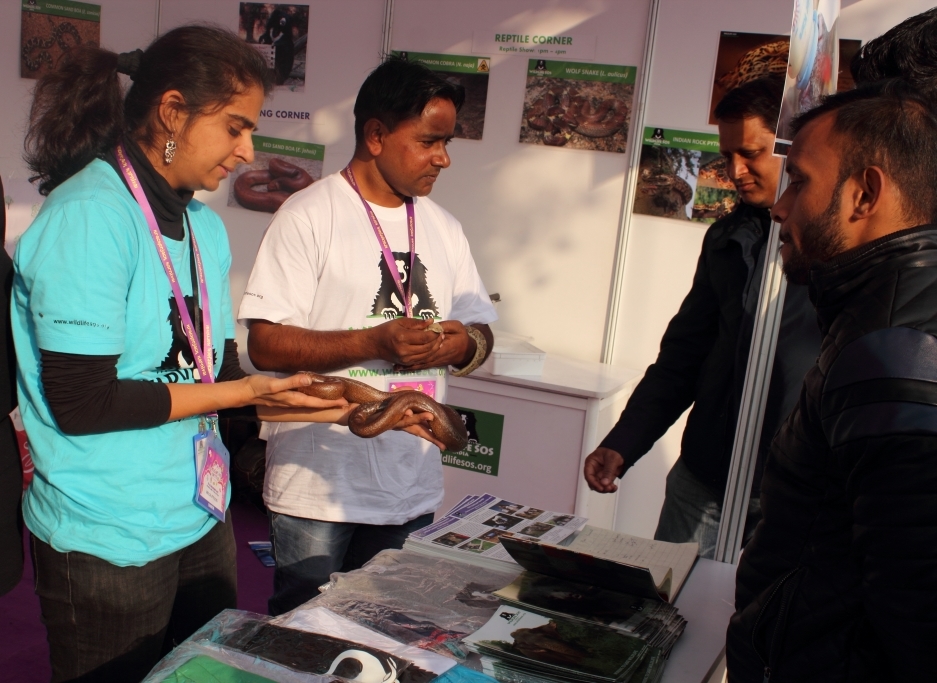 The NGO rescues snakes caught in distress situations. It also conducts programmes and live demonstrations on snakes to sensitize people and impart knowledge about these much maligned reptiles.
The team teaches people how to cope in situations where they would confront a snake. This is becoming a steadily growing reality. Due to rampant urbanisation and altering of natural habitats, wildlife often has to forcibly move into human habitations for survival. Certain species die out due to their inability to survive in such environments. Others learn to adapt to urban environments which bring them into close proximity to human beings. This often results in cases of man-animal conflicts.
Wildlife SOS's team shows people how to identify a venomous snake from a non-venomous one without getting too close. It also shares steps to primary first-aid in case of a snake bite. The interactions also help bust some popular myths and false perceptions about snakes. These help people get rid of baseless fear.
Wildlife SOS urges tourists and locals to avoid giving alms and encouraging snake charmers using snakes for display and entertainment. This is an act of cruelty towards animals and promotes the illegal possession of protected wildlife species.
Help Wildlife SOS raise rescued animals by donating online.
Like this story? Or have something to share? Write to us: contact@thebetterindia.com, or connect with us on Facebook and Twitter.
NEW: Click here to get positive news on WhatsApp!