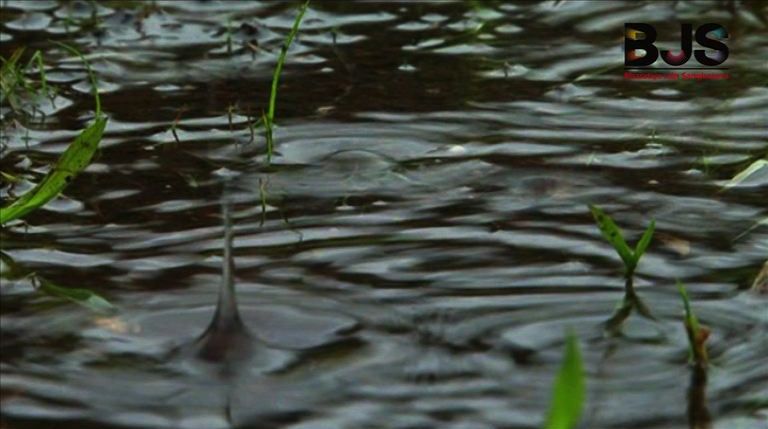 The incredible story of how a man from Beed and his NGO took on dried lakes and water bodies in drought-prone districts of Maharashtra and revived them. The scale of operations and the superlative management of resources for bringing to life 85 water bodies in a span of 3 months is straight out of an MBA case study!
The story of how a man from Beed and his NGO took on dried lakes and water bodies in drought-prone districts of Maharashtra and revived them. The scale of operations and the superlative management of resources is straight out of an MBA case study!
Chances are summertime paeans are unheard of in many districts of Maharashtra, the third largest state in the country. Reason: summers do not portray a picture one would like to sing about. They are anything but picturesque. A merciless sun, parched lands, not a sight of greenery, abandoned fields, dried up dams and wells, long serpentine queue of women, children and men waiting for water tankers, idle farmers taking refuge in cattle camps and a general pall of gloom is what one gets to see in an otherwise bountiful state, which is one of the country's biggest producers of sugar, pulses, cotton and soybeans.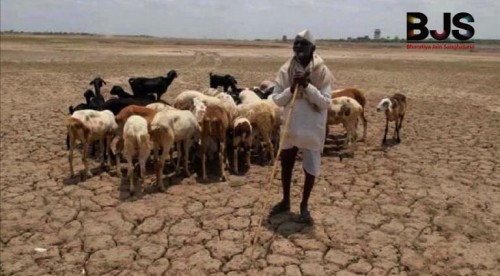 Drought in Maharashtra
Maharashtra has been facing drought for more than four decades and it's been only getting worse each year. Last year, in 2013, Maharashtra faced one of the worst droughts in more than four decades affecting nearly everyone after receiving less than 50 percent of the average rainfall during the last two monsoon seasons. Marathwada region was worst-hit with water levels in big dams falling rapidly. January 2012 had recorded 43% live water storage in dams of Marathwada compared to only 13% in January 2013. By March 2013, it had reduced to 8%, and by May 2013 majority of lakes – small and big – had gone dry.
First-hand Experience of Drought
Not many have experienced the abject reality of drought like Shantilal Muttha. For Shantilal, the Founder & National President of Pune-based NGO Bharatiya Jain Sanghatana (BJS), was born in Dongarkinhi village in Patoda taluka of Beed district, an area that is severely drought prone owing to rocky terrain and little top soil. Water scarcity aggravates the situation further, hampering agriculture and crop produce.
What makes this district unique is that it has the largest number of seasonal migrants as compared to other regions of India, who are forced to relocate to sugarcane factories to work as sugarcane cutters for a living. The relocation also hampers the education of children, who accompany their parents, although government-run temporary schools – Sahakar Shalas – try to fill up the gap. Till day, the situation in Beed has remained pretty much the same, resulting in little socio-economic growth.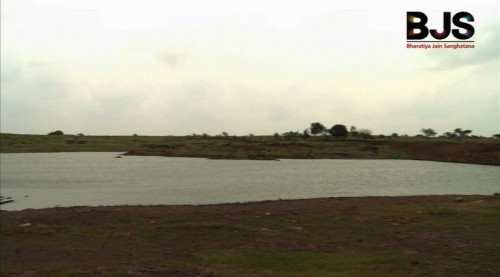 As a child, Shantilal had experienced the adversities of migration as his family moved to the sugarcane factory in Pravara area for putting up a shop supplying provisions. He had closely observed the hardships that men and especially women encountered as they toiled hard, along with their young children. So, when the Marathwada region was once again on the brink of drought last year, Shantilal decided it was time for him to do something about it.
To their shock, he and his team found the situation was far grim than they had envisaged — for the first time in the past several years the Godavari basin area and several of its water bodies – village lakes, minor and medium irrigation projects, and percolation tanks, were going completely dry. The situation had reached intolerable levels. Poor monsoons or absence of adequate water conservation measures would mean further losses to the people, who were already languishing in scarcity.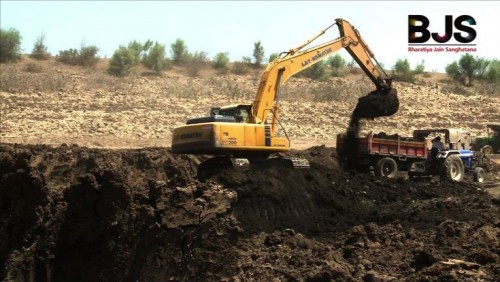 Action Plan
On February 26, 2013, he called a meeting of all Maharashtra State BJS office bearers to take stock of the situation and draw out an action plan for drought relief intervention. Shantilal got his team to conduct a quick survey of the district, which revealed that water sources for villagers – small lakes and tanks that have existed or been constructed since the past 40-50 years – were packed with silt.
Absence of any desilting measures had resulted in reduced water storage capacities and also hampered ground water recharge process. He and his team went through a research paper published by the Maharashtra Engineering and Research Institute (MERI) of the Water Resources Department, Nashik, which corroborated the fact that Marathwada faced high siltation rates compared to the rest of Maharashtra. The paper highly recommended desiltation both for increased water storage and for using the nutrient-filled silt for improving soil fertility.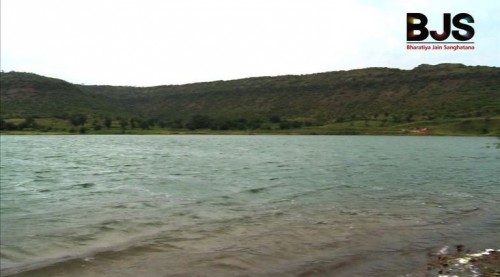 Revival of Lakes Campaign Begins
Armed with knowledge, technical guidance from PriMove Infrastructure Development Consultants, and cooperation of the District Collector of Beed, BJS surveyed all small lakes, medium irrigation projects and percolation tanks in the Ashti, Patoda, Shirur, Beed and Gevrai talukas of Beed district. It identified 125 such water bodies that needed to be desilted and launched a massive campaign.
Benefits of Desilting
• Desilting enhances (restores) the water storage capacities of water bodies. The more the quantity of silt removed, the more would be its storage capacity.
• It makes way for water to seep, thus recharging ground water to be tapped through wells. Thus, water availability to villages for drinking and irrigation increases.
• The excavated silt that is high in nutrients when spread on the fields improves the soil quality and fertility, leading to lesser use of fertilizers, lesser expenses and better chances of good crop produce.
• In the desilting process, incomplete repair works in the tanks also gets done.
• It has the potential of eliminating drought conditions in the future.
• It provides more employment opportunity locally, reducing migration of sugarcane cutters and bringing stability to their life.
The daunting task needed to be carried out on war footing and accomplished in a month's time – before the advent of monsoons. For this purpose, Shantilal himself shifted residence to Dongarkinhi, along with his team from the BJS head office in Pune, and stayed there for a month. He went from village to village, held meetings with the Sarpanchs and villagers, to garner support and participation of people in carrying the silt from the sites to their fields.
Hundreds of BJS volunteers in the area were seen working late into the night. Around 100 JCB and 35 Poclain excavators were brought from Aurangabad, Beed, Pune and Mumbai. Around 150 staffers of BJS' Value Education Project shouldered various responsibilities in and around the sites. BJS' nodal office in Dongarkinhi monitored the daily reports sent by its staff via SMS texts.
Several excavators worked 24/7 and any difficulties arising in the field were handled efficiently by its well-set management system. The cooperation of the District Collector, Tehsildar, the Zilla Parishad and the irrigation/ water resources authorities also provided a much-needed shot in the arm of the Desilting Campaign.
Establishment and Management of Cattle Camps
Simultaneously, Shantilal kept a close eye on the other part of drought relief operations – setting up cattle camps (Chaara Chhavni) since March 18 to deal with the most pressing and urgent issue of cattle care and protection in drought-prone areas. Within a fortnight of setting up camps, 30 such camps were established in seven districts of the worst affected region of Marathwada, thus creating home for 10,000 cattle.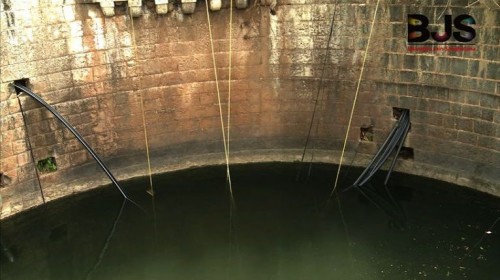 The BJS volunteers, who committed themselves for this activity, were provided the necessary training in cattle-camp management by experts. Care was taken to lab-test fodder for its nutritive content before procuring it. Specially prepared cattle feed and mineral mixture was added to the cattle diet, and two train-loads of 1500 metric tons of fodder was purchased and transported from Madhya Pradesh to Maharashtra and sent to the various camps on April 13. BJS also arranged for insurance cover for every animal and every camp. The project emerged as an ideal model for running and managing cattle camps.
Campaign Conclusion
Out of the 115 water bodies that were undertaken for desilting, work was fully completed in 85 of them out of which 15 were done manually. Work in 30 large water bodies, though incomplete, had to be stopped due to rains.
In all, about 20 lakh cubic metres of silt was excavated. About 2500 hectare of land received the silt and the cumulative water storage capacity was increased by 20 lakh cubic metres.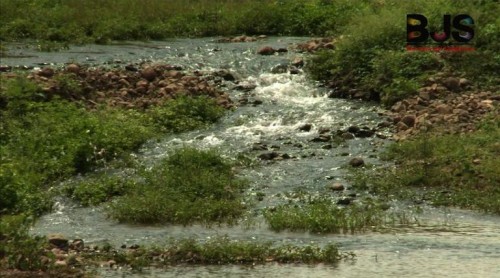 Finally, on June 11, 2013, the campaign ended with a celebratory event to acknowledge and recognize the hard work put in by hundreds of volunteers, who worked day and night to make the intervention successful. Pre-monsoon showers hit the region in the first week of June and water started accumulating.
BJS's success with the Desilting Campaign has shown the way for others. Little drops of water make the mighty ocean…A small step undertaken by Shantilal and his men converted the 2013 drought into an opportunity!
About the Author: Rajeshwari Sharma is somewhere at the start of a lifelong affair with words. She currently consults for an education NGO in the areas of communications and social media. A former journalist (worked with the Economic Times, Thomson Reuters, Mint and SHRM), who has veered from writing on Food & Lifestyle, Arts, Books, US Equity Markets to HR, workplace issues, and Education.
Tell Us More
We bring stories straight from the heart of India, to inspire millions and create a wave of impact. Our positive movement is growing bigger everyday, and we would love for you to join it.
Please contribute whatever you can, every little penny helps our team in bringing you more stories that support dreams and spread hope.