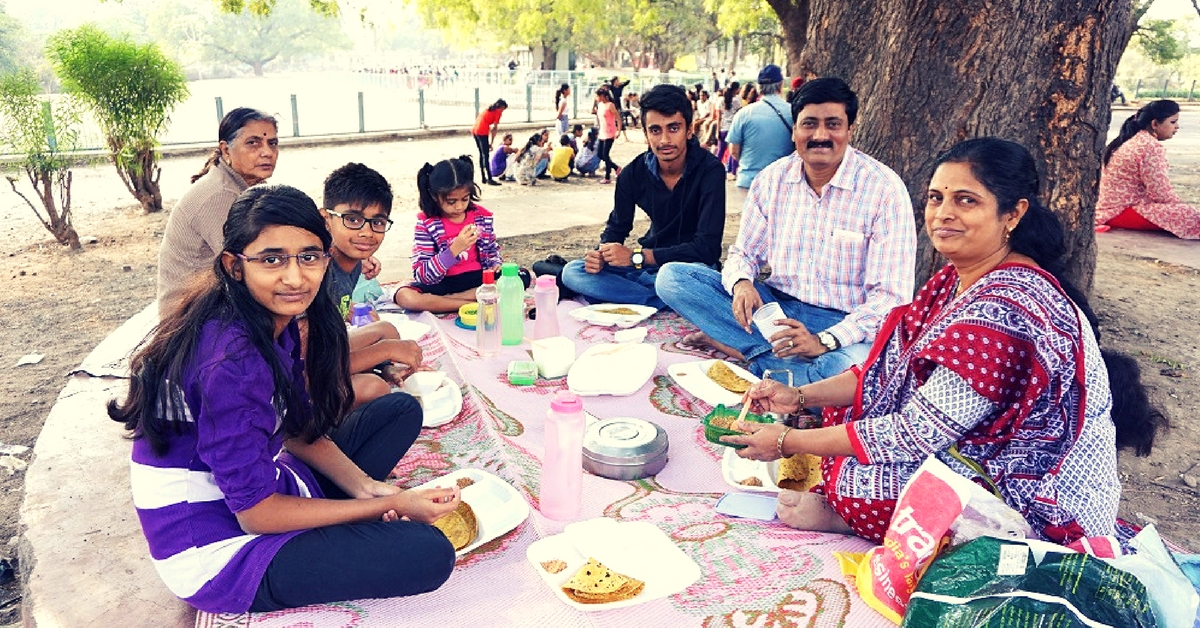 The eating habits of the average Indian has undergone some changes over the past 50 years. Statistics produced by FAOSTAT indicate that the nation is consuming more on the whole, but it's not all bad news. Indian's are living longer than ever before!
The eating habits of the average Indian have undergone some changes over the past 50 years. Statistics produced by FAOSTAT indicate that the nation is consuming more on the whole, but it's not all bad news, Indian's are living longer than ever before!
The Food and Agriculture Organisation of the United Nations (FAOSTAT) analysed the consumption patterns of countries across the world over a period of 50 years (1961-2011).
It analysed the average person's consumption in the six main food groups: grain (rice, wheat, maize and other cereals), dairy and eggs (milk, animal fats), plant produce (vegetables, fruits, starchy roots), meat (beef, pork, poultry, seafood, other meat), sugar and fat (sugar and sweeteners, vegetable oils, oil crops, sugar crops) and others (pulses, alcoholic beverages).
Here's what it found for India.
In 1961 the average Indian had a daily calorie intake of 2,010. Their daily diet consisted of 43% grains (378g), 23% produce (199g), 12% dairy & eggs (108g), 12% sugar and fat (108g), 2% meat (17g) and 8% as other (68g).
In 2011 the average Indian had a daily calories intake of 2,458. Their daily diet consisted of 34% produce (450g), 32% grains (416g), 18% eggs and dairy (235g), 10% sugar and fat (129g), 2% meat (29g) and 4% as other (58g).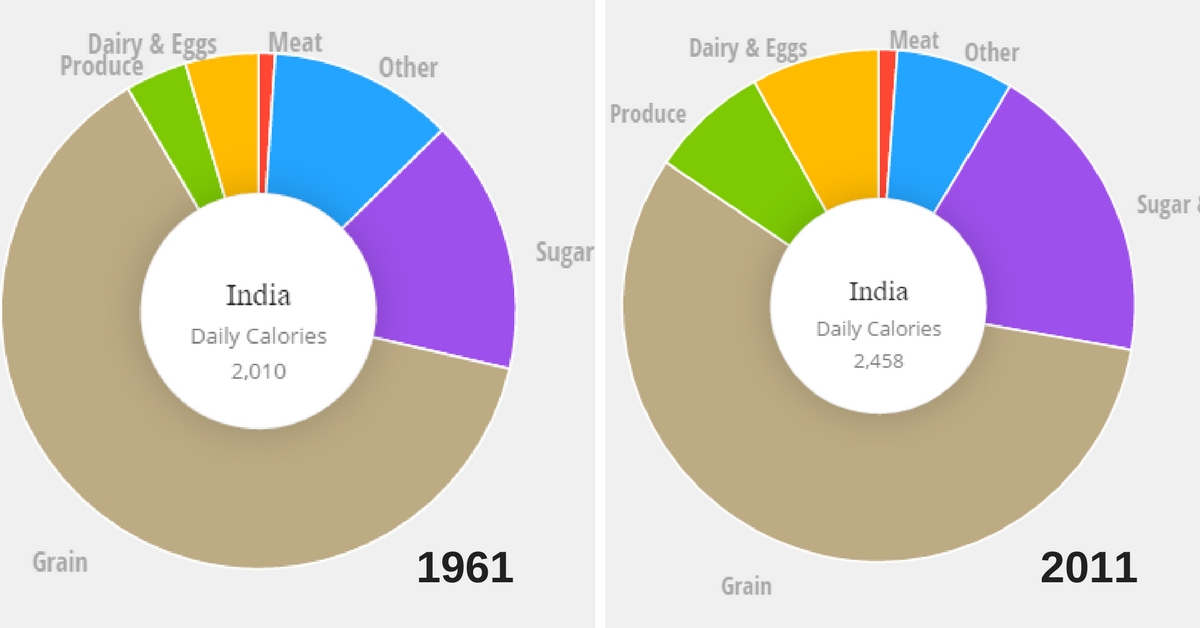 And in the past 25 years…
The average daily protein consumption has risen from 55g per day to 59g per day in the past 25 years (from 1990-2015) with the protein from animal consumption increasing from 9g per day to 12g. The share of dietary energy supplied from cereals and roots has decreased from an average of 66g per day to 59g.
The number of people undernourished has fluctuated, dropping from 210 million to 177 million between 1990 and 2000 before dramatically increasing between the years 2004-2006 where the recorded number of undernourished people shot up from 177 million to almost 240 million in the space of just 5 years. That figure has steadily been declining since 2006 and has remained consistent since 2009 to present at around 194 million.
So, what does it all mean?
The above statistics show that the average Indian is consuming more calories than they did 50 years ago. India's consumption of eggs, dairy and plant produce has increased more than two-fold in this time. Whilst the average Indian diet remains primarily vegetarian, the consumption of meat and animal-based products has also increased. Furthermore, the consumption of grains has decreased whilst the average daily sugar and fat intake has also increased.
Despite all the changes and regardless of its fast-growing population and economy however, India remains one of the most vegetarian countries in the world.
Primarily next to Rwanda and Ethiopia, Indians consume less meat per person than any other country.
The Changing Indian Diet
Over the past 50 years, India has changed remarkably as a country. It's population has more than doubled during this time and so has its economy. It's only natural then that this has had some impact on the nation's diet.
As a matter of course, diets vary and evolve over time. For the average Indian, this has certainly been the case. Factors such as income, food prices, individual preferences and beliefs, cultural traditions, as well as geographical, environmental, social and economic factors have all influenced changes in diet, both on an individual and on a national level.
A very brief glance into some of the major changes in India's recent history can offer some insight  into the factors affecting dietary changes in the past 50 years.
Not too long before the official start point for these figures, in 1961, India had faced one of the world's worst recorded food disaster, the Bengal Famine in 1943. Shortly after, by the end of World War II, poverty and hunger were in abundance and this resulted in various malnutrition-related epidemic disorders. Poverty drove people to walk long distances and eat a simple diet. The food imports, therefore, concentrated largely on cereal grains. This no doubt had a lasting impact on the eating habits of those affected at that time.
A decade later in the 1970s, the 'White Revolution' by the National Dairy Development Board (NDDB) made milk and other dairy products more easily and widely accessible. The usage of ghee, butter, paneer, and cheese enhanced the diet especially of the urban Indians thus pushing up the averages for the national daily intake of dairy and animal product.
More recently, the influence of Western products and eating habits has increased significantly as well as the modernisation and industrialisation of food production processes.
Traditionally, the Indian diet uses less processed ingredients and more natural ingredients than that of Western countries and it's culture is more geared towards a sit-down meal with family or friends, unlike the West whose inhabitants are more likely to grab a meal on-the-go.
Particularly in metropolitan areas and among younger generations, however, this tradition is slowly changing. Many processed and convenience foods such as pickles and papads  are now easily available as well as the popularisation of Western foods such as pizzas, burgers and fries. All such factors are playing their part in bumping up the national average of fat and sugar.
So, are Indians becoming unhealthier?
Well, if we were to judge this based on the length of time that people are living for, we may be coerced into saying that no, they are not. In 1960 the nation's life expectancy was only 42 compared to 68 in 2015. But if we look at the wider picture, at rapidly rising health issues gripping the nation, it would be difficult to draw the same conclusion.
A study by the World Health Organisation (WHO) reported that 8.7% of the world's diabetes sufferers (or 69.2 million people) live in India. Yes, the nation's people might be living longer, but they aren't necessarily enjoying good health in their later years.
There is no doubt that authentic Indian food is healthy. It is full of 'superfoods' that Western countries are only just starting to catch on to. But, are all traditional Indian foods healthy and fit to be consumed by the modern man? It's questionable. With time, needs change. As consumers, the average Indian today is a lot more informed about food than 50 years ago and they have more choice. Unfortunately, however, more choice does not always mean better choice.
For more stats and information click here.
Like this story? Or have something to share? Write to us: contact@thebetterindia.com, or connect with us on Facebook and Twitter.
NEW: Click here to get positive news on WhatsApp!
Tell Us More
We bring stories straight from the heart of India, to inspire millions and create a wave of impact. Our positive movement is growing bigger everyday, and we would love for you to join it.
Please contribute whatever you can, every little penny helps our team in bringing you more stories that support dreams and spread hope.