Some people are lost in their own misfortunes, but for some rare gems, misfortunes make them stronger and more compassionate. Ritu Biyani is one such person. Her own suffering with breast cancer made her take it up as her life's mission to spread awareness among urban, rural and tribal reaches of India. Sagar Vishnoi had a chance to interview this outstanding woman.
I met Ritu Biyani last year, when she was in the capital as a speaker at DEF Mobile Summit for being honoured as 'Ordinary women doing extraordinary things' in Red Rickshaw Revolution.
I was moved after meeting her. I saw her inspiring journey through her words. Ritu is a Record Holder – Limca Book of Records India for being the First Woman to do a solo drive to the four tips of India & the First Mother-Daughter Duo expedition on cancer awareness across the country with many more laurels.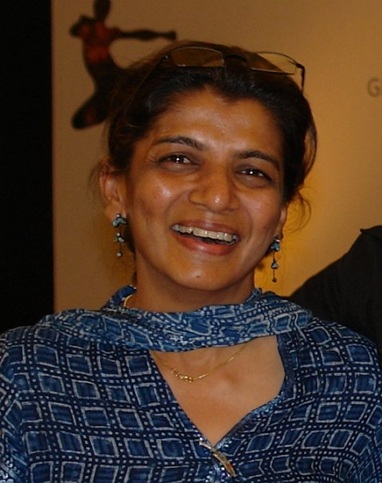 Dr Ritu Biyani Joseph, a breast cancer survivor in 2006, launched High>>>Ways Beyond Cancer, an amazing and unique drive to link adventure sports with cancer awareness mission across the country. This was the first project of its kind undertaken in India, thus creating history. A dental surgeon by profession, a mountaineer, skydiver, paratrooper and a wonderful person to chat with, here she tells us about her mission:
How did this extraordinary journey by an ordinary woman begin?
Ritu: It was August 2000 and chemotherapy led me to go bald. A dental patient came in and asked whether I had a tour to Tirupati. When I told her about my breast cancer treatment, she stood up and left the clinic thinking cancer is a communicable disease. People are literate today but they still have misconceptions. So, in order to spread awareness, I used my passion for travelling and began this mission.
What was the reaction of the people in your awareness workshops and how much are people aware of breast cancer, which is considered as "taboo" in our country?
Ritu: Different reactions came. Initially people asked: Tumhara breast nikal diya gaya kya? (Did they remove your breast?) Whether it's urban or rural, 90% women are unaware of breast cancer symptoms and 70-80% about cervical, oral and other cancer in the country. People In the tribal areas were very receptive. In six months journey, I held 140 workshops where 26,000 people attended, covering 30,220 Kms in 177 days, including 26 states.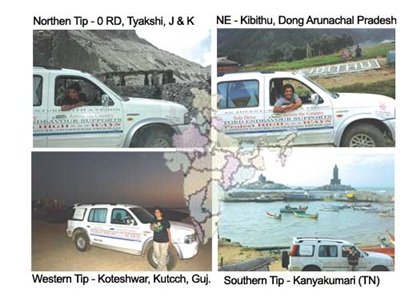 Were men also receptive in the same way and what problems you faced during the journey?
Ritu: Cancer doesn't discriminate. I included graphics, pictures to engage people and when I used to tell the men that 1% of males also get breast cancer, they used to listen with more interest.
I have traveled in and know rural and tribal conditions very well from my stint in the Indian Army as Captain (1982-92). So we had only challenges and not problems in front of us. We slept without beds, stayed in tribal homes and not hotels – it was all part of the journey.
What are your future plans? Shall we expect to see another pan-India awareness campaign?
Ritu: Well, for now workshops are being conducted in corporate, schools, MBA colleges, hospitals and Army camps. In 2010, we had our first International awareness workshop, and for the time being we are focusing on more cancer drives nationally and internationally.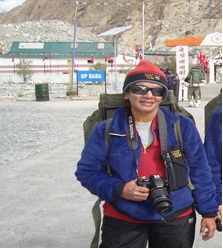 What was your source of funding and how were you supported?
Ritu: Our journey was sponsored by a company but we normally raise funds for our projects from people. Regarding support, if we are passionate about a mission, everyone supports us. So I have got immense support from my family, and wherever I have been, I have received amazing support from the natives and army.
What message you would like to give to youth, to come ahead and lead like you?
Ritu: Some lines I want to convey, as this is the motto of my life:
EXPLORE…one's own inner strengths and spirits
To UNLOCK and EXPAND…one's own horizons
STEER through all odds and trying times…on the highways called life
OVERCOME…the fear of unknown in one's roller coaster quest
EXPERIENCE…those exhilarating moments of going beyond
To CELEBRATE…the whole existence.
Sagar Vishnoi is an entrepreneur running a digital media company (Admundo) in Delhi. He is associated with different social campaigns, like occupy polling booth (Electoral awareness), Project Spot (Spot-fixing ), Rayons Society, Bareilly (UP), and currently a REX Karamveer Global fellow (Instituted by UN). He loves writing in Hindi and is a theater actor as well.