Soon after the massive 2013 Disaster in Uttarakhand, a group of volunteer doctors from Chennai along with their friends and acquaintances from across country came together, planned, and successfully conducted a week long Medical Camp for the disaster affected people at a remote and inaccessible Bhatwari village in Uttarkashi Distt. The incredible story of relief work and cooperation by Good Samaritans as narrated in TBI Uttarakhand Diaries won over many hearts from across the world. Buoyed by the encouragements, they went on to perform few commendable follow up actions too. We revisit them almost six months later to see what they are up to.
Washing Away Their Worries
While returning after the successful conduct of medical camp, the Chennai Doctors Team visited a Rehabilitation and Resettlement Institution named Premdham in Bijnor Distt.Premdham is an young charitable society looking after physically or mentally challenged destitutes and orphans of surrounding areas. It is being run by a group of young volunteer priests. Being the lone such institution on the stretch between Delhi and Varanasi, it is highly sought after and has already 83 inmates.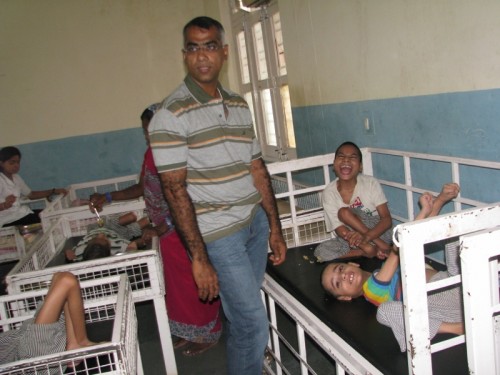 The daily laundry tasks at Premdham Ashram involve huge manual effort and great amount of time. On cold winter days, this daily ritual adds to their woes. Both volunteers and inmates have been fervently hoping to get a heavy duty washing machine to ease their unending misery. The Chennai Doctors Team appeared as the proverbial angels who volunteered to provide one such machine to the institution.
Capt (Retd) Ram Kumar assumed the role of coordinator of this noble project. Using his extensive business network, Ram was able to scout, shortlist and finally select an excellent machine manufactured by Star White Laundry Equipments in Hyderabad. His friend Mr Ravi Gupta, a man with a similar helping attitude, concluded an excellent deal for Rs 2.7 lac for a piece worth about Rs 4.5 lac in the open market.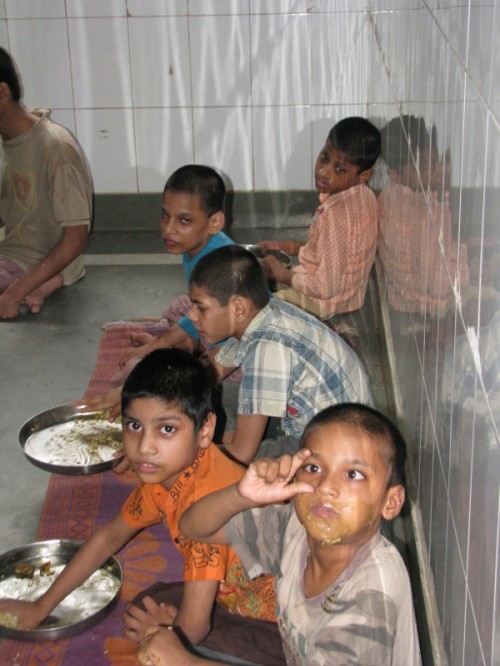 Once the machine was selected, the process of fund collection started. Dr Sripriya and Dr Jayashree, very enthusiastically spread the word among their friends and acquaintances. The funds started flowing in with unexpected swiftness and quantity. The enthusiasm and bigheartedness of donors was a surprising eye opener. It deepened our conviction that in this country there is no dearth of good Samaritans willing to contribute for any noble cause. A sum of Rs 3 lac was collected from 22 donors in no time.
The machine was purchased, transported and finally installed at Premdham in Feb 2014. It was a highly satisfying experience for Ram and his team in helping Premdham realize their longstanding dream. He visited the Ashram personally on 25 Feb 2014 for the inaugural run of the machine.
I am so glad that I visited Premdham to witness the impact of our mission borne out of meticulous planning and execution. I am happy and proud to look at the relief that this has brought to these people. So much (at least 4 hours a day) time saved and imagine the caring man hours lost in their effort in washing their clothes every day. Heartening to see the smiles, giggles and chuckles from the inmates when the machine was working. Great Job..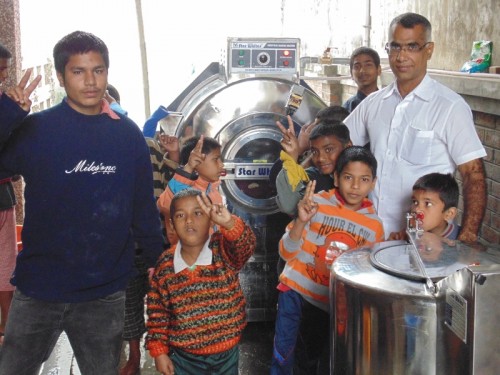 The good Samaritans of Chennai Doctors Team and their friends can have the pride of ushering in little succor to the inmates of Premdham and the sense of performing a noble deed.
Compassion Can Heal Everything
The news about Chennai Doctors Team has reached even the remotest corner of Uttarakhand. Mr Tajber Singh, another victim of 2013 Uttarakhand Disaster from Ghat Village in Chamoli Distt approached the Team for medical and financial help. His three year old daughter, Prati, had suffered severe burn injuries in a fire accident which completely deformed and disabled her limbs. She required expensive plastic surgeries to correct her condition.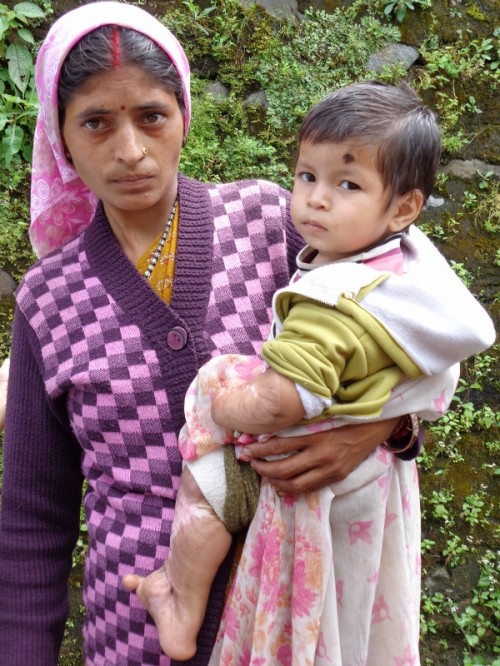 Dr JK Reddy, the jovial pediatrician, an extremely compassionate and big-hearted soul, volunteered to do the needful. Two of his doctor colleagues, Dr Roshni Gopinath, an eminent plastic surgeon and Dr Sankar the Orthopedic surgeon of Appollo Hospital, Chennai have volunteered to conduct surgeries without any fee. Dr Reddy with his earnest efforts got Dr Sathyabhama, Director of Medical Services, Apollo Hospital, Chennai agree to waive off the entire hospital charges.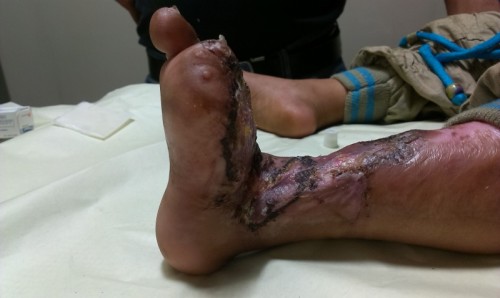 In Jan 2014, young Prati along with her father traveled all the way from Uttrakhand to Chennai, and successfully underwent the surgeries to the great relief of her parents. Dr Rachna Mishra, another friend of Dr Reddy and a well wisher, with the help of her businessman friend, Mr Sarath, arranged for a month long stay at Chennai free of cost for post-surgery recuperation. Tajber Singh, the helpless poor man had only good words and praise for all his benefactors:
Initially I was scared of traveling out of Uttarakhand to an unfamiliar and far away Chennai. However, the response I got and the way doctors and others treated us, I can't explain. It was so nice, so helpful that I never felt I was out of my village. They are all very good people.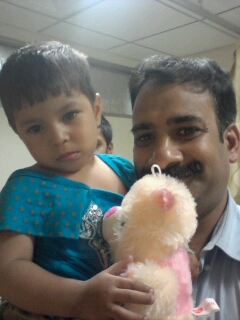 After complete recovery, Prati and her father returned to Uttarakhand and are leading a normal life. For Dr Reddy and his Samaritan friends it was another opportunity to help the children of lesser gods.
The Promise of Better Lives
The TBI story on the Chennai Doctors' relief work at Uttarakhand had reached foreign shores too. A recent enquiry by Kiran and Devi Patel of Better Life Foundation has opened up another avenue for follow up action.
The Better Lives Foundation, a UK based charity, run mostly by Persons of Indian Origin, has been organizing regular medical camps in Sierra Leone for past 8 years and also runs a hospital there. They did a camp in Gujarat too in the past. Kiran now wants to undertake something similar in Uttarakhand and take forward the good work of the Good Samaritans.
Dr Sripriya, Joby Joseph and Major (Retd) Jamnal were extremely forthcoming and enthusiastic in sharing their treasure of knowledge and inputs on conduct of medical camp in Uttarakhand.
In Feb 2014, Kiran Patel flew down from UK to Uttarakhand, did extensive reconnaissance of various locations, had detailed interactions with Major (Retd) Jamnal, local NGOs, Mr Shekar Babu (the erstwhile Disaster Commissioner in his new avatar as DC of Uttarkashi) and went back making up his mind. His Foundation has now decided to organize a 10 day long medical camp in the last week of May 2014 at two locations, Muri and Purola in Uttarkashi Distt – a golden opportunity for aspiring volunteers.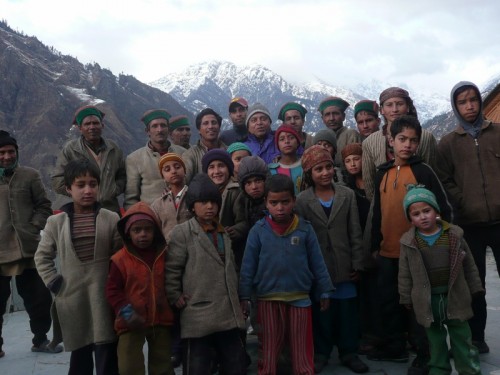 There is a great sense of satisfaction that the good work done by the Chennai Doctors Team is being accepted and taken forward by new groups of good Samaritans from distant lands thus bringing in continuity to the whole effort.
An Unfinished Task
Finally, about a promised commitment that is yet to be accomplished. The Chennai Doctors Team was approached by Anand Mohan and Pushpa Badoni, a local volunteer couple, to adopt and support their educational venture – one close to their hearts. They are in the process of establishing and running Sridev Suman Educational Academy, a quality English Medium School in remote Bhatwari. Unfortunately they are unable to fulfill their dream for want of financial resources.
The Chennai Doctors Team did ponder about it a couple of times. The whole project involves reconstituting the Trust with a clearer vision, a committed team to take it forward, fund mobilization to the tune of a couple of crores, running it smoothly for a few years, and so on. The complexities involved are beyond the existing capabilities and commitments of the Chennai Doctors Team. For them, it still remains an unfulfilled commitment. Perhaps another set of philanthropists may offer to take this project to its logical end? You could write in to joby1710joseph[at]yahoo.co.in for more information on this.
Joby Joseph has been working in the Defence sector for the last 22 years and been long associated with people of Garhwal Himalayas. He keenly follows the social and developmental sector in Uttarakhand. Currently he is working in a remote area in Assam.