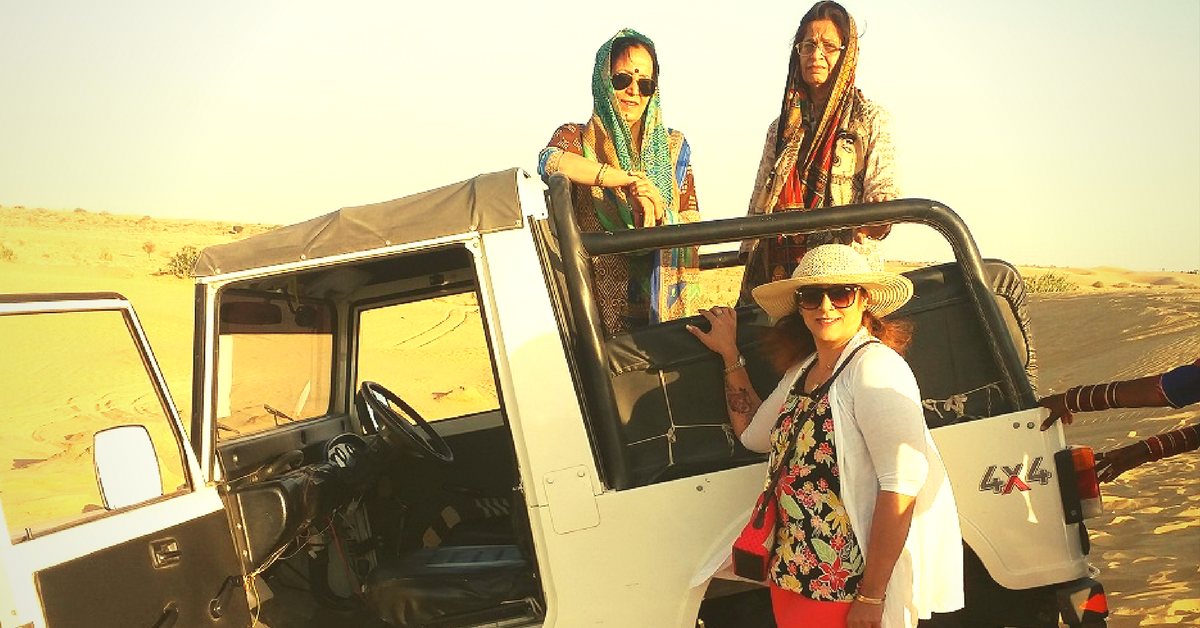 Meet Neeru Gandhi (61), Monicka Chanana (52), Sarita Manocha (63) and Pratibha Sabharwal (61) who are quite popular now as 'Nanis on the highway.' Here's how they got on the road.
What do you visualize when you hear the word Nani? An old lady taking care of her grandchildren or engrossed in her prayers,or even someone who is retired and wants to relax at home.
Well, our senior citizens are up to a lot more fun and work than we think. And leading the way are four Nanis (grandmothers) changing this stereotypical picture.
Meet Neeru Gandhi (61), Monicka Chanana (52), Sarita Manocha (63) and Pratibha Sabharwal (61) who are quite popular now as 'Nanis on the highway.' Here's how they got on the road.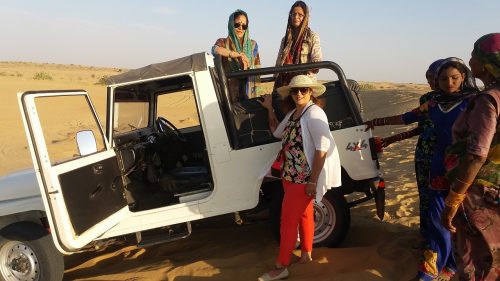 Neeru, a post graduate in statistics from Hindu college, was working as a senior research officer (statistician) in AIMS, Delhi and took voluntary retirement in 1996 to look after her kids. Family responsibilities never allowed her to think beyond her house and kids. However, once both her kids were settled, she had ample time on her hands.
"Some time back I went to a road trip to Haridwar with my son and loved the experience. That is when this thought of going on a road trip with my friends came to me. I shared the thought with my family and everyone was so encouraging that I could not wait to start it," says Neeru while speaking to TBI.
Neeru contacted many of her friends, but some did not know to drive, some were not really ready for an all-woman trip and some did not have family support. Finally, her sister Sarita and her neighbour Monicka took up the challenge.
---
You may also like – 55 Countries in 8 Months: This Mumbai Couple's Epic Road Trip Will Give You Wanderlust
---
Monicka, 52,also has a grandchild through her daughter. However her voice still trembles while talking about her son, whom she lost in an accident six years ago.
The Nanis took help of their children and learnt everything about the roads they were going to traverse. They also kept ready the emergency numbers of the hospitals, police stations and service stations of the cities they were going to drive by. Other than, this they learned to change tyres, use gadgets like tripods, selfie sticks, digital cameras and dongles. A blog called 'Women on the Highway' and a Facebook page, 'Age No bar' were all kept ready to update with their amazing experiences.
In 2016, Neeru, Monicka and Sarita set out on their first journey from Delhi to Rameshwaram by road via five states – Uttar Pradesh, Madhya Pradesh, Maharashtra, Karnataka and Tamil Nadu.
Watch the Nanis playing Kabaddi with the sea waves in the 'Dear Zindagi' style.
https://www.facebook.com/agenobar2017/videos/1386013154797804/
The 4,440-km journey took them 29 days, with 23 stopovers. However, the trip came with its set of challenges – flat tyres, dealing with cops, and their car breaking down.But the women overcame all the hurdles together.
"It was like a sense of achievement when we finally reached Rameshwaram. We never thought that we can do anything different at this age but this was like starting a new chapter again," says Neeru.
The ladies gained so much confidence and satisfaction from this trip that this year again they were all charged up to explore a new route. However, Sarita could not join them due to her health issues. Neeru then asked Pratibha, her college friend, to join them and she immediately agreed.
---
You may also like – Disabled People Cannot Go on Adventurous Road Trips? This Web Series Could Prove Otherwise
---
Pratibha Sabharwal, Neeru's friend since college, also voluntarily retired in 2015 as a manager from Punjab National Bank.
The ladies started their second trip On March 6, 2017,and covered 4,000 km from Delhi to Gujarat in 25 days. And unlike the last trip, this one was without ant flat tyres.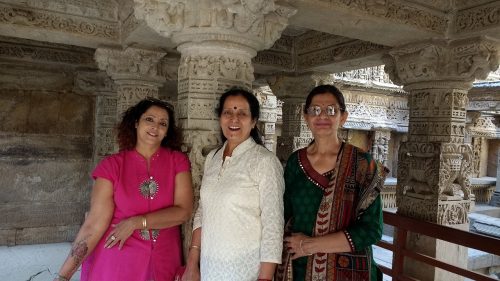 Healthy Trip – Happy Trip
Considering the fact that the most important aspect to be taken care of while travelling at this age is their health, these ladies started their homemade food preparations and collected everything required to maintain a healthy diet during the trip.
"I am a heart patient and Monicka has asthama. Pratibha too has some minor problems as we are above 60 now. But we took extra care of the diet. We packed a lot of stuff with us. In fact, we had a mini kitchen in our car. We got dry fruits, which we would soak in the night and have in the morning, we had an ice box, which was always filled with juices, lemonade, buttermilk and fruits. We tried to have outside food as less as possible and touch wood we were all fine the entire journey," says Neeru.
The ladies carried ready-to-eat items like poha, upma, homemade chips, ladoos and other food items with them, which they would relish during their travel. They also kept themselves hydrated all the time. Apart from this, they made sure that they followed their daily time-table and took enough rest to be ready for the next day's drive.
Safety comes first
Watch Neeru changing a flat tyre like a pro here –
https://www.facebook.com/agenobar2017/videos/1356766581055795/
For safety, the women also kept an electronic gun and a pepper spray with them. They did not wear any valuable ornaments and used plastic money as much as possible. Their car had their photos, names, blood group and phone numbers inscribed on it. The emergency numbers like the phone numbers of the local hospitals, police station and service station of the city they were visiting were always handy. They would prefer travelling in the day and would take local transport to travel within a city. This also helped them complete the trip in a budgeted amount of approximately Rs. 50,000 per head.
"Though we took care of the safety factors, we also set ourselves absolutely free sometimes. Like this day when we celebrated Holi at Dwarka and then went out for shopping in the evening. We shopped till 11 pm until we were tired," Pratibha tells us with great enthusiasm.
There were police officers who would often advise them to have a male companion, to which they'd reply that they felt safe driving alone while the officers are on their duty. Sometimes to avoid problems, they would tell the locals that they were a big group of reporters and had their colleagues nearby. None of them had done such a long road trip before, not even with their family.
"I enjoyed every bit of it. Neeru and I are classmates and we enjoyed just like we did in college. We almost forgot that we are Nanis and felt as if we were college girls," Pratibha giggles.
"I had always heard about how exciting camel rides were but experienced it for the first time. It was so much fun," adds Neeru.
"We had this amazing time playing Antakshari while driving alongside the sea on the highway. That was an amazing view," recalls Monicka.
The Nanis seemed like they could go on and on, speaking about the trip.
---
You may also like – #TravelTales: 7 Epic Road Trips in North East India That Will Satisfy Your Wanderlust
---
After some media coverage, the Nanis received tonnes of emails from all over the country, and even from other countries. There were other Nanis and Dadis who wished to join them. There were senior citizens who were planning for a trip inspired by them. There were children writing to them, who wanted to encourage their parents to take a trip like them. And there were Nanas and Dadas too who had a similar after-retirement plans.
The ladies inform us that they will plan the next trip accordingly. They plan to accompany few Nanis and for the rest, they want to help plan their trips. The next trip would most probably be towards the north-east of the country.
https://www.facebook.com/agenobar2017/videos/1363445450387908/
"We generally hear about the mother-in-law and the daughter-in-law adjustment issues in our society. I feel that it is due to our inability to adjust. After a certain age we make a circle around us. We live within that circle to maintain our comfort zone and anything outside that irritates us…. 'I sleep on this side of the bed, I take this particular pillow, I can eat only this kind of food, etc.' I think taking such trips help us come out of that comfort zone and mingle more with people other than our family," says Monicka.
Neeru takes this trip as a way to tell herself and the society that senior citizens can also do something different and inspire the society. "Retirement doesn't mean that your family roles and your social roles are finished. There's lot more you can achieve before leaving this world," she says.
Pratibha feels that it is all in our mind. Women tend to believe that the house and their family cannot sustain without them even for a day. But they need to step out for themselves sometimes and everything will fall into place. She believes this becomes easier when there's a supportive family like theirs.
If you wish to join the nanis in their next trip or invite them to your town, village or city please email them at agenobar017@gmail.com.
---
 Like this story? Or have something to share? Write to us: contact@thebetterindia.com, or connect with us on Facebook and Twitter.
NEW: Click here to get positive news on WhatsApp!
We bring stories straight from the heart of India, to inspire millions and create a wave of impact. Our positive movement is growing bigger everyday, and we would love for you to join it.
Please contribute whatever you can, every little penny helps our team in bringing you more stories that support dreams and spread hope.