Started by Moroccan entrepreneur and engineer Moushine Serrar, Prakti Design designs, manufactures and distributes energy-efficient, low-cost and low-smoke cook stoves in rural India.
"Traditional cook stove is highly inefficient. It has less than 5-10% efficiency. The rest is wasted. Besides the wastage of fuel, it produces a huge amount of smoke that's directly inhaled by the one who is cooking, which is always the woman of the house," says Moroccan entrepreneur Moushine Serrar.
Moushine's enterprise based in Chennai, Prakti Design, designs, manufactures and distributes energy efficient, low-cost and low-smoke cook stoves in rural India.
Keeping in mind the nerve of rural India, these stoves are priced at a reasonable cost and even that cost is further subsidised by collaborating with local NGOs and self help groups.
After earning his PhD in mechanical engineering, Moushine worked for over a decade with several multinationals like Motorola and Intel. Around 2004, he came across the industry of designing clean-burning, fuel-efficient cook stoves for developing countries. He studied wood burning stoves at a research centre in the US and worked on different projects in Africa before arriving in India. In 2007, he set up Prakti. In the past seven years, Prakti has won hearts of people in India, Nepal, and Haiti with its clean-burning, fuel-efficient cookstoves.
Jyothi, from the village of Karasanour, is extremely happy with her Prakti cook stove.
"Earlier, I used to cook meals on a mud stove, which emitted a lot of smoke and it'd leave me coughing all the while I was cooking. I'd still keep cooking since there was no other option. It'd also take me longer to cook and I'd need more wood for cooking. With Prakti, food gets done quickly without getting burnt and I only need two pieces of wood now," she says.
---
Also read: This Australian Innovator Designed an Energy Efficient Rocket Stove to Save Trees in the Himalayas
---
Many women like her have complimented Prakti on its wood-burning stove.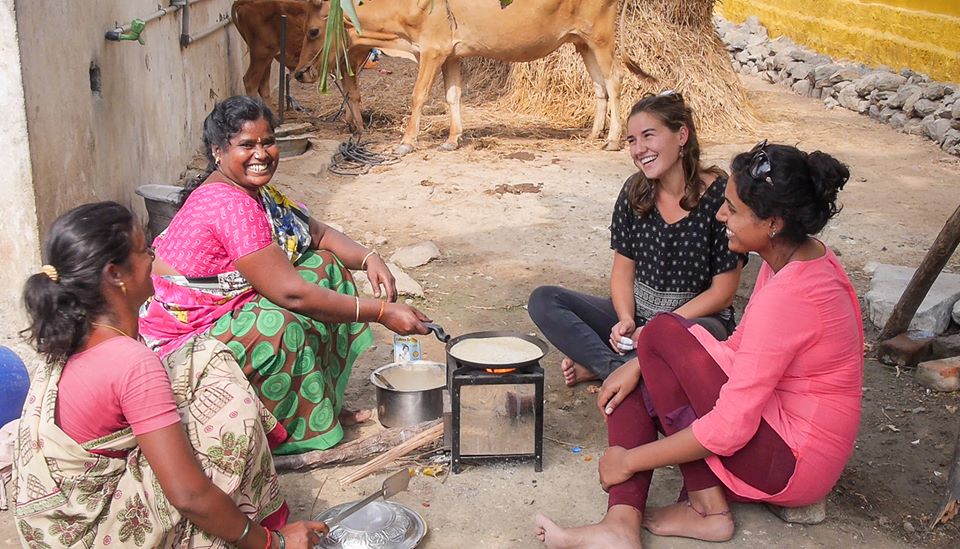 The cook stove is priced at Rs 1,499, which is sold for a cost as low as Rs 999 in case of bulk orders or a price subsidised by local NGOs and organisations. The only barrier is that the competition is against the traditional mud stoves, which literally cost nothing.
"We always try to get NGOs and Self Help Groups on board that can subsidise the price of the stoves. See, for a village woman, when the price goes beyond a thousand rupees, it becomes a big purchase that needs to be discussed with the family and well thought of. When the stove is priced at 999, she at least starts thinking about investing in it on her own. Also, the traditional stoves cost literally nothing, so we have to fully convince these women that our stoves are worth investing so much money. We need to keep our commitment; we need to deliver, which we have managed to do so far. Women are happy with our design, the sturdiness of the stove as well as its functioning and efficiency," says Sooday, a Prakti Design employee.
Though the world is changing at a faster rate, time slows down if one takes a closer look at rural India. There are many things that haven't changed with time and cook stoves is one of them.Even by 2009-10, around 76% of rural India had been using mud stoves to cook and biomass as fuel. The numbers wouldn't have changed drastically in a mere 6-7 years.
"What Prakti is trying to prove is that biomass is not dirty fuel; it can still be an option in today's time. It'll take a long time for cleaner cooking technology to reach villages and what we can do in the meantime is make the stoves more efficient. We reduce fuel consumption by 70%, indoor pollution by 90% and, as a result, also help people save money alongwith being better for the environment," says Sooday.
Prakti is currently working with 8-10 distributors and rural retail networks across Maharashtra, Tamil Nadu, Pondicherry and Karnataka and has sold over 18,000 stoves so far. The stoves are manufactured in Chennai.
---
Also read: 15 Progressive Indian Villages That Will Make You Want to Ditch Your City Life Right Away!
---
To know more about Prakti Design, visit its official Facebook page here.
Like this story? Or have something to share? Write to us: contact@thebetterindia.com, or connect with us on Facebook and Twitter.
NEW: Click here to get positive news on WhatsApp!