Abhishek Singhania could have enjoyed his corporate job, which earned him more than a lakh's salary every month. Or he could have chosen to stay back at his stately house in Kolkata, joining his parents's well-established business. But he chose a rather tough path to make a smoother road to success for our farmers.
"My father's company manufactures spades, that's the only connection I had with farming," laughs Abhishek when we asked him if he had some connections with farming in the past.
Abhishek Singhania could have enjoyed his corporate job, which earned him more than a lakh's salary every month. Or he could have chosen to stay back at his stately house in Kolkata, joining his parents's well-established business. But he chose a rather tough path to make a smoother road to success for our farmers.
It was 2010 when Abhishek came across the news about the farmer suicides in the Vidarbha region of Maharashtra, while graduating in metallurgy at IIT Madras.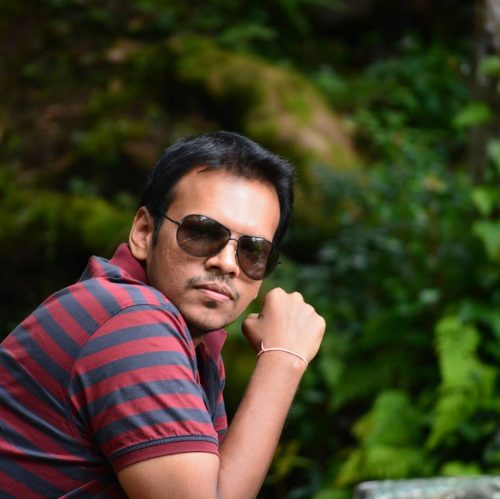 He was deeply pained by the situation of farmers in our country. He would often wonder about a sustainable model that could keep farmers from bankruptcy and taking extreme steps like suicide. However, the focus was on studies, and he could not do much at that moment.
Once he finished his engineering in 2012, he was placed at PricewaterhouseCoopers Pvt. Ltd. in Mumbai. The company sent him to Saudi Arabia for a project for six months, creating a huge prospect for a bright future and hefty salary for Abhishek. However, Agriculture was always in his mind and he kept thinking about it now more often, he realized that since the farmers are giving up farming, a big gap would be created in the demand-supply of food and he wanted to do his bit to help bridge that gap.
"I started thinking that farming should be inherently profitable. If it won't be profitable then everyone would stop farming. And if everyone stops farming how will the world survive? So there is something wrong which is actually happening, that needs to be corrected, that needs to be checked," he said.
In May 2014 while working on a project in Saudi Arabia through his company, Abhishek took a break and visited the farms in Debra, Balichak and Temathani near Kolkata. This was the first time he was visiting a village.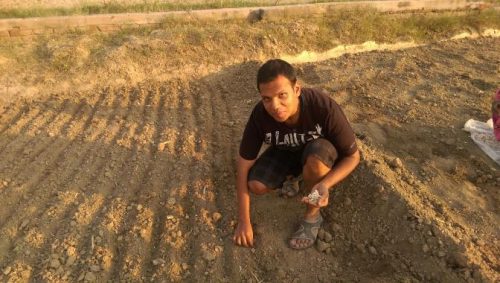 He would reach out to the farmers and ask just two questions – 1. What are you doing? 2. What are the problems you are facing? Abhishek realized that unlike Maharashtra, Bengal had water in abundance and the soil was fertile. But the farmers were misusing the water by growing rice three times in a year.
"And what is the profit they make out of it in a year? Just Rs 30,000! It's like 2,500 a month. There is no profit. It brings down the price. Lot of rice is getting wasted. What's the idea? Farmers are just doing paddy the whole year that too with chemicals. The soil has lost its fertility. Input cost is increasing as they need to buy more fertilizers and pesticides every year, which increases the production cost," he says.
---
You may also like – A Beginner's Guide to Natural Farming From an NRI Couple Who Returned to India to Follow Their Dream
---
Abhishek learnt four main reasons behind loss in farming through his trip:
Farmers were growing low-value crops.
The yield was decreasing every year.
The input cost was increasing each year.
Soil fertility is decreasing.
After his trip Abhishek visited IIT Kharagpur to find the solutions to these problems. There he was offered work with two professors – Prof. PBS Bhadoria and Prof. DK Swain, working on a similar project. As the project was not yet started, Abhishek went back to Saudi Arabia to continue with his job. In October 2014, he received a confirmation from the professors that 'The Food Security Project – IIT Kharagpur' was going to start and Abhishek could be a part of it.
Abhishek immediately put down his papers and in December 2014 he came back to Kolkata. Before he started working at IIT Kharagpur, he met some agricultural startups
"Some were making smart irrigation system, some were making portable farm implements but I realized that I didn't enjoy inventing something like this staying away from the farm, but being into the farm. I was more interested in growing. I was not an off-the-field person," he explains.
Abhishek joined the research team at IIT Kharagpur in March 2015 and learnt about paddy farming and a few other crops with high level of farm mechanization for eight months. However, he wanted to know more about diverse farming techniques and so he decided to quit the project and jump into the field.
From October 2015 to May 2016 he travelled extensively throughout India from Meghalaya to Maharashtra and from Himachal to Karnataka. He stayed with the farmers and worked with them.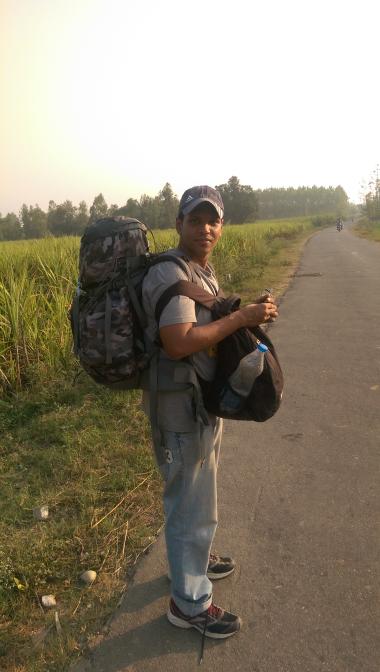 "I would just book tickets from Kolkata to Delhi and then a return ticket of a month later from Delhi to Kolkata. In between this period, I would just go with the flow, taking lifts, sitting in sleeper compartments and sleeping at the farms.
During this time, Abhishek did a zero-budget natural farming training by Padm Shri Subhash Palekar. He was connected to a lot of natural farmers in this training and he kept visiting them one after the other.
"I was amazed to see this farmer from Bulandshahar who took me on a bicycle for 5 km to reach his farm and still was not tired. He was 65 years old and he and his wife were managing their 5-acre farm all alone without taking help of any labourers. I think this is the difference when you eat healthy. I stayed with them for two days and learnt a lot," he says.
Abhishek also stayed in a farm run by Pingalwada Charitable Society in Amritsar, Punjab and worked there for a month right from driving a tractor to making fertilizers and pesticides with cow dung and cow urine. There was no work on the farm that was missed by him.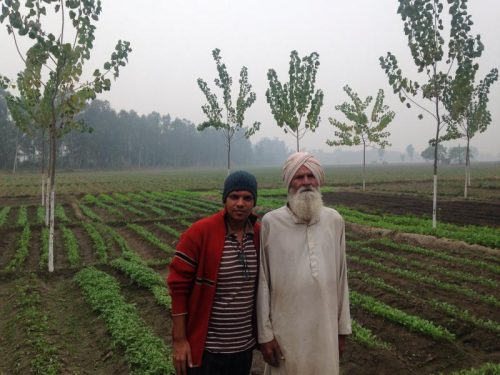 In these eight months Abhishek understood that these natural farmers had gone through loss of about 50% less yield in the first year when they shifted from chemical to natural farming. However, after four to five years the yield is much more than what would get from chemical farming. The input cost was almost zero and hence they would profit significantly more. And of course there was a huge difference in the quality and quantity of the products grown by natural farming methods.
"I visited a sugarcane farm near Muzzafarnagar in Uttar Pradesh. The sugarcanes in this natural farmer's farm were two to three feet taller than others and also it was the sweetest in the area," Abhishek says.
---
You may also like – This Techie-Turned-Farmer Has Many Useful Tips for You to Take up Natural Farming
---
To be sure that he knows all aspects of farming, Abhishek undertook training in fishery at CIFE Kolkata, goat rearing at CIRG Mathura and many more short courses related to farming.
"I won't say that from the first day I was very sure, but I knew I wanted to take a chance. And from the very first day I was so comfortable. I never felt I was out of place," says 28-year-old Abhishek.
Abhishek bought a 3-acre land on June 24, 2016 at Tona village, in South 24 Parganas district, which is 40 km from Kolkata. He named his farm Echoes, after Abhishek's favourite song by Pink Floyd, which portrays a revolution.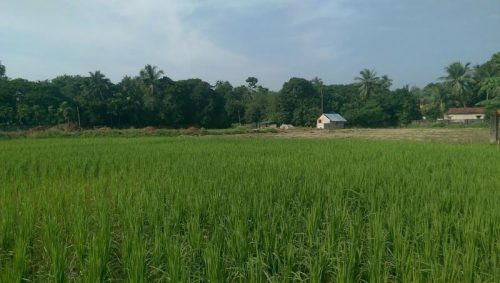 For the first few months Abhishek would travel everyday to reach his farm from his home at Kolkata. However as he wanted to save the travel time he started living in a small hut made in his farm.
"Once you wake up at a farm in the morning, you will be amazed looking at the beautiful sunrise. You see something grow out of nothing, it is so fantastic feeling and it cannot be matched. The air is so light there that you will actually feel the difference when you come to a city you have to make more efforts to breathe."
In just 9 months Abhishek has harvested cabbage, cauliflower, capsicum, cucumber, spinach, green gram, mustard etc. Dehradun Basmati was cultivated for the first time in the village. He has also planted four to five varieties of mangoes, two to three varieties of banana, papaya, drumsticks, betel-nut, jackfruit, chiku, orange, lemon, plum, cashew,etc.
When asked about why he has grown almost everything in his farm, he says: "The Idea was to first experiment, what grows and what not and to have a sustainable model which has everything we cannot live without."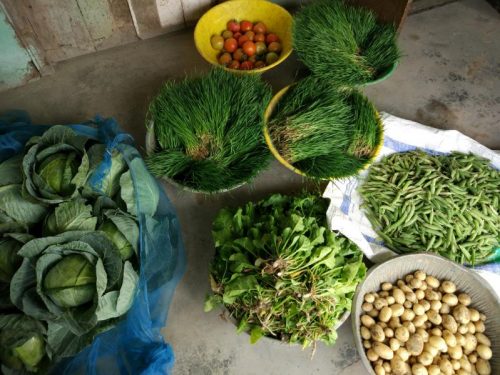 "Currently we sell health supplements like wheat grass, aloevera, geloy, amla, tulsi etc. grown at Echoes under the brand name Naturista – a Spanish word meaning Naturist –because this defines who I am. In future, they will be used to make juices using cold pressed method, which ensures the nutrition remains intact in the juices," he informs.
Abhishek uses complete natural farming method and makes his own fertilizers and pesticides using cow urine and cow dung. The best seeds and saplings collected from the farmers that Abhishek visited are used in his farm and hence the input cost is very low and he is satisfied with his yield. Once his model starts gaining profit, Abhishek plans to invite farmers to replicate this model across West Bengal and then across the country.
When we asked this IITian if he regrets his decision when he sees his friends growing faster, he tells us what one of his successful friends told him once: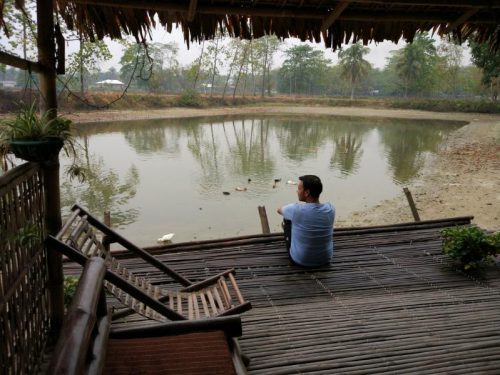 "My friend who lives abroad and earns lot of money told me this – "We are all in a rat race, we are not living our lives, you are the one who is living your life. If you want to compare the success… people who are driven by money attain success faster, but people who are driven by passion, they might attain success a little later but they live a much happier and content life," says a happy and content Abhishek from his little hut in his farm.
You can visit Abhishek's farm at the following address –
Bhangar II Block,
Tona Village,
South 24 paraganas district.
Near Vedic village.
Or click here to contact Abhishek Singhania
---
Like this story? Or have something to share? Write to us: contact@thebetterindia.com, or connect with us on Facebook and Twitter.
NEW: Click here to get positive news on WhatsApp!
We bring stories straight from the heart of India, to inspire millions and create a wave of impact. Our positive movement is growing bigger everyday, and we would love for you to join it.
Please contribute whatever you can, every little penny helps our team in bringing you more stories that support dreams and spread hope.