Says Pratap. A childish mistake, a "dare" at the age of 5, left him bereft of all his limbs. For 10 years after that, he was not allowed to step out of his house. Now, he not only goes to work everyday, but earns well, lives on his own and is completely self-reliant. Once a grateful recipient of a scholarship that helped him complete his studies in Finance and MBA, he is now a giver of scholarships and also participates in policy making. Can anything better illustrate the impact made by persons with disability if given half a chance in our society?
His name is Raja Mahendra Pratap. His friends call him Pratap, Mahendra or Raja. As we spoke to him, the 29-year old enthusiastic youth went around doing his daily chores. He combed his hair, locked his home and moved towards his office. If the lift of any building is non-functional then he climbs up without getting tired or exhausted. Whenever he crosses a road or is outdoors, people peep at him. He is physically different from the rest of us. He loves to see the amazed faces of people and the look of appreciation in their eyes. Both his hands and legs are severed from his ankles and knees. This young man is full of confidence as he works as a Finance and Accounts Officer at ONGC, Ahmedabad. He has studied Finance and MBA, and takes home a handsome salary.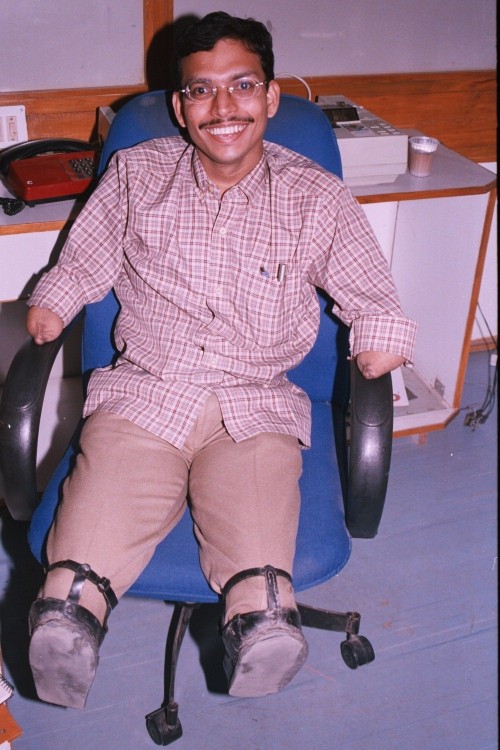 Pratap hails from Hyderabad, Andhra Pradesh. When he was five years old, a small bet changed his life forever. His friend threw him a challenge that Pratap could not hold an iron rod into an open electric wire. Pratap drew courage and held an iron rod into high voltage electric current. Within seconds electricity surged through his entire body. The accident resulted into amputation of legs and hands. Since that day till the age of 16, Pratap never moved out from his house. He would stay confined in the four walls of his room. Whenever he recollects those ten years of his life, he states:
I would stay in my room. My father felt embarrassed to call me in front of guests. He considered me a burden and good for nothing
He couldn't attend school from age of 6 to 16. During those years he had never stepped out of his house. He was from a middle-class family and yet to stitch his clothes, a tailor would be called at home. Similarly, during illness, a doctor would come to his place and give treatment. His three elder sisters stood by him and encouraged him a lot. He acquired knowledge by studying their books. Since he couldn't walk, he would crawl on the floor which rubbed off his skin at the joints. Gradually he learned to walk. Similarly, with the help of his mouth and ankle, he would try to lift things. Now, he can efficiently use the computer with his mouth and ankle, can write with the help of his jaws and walk on his knees.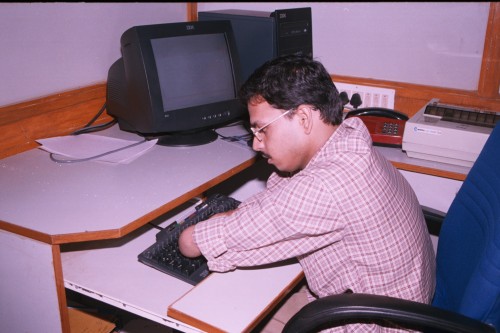 Four years ago Pratap sat with a cobbler and made him design shoes as per his need. Earlier, no cobbler was ready to make his sandals until finally one of them agreed. He took two days to make a sandal for him. At Ahmedabad no cobbler is ready to make sandals for him. 'They are getting paid for making sandals yet are not ready to do so. I don't experience any agony whenever I come across such situations,' says Pratap. He cleared his tenth and twelfth without attending school. The first time when he got the opportunity to step out of his home, his joy had no limits. There was no looking back for him. He cleared his B.Com and completed his Finance and MBA from Osmania University.
He received scholarship from Delhi-based 'National Center for Promotion of Employment for Disabled People". The scholarship amount of Rs.1000 for a year enabled him to complete his course in Finance. Today he gives scholarship to disabled students.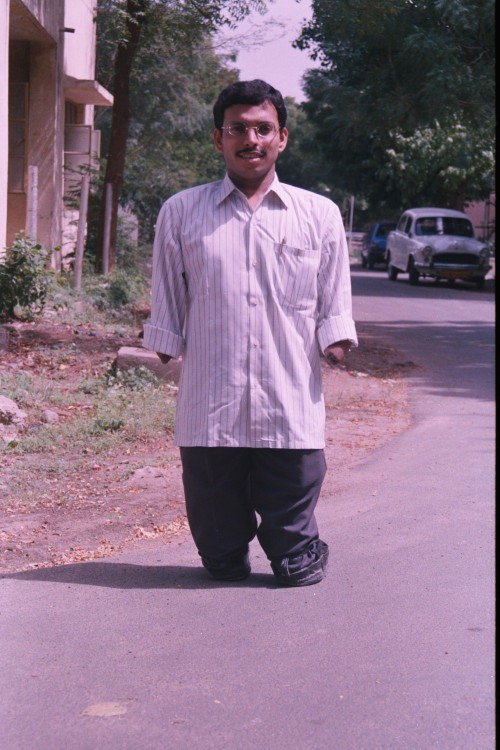 He received a lot of interview calls while job-hunting, but once the interviewers saw him, their attitude changed. Nobody was willing to believe that he would be able to accomplish the work allotted to him. The attitude of society towards him disturbed him, but he continued his search for a job. Finally he landed a job as Assistant Manager in National Housing Bank, Delhi. Pratap's job changed the attitude of his father towards him. Currently he works as Finance and Accounts Officer in ONGC, Ahmedabad. He has full support of his colleagues and superiors. In his current as well as previous organizations, Pratap has always earned respect and love. The manager of ONGC is very happy with the efficiency and commitment of Pratap. "He never feels awkward, he is self-made and never fails to do work assigned to him".  He recollects when a form was to filled, his colleagues offered to help him but he refused and did it himself.
Illora, a colleague of Pratap, was surprised to see the work done by him. Gradually people began to see his potential and will power. Soon he earned respect among all his colleagues and they accepted him. Pratap travels around the world like a free bird which still amazes Illora. She states that "Whenever a new task is assigned, Pratap leads from the front". His colleagues are very happy to have him. They have never witnessed a negative attitude from Pratap. People and society should understand that hiring people with disability is no crime or charity.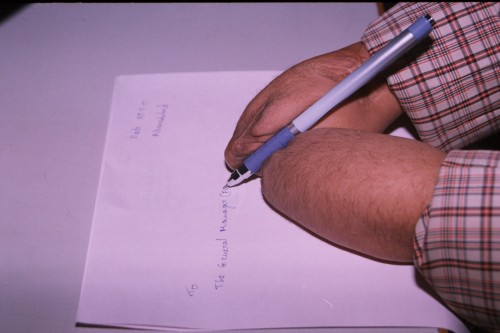 He stays at the quarters allotted to him by the organization and does all the work by himself – whether it's washing clothes, making snacks etc. He is still unmarried and his family stays at Hyderabad. He is a good host, he treats his guests very well and stays socially connected with his friends and family through phone. He travels without any assistance in bus, train and plane and enjoys playing carrom and chess. What is special about Pratap is his quality to laugh at himself. He smiles when someone calls him as squat or undersized. He considers himself to be a normal person.
Assign me any work; I am capable of doing all of them. I don't need sympathy of people. Treat me normally and I will love it. I wish that people and society treat disabled with respect and accept them.
Pratap doesn't feel a sense of loss in his life. He is a stern youth with a bundle of confidence and a strong will power.
When he met us, it was his birthday. He doesn't believe in celebrating birthdays. He considers it to be just another day, a new milestone. He wants to lead an independent life rather than depend on others. He has represented India at the 'World Disabled Forum" held at China and Japan.
Special facilities are made to make the public places accessible to the handicapped. They don't face any discrimination or obstacles. In our country there is a dearth of obstacle-free environment.
Many people like Pratap voice their opinion that "compared to other nation, our nation is less disabled-friendly". Public places, theatre, transport facility, railway stations, airport, art gallery should not be far from the reach of persons with disability. He stresses on the need for friendly and accessible environment for handicapped, children and elderly people. The attitude of people and society needs to change towards the disabled. The society, instead of respecting and accepting them, looks upon them as burden.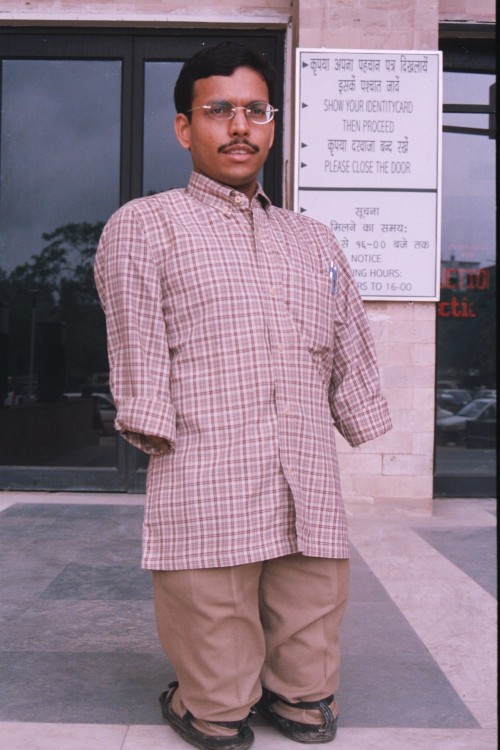 People like Pratap are called 'handicapped' but we should not forget the fact that each individual is handicapped in one or other form. Each one of us has some physical, emotional or mental weakness. The people whom we call handicapped are capable in one or other way. They have a good grasping power and are strong within. They prove themselves time and again by doing a different work. That is why they are now called differently-abled. As per national data, 2.7 crore people are disabled, which is effectively about 2.21% of the population. The 1995 Act states protection of rights, obstacle-free environment and equal participation and opportunities in all the sectors for persons with disability. Let us respect these tenets.