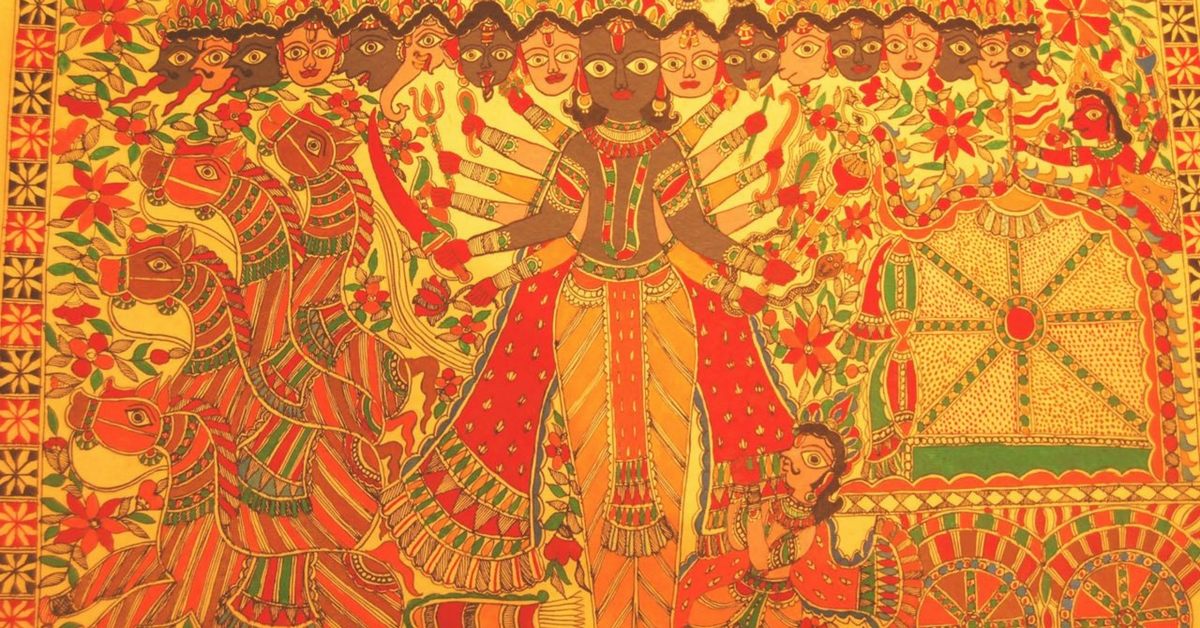 India's diverse folk art traditions are more than just an important part of our culture. They are a link to India's past and traditions, and several organisations, individuals, and initiatives are working to preserve them in recognition of their role.
India's diverse folk art traditions are more than just an important part of our culture. They are a link to India's past and traditions, and several organisations, individuals, and initiatives are working to preserve them in recognition of their role.
Folk paintings have been a part of India's traditions for many millennia. Starting from the pre-historic cave paintings of Bhimbetka, to Madhubani, which is believed to be as old as the Ramayana, on to the frescoes at Ajanta and Ellora, every region of India has had its own folk painting traditions. These painting styles evolved from simple depictions of the environment—trees, animals, and man—to detailed works of the elements, deities, and spiritual concepts to depictions of the universe.
The symbology of the gods, and indeed, of the universe as a whole, and of the human body influenced folk paintings in many forms. Canvases changed from walls of caves and temples to palm leaves to handmade paper, and created many tools and painting technologies that adapted to new discoveries while maintaining the traditions and ethos of "story-telling", continuing and enhancing Vedic oral traditions and supplementing them, simplifying the spoken and written word, and making them accessible to the common man.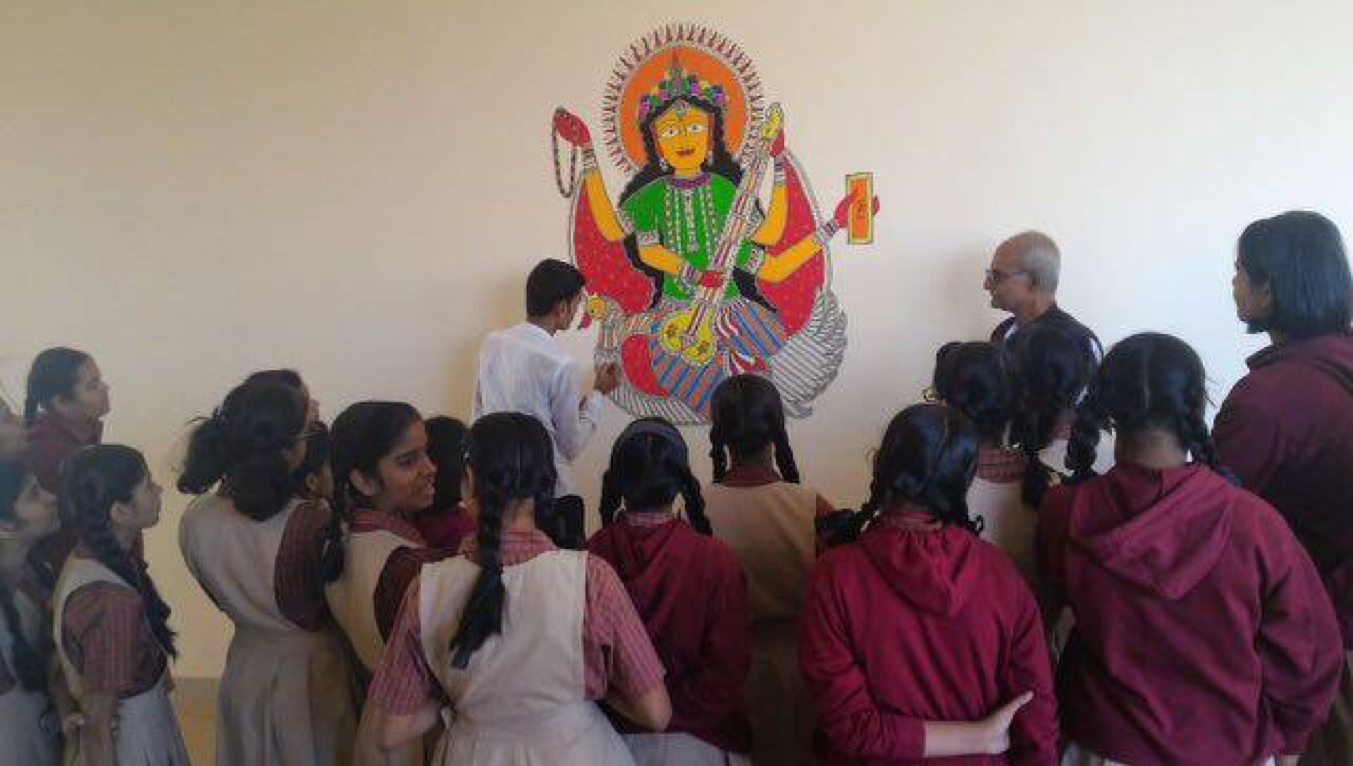 Each painting has a story—indeed, they were painted to tell stories!
Folk painting depicted the symbology of the epics, the gods and deities, and indeed, cosmology, mathematics, dance forms, and of Ayurveda and the human body. Indian traditions have been rich in symbology. Each deity has their own implements, postures, and mudras. The planets, the trees, the mandalas, the swastikas, and many more symbols made traditional folk art rich and colourful.
The Shunya, the Oum, mandalas, mythological events, and the Panchatantra and Jataka Tales inspired many artists to render them. The tales of Durga and Kali, of Mahishasura and Krishna have been the foundation of Madhubani and Pattachitra scroll paintings. Gond paintings evolved their own ethos of the elements of nature, the trees, animals, local deities, and customs.
The stories evolved in the Bengal region to get adapted into Santhal Paintings and Pattachitra to the "shaded" Kalighat paintings that were influenced by the European school after the advent of the British. The stories of the perceived debauchery of "Babu Culture" began to be depicted in many Kalighat paintings. These stories—from oral traditions to paintings and sculptures—were then depicted through folk dances that used masks and songs that were composed to tell the story of the paintings in poetic form.
The Amar Chitra Katha series that was started by Anant Pai was perhaps a continuation of these rich traditions to re-tell the stories in comic form to generations of Indians who grew up in the 70s-90s.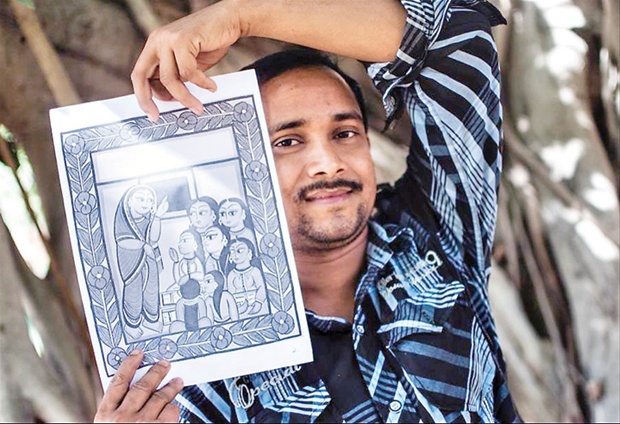 Many regional traditions of paintings
Each region of India has had its own regional folk painting forms—Gond Paintings in Madhya Pradesh, Chattisgarh, and Jharkhand, Santhal paintings in West Bengal and Jharkhand, Madhubani in Bihar, and the Pattachitra and Kalighat traditions of West Bengal. In the North and North-West, Tibetan-influenced Tangkha traditions and the Rajasthani and Kangra traditions of miniature paintings evolved and intermingled with Persian-influenced Mughal Painting schools.
Many of the sub-continent's board games evolved with imagery and concepts from the epics, and included the Ganjifa cards depicting the Dashavatar as its core set of card "suits". Tribal Warli painting traditions, the Rogan traditions of Kutch, and many others evolved and flourished in the Western part of India. The princely states of Mysore and Travancore encouraged traditional art with a contemporary twist of the times, and Thanjavur painting styles that used gold foil, gemstones, and line drawings, enriching the painting traditions in South India.
Each of these used the imagery of well-established mythologies and folklore, and adapted to the newly available technologies and sensitivities of the time.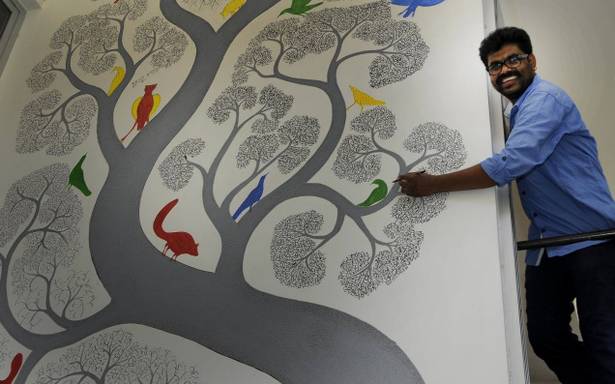 Framework bound yet innovative
As in much of the ethos and religiosity and customs of the sub-continent, rich and detailed "rules" of the form, colours, and hierarchy of the depictions in paintings have existed for a long time. These "rules" have, however, been more like "frameworks" that can be instantiated and interpreted by the artist to render new innovations. Thus, a blue colour is used to depict some of the gods. Human-like forms are used to depict the planets (navagrahas). Also, hence each deity has a set of implements that they carry in their many arms.
This "framework" has helped the folk arts evolve through re-interpretation by master artisans who create new techniques and trends. Gond paintings evolved through simple forms, yet with signature motifs that individual artists used to fill details in their paintings.
Natural Colours – sustainable ethos
The "technology" of colours and paints and the "patta" (canvas) evolved too. But, it maintained the ethos of sustainability and the use of natural resources. The "patta" evolved from the walls of caves to the palm leaf, and cloth to handmade paper. Artists derived the colours from leaves, flowers, vegetables, and fruits. The "fasteners" for the colours were natural gums like the gum from the Bel fruit. The use of resources was well-planned and frugal.
Artists produced the colours in the season when the flower, vegetable, or fruit was available. They then stored them for later use by diluting and mixing the colour with the fastener. Mineral- and stone powder-based colours were more prevalent in the Rajasthan and Himachal regions. We need to bring back and incentivise the ethos of natural colours as a part of reviving folk painting traditions.
Support the revival of Folk Art. Buy an Indian Folk Painting today
Many museums, government institutions, and art galleries have made efforts to revive the Folk Painting traditions of the country. Bharat Bhavan and The Museum of Man in Bhopal have a major collection of Folk and Tribal Art. Online Art Galleries like Saffronart have also made considerable efforts to get folk art its due in art markets. The Ministry of Tribal Affairs, state museums, and private efforts are playing their part in reviving the Folk Arts.
Initiatives are reviving our rich traditions of the Folk Arts. For example, many rural artisans now participate in Madhubani and Pattachitra art due to recognition and monetary rewards. We need a much bigger effort make the impact even larger. Each one of us can help in this effort. Look to buy and gift folk paintings on festivals, engagements, weddings, corporate events, etc. Think of gifting Indian folk art on your next gifting occasion. Choose a folk painting from your region for your homes and offices.
Heart for Art Trust works with many folk painting artists, giving them exposure to markets. It creates opportunities for exhibition and sales of paintings, workshops with artisans, and commissioned projects with architects and interior designers.
Check out Heart for Art's collection of folk paintings and help the cause of reviving India's folk art traditions.
Like this story? Or have something to share? Write to us: contact@thebetterindia.com, or connect with us on Facebook and Twitter.
NEW: Click here to get positive news on WhatsApp!
We bring stories straight from the heart of India, to inspire millions and create a wave of impact. Our positive movement is growing bigger everyday, and we would love for you to join it.
Please contribute whatever you can, every little penny helps our team in bringing you more stories that support dreams and spread hope.