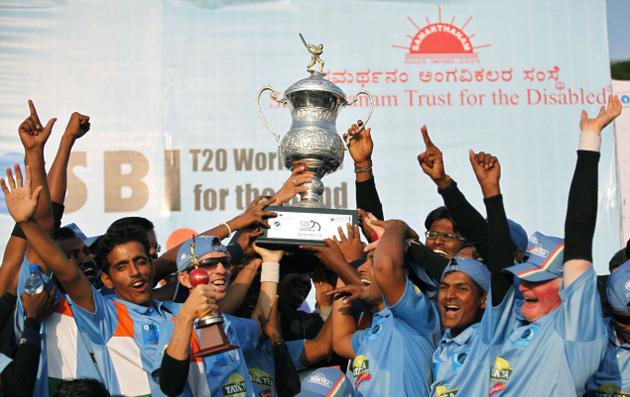 We have all been complaining of India team's dismal performance in Cricket for quite some time now. But how many of us are aware that we are the winners of the previous World Cup in the world of Blind Cricket? Let's open our eyes and hearts to our visually impaired superstars and give them the credit, support and respect they deserve!
As we euphorically celebrate the Indian team's victories in the ongoing T20 World Cup, how many of us know that we have actually lifted the World Cup trophy in 2012 as well, and are the reigning World Champions? The only difference is that here we are talking about the 'World' of Blind Cricket, a world most of us are unfamiliar with. It is about time we opened our eyes and took note of the visually impaired superstars who are making our country proud but are yet to get the recognition they deserve.
They never ask for the sight screen to be shifted.

They can only hear the ball, the strokes and the excited shrieks and shouts of their teammates.

The lighting in a day night game means little to them because the umpire is the only one who sees the game.
This is what their website says, and these few words give us a good insight into their game and emotions.
As Indian Blind Cricket is preparing for the One-Day World Cup scheduled this year after having won its first T20 World Cup defeating Pakistan in 2012, Mahender Vaishnav, a board member of the Andhra Pradesh Blind Cricket Association, and a former Vice Captain of the Indian Blind Cricket team, helps us understand what Blind Cricket is all about and how their journey so far has been.
Q: India won its first T20 World Cup in 2012. Has that encouraged more people to take blind cricket seriously?
The Indian team has been performing remarkably well. We reached the finals twice in the World Cups. It has also gained immense credibility, having won the first ever T20 World Cup defeating Pakistan in 2012. Now India is the World Champion. Despite all of this, it's neither supported nor encouraged by the GOI nor BCCI.
It's time to understand the abilities and hard work of the Indian players and start supporting them. Definitely it's time for the BCCI and GOI to open their eyes and start participating in the progression of cricket for the blind.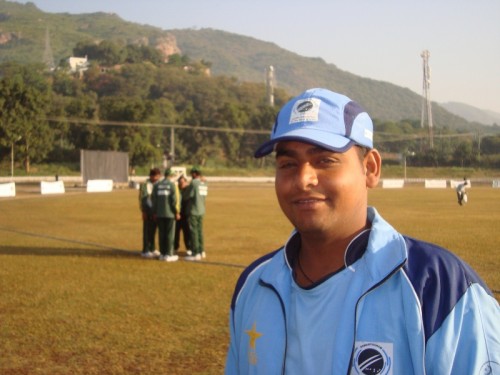 Q: As a batsman or a bowler, is there a specific way a blind player practices and does he do a lot of specialized training to improve their performance on the ground. If so what?
The approach for training and coaching is similar for normal as well as for special cricket.
It's the same game, ground and format except for some additional rules. It's just that blind players need to have more concentration, listening skills, gazing power and timing. This game is entirely dependent on sound and noise.
The basic difference is Ball and Bowling pattern. This form of cricket is based on sound. The ball is made of synthetic fiber and filled with small iron balls in it to make sound. The bowling pattern is under arm, the ball roles on the pitch. The batsman, by listening to the sound, hits for shots.
The eleven-member team is divided into three categories:
B1- of four players who are totally blind
B2- of three players who can see up to two meters long
B3- of four players who can see between 4 to 6 meters distance
This game is entirely dependent on coordination and noise. The coach and umpire are normal people
So, only the B1 category players are totally blind and the rest could have partial vision and can see the ball from close distance. I belong to B1 category.
Q: How exciting is it to play against Pakistan and is there rivalry between the top two teams in the world?
The spirit, enthusiasm and nature of a match between India and Pakistan are the same as that in normal cricket. The top 2 countries are Pakistan and India, and for many years Pakistan were the champions. So defeating Pakistan is definitely a feel of big accomplishment. It's only recently in 2012 that India became the World Champion, defeating Pakistan in the finals in 20-20 World Cup.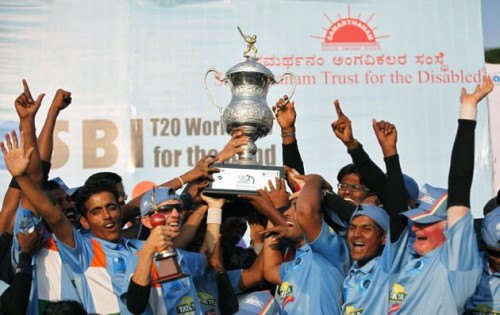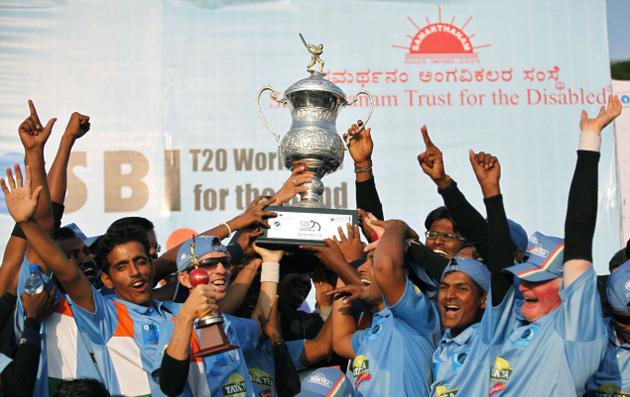 Q: Would you like to call yourself a batsman or a bowler?
I'm a perfect Bowling all rounder. I'm one of the Indian strike bowlers, mostly opening the spell. I'm an equally good batsman (Middle Order).
I've created couple of world records in bowling
. The only debut bowler sealing wicket on the very 1st ball of the very 1st match
. The 1st man to take 5 wickets in 20-20 format
. The 1st man to take 4 wickets in 1 Over
Q: When did you first play for our country?
In 2010, against England at Birmingham.
I was very delighted, thrilled, excited to play. Finally I could make my dream true. I was feeling very privileged playing for the nation as if I've grown in a day all sudden. I was feeling like a celebrity, an important face like Sachin. I resolved to create something incredible so that this series reminds all cricketers of my contribution for ever. Because I feel that I am slightly unlucky when it comes to opportunities, I played thinking that was my last tournament therefore I had to give my best. But thankfully luck favored me and for three years consecutively I have played for the country so far.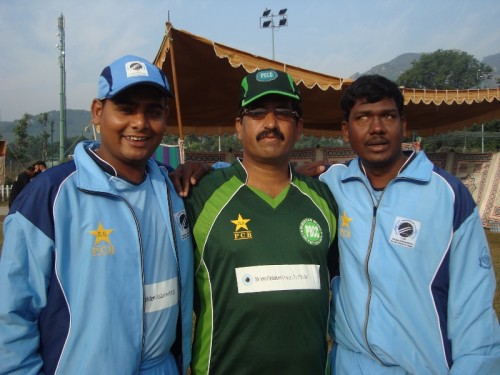 Q: Where did you get trained for cricket?
I would never forget Devnar School for the Blind where I did my schooling and learnt lessons in real life, and Cricket of course. I was in fifth standard when I happened to come across a game of cricket with sound ball. I was amazed to know about it.
As cricket was my favorite game, I had been playing since the time I had partial vision. I was a very active player, all the time playing with friends and neighbors. But when my eye vision drastically reduced, I didn't understand what was happening with me. It was very difficult to accept that I'm now a visually impaired person having some sight problem. When I used to play with rubber ball in the streets and school ground, with very little vision in the eye – struggling to see the ball, failing to stop the ball or misjudge – I couldn't realize that I'm in a category belonging to person with visually challenges. I was 9 years old when I was admitted into Devnar School. It was then that I understood that I'm like the students in Devnar Perhaps (Blind).
It was Mr. Chandrasekar the PET (Physical Education Trainer) who trained me and others, and I'm grateful to him for his seamless effort. I owe gratitude to Devnar School and P. Chandrashekar.
Q. What has been your most memorable moment on field?
There are many. But whenever I think about it, I recall the first release of ball from my hand while bowling my first ever international ball on wicket, going straight to hit the middle stump, which proved that Mahender is a dangerous wicket-taker.
The second one is against Pakistan in 2012 with two powerful set batsmen on the crease who gave me a terrible time in the first spell. It was my last bowling over, and the first ball of the over took one of the set Pakistani players off the field, caught in the mid wicket. When the 2nd player came to the batting crease changing the end, he got out in a similar fashion to the first man. So I was on a hat trick. One more world record would get registered in my name if I could take a wicket on the 3rd ball also. But that didn't happen. On the 4th and 5th delivery I got another 2 consecutive wickets. And again I was on hat trick! One more opportunity to create a world record and become the first blind man to take a hat trick. But this time also I failed. Four wickets and 1 run in that over; the best over so far makes me remember it again and again.
Q: You have been a vice captain of the Indian cricket team. What has been your major contribution as a vice captain?
I was vice captain in designation but led the team from the front. My nature is to encourage and be friendly with the team. My decisions were respected by the captain and others in the team. When we won the series in India against world champion Pakistan, I was the VC and my strategic planning helped in defeating Pakistan. This satisfied me a lot.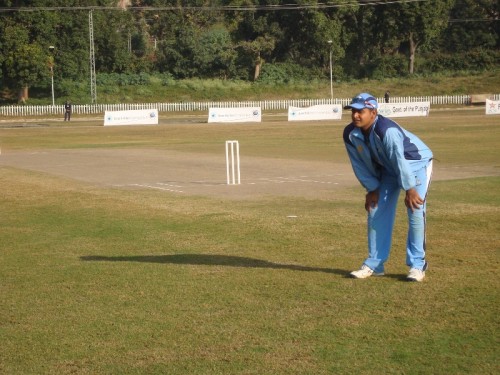 Q: Since how long have you been playing for India? What are your other roles in the blind cricket association apart from being a cricketer?
On field, I have been playing for India since 2010. I was given the opportunity to play for India in the past during the second World Cup at Chennai in 2002, and in 2006-07 but unfortunately could not attend due to final matriculation and degree examination.
Cricket has been my passion for years, since childhood. Students are normally punished by teachers at school for their irresponsiveness towards education, negligence and stubbornness. Perhaps, I was only the student who got punished for playing cricket, despite being studious in the class.
I'm not only a cricketer but also play a role in organizing cricket tournaments. I'm the vice President of Andhra Pradesh Cricket Association for the Blind. I wish to create opportunities and conduct tournaments with the help of private donors for those who, like me, have the determination and love for cricket. My aim is to expose people with visual impairment (PVI) to everybody in the society through cricket so that it can be recognized that their abilities are on par with normal players. Through cricket, I would like to improve their personality, increase their confidence level, make them fight all odds and take responsibility of their future, so that they can feel good about their valuable life.
Q: You have won an award from LV Prasad Institute for your contribution in Cricket. Do you think such awards will gain more recognition for Indian Blind Cricket?
Such awards have to be many. After playing for years, that was the first notable recognition I have received. I would say, everybody should be recognized, they all deserve to be. Civil societies, NGOs, private institutes and particularly the government should encourage and recognize such an incredible game and players. This would motivate the players and help in boosting confidence.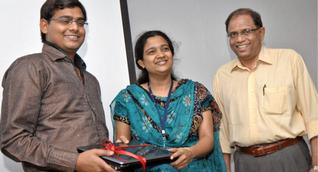 Q: Can you tell more about the NGO Samanvai and your role there?
Samanvai is an NGO to support Blind and multiple disabled. It helps to rehabilitate kids with special need and concern. Samanvai helps to teach computers to PVI, record and scan study material, education support, employment, mentoring and such help to the welfare of PWD in general and particularly PVI.
It's an initiative flourished by a group of active volunteers who were helping needy children like me post shool. I'm also an active member who regularly participates in organization management to help the needy in education and skill enhancement. I help in counseling, career guidance, organizing events/picnic and cricket tournament.
Q: What are your future plans in the field of cricket?
Apart from playing, mentoring, coaching, organizing tournaments to provide players ample opportunity, aim is to get separate cricket ground for blind cricket. It is sad but it is very difficult for us to get a ground to play on – nobody is willing to help or even encouraging. If we own our own cricket ground then we will be able to play peacefully.
Q: Can you tell us about how you are encouraging more players to come in and play?
We are fighting for BCCI affiliation to adopt this game like it did in the case of women cricket. We have been fighting for years but BCCI strike offs ignoring to least. There are enormously talented players emerging every year, the competition is rapidly growing but, they are not getting enough opportunity to prove.
To create more and more opportunity and recognition, we are asking every state to have a Cricket Board to monitor, organize and control games in the states. This will help players by providing opportunities to some extent. Equally we are lobbying for the game recognition, focus and support so that this special game is respected by all in the society. If these players are also equally supported and rewarded, it would help them to gain self-respect,  acceptance, satisfaction and a good life because of cricket.
Nivedita (also known as Divenita Er) works in the Publishing Industry at Hyderabad. She is also a part-time journalist and a published poet. She blogs at
nnivedita.com
.
We bring stories straight from the heart of India, to inspire millions and create a wave of impact. Our positive movement is growing bigger everyday, and we would love for you to join it.
Please contribute whatever you can, every little penny helps our team in bringing you more stories that support dreams and spread hope.
Tell Us More