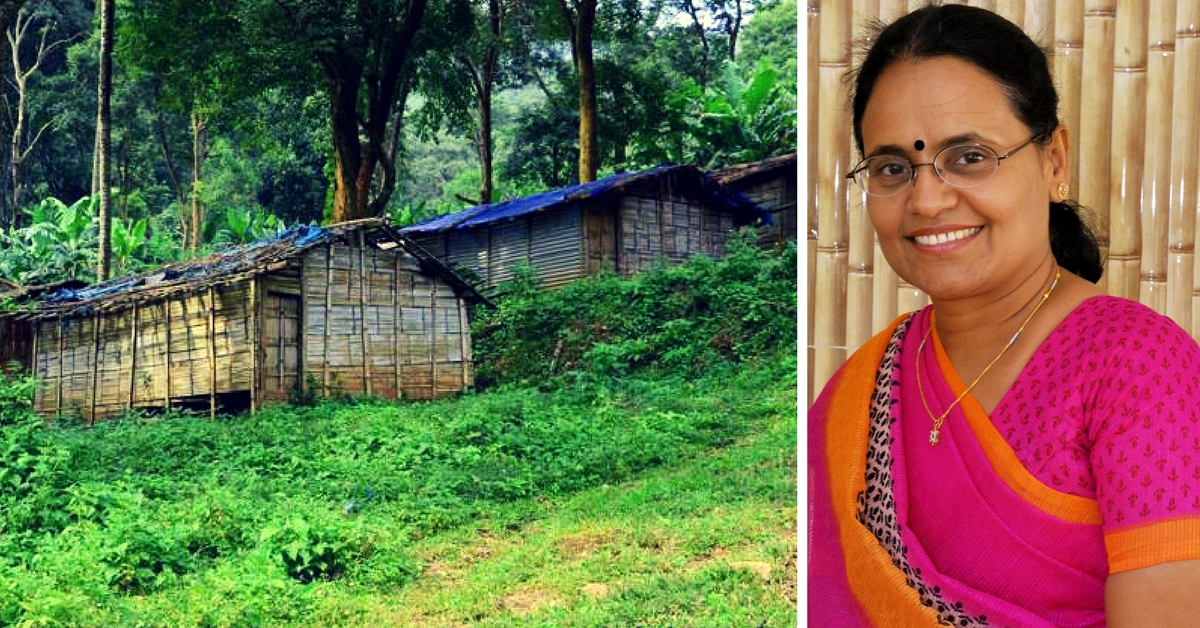 Located in in Kerala's Palakkad district, Santhi Gramam has transformed countless tribal lives for the better. And all this has happened due to the vision and tireless efforts of Uma Preman.
On March 14, 2017, Irom Sharmila celebrated her birthday for the first time in 45 years at a place over 3,000 km away from her home in Imphal, Manipur. Yet, she looked peaceful and so much at home among her well-wishers and new friends in Attappady, one of the largest tribal settlements in Kerala's Palakkad district.
Her host, Uma Preman, the founder and centre director of the settlement's rehabilitation centre Santhi Gramam, arranged a pretty cake with pink icing and Irom was all smiles while cutting it.
"I am here to spend a few days in tranquillity," Irom told The Hindu, adding, "Let the winds of Attappady refresh my mind."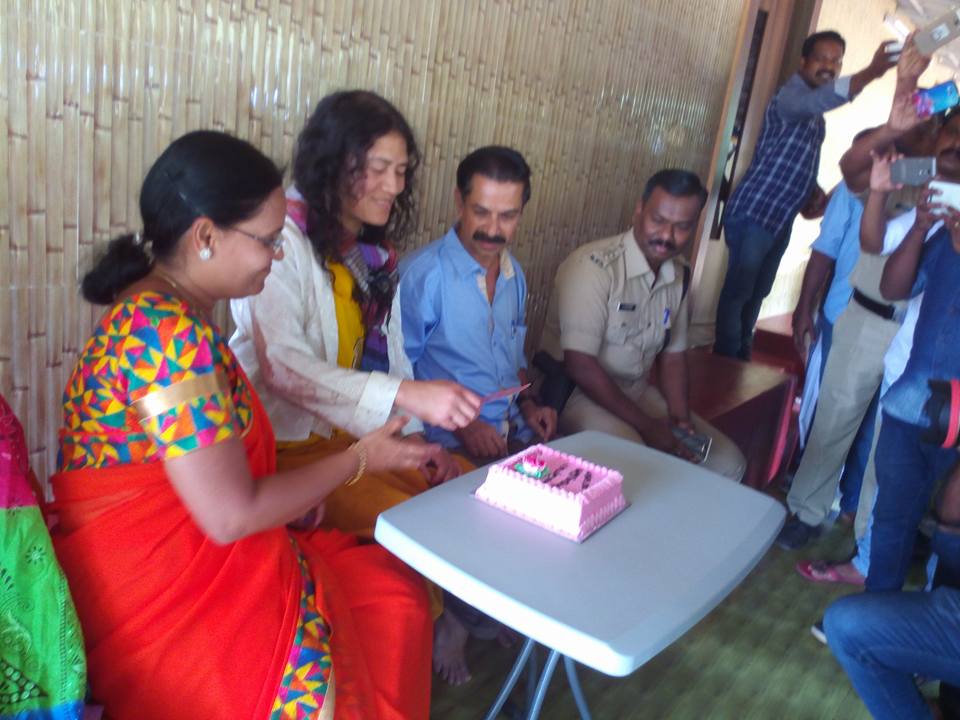 While Santhi Gramam has been the news recently for Irom Sharmila's visit, it has a much longer and extremely interesting story to tell. With a beautiful name that translates to 'Village of Peace', this rehabilitation centre has been a haven for the elderly, the destitute, the sick and the differently-abled since 2014.
In August 1997, noted social worker Uma Preman started a resource centre in Guruvayur (in Thrissur District of Kerala) for those seeking information and financial assistance for medical treatment of crippling or life-threatening diseases. Having lost her husband, Preman Thaikkad, due to improper diagnosis and delayed treatment, she knew the value of right medical advice, accurate information and proper treatment in saving precious human lives.
Till date, Uma's resource centre (called Santhi Medical Information Centre) has facilitated over 2 lakh dialysis treatments, over 20,000 cardiac surgeries and over 680 kidney transplants. Uma herself has donated a kidney to a young boy.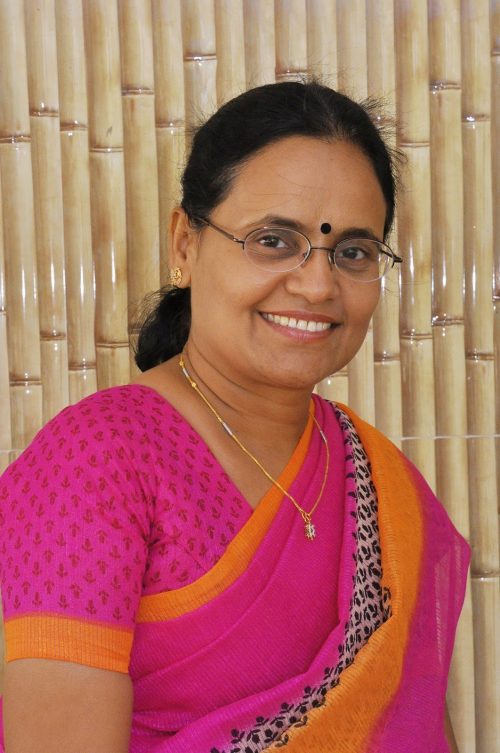 Uma Preman
In 2014, on a visit to Attappady, Uma realised that the social conditions of the tribals (like health, nutrition, sanitation, education and housing) still remained poor despite numerous welfare programmes. Deciding to do something to change this, she started a welfare project called the Santhi Gramam.
Under this, two tribal hamlets (Down Agali Ooru and Agali Kandiyur Ooru) in Attappady were adopted by Uma's resource centre. Volunteers conducted case studies to identify the root causes of poor development, before identifying core areas for improvement in the village.
The first step was setting up a 20-bed physiotherapy centre for tribals suffering from debilitating, paralysing and painful diseases. Next, awareness campaigns were conducted to encourage tribals to take necessary steps to improve sanitation and hygiene.
It was during these campaigns that the tribals had several misconceptions about menstrual hygiene and disposing menstrual waste. To address this issue, a sanitary napkin manufacturing unit was set up at Santhi Gramam. The 'Santhi Napkins' were then distributed free of cost amongst adolescent girls on a monthly basis during awareness classes held in tribal high schools. Incinerators for their safe disposal were also set up in all hostels for tribal girls.
Initially, the volunteers had to face much opposition from tribal communities while distributing sanitary napkins. For most of them, it was a foreign practice and they refused to deviate from their traditional methods. However, thanks to Santhi Gramam's persistent efforts, acceptance for this initiative is gradually growing.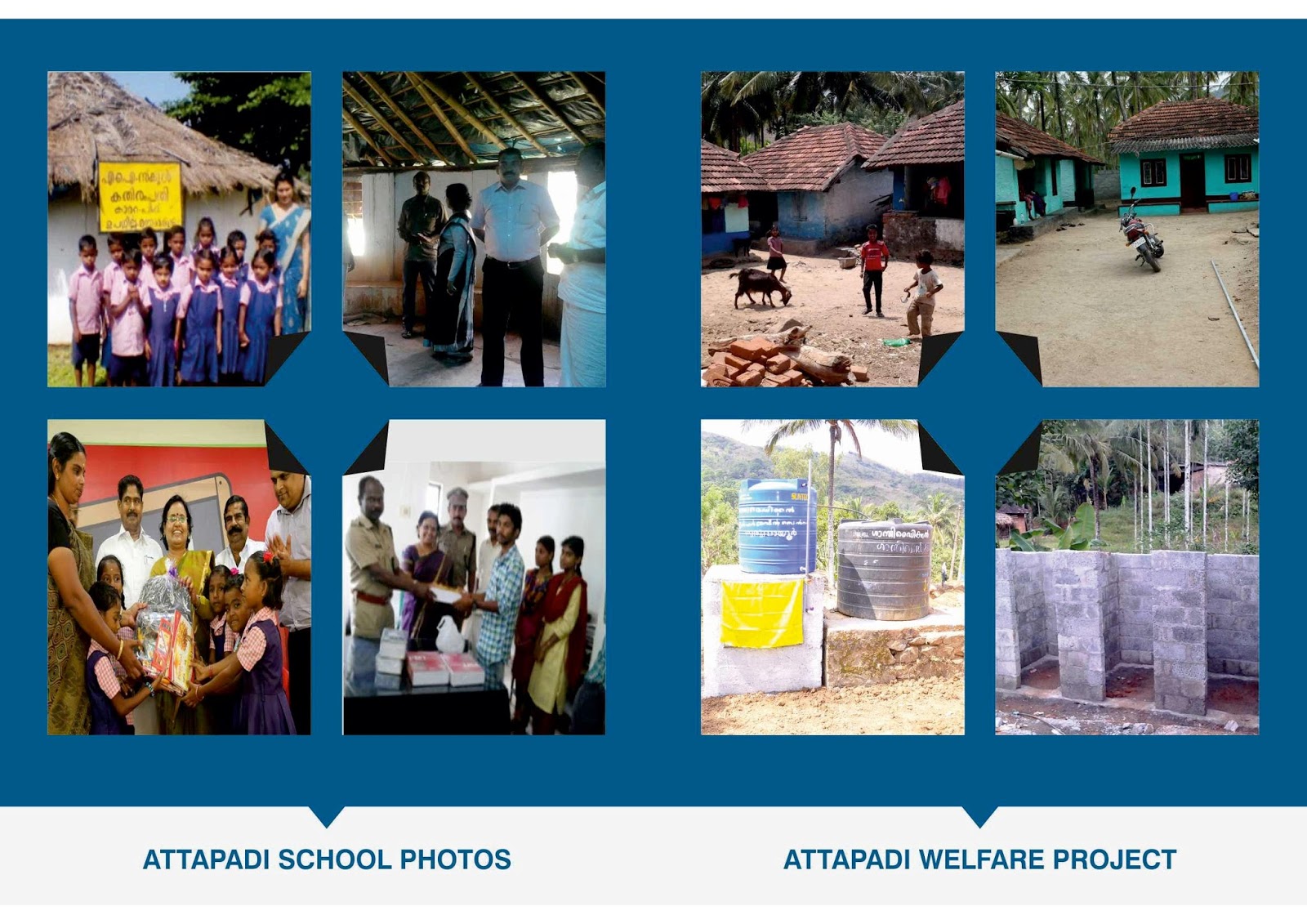 To improve basic sanitation in the villages, the volunteers of Santhi Gramam have constructed over 90 toilets in tribals homes. Other than this, water storage tanks have been set up, blocked drains have been cleared and disconnected electricity connections have been restored.
A community kitchen has been established to ensure that tribal people, especially students, have access to nutritious food and supplements on a regular basis. This programmes has been paired with campaigns conducting early detection tests for lifestyle diseases that are commonly found in tribal communities. ECG and X-Ray facilities are provided at nominal rates.
Santhi Gramam has also successfully implemented several cottage industries to provide sustainable livelihoods to the tribals. Other than providing employment to women through the sanitary napkin manufacturing unit, the rehabilitation centre has also set up a palm leaf plate manufacturing unit on its plastic-free campus.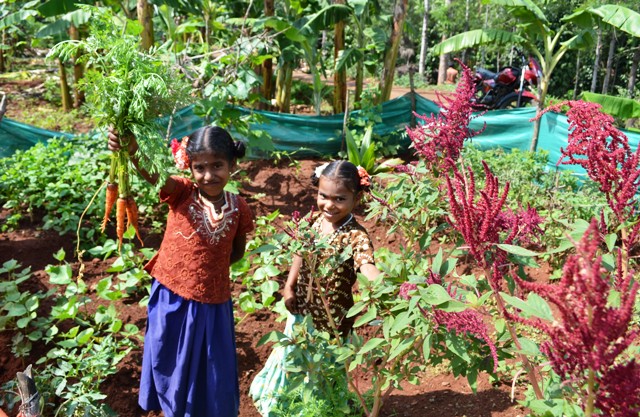 Santhi Gramam also provides training in organic farming
The volunteers and tribal employees collect dry areca nut palm leaves from the neighbourhood, and wash them in clean water, before letting them dry in the sun. They are then cut, hot-pressed and shaped into plates with the help of customised machinery. These eco-friendly plates are then sold to event management groups, festival organisers and distributors across south India.
Apart from this, Santhi Gramam also trains tribals in the organic cultivation of drumstick, papaya, banana and vegetables like yam, pumpkin, tapioca, beans, okra, brinjal, tomato and gourds. A small farm school has been established to provide training in composting, dairy farming, poultry farming, aquaculture and mushroom cultivation. A tailoring unit has also been set up for interested tribals.
A Knowledge Villa Project has also been started under the aegis of Santhi Gramam. To inculcate the habit of reading and encourage interest in acquiring education, a library with over 1 lakh books and a digital section has been set up at Santhi Gramam. A Sports Club and a Cultural Club have also been set up to tap the hidden talents of tribal youth through regularly held workshops and tournaments.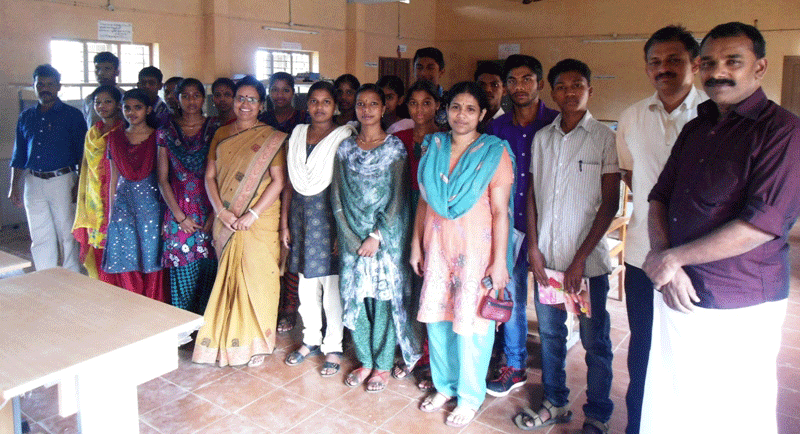 Uma Preman and project coordinators with tribal students
To help tribal students explore different avenues of employment, Santhi Gramam provides free tuitions to tribal children and sponsors the higher education of promising students. The centre also provides financial help to tribal graduates preparing for civil services examination. Vocational training and help in finding gainful employment is provided to those who have discontinued education.
All the initiatives undertaken at Santhi Gramam are sponsored entirely through crowdfunding and donations of well-wishers. Uma now plans to expand the project to 190 tribal hamlets in the region and establish an International Residential School for tribals at Attappady. As she says, education is the strongest weapon of social reform.
Contact Santhi Gramam here.
Feature Image Source (For representation only).
---
Also Read: This Man Left the Chaos of City Life Behind to Build an Organic Village in Kerala
---
Like this story? Or have something to share? Write to us: contact@thebetterindia.com, or connect with us on Facebook and Twitter.
NEW: Click here to get positive news on WhatsApp!