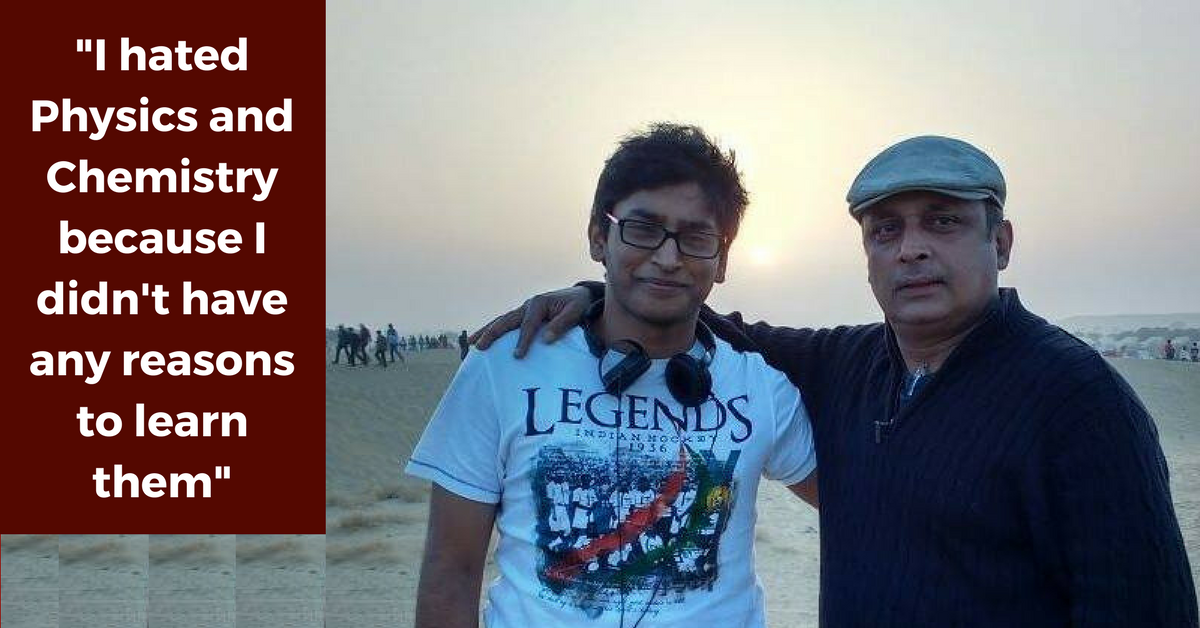 A writer, poet, lyricist, singer, composer, music director, actor and script writer, Piyush Mishra does not need an introduction. His life is an open book and has been an inspiration to many.
"Aao yaar bas ek baar… zinda ho baat kar le
Khaak ho gaye hai mazaak… fir bhi mazaak kar le.."
A writer, poet, lyricist, singer, composer, music director, actor and script writer, Piyush Mishra does not need an introduction. His life is an open book and has been an inspiration to many. We got a chance to speak to Piyush in person. Here are some excerpts from the interview where he talks about his beliefs, his life and lots of learnings.
TBI – Tell us something about your childhood.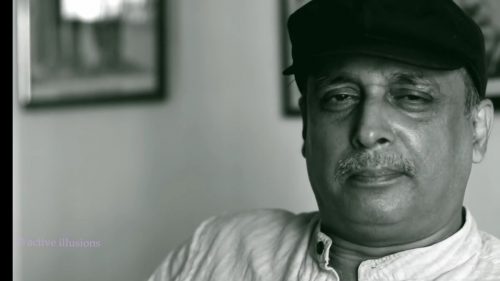 Piyush – What do I say about my childhood! I was an introvert, very quiet and shy. Everyone would suppress me at school, at home. I didn't get a good childhood.
Facts about Piyush –Piyush was born on January 13, 1963, in Gwalior. His father Pratap Kumar Sharma was a retired upper division clerk.  Due to financial problems, the family started living with Pratap Kumar Sharma's eldest sister Taradevi Mishra, who adopted Piyush.
TBI – So is it the anger that comes out in your poetry?
Piyush – Yes my childhood is responsible. But there were two things that could have happened. Either I would have died or done whatever people told me to do or I would have just gathered the anger and decided to do something in life. I am glad I chose the latter and the result is that I am here today. There was tremendous suppression.
Facts about Piyush – Piyush was named Priyakansha Sharma. He had a strained relationship with his legal mother, Taradevi Mishra. It was in rebellion to her that he changed his name to Piyush Mishra by filing an affidavit when he was in class 10.
TBI –What advice would you give to your younger self?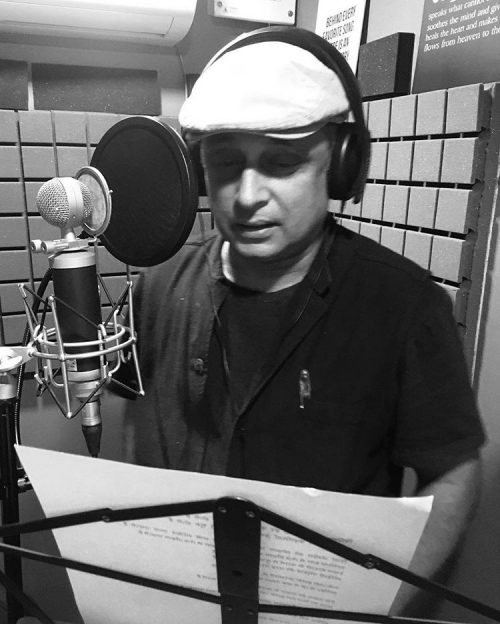 Piyush – I would advise that do what you want to. It is your right to choose your profession, your passion. No one else will understand what makes you happy -not even your parents, your friends or any philosopher or guide.
Facts about Piyush Mishra – Piyush attended Carmel Convent School, Gwalior, which according to him, was a 'wrong school' for him.
TBI –You always say in your interviews that you didn't want to learn physics and chemistry in school. Why?
Piyush – Because I didn't have a reason to learn them in school. Kids don't want to study something because you don't give them reasons to study that particular subject. In 1999 I did a play on Albert Einstein. That gave me all the reasons to learn physics. While doing that play I understood physics very easily from Newton's laws of motion to thermodynamics and electromagnetics. Why would someone study something if they don't have the right reasons? I loved reading Hindi literature. I wrote lot of essays and comprehension. I was also a very good Kabaddi player back in school.
Facts about Piyush Mishra – He wrote his first poem when he was in class 8.
"Zinda ho haan tum koi shak nahin, saans lete hue dekha maine bhi hain

Haath aur pairon aur jism ko harqatey khoob dete huey dekha maine bhi hain

Ab bhale hi yeh kartey huey honth tum dard sehtey huey sakht see lete ho

Ab hain itna bhi kya kum tumhaarey liye, khoob apni samajh mein toh jee lete ho"
TBI –Even I wanted to study English and Hindi literature. I couldn't understand history and geography. So what is the way out for children who want something different than what our current educational system offers?
Piyush – We can't change the policies, but parents have to understand that every child is different. Everyone can't become an Einstein, everyone can't earn in lakhs. They never understand that their child is an individual and hence hesitate to give different types of education. They are under constant fear that what profession their child is going to choose.
Facts about Piyush Mishra – According to Piyush, he started taking part in plays at the age of 19. The desire took him to Delhi where he took admission in the National School of Drama.
TBI –So do your children have the freedom to choose their careers?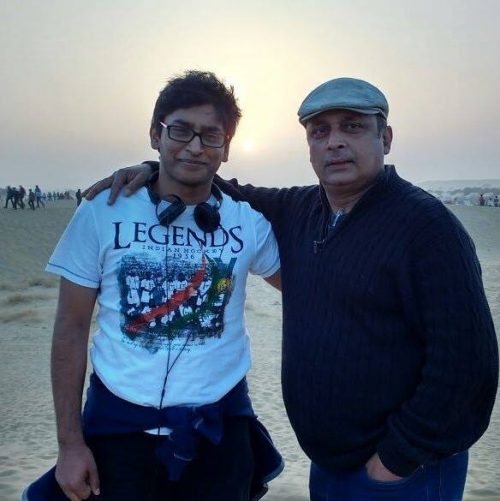 Photo source – Facebook
Piyush – They have already… my older son, Josh, is in first year of the Hotel Management course in IHM. The younger one, Jai is very small now. He is in class 6 but he loves to cook too. I am sure he is going to become a chef. They don't like art and why should they. My father never liked art, but I did.
Facts about Piyush Mishra –He graduated from NSD in 1986 and then started his theatre group, 'Act One' along with his director friend N.K Sharma and actors like Manoj Bajpai and Ashish Vidyarthi.
TBI – Is there any incident that you feel is responsible for your success today?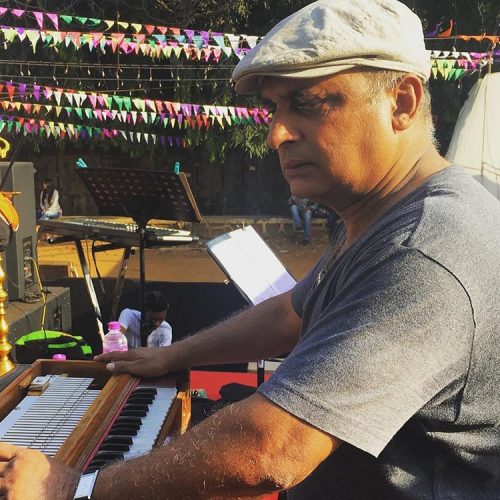 Piyush – I went to Bombay in 1989 but came back within a year to Delhi. I think that was the best decision I ever took. I didn't know how to struggle and those days were different. I understood that even if Bombay was made for me, this was not the right time. I came back to Delhi and then started theatre, which did really well.
Facts about Piyush Mishra – After graduation from NSD, he was considered for the lead role in the famous blockbuster Maine Pyar Kiya. Piyush didn't follow up and Sooraj Barjatya signed Salman Khan.
TBI– What is one important thing to follow in life?
Piyush – It is important to move on. I make friends easily. But it is important to leave them easily too. Basically you should have a traveller's life. I fell in love and got married, which is the best thing that happened because the credit of my success goes to my wife Priya, but if I hadn't gotten married, I would have led a traveller's life.
Facts about Piyush Mishra – He married Priya Narayanan in 1995, whom he met in 1992 while directing a play at the School of Planning and Architecture. Presently, he lives in Goregaon East, Mumbai with his wife, who is an architect, and two sons Josh and Jai.
TBI – Do you still have any unanswered question in life?
Piyush –Yes I am still in search of the answer to where does one go after death. If you get the answer, you will know everything.
Facts about Piyush Mishra – He moved to Mumbai in 2003, prior to which he spent 20 years as a theater artist in Delhi. This was the most poetic and turbulent phase of his life, marked by 24 hours of work, alcohol and women.In 2010 he attended a course of Vipassana in Igatpuri, which, according to him, helped him immensely.
TBI –One of your fans has requested to know the story behind Husna and Ghar. Are they related to your real life?
Piyush – Only my theatre is related to these songs. They are songs from plays that I wrote. Husna was a play based on a Pakistani short story Pattar Anara De. And Ghar was a song written for the play Jab Shehar Hamara Sota Hai  based on the famous Oscar-winning film West Side Story. I never thought that these two songs would become a classic someday. But the credit goes to Hitesh Sonik who has programmed and presented them so well that it created magic.
Facts about Piyush Mishra – As a film lyricist and singer, he is noted for his songs Arre Ruk Ja Re Bandeh (Black Friday, 2004), Aarambh Hai Prachand (Gulaal, 2009), Ik Bagal (Gangs of Wasseypur – Part 2, 2012), and Husna and Ghar(MTV Coke Studio, 2012)
TBI –What is that one thing you learned from your experience that has always helped you?
Piyush –That one thing is to keep working constantly. You are not allowed to just sit and relax. You cannot stop working even for a moment. That's the one thing that has always helped me… lagatar aage badhne ki cheshta.
Facts about Piyush Mishra –Awards – Zee Cine Awards,  2003 for Best Dialogue for the film The Legend of Bhagat Singh. Stardust Awards,  2010 for Standout Performance by a Music Director for the film Gulaal. Julien Dubuque International Film Festival, 2014 for Best Actor and Playback Singer
TBI – You have struggled for more than 20 years in Bollywood. What would you suggest to others who are still struggling?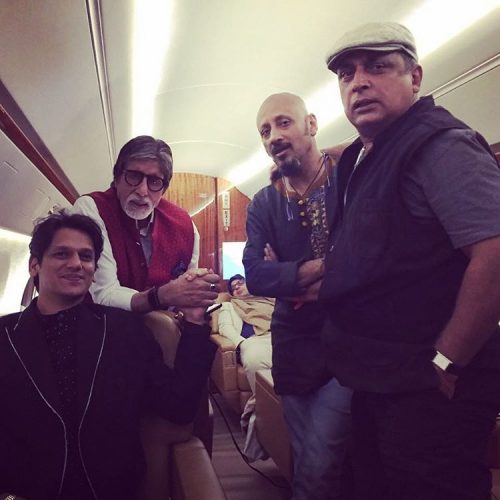 Photo Source – Instagram
Piyush – See, you have to first judge yourself if you are capable of doing it or not. You have to be your own mirror and see a clear reflection. We all come to Bombay and think that if given a chance we are no less than Amitabh Bachchan or Shahrukh Khan. But you have to first understand the thing that Amitabh or Shahrukh has and you don't. And you need to work on that.
Facts about Piyush Mishra – His television debut was on teleseries Rajdhani in 1989. He also worked on Shyam Benegal's Bharat Ek Khoj and appeared on horror TV serial Kile Ka Rahasya. His film debut was on Mani Ratnam's Dil Se in 1998. He played the role of a CBI officer.
TBI – What is your favorite among all your roles – actor, singer, writer, poet, theatre artist, script writer or composer?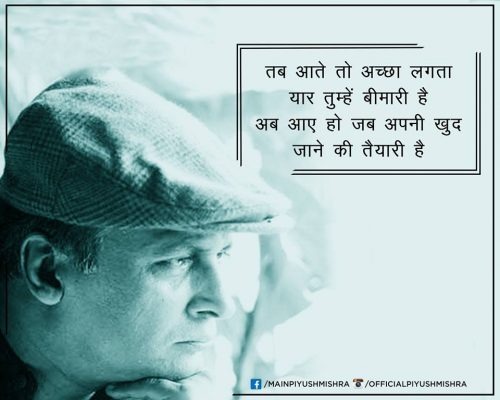 Piyush –I do all of them with similar passion so it is difficult for me to choose. But I think acting is something that I need to do more. And there is independent poetry which I love doing these days.
Facts about Piyush Mishra –He said that he was a Communist only because he didn't want to hurt his Communist friends.
TBI –Is there any question that has yet to be asked to you. Is there an answer you still want to give?
Piyush – I have bared it all. I don't have anything to hide. One hides their sexual life the most and I have talked about that too. I have said in an interview in Times of India about how 'neech' I was. About how I was a womanizer. But the day that interview was published, I really felt very light… that good that I told everything. I regret whatever I did in the past and that is very important. Repenting is very important. I describe it in my sher –
"Moti samajhke chunta mera khuda agarche

Pachtave ke do aansu, jo chu pade nazar se"
Facts about Piyush Mishra – In an interview with the Times of India, Piyush disclosed all the bitter truths about his life. He framed himself to have been a morally corrupt person, and confessed to how much he regrets that phase of his life.
Rapid Fire –
Favourite Actor – Om Puri
Favourite  Writer – Saadat Hasan Manto
Favourite Singer –Kishore Kumar
Favourite Place – NSD, New Delhi, Mandi House
Favourite Poem – There are many but right now I can think of 'Parchayiyan' by Sahir Ludhianvi.
Favourite Person –No one! I feel myself most strong and peaceful when I am alone. So I can say I am my favourite.
You can visit Piyush Mishra's original Facebook Page here.
---
Like this story? Or have something to share? Write to us: contact@thebetterindia.com, or connect with us on Facebook and Twitter.
NEW: Click here to get positive news on WhatsApp!
We bring stories straight from the heart of India, to inspire millions and create a wave of impact. Our positive movement is growing bigger everyday, and we would love for you to join it.
Please contribute whatever you can, every little penny helps our team in bringing you more stories that support dreams and spread hope.
Tell Us More