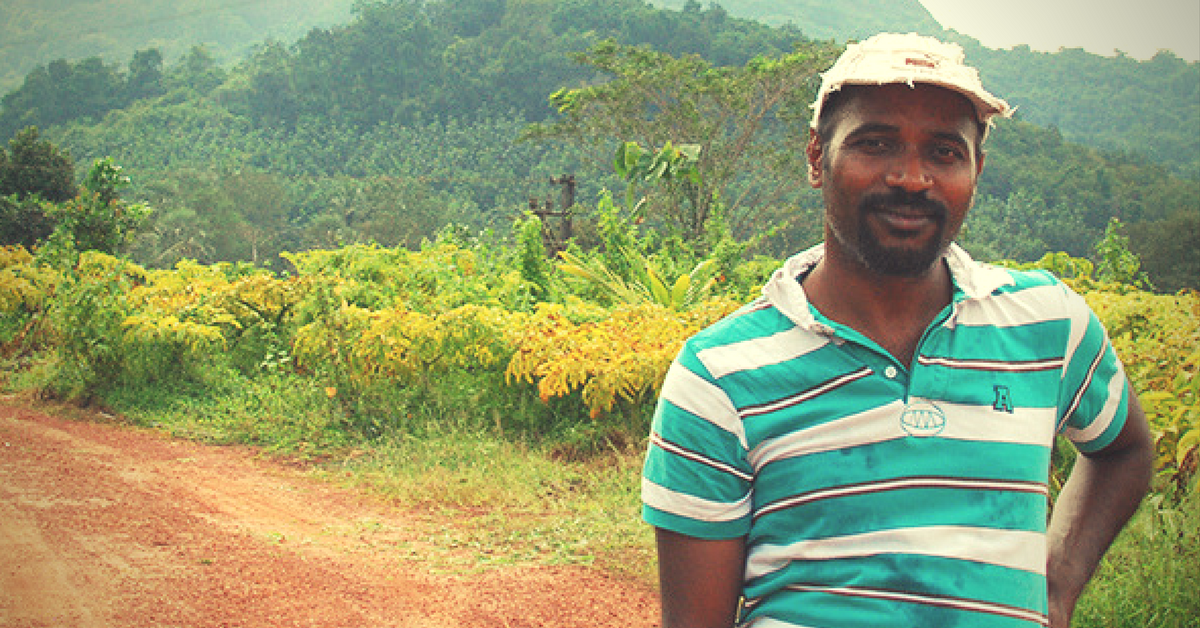 Shankar left his job in 2012 after working for Infosys for 15 years in India and abroad, and opted to become a farmer.
"I was heading a team of 10 people in Infosys. After you reach a certain position in IT, there is not much to learn. There are no challenges. You commute for 3-4 hours everyday. You work mechanically and that's it. I had reached a saturation point where I was not enjoying anything even though I had everything," says Shankar Kotian, speaking to TBI from his farm in Moodu-Konaje village near Moodbidre in Karnataka.
Shankar left his job in 2012 after working for Infosys for 15 years in India and abroad, and opted to become a farmer.
Shankar had no ancestral land and he started by buying 2 acres of land in Moodbidre. He started planning for this day way back in 2006-07 and planted rubber plants in the first 2 acres
"I chose to plant rubber as it requires minimum presence and you can outsource the care taking part too," says Shankar.
During his tenure at Infosys he had visited places like Europe, Australia, Switzerland, Japan and Netherlands to name a few. After visiting several farms abroad and in India, Shankar got an idea on what he wanted to do the most. He was very impressed by the dairy farming model in Switzerland and wanted to replicate the same.
The Beginning –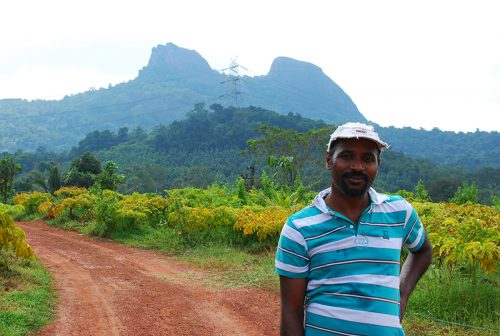 Photo credit – Sampath Menon
After research of about 6 years, Shankar was determined to begin natural farming, which was based on the findings of PadmShri Subhash Palekar, and a dairy farm with all the modern amenities to supply hygienic milk to his consumers. In 2011, Shankar bought 8 acres of barren land near a water source in Moodu-Konaje village to start his dairy farm.
In 2012, Shankar quit his job and started building a house first in his newly acquired land to stay and start his new venture. A house was much needed as back in 2012, his farm was not connected to the main road. It was a 3 km muddy road, which made it difficult to reach the farm everyday to work.
Once the house was built, he bought organic manure from nearby farmers and grew grass in his land.
Cow breeding –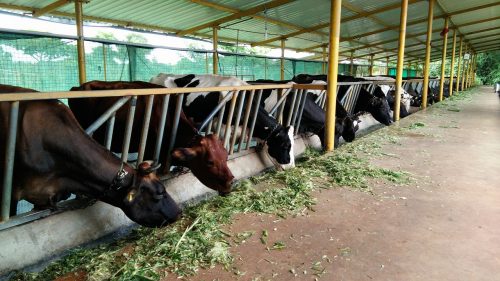 Once there was enough grass, he bought the cows. He spent almost three years learning as he had no prior agricultural experience.
"My knowledge was theoretical till I actually started farming and so initially there were lot of challenges," Shankar said.
Now, Shankar has 40 cows in his dairy farm and supplies 180 litres of milk everyday to KMF – Nandini (Karnataka Co-operative Milk Producer's Federation Ltd).
The Dairy farm designed by Shankar –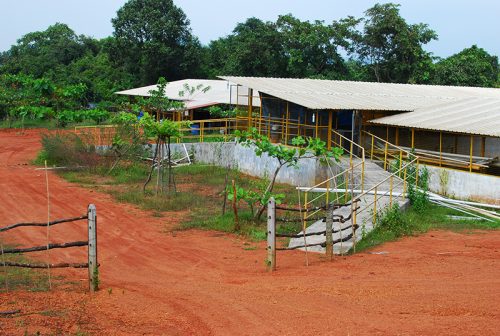 Photo credit – Sampath Menon
The dairy farm is designed and constructed based on the industry best practices followed in western countries, but also suiting local conditions.
It ensures maximum comfort for the cows and is labour-friendly. It is also scalable in design.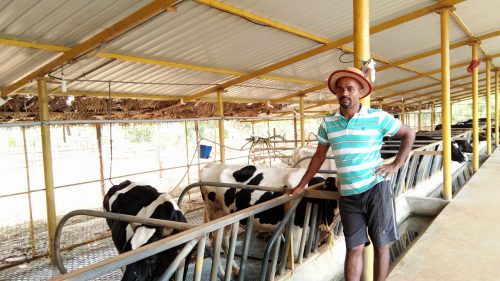 Some of the features are:
Cubicles between animals to ensure living space for each animal
Neck rail and separators in feeding alley so that a given cow eats only the ration that it is supposed to, but not that of the adjacent cow
Separate sheds for cows and heifers/calves
Rubber mats as bedding for cow comfort
Free-stall design with plenty of space outside the shed so that cows can roam around
Milking parlour system for clean and hygienic milking (in-progress)
Bio Gas Plant – Another source of saving and earning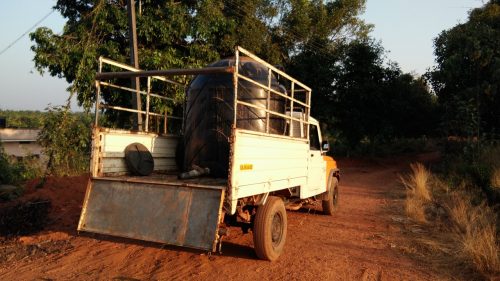 He has also set up a biogas plant of 25 cubic meter, which runs with the dung produced from these 40 cows. Shankar has made a floating drum design for the biogas, but with a twist: the drum is not immersed in the slurry, instead a layer of water keeps it afloat. This concept is more hygienic. There are separate tanks for thick slurry and washed water. The gas produced from this plant is used for cooking and heating water.
---
You may also like – How a Young Couple from Delhi Left City Life behind to Become Full-Time Organic Farmers in Mysore
---
The slurry produced from the biogas plant is very nutritious for the soil and is odorless. Shankar uses this as a fertilizer for the 25-acre land that he has bought gradually in the past few years.
The slurry is also sold to the nearby areca nut farmers using a tanker and pipes. This method is less labour-intensive for buyers and the slurry is more nutrient than handling solid farm yard manure.
"This is new concept in my area and it took more than a year to convince buyers that this is indeed more nutrient and less labour-intensive that traditional farm yard manure. So far, we have sold 3 lakh litres of slurry," Shankar informs.
He has also done 5 acres Napier grass plantation to feed the cows with fresh grass. The farm landscape has a hilltop, which houses the cow shed, and the sloping land has the Napier Grass plantation. This allows the flow of slurry from cow shed to Napier Grass plantation by gravity without using electrical pumping system.
Forest – A must for natural farming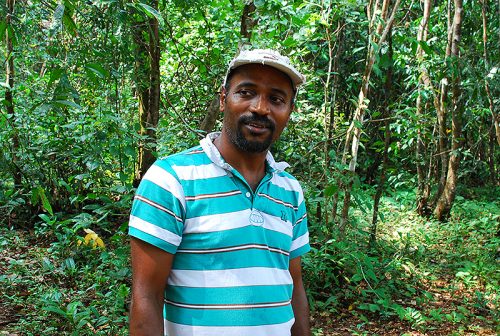 Photo credit – Sampath Menon
He has converted 10% of this land into forest, which he says will act as lung space. In addition, more than 150 plants are planted in the periphery and in the middle of the farm that will provide more greenery and ensure moisture of the field.
He is also continuing to grow rubber and areca, which will give him benefits in the long run. So far, he has planted 1,800 rubber trees and 1,000 areca nut plants
Apart from the commercial dairy farm, and rubber and areca plantation, Shankar also grows paddy and vegetables with natural farming methods in the rest of the farm for their own consumption.
Natural Farming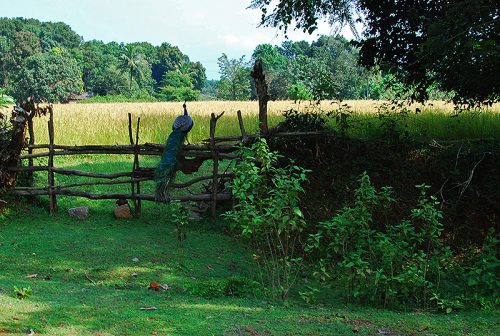 Photo credit – Sampath Menon
The difference between organic farming and natural farming is that in organic farming you still feed the soil some organic fertilizer, but in natural farming you leave the soil to the nature with very less manual intervention. Hence, natural farming is also called no-work farming.
---
You may also like – Meet the Bangalore Lawyer Who Quit His Job to Become an Organic Farmer, but Didn't Stop at That!
---
Shankar followed the basics of natural farming as mentioned by Subhash Palekar –
He kept the water mechanism ready, which is a natural stream of water near his farm.
Just like in forests, in natural farming too you must grow trees at the periphery and middle of the farm to retain moisture.
For the first year, put organic manure and Jiwamrita once a month and from the second year you have to put only Jiwamrita once every month.
What is Jiwamrita?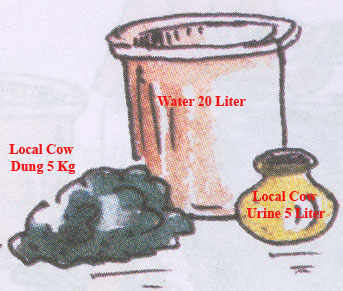 Jiwamrita is a mixture invented by Subhash Palekar, which is used to feed microorganisms in the soil that act as natural fertilizer producers.
Method to make Jiwamrita for 1 acre of land –
Take 200 litres of water in a barrel.
Take 10 kg local cow dung and 5 to 10 liters of cow urine and add it in the water.
Add 2 kg jaggery (or sugarcane juice), 2 kg pulses flour &a handful of soil from the bund of the farm.
Stir the solution well & keep it to ferment for 48 hours in the shadow. Jiwamrita is ready for application.
Apply the Jiwamrita to the crops each time with irrigation water or directly to the crops. You can also spray 10% filtered Jiwamrita on the crops.
Within two-three months of applying Jiwamrita, the resulting earthworms act as free labor to naturally fertilize the soil.
Shankar has experimented this method on 1,500 sqft land for rice harvesting and has yielded 70 kg of paddy, approximately 50 kg of rice.
When asked about some learning that he could share with anyone who wants to get into farming, Shankar gives the following pointers to remember.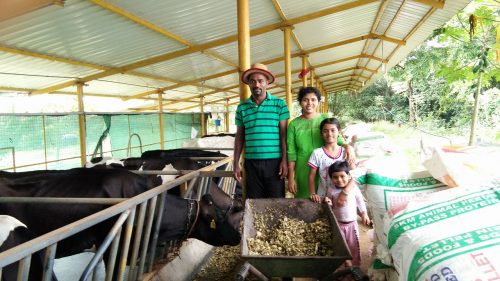 You need to plan for at least 3-4 years of sustenance money before you can hope to start living off farming alone.
Don't just go by the trends, and what other traditional farmers are doing. Experiment with the techniques.
Read up/ research. There's a lot of material on the internet.
Expect delays in schedule. If you estimate something to take six months, it usually takes double of that. So be prepared.
Getting into farming is really a change in lifestyle.
"The entire process is very beautiful…from planting to yielding. There are challenges but you always have scope to learn and enjoy the learning process. Moreover, apart from the turnover you earn health; you leave the world better than you found it for future generations, isn't it?" he says.
You can contact Shankar by sending him a mail at shankar.kotian@gmail.com or calling him on 9901183452.
---
Like this story? Or have something to share? Write to us: contact@thebetterindia.com, or connect with us on Facebook and Twitter.
NEW: Click here to get positive news on WhatsApp!
We bring stories straight from the heart of India, to inspire millions and create a wave of impact. Our positive movement is growing bigger everyday, and we would love for you to join it.
Please contribute whatever you can, every little penny helps our team in bringing you more stories that support dreams and spread hope.